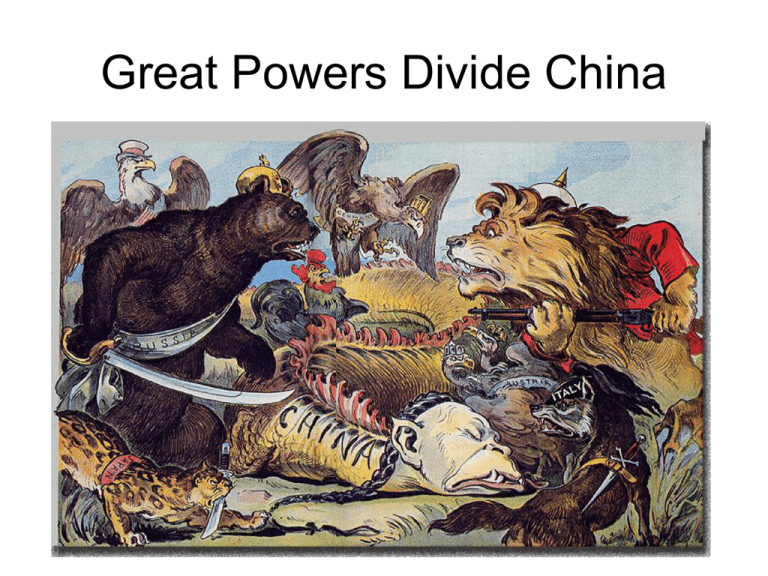 Great Powers Divide China
Questions
Question
1. Besides the
Chinese dragon,
what nations
attacking the
dragon are shown
and labeled in the
cartoon?
A.
B.
C.
D.
E.
F.
G.
H.
Answer
Lion – Great Britain
Bear – Russia
Leopard – Japan
Wolf – Italy
Rooster – France
Eagle – Germany
Double Headed Buzzard
– Austria-Hungry
Bald Eagle – United
States
Questions
Question
2. Identify and explain
which animals are
drawn larger than
the others.
Answer
The bear and lion
have a large influence
in China. The smaller
animals want access
to China.
Questions
Question
3. What characteristics
do all these animals
share in reality?
Answer
Animals are
predators or birds of
prey.
Question
4. What do the animals
have in common in
the cartoon?
Answer
Animals are armed
with weapons,
crowns, and military
headgear.
Questions
Question
5. How is the United States
shown in the cartoon?
Answer
United States wants to
take part in China but
thinks the rules are unfair.
Question
6. What does this show
about the opinion of the
cartoonist regarding the
imperialist powers in
China?
Answer
Change the policy from
Sphere of Influence to
an Open Door Policy in
China.