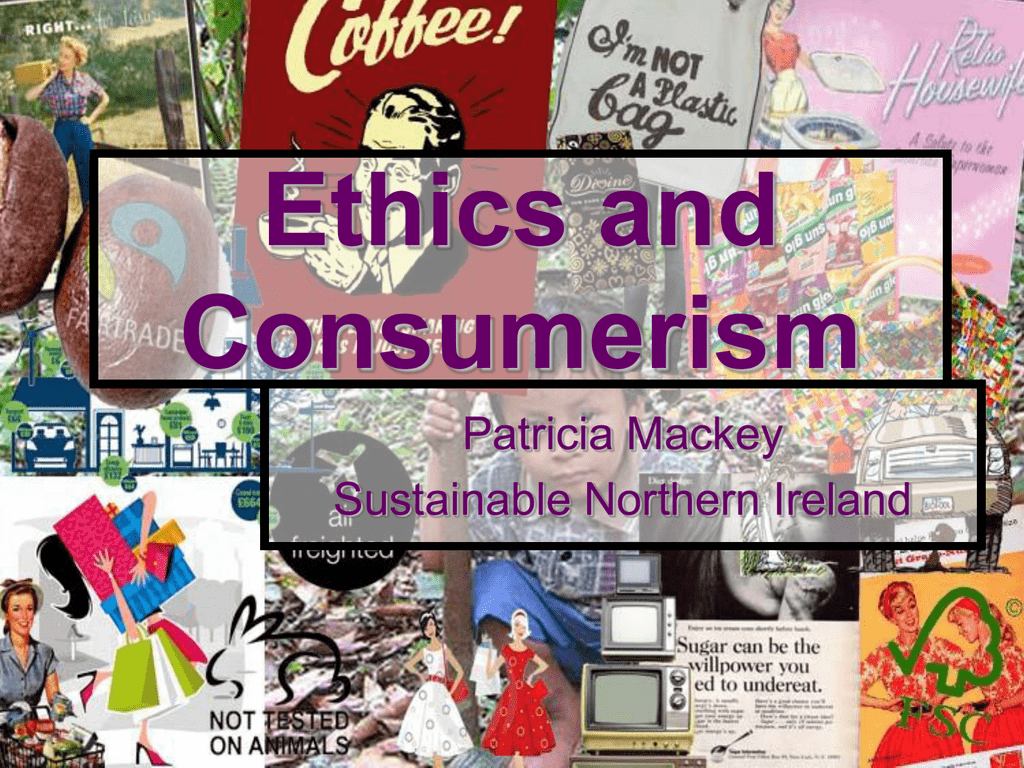 Ethics and
Consumerism
Patricia Mackey
Sustainable Northern Ireland
Why
sustainability
matters
What is Sustainable Development?
"To enable all people throughout the world to
satisfy their basic needs & to enjoy a better
quality of life…
…without compromising the quality of life of
future generations"
Securing the Future,
UK's Sustainable Development Strategy,
HM Government 2005
Why sustainability matters:
A Global
Perspective limits
living within
environmental
life supporting resources
declining
consumption of
life supporting resources
rising
©2003 The Natural Step: All rights reserved
Source: The Natural Step
Beyond the environment:
the triple bottom line
Principles of
Sustainable
Development
Living within
environmental limits:
Ensure natural resources to
support life remain
unimpaired
Ensuring a strong,
healthy & just
society:
Meet diverse needs of all;
promote wellbeing,
inclusion & equal
opportunity
Achieving a
sustainable
economy:
Strong, stable, efficient &
fair
Global
Challenges
Climate Change: Why it's happening


Without heat trapping
"Greenhouse gases" Earth
would be 25C cooler
Human activity is increasing
levels of greenhouse gases
in atmosphere




CO2 has increased from 280
to 380 ppm
Rising between 2 and 3
ppm/year
Main source is fossil fuel
combustion for energy and
transport
Average surface warming of
1 to 6C expected
What's at stake: projected global
risks
Monbiot: 90% cut by 2030
Tyndall: 90% cut by 2050
UK Gov: 60% cut by 2050
• Rice yields fall 15%
• Increasing extreme weather
events
• Indian Ocean coral dies
• 400m extra in water stress
• 5m extra in hunger
• 18% species loss
• Greenland icecap melts
o
1 C
• 97% coral reefs bleach
• Major city flood risk
• Arctic summer sea ice melts • >50% species loss
• 2.3-3bn water shortage
• "Runaway" climate change
• 200m more at risk from
- Forest die-back
malaria
- Permafrost melt
• Ecosystem collapse
- Carbon release from soils
• Human cost?
o
o
2 C >2 C
Pollution: damaging health and the environment

"UK air pollution more dangerous
than Chernobyll"
 24,000 premature deaths per year
(Royal Commission on Environmental Pollution)



Over 100,000 man-made chemicals
exist
 Only 3,500 have been adequately
tested for health and
environmental impacts
Over 300 man-made chemicals can
be found in the average European's
blood
With globalisation, Europe is
exporting its pollution overseas
Waste: our throwaway economy
10 x
10 x
10,000 kg
raw
Manufacture
materials
EXTRACT
1000 kg
finished
product
CONVERT
USE
6 months
100 kg
long-term
durables
DISCARD
Consumption should not be an end in itself: need to
rethink value and efficiency
Biodiversity: the sixth extinction


Up to 50% of species could be
wiped out by climate change
Widespread decline in wildlife
populations


Habitat destruction and loss of
wilderness
Over-harvesting of timber,
fisheries


Falling fertility from pollution
Invasion of alien species
Global Inequalities
Poverty: an ever widening gap
UK average high
street coffee price
$2
20% of world
survives on less
than $2 per day
The goal: One planet living

Ecological footprint
= equivalent area of
land required to
meet an
individual's needs


Food, fibre, waste,
energy, space
Measured in
"Global hectares
per capita" (gha)
"Equal sustainable share" = 1.8 gha
"Global average footprint" = 2.2 gha
"UK average"
= 5.6 gha
The Ethical Footprint of a Beef Burger

Beef cattle eat crops (1300Kg grains
and 7200Kg roughages)

Crops grown abroad e.g. Soya in
South America, where rainforests
have been cleared to make room

Animals may also have grazed on
land of cleared rainforests

May be labelled 'British' or 'Irish' but
only a proportion of the processing
may actually be done here

We are consuming 'other people's
water' and using 'other people's land'

Beef and dairy cattle produce
methane and other greenhouse gases
Group Exercise


Work as groups
Think of the last pair of jeans you
bought?


Identify impacts of jeans


What information did you use to
make a decision on what pair you
eventually bought?
Social, environmental and economic
How can we as consumers make
a difference?
The mileage in a pair of jeans…

These jeans, arrived at Gap, Belfast, a few days ago in
a container that came from Lee Cooper's warehouse at
Staple's Corner, just at the bottom of the M1 in north
London.

There they had the Gap label attached to them before
being packaged up and posted off in plenty of time for
the weekend rush.

Before that, they came through the Channel tunnel on a
lorry from a similar warehouse in Amiens, France and,

Before that, by boat and train from Tunis in Tunisia.
From Ras Jebel, to be more precise, a good hour's
drive north of the city through flat Mediterranean
farmland where the fields are fat with artichokes and the
pencil cypresses sway in a surprisingly chilly spring
breeze."
The Jeans workshop

It takes about 1.6 meters of denim fabric, several
hundred meters of sewing thread, 6 rivets, 1 or 5
jeans buttons, 4 labels (usually imitation leather),
and optionally a zipper to make a pair of jeans. An
average jeans factory can make about 2,500 pair of
jeans per day.

A stonewash for 150 pairs of jeans takes 150 kilos
of pumice stone and more than 750 liters of water.
Depending on how faded the look will have to be,
they will be washed somewhere between 30
minutes and 6 hours.
The Components of a pair of jeans
Manufactured in a
factory in Tunisia
Denim spun in Milan
Synthetic dye
manufactured
in Germany
Sold in ….
Thread
made in
Lisnaskea
Pumice to
stonewash the
jeans from a
volcano in
Turkey
Copper for the zip
and rivets mined
and smelted in
Tsumeb, Namibia
Cotton for
the denim
grown in
Benin, West
Africa
Ethical Consumerism: Making the Right Choices

Ethical consumerism is about how you
choose to spend your money and what
sort of goods you choose to buy.

What you spend your money on affects
other people and the environment.

Ethical consumers buy things from
companies that act ethically. These
companies try not to harm the
environment or society.
•Trade affects the economies of other
countries and groups within society
positively and negatively.
•Does our prosperity and happiness
come at a cost to others?