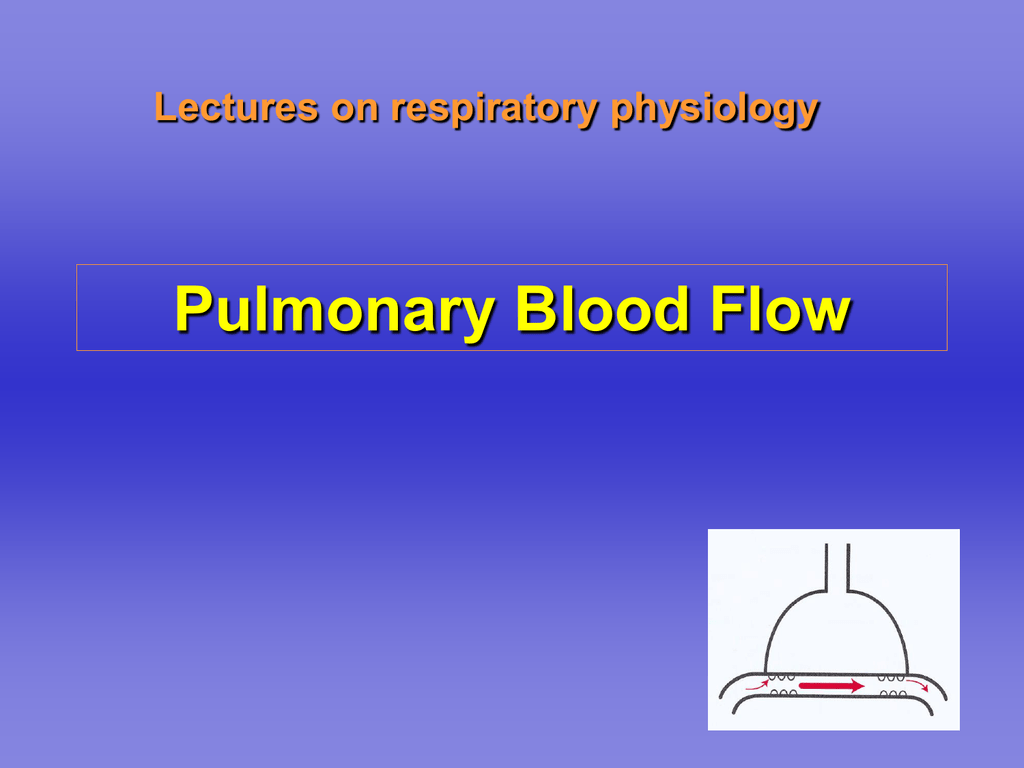 Lectures on respiratory physiology
Pulmonary Blood Flow
Pulmonary and systemic circulations
Alveoli with capillaries
Compression of capillaries
Pulmonary capillary has a very thin wall
Small pulmonary vein
Alveolar and extra-alveolar vessels
Comparison of vascular and electrical resistance
Pin
Pout
FLOW
INPUT PRESSURE – OUTPUT PRESSURE
VASCULAR RESISTANCE =
FLOW
INPUT VOLTAGE – OUTPUT VOLTAGE
ELECTRICAL RESISTANCE =
CURRENT
Effects of increased pressures on vascular resistance
Recruitment and distension of capillaries
Pulmonary capillary has a very thin wall
Demonstration of recruitment
Demonstration of distension
Effect of lung volume on resistance
Measurement of total pulmonary blood flow
.
Vo2
FICK PRINCIPLE
C vo
Ca o
2
2
.
.
- )
Vo2 = Q ( Ca o - C vo
2
2
.
.
Vo2
Q =
Ca o - C vo
2
2
Uneven distribution of blood flow
Effects of change of posture and exercise
Normal distribution in isolated lung
Effect of reducing pulmonary artery pressure
Effect of raising pulmonary venous pressure
Three zone model of distribution of blood flow
Compression of capillaries
Three zone model of distribution of blood flow
Model of a Starling resistor
Three zone model of distribution of blood flow
Non-gravitational causes of uneven blood
flow
Random variations in the resistance of blood
vessels
Some evidence that proximal regions of an
acinus receive more blood flow than distal
regions
In some animals some regions of the lung have
an intrinsically higher vascular resistance
Effect of breathing 10% oxygen
Effect of reducing the alveolar PO2
Alveolar gas is very close to the wall of the artery
Low alveolar PO2 causes vasoconstriction
Evolutionary pressure for hypoxic
pulmonary vasoconstriction
Pulmonary blood flow in the fetus is only about 15% of the
cardiac output
Most of the output of the right ventricle bypasses the lung
through the ductus arteriosus
The pulmonary vascular resistance is high because of hypoxic
vasoconstriction in the very muscular pulmonary arteries
Immediately after birth, and pulmonary blood flow must
increase dramatically
The great fall in pulmonary vascular resistance is due mainly
to the release of hypoxic vasoconstriction
In addition the ductus arteriosus gradually closes
Substances metabolized by the lung
Biological activation: Angiotensin I is converted to the
vasoconstrictor, angiotensin II via ACE
Biological inactivation:. Examples include bradykinin,
serotonin, prostaglandins E1, E2, and F2 alpha.
Norepinephrine is also partially inactivated
Not affected: Examples include epinephrine, prostaglandins
A1 and A2, angiotensin II and vasopressin.
Metabolized and released: Examples include the arachidonic
acid metabolites - the leukotrienes, and prostaglandins.
Secreted: Immunoglobulins, particularly IgA, in bronchial
mucus.