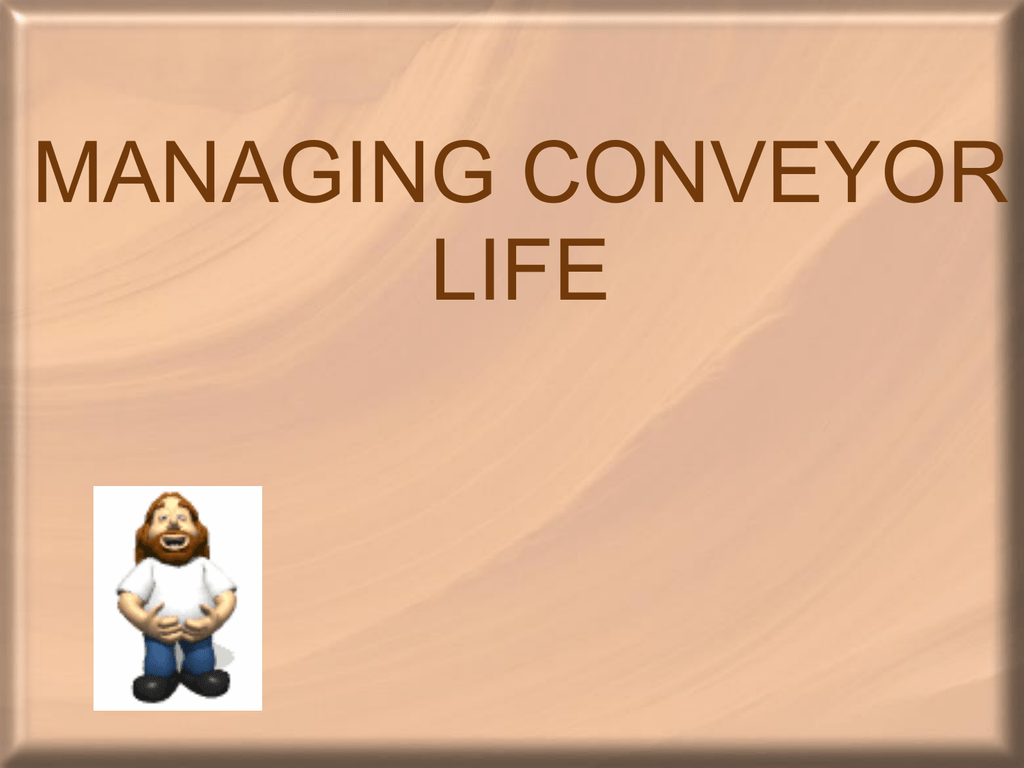 MANAGING CONVEYOR
LIFE
•WHAT IS A CONVEYOR
•TYPES OF CONVEYOR
•MAINTENANCE OF CONVEYOR
•OPTIMISATION TECHNIQUES
Benefits of Conveyor systems
•safely transport materials from one level to
another, which when done by human labour
would be strenuous and expensive.
•can be installed almost anywhere, and are much
safer than using a forklift or other machine to
move materials.
•can move loads of all shapes, sizes and weights
•variety of options available for running
conveying systems, including the hydraulic,
mechanical and fully automated systems, which
are equipped to fit individual needs.
What is a conveyor?
A conveyor moves material.
A conveyor moves cardboard boxes, wood boxes, metal
boxes and plastic boxes.
Conveyors Can move materials by gravity
or power.
A conveyor can do more. It can move boxes UP against
gravity . . . DOWN . . . or HORIZONTAL on a moving
belt.
The belt is moved by electric power. This is called a
BELT CONVEYOR.
What is a belt conveyor?
It is a machine with a moving BELT. The machine is
made with these parts:
A Bed
This is a conveyor bed. It comes in many sizes-many
lengths-many widths.
A Pulley
A pulley is like an iron pipe.
Pulleys are put on each end
of the bed.
The pulleys are as wide as
the "bed". Each pulley has
a steel shaft through it.
The shaft turns on a
bearing . . . and the pulley
turns with the shaft.
What is a bearing?
When two pieces of steel touch
each other; they cannot turn
easily without bearings.
Bearings use little steel balls to
keep the pulley shaft and the
conveyor bed from rubbing
together.
Now the shaft can turn easily.
Pulley "A" is the drive pulley.
Pulley "B" is the tail pulley.
The drive pulley is usually
larger because it does the
work.
The drive pulley is
turned (driven) by a
motor. A sprocket is
put on the drive
pulley shaft. A
sprocket is put on the
motor.
What is a Sprocket?
A sprocket is a metal "wheel" with "teeth" on the
outside.
How the drive pulley is "driven"
A chain is put around the Drive Pulley Sprocket and
the motor sprocket.
The chain moves when the motor is started.
The chain turns the drive pulley.
But....
Because a motor turns very fast (1500 times per
minute). . .
A SPEED REDUCER must also be used. The SPEED
REDUCER is put between the motor and the drive
pulley.
. . . The motor is connected to the reducer with a V-Belt
(like the fan belt in your car) or a "C" Face Coupling.
The reducer is connected to the drive pulley with a
chain . . . Now the Drive Pulley turns slower.
All those parts (the motor, the speed reducer, and the
drive pulley) are called:
The Conveyor Drive
They must be put together to take up as little space as
possible - so The motor and reducer are put under and
within the conveyor BED.
They must be put
together to take up as
little space as possible
- so The motor and
reducer are put
under and within the
conveyor BED.
But what about the tail pulley?
The tail pulley is located at the tail end of the conveyor
and it turns freely.
Now a "belt" can be put around the pulleys.
The Drive Pulley turns and moves the belt around . . .
and around . . . and around.
BUT . . .
. . . it is dangerous to have the belt hang down under
the conveyor bed - So small rollers are put into the
Conveyor Bed to hold up the belt.
These turn freely -- and just idle. They are called
"Return Idlers".
Some types of belts stretch more than
others
What to do?
1. Move the tail pulley! It can be moved to "take-up"
the belt stretch.
There are "take-up" screws on both sides of the
conveyor.
Move these screws out slowly.
Move them the same amount on both sides!
This keeps the belt tight.
2.What do you do when the take-up screws are still all
Longer
conveyors
arethe
provided
one or more short
the way
out - and
belt stillwith
stretches?
pieces of belt added, called a "dutchman"

Remove the short pieces of belt. Now you can
start the "take-up" procedure all over again.
NOTE: If a "Dutchman" was not provided, you may
need to add an UNDERSIDE TAKE-UP to your
conveyor.
How to get more belt take-up
There is more belt stretch on a long, long conveyor than
the regular take-up and dutchman will give. So an
"Underside Take-Up" should also be used.
When should I use underside take-up?
On conveyors 60' long, or more.
NOTE: AN UNDERSIDE TAKE-UP is often used when
the overall length of conveyor cannot be changed and
the TAIL PULLEY "take-up" cannot be used.
BELT MOVES AT SPEED OF 20 MTR PER MINUTE
This is best speed to move objects from one place to
another.
A person can walk about 4 miles per hour. If they were
carrying a box they would walk much slower.
Conveyors move boxes at about the same speed as a
person carrying them. This is about 20 mtr per minute
(or about 3/4 of a mile per hour).
PULLEY IS CROWNED AND LAGGED.
A. The drive pulley is larger in the center than the ends.
This helps keep the belt in the center. This is called a
"Crown".
B. The drive pulley is completely covered with vulcanized
rubber. It is called "lagging". This keeps the pulley from
slipping under the belt.
THE CONVEYOR DRIVE IS NORMALLY LOCATED
AT THE END TO WHICH THE BELT MOVES.
SO A DRIVE PULLEY "PULLS" THE BELT.
NOTE: If the belt movement were reversed, the pulley
would be pushing the belt. When the conveyor was fully
loaded or when the belt stretched, the pulley could turn
and not move the belt.
THE SNUB IDLER
The Snub Idler is closer to the drive pulley.
It makes the belt hug more of the drive pulley surface.
The Snub Idler is ADJUSTABLE.
It is ADJUSTABLE ON BOTH SIDES of the conveyor.
(Each side of snub idler can be adjusted independently).
Reason - The Snub Idler is used to steer the belt.
HHOW TO "STEER" THE BELT
When belt runs forward and if it moves toward side "A" move return idler nearest tail pulley on side "Y" toward "B".
If belt moves toward side "B" - move return idler on side
"X" toward "A". When belt runs in reverse and if it moves
toward side "A" - move snub idler on side "X" toward "A".
If belt moves toward side "B" - move snub idler on side "Y"
toward "B".
CENTER DRIVE
(Used with Horizontal Belt Conveyors)
A. When belt movement is REVERSIBLE (on conveyors
40 ft. long or more)
B. When overall length of conveyor cannot change (belt
take up by tail pulley increases conveyor length)
A center drive should be used because:

Drive pulley now "pulls" belt in either direction
Take-up pulley can now be used to take-up belt.
Different Types of Conveyors
 Skatewheel conveyors
Consist of rows of small metal or aluminum wheels
Does not use motors—gravity does all the work
Best suited for bringing cartons, sacks and bags
down a slope
Helpful in shipping areas, moving items down
certain lanes for loading into outbound trucks
Hard to control the movement of products on these
non-powered systems
usually confined to short runs and accessible areas
Cheap, low maintenance and often portable.
Skatewheel Conveyors
Wheels are put on axles. Aluminum spacer tubes
are put on the axle between the wheels. This keeps
wheels from moving from side to side on the axle.
Belt conveyors
A motor-powered belt atop a constructed bed
Widely used in facilities because of their ability
to cost-effectively move a wide array of
products
No problem conveying odd-shaped things and
moving items up or down inclines because of
the friction produced by the large surface
contact area between belt and product
Can carry light- and medium-weight goods
Low-maintenance systems can transport
products to almost any part of the warehouse.
Sliding bed conveyors
Should be considered if you have to move
unstable loads slowly
Usually consist of an unpainted metal surface
that slides along a bed
Excel in transporting odd-shaped products and
small items that are not put into totes, because
of the generous surface contact area between the
solid bed and the product, these systems
Are commonly placed at load and assembly
stations.
Live roller conveyors
Consist of elongated rollers placed across a
conveying bed
Size of the rollers can be adjusted to accommodate
the product being conveyed
Rollers are powered by belts, chains or line shafts.
Often selected by facilities with many assorted
products
Welcome heavy loads and thrive in dirty or harsh
environments
However, they can only transport items with solid
bottoms and of adequate weight. Loose, lightweight
products can fall between the rollers and should thus
ROLLER BED CONVEYORS
When heavy total loads must be moved, it is
best to use a conveyor bed with rollers (instead
of regular conveyor bed).
This is a Roller Bed belt conveyor
Heavy total loads can be moved without using
large motors when a ROLLER BED belt
conveyor is used.
Pneumatic Conveyor Systems
•Use of pipes or ducts called transportation lines that
carry mixture of materials and a stream of high
velocity air.
•Materials are such as dry pulverised or free flowing
or light powdery materials like cement, fly ash
•Carrier systems simply push items from one entry
point to one exit point, such as the money
exchanging tubes used at a bank drive-thru window.
•Dillute-phase systems use push/pull pressure to
guide materials through various entry and/or exit
points.
•Suction or Vacuum systems, Pressure Type systems
or a Combination systems
Accumulation systems
Useful for work-in-process operations or ones that
need a buffer
Use rollers or belts that start and stop
automatically to space cartons as directed by
sensors
Can back up and set specific items aside without
holding up workflow
Widely utilized at workstations and for preparing
items before they get sorted
More costly and need extra controls and motors.
The added costs, however, can be recouped by the
flexibility that these systems provide
What is a Gravity Conveyor?
A gravity conveyor moves objects without motor power.
WHEELS
OR . . .
ROLLERS
Long belt conveyors
•Western Sahara:100 km long, from the phosphate
mines of Bu Craa to the coast south of El-Aaiun.
•Meghalaya in India to Sylhet in Bangladesh
•Conveys limestone at 960 tph and shale from
quarry in India to a cement factory in Bangladesh
(7 km+ 10 km long)
•Engineered by AUMUND France and L& T
•Actuated by 3 synchronized drive units for a total
power of about 1.8 MW
•Manufactured in about 300 meter lengths on the
Indian side and 500 meter lengths on the other side
MAINTENANCE OF CONVEYORS
To get the most out of your conveyor system,
your maintenance practices should include far
more than just emergency repairs.
Maintenance, in general, affects all aspects of
operational effectiveness and risks, not just
system availability and cost — specifically safety,
operational efficiency, energy efficiency, product
quality, and environmental integrity.
From installation to retirement
a comprehensive and important consideration
from the day a system is conceived until the
day it is retired from service.
an essential activity for the achievement of
optimum-return-on-investments
a key to remaining competitive in a hypercompetitive world.
maintenance of conveyor systems divides
into three broad categories:
Predictive
Preventive
and corrective
Matching application to use
Effective management of conveyor life begins
with the selection of a system that matches the
application for which it's being used. Different
applications require relatively different system
components and configurations, especially as it
applies to load requirements, operational
conditions, cycles-of-use, materials conveyed,
operational speeds, and usage period. When a
conveyor system is improperly designed — i.e.,
oversized or undersized — value is wasted,
regardless of the maintenance procedures
employed.
For example,
•drive motors that are undersized —
relative to the loads being conveyed
•Drive motors that are oversized
•idlers with low quality components —
such as frame, seals, and bearings
•Pulleys that are underbuilt for the
loads they are
•Improperly designed impact areas
•An under-built structure
Planning to avoid emergency repairs
Conveyor maintenance can and should be a
straightforward, predictable process — not an
emergency event. However, it can easily turn into one.
The proper design of a conveyor system assures that
power and loads are well balanced and that stress
points are within controlled limits.
The forces that occur at start-up and at stops can be
quite surprising
Proper system design is a must for protection of the
equipment investment, system safety, system
availability, ease-of-maintenance, as well as the longterm, value-producing capability of the entire
operation.
Maintaining safety
Maintenance should only be performed with
the conveyor system stopped and electrically
locked out.
check the entire conveyor for stray tools,
parts, or other potential obstacles prior to
restarting the system after maintenance
activities have been preformed.
Maintenance of a conveyor system is not a task
for untrained or inexperienced individuals.
Predictive maintenance
to
eliminate surprises
Two basic types of predictive maintenance.
replacing components at regularly scheduled
intervals — usually during scheduled
shutdowns — so that total failure of a
component is avoided.
Another to replace components as indicators
of excessive wear or impending failure
present themselves
Preventive maintenance
extends component and system life
•the re-lubrication of components at specified
intervals
•general housekeeping activities
•alignment of all components and belt splices.
•the removal and replacement of worn or
damaged belt sections
•tests of electrical components
•replacement of wear items — such as motor
brushes — at appropriate intervals.
Maintenance intervals vary depending on
the application
hours-of-use
quality of components
system specifics
Corrective maintenance, which involves the
replacement of a component after it has
demonstrated signs of imminent failure or has,
in-fact, failed, should be seen as a last resort.
An example is a seized idler roll that must be
quickly removed so that the roll "shell" does
not have a chance to wear through and
possibly cut or damage the conveyor's belt.
conveyor systems be visually inspected on a
regular basis for
all areas of material buildup should be noted
and subsequently removed at shutdown.
The causes of material buildup should always
be explored
Belt surfaces and edges should be inspected
for wear or belt delamination.
•Problems with bearings and rolling elements
•Rollers not rotating with belts
Good housekeeping
keeps a conveyor running well
In areas where contamination is excessive,
protective-end shields should be used on the
idler and return rolls. Also, in particularly wet
areas, special lubricants should be seriously
considered.
While the conveyor system is shutdown and
electrically locked out, the adjustment of skirt
boards and belt scrapers should also be
considered, if indicated, to compensate for wear
or to prevent wear. Additionally, the backside of
the belt, return rolls, and pulleys should be
inspected to determine if excessive "carryback"
is present because this may lead to various
forms of belt and component damage.
Proper equipment, proper maintenance
regular attention to the maintenance of an
important system, such as conveying, is a vital
part of the job, too.
It is just too important to be left to chance and,
when properly organized, it is efficient,
effective, and non-disruptive.
Ultimately, maintenance doesn't cost, it pays —
and it's all about getting your money's worth.
Protecting all the parts
To obtain the optimum return on your conveyor
investment, the following components that typically
make up a conveyor system must be maintained:
Drives
Take-up systems
Control equipment
Belting
Pulleys
Troughing idlers
Return idlers
Tail sections
Impact-loading
equipment
Chutes
Skirting
Belt scrapers
Equipment guards
Covers
Walkways
Structure
Transfer stations
Specialized
components associated
with site-specific
activities.
Conveyor maintenance checklist
While the system is in operation
Check the following issues and refer to all
relevant safety warnings and information:
•Regularly walk around both sides of the
system and note the condition, as well as any
unusual behavior of all the moving
components.
•Note points of material buildup.
•Look for any signs of misalignment or
improper belt tracking.
•Check drive amperage requirements and
compare amperages to previous levels for
similar loads and conditions.
Check the following while system is at rest and
electrically locked out:
•Confirm that components are in proper
alignment
•Closely inspect suspect components and take
corrective action
•Check all safety systems.
•Test control equipment.
•Check for belt wear — especially at edges and
splices — and belt stringing.
•Check for damage or wear at loading and
transfer points.
•Check clearances at chute and skirting areas.
Check the following while system is at rest and
electrically locked out:
•Remove any material buildup on components
and clean up any spills along the system.
•Relubricate all pillow block bearings
•If relubricatable, relubricate troughing and
return rolls
•Check the condition and functionality of belt
scrapers, and adjust or replace
•Confirm that all guards and covers are in place.
•Replace motor brushes
Item to Check
Correct Adjustment
Conveyor Belt Tension
Using hands pushing upward, 3 to 12 mm
slack under headshaft at discharge
Conveyor Belt Centered
Tighten take-up bolt on side which belt is
riding nearest or loosen opposite side as
required to center belt and achieve proper
belt tension
Drive Chain Tension & Alignment
Tension: 1 mm deflection per 100mm of
span
Alignment: 1 mm per 200 mm of span
Grease Bearings (Located on headshaft
and tailshaft)
Fill until small bead comes from seal
Ratchet Clutch Adjustment, if equipped
Compressed length of spring to measure
40 mm
Be sure to loosen set screw for adjustment
and re tighten upon completion.
Oil in Gear Reducer, if equipped
Change Oil after the first 250 hrs. Then
every 6 months or 2500 hrs of operation
COMPONENT
ACTION
SCHEDULE
WEEKLY
Check noise.
MOTOR
REDUCER
DRIVE CHAIN
Check temperature.
MONTHLY
QUARTERLY
P
P
Check mounting bolts.
P
Check noise.
P
Check temperature.
P
Check oil level.
P
Check tension.
P
Lubricate.
P
Check for wear.
SPROCKETS
BELT
Check for wear.
P
Check set screws and
keys.
P
Check tracking.
P
Check tension.
P
Check lacing.
P
BEARINGS
(Pulleys & Rollers)
Check noise.
V-BELTS
Check tension.
P
Check for wear.
P
Check sheave
alignment.
P
General check: Loose
bolts etc. tightened.
P
STRUCTURAL
P
Check mounting bolts.
P
Problem
Possible Cause
Solution
Clutch Ratcheting
or slipping
Drive chain
assembly
misalignment or
tensioned
incorrectly
Excessive or
Accumulated
Load
Refer to tension and
alignment in
Maintenance Chart
Carry-Back of
Material into
Conveyor
Avoid load buildup by
running conveyor
continuously. Do not
manually surge load
conveyor
Replace filled
receptacle as required
Improper ratchet Refer to ratchet clutch
clutch
adjustment in
tensioning
Maintenance Chart
Problem
Possible Cause
Solution
Clutch Ratcheting
or slipping
Damaged or
missing chain
assembly parts
Accumulation of
conveyed material
or foreign objects
inside of casing
Excessive Wear on
Casing
Conveyor not level
Review belt and
repair or replace as
required
Reverse conveyor
placing ball of
newspaper or a rag
on belt to act as
wipeout for
accumulated
material
Level conveyor
Belt misalignment
or tensioned
incorrectly
Refer to conveyor
belt tensioning and
alignment in
Maintenance Chart
Problem
Possible Cause
Solution
Excessive
Wear/Damage to
Belting
Belt misalignment
or tensioned
incorrectly
Refer to conveyor
belt tensioning and
alignment in
Maintenance Chart
Replaced damaged
portion of belting
Motor
overloads/overheats
Foreign object
dropped on
conveyor belt
Ratchet clutch not
set properly
Refer to ratchet
clutch adjustment in
Maintenance Chart
Grease Bearings as Required (Chart from Service Manual):
CONDITIONS
SPEED
TEMPERATURE OF
OPERATING
ENVIRONMENT
CLEANLINESS OF
OPERATING
ENVIRONMENT
GREASING
INTERVAL
100
RPM
Up to 50 ° C
Clean
6 to 12
Months
500
RPM
Up to 65 ° C
Clean
2 to 6 Months
1000
RPM
Up to 100 ° C
Clean
2 Weeks to 2
Months
1500
RPM
Up to 100 ° C
Clean
Weekly
Any
Speed
Up to 65 ° C
Dirty
1 Week to 1
Month
Any
Speed
Up to 65 ° C
Dirty
Daily to 2
weeks
Any
Speed
Any Temp
Very Dirty
Daily to 2
weeks
Any
Any Temp
Extreme Conditions
Daily to 2
A well-executed scheduled maintenance plan can
extend the life of your conveyors, make them more
reliable, and help prevent expensive downtime.
•Check/lubricate all bearings, universal joints, and
pulleys.
•Check chain tension, wear and lubricate.
•Check sprocket alignment, wear, and screw set.
•Check flat belt tension, wear and lacing.
•Check V-belt tension, wear and sheave alignment.
•Check electrical connections at conveyor.
•Check gearbox and fill to proper level.
•Check general condition of system.
•Operate entire system after service.
•List any items requiring replacement or repair.
Belt Tracking
1. First item you check is the bed for square. which is done
by measuring corner to corner. (Figure 1)
2. Make sure that the bed is level from end to end and side
to side. If there is more than one bed, run a string from the
center of each end to make sure there is no bow in the bed
set up. A banana type bow can cause tracking problems.
(See Figure 2)
Belt Tracking
3.Make sure the drive and take-up pulleys are level
with the bed. If the pulleys are not level the belt will
track hard to the "low" side. Loosen the bearing bolts
on the side that the belt rides toward and adjust the
pulley "up" to move the belt toward the center of the
pulley. (See figure 3).
4.After you are sure that the conveyor is level and the
pulleys are level with the conveyor your next check is
the belt tension.
Drive Chain Tensioning
A loose chain can
jump the drive
sprockets and
can cause
sprocket wear
and failure. A
tight chain
requires
excessive motor
power, and can
cause chain and
sprocket failure.
The slack should be 2% of the
span in the following cases:
1. The Drive is vertical or close to
vertical
2. The span is greater than 36
inches
3. The Chain is operated under
heavy load and high frequency of
on-off cycles
4. The direction of the Drive is
change often.
How to Optimize Conveyor Operations and Productivity
•Keep your axe sharp - maintain your conveyor
•Know fixes to common problems
•conveyor suddenly shuts down
•accumulation in one area of the conveyor
•drive runs, but the belt doesn't move
•Get to know your load
•Shape or form
•Dimensions
•Orientation
•Utilize energy-saving controls and devices
•PM & Right equipment
•Test for performance
•Inspection visually
•Function testing
•Load testing
•Error recovery
How to Optimize Conveyor Operations and Productivity
•Correctly select and integrate vertical and horizontal
conveyors
•system throughput requirements
•product characteristics
•elevation change
•number of infeed/discharge points
•manual or automated infeed/discharge
•interface with horizontal transport devices
•proximity to workers
•safety devices
•Environment
•and future system requirements
•Safety is essential
•42% of the injuries around conveyors occur while
performing maintenance,lubrication or other
mechanical processes
How to Optimize Conveyor Operations and Productivity
•Design conveyor workstations with ergonomics in
mind
•Work surface height
•Reach distance
•Choose the right belting
•kind of load, the need for increased oil resistance, and
applications where the load & conveyor may make belt
tracking more difficult
•Make conveyor technology upgrades
•Dynamic Zone Allocation, the system automatically
adjusts the conveyor's zone length to accommodate
the length of the carton being conveyed
•Loading zone functionality: diff. between load in
transport & one that is inserted
Energy saving tips in conveyor applications
•Select the proper size of conveyor motor for the job
•Turn your conveyor off when it's not in use
•Use gravity feeds whenever possible
•Maintain conveyors for maximum efficiency
•Six major causes of drive failure to watch for:
bearing failure, winding failures, rotor failures,
improper speed-reducer lubrication, improper use of
reducer, and poor alignment of the reducer
•Design the conveyor system with energy in mind
•Upgrade your technology
•Consider replacing worn-out conveyors
Twelve Fundamental Conveyor Safety Rules
•Don't perform service on conveyor until motor
disconnect is Locked Out!
•Service conveyor with only authorized maintenance
personnel.
•Keep clothing, fingers, hair, and other parts of the body
away from conveyor!
•Don't climb, step, sit or ride on conveyor at any time!
•Don't load conveyor outside of the design limits!
•Don't remove or alter conveyor guards or safety divides!
•Know location and function of all stop/start controls.
•Keep all stopping/starting control devices free from
obstructions.
•All personnel must be clear of conveyor before starting.
•Operate conveyor with trained personnel only!
•Keep area around conveyors clear of obstructions.
Report all unsafe practices to your supervisor!
Any Questions?