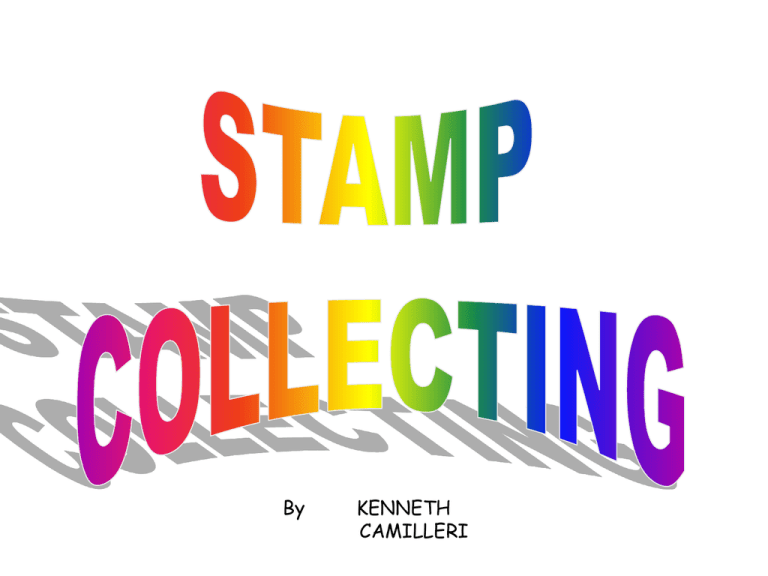 By
KENNETH
CAMILLERI
My hobby is
collecting
stamps.
I have about
2000 stamps
from all over
the world
which are in my
seven stamp
albums.
This is the first
page of my
collection.
I put the stamps
in alphabetical
order of the
country that they
come from. Then
I put them in
order of their
value, starting
from the smallest
value.
In one of my
albums I put
sets of a
particular
subject.
One of my sets
is of colourful
butterflies from
all over the
world.
Some other sets
that I have are
of trains, cars,
aeroplanes,
space, tigers
and motorcycles.
My favourite stamp comes from India
and is the biggest one of my collection.
It is 9.5cm long and 4.6cm wide.
Stamp collecting is
one of the world's
most popular
hobbies.
It is estimated
that in the United
States alone there
are about 20
million collectors.
To start collecting
stamps you will need a
stamp album which has
pockets where you can
insert the stamps.
You will also need a
magnifying glass and
tweezers.
Two famous people that collected
stamps when they were young are
Freddie Mercury of the Queen and John
Lennon of the Beatles. Their albums are
now on display in Museums.
This stamp is called the
'Penny Black' and was
the world's first
adhesive stamp.
It was issued in the
United Kingdom on 1st
May 1840.
This stamp is called
'Inverted Jenny' and is
very rare because
the aeroplane was
printed upside down in
error. When they
realised what happened
they printed others
with the plane the
right way up. The few
that remain today are
worth a lot of money.