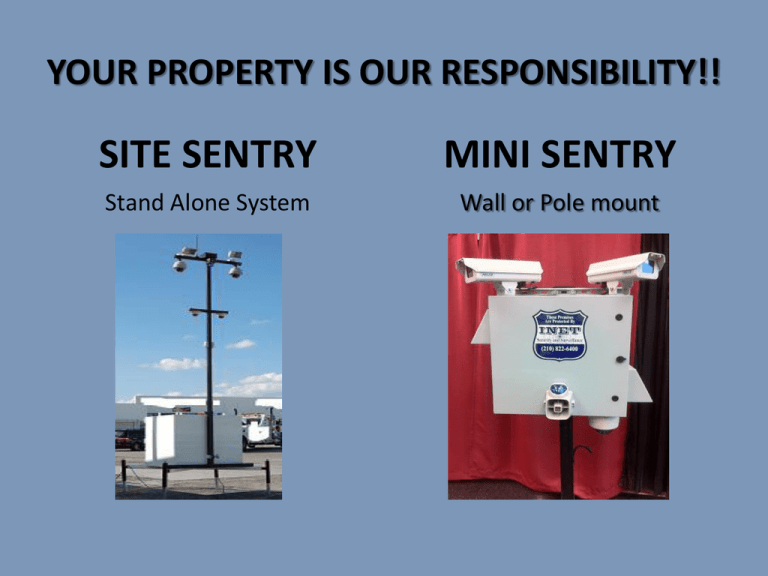 YOUR PROPERTY IS OUR RESPONSIBILITY!!
SITE SENTRY
MINI SENTRY
Stand Alone System
Wall or Pole mount
Site Sentry
By providing highly-advanced
surveillance equipment installed by
licensed professionals , we deter theft
and vandalism from happening to
construction site, retail centers,
apartment complexes and other
commercial properties. Our equipment
comes tailored to your security
concerns, allowing your property to
remain safe, protected and productive.
Our licensed installers are able to set
up the equipment promptly upon
request without any hassle. The
addition of strobe lights and Outdoor
Motion sensors will make sure
everyone knows that they are being
watched. Overall, you can rest assured
knowing superior surveillance
protection is yours.
Additional benefits include: Free video retrieval; Live video stream
access from personal PC, tablet and, smartphone; strobe lights,
Dusk till Dawn week day monitoring 24 hour weekend.
MINI SENTRY
Sirens, speakers and strobe
lighting are manually
operated and triggered by
security monitoring agents as
a deterrent. Specific warning
messages and notifications
can be customized and
delivered by loudspeaker.
Recording unit captures video
from all cameras in full
motion, 24 hours a day, 7 days
a week with 45 days of local
video storage.
Watch live video of your site from any computer, tablet or
smartphone. Unit can be wall mounted or mounted to a steel pole.
Both options provide a secure camera position well above the
ground, leave little or no footprint and take up far less space than
a trailer.