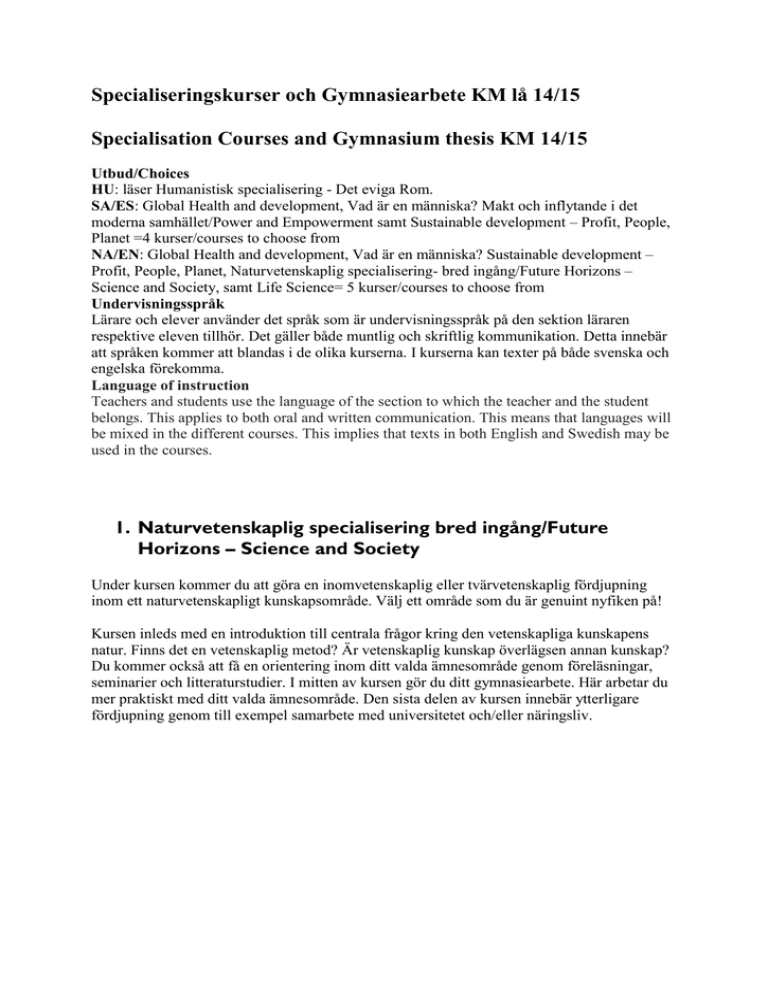 Specialiseringskurser och Gymnasiearbete KM lå 14/15
Specialisation Courses and Gymnasium thesis KM 14/15
Utbud/Choices
HU: läser Humanistisk specialisering - Det eviga Rom.
SA/ES: Global Health and development, Vad är en människa? Makt och inflytande i det
moderna samhället/Power and Empowerment samt Sustainable development – Profit, People,
Planet =4 kurser/courses to choose from
NA/EN: Global Health and development, Vad är en människa? Sustainable development –
Profit, People, Planet, Naturvetenskaplig specialisering- bred ingång/Future Horizons –
Science and Society, samt Life Science= 5 kurser/courses to choose from
Undervisningsspråk
Lärare och elever använder det språk som är undervisningsspråk på den sektion läraren
respektive eleven tillhör. Det gäller både muntlig och skriftlig kommunikation. Detta innebär
att språken kommer att blandas i de olika kurserna. I kurserna kan texter på både svenska och
engelska förekomma.
Language of instruction
Teachers and students use the language of the section to which the teacher and the student
belongs. This applies to both oral and written communication. This means that languages will
be mixed in the different courses. This implies that texts in both English and Swedish may be
used in the courses.
1. Naturvetenskaplig specialisering bred ingång/Future
Horizons – Science and Society
Under kursen kommer du att göra en inomvetenskaplig eller tvärvetenskaplig fördjupning
inom ett naturvetenskapligt kunskapsområde. Välj ett område som du är genuint nyfiken på!
Kursen inleds med en introduktion till centrala frågor kring den vetenskapliga kunskapens
natur. Finns det en vetenskaplig metod? Är vetenskaplig kunskap överlägsen annan kunskap?
Du kommer också att få en orientering inom ditt valda ämnesområde genom föreläsningar,
seminarier och litteraturstudier. I mitten av kursen gör du ditt gymnasiearbete. Här arbetar du
mer praktiskt med ditt valda ämnesområde. Den sista delen av kursen innebär ytterligare
fördjupning genom till exempel samarbete med universitetet och/eller näringsliv.
Specialization course
(EN & N)
FUTURE HORIZONS
FDI, PRF, HDA, MKA
SCIENCE & SOCIETY
THE FUTURE YOU? TOMORROW'S NEEDS - FOR YOU & FOR SOCIETY!
Major course components
THE KNOWLEDGE TRIANGLE
How can you use your knowledge and creativity to handle the
challenges of science, technology and development? Connect
your current knowledge to its future use.
Use different ways of knowing to increase your capacity as
learners and doers. Apply all areas of knowledge when
approaching and evaluating an idea in terms of past, current and
future possibilities.
Ideas will be the focus of this course. Ideas and the skills related
to recognizing good ideas and realistic approaches to
innovations and issues in science, technology and society.
Investigation, application, implementation, assessment and
reevaluation of ideas will be the basis for our projects involving
real-life application of scientific and holistic thinking.
What is progress? Are you a stakeholder? What is the dynamic
that must be reached between invention and societal needs?
How do we reach and maintain sustainable and viable societies?
Aim
To provide new insights regarding
current science & technology
development shaping the world
today; using transdisciplinary
perspective in performing in-depth
investigations.
The structure of the course will be
built around case studies. The
students will be given hypothetical
and real tasks to tackle, requiring
consideration of issues relating to
paradigms and current visions in
Potential case studies
all of the major areas of the natural
sciences. What are the key challenges of
today? What are the trends & drivers
shaping and transforming futures? How
and by whom are they approached?
Philosophy of science and the framework
for current theoretical work and the
advantages and limitations of model
concepts and theories. Directions of
modern science and theory of knowledge.
The Research process: the skills and
nature of academic research and its
relationship to society.
Practical aspects of science and
technology. The relationship between
industry and fundamental/basic research
with perspectives regarding e.g.,
dissemination, ethics, financing,
intellectual property (patents).
This unit will also introduce further
educational opportunities in Sweden and
the EU.
Lab work & study visits, highlighted with
group dynamics, will be performed in
relation to topic selection within a case.
Comprehensive investigations into
specific and varying areas within
the cases coupled to inclusive
explorations designed to give the
students the depth and breadth
required of today's science.
Urbanization & Demographic changes – a continuous
rise of megacities: solutions of mobility, age status,
environmental protection and infrastructure.
Science, Technology, Health & Ethics – Robots with
human socio-communicative skills. Pandemics: "labson-a-chip".
Technology convergence – Nanotechnology: materials,
gene therapy, IT DNA memory. Robotics: Swarm
intelligence.
Climate change & Smart energy alternatives –
Knowledge transfer for better bio-economy & clean
technologies.
Novel technological perspectives –Life on other
planets: radio astronomy & astro-biology. ICT: smart
grids & telephony - emergence, use & consequence.
General questions
End result
What is the knowledge in the topic
selected?
How does that knowledge grow?
What are the limitations of the
knowledge?
Who owns the knowledge?
What is the value of the knowledge?
What are the implications of having or
not having the knowledge?
Is there one way of knowing that is better
for acquiring the knowledge?
Where is the knowledge?
I. Scientific journal with individual
articles from each participant.
II. Simulated professional
symposium – participation will either
be as a speaker or with extensive
poster presentation.
Coupling to
Gymnasiearbetet
From the case studies you may find
an aspect that you can approach with
a more in-depth study.
2. Life Science
Naturvetenskaplig specialisering
Life science är ett relativt nytt och tvärvetenskapligt forsknings- och utbildningsområde. Det
kännetecknas av utveckling av lösningar på problem inom biokemi, genetik, bioinformatik,
molekylär biologi och biomedicin.
Molekylär biologi, biokemi och den molekylära genetiken studerar de levande organismerna
ur det mest detaljerade perspektivet. Bioinformatik är ett område i gränslandet mellan biologi,
matematik och datavetenskap och behandlar t ex frågeställningar om våra geners funktion och
evolution. Inom ämnet biomedicin ägnar man sig åt människan och hennes sjukdomar med
utgångspunkt ifrån den roll gener, molekyler och celler spelar för normal funktion och för
sjukdom.
Kursen inleds med experiment kopplade till teorier om livets uppkomst. Vidare får du
praktiskt prova på metoder inom bioteknik och bioinformatik. Under kursen kommer du även
att bekanta dig med DNA-sekvensering och olika tillämpningar inom biomedicin. Vi kommer
också att göra studiebesök med anknytning till Life science.
3. Global Health and Development
Samhällsvetenskaplig specialisering, Naturvetenskaplig specialisering
The aim of the course is to give a broad and in-depth knowledge and understanding of factors
behind disease, epidemics and health, and their connection to development in different parts
of the world, with special focus on Africa South of the Sahara. The course also aims at giving
gender and human rights perspectives on factors behind development. The course is about
studying complex issues with an interdisciplinary approach, which will be suitable for both
S/ES-students and N/EN-students.
Themes and topics in the course:
Defining and measuring global health
What is health? What is global health? UN Millennium Development Goals. Medical vs.
public health. Challenges to global health. Health determinants.
Development - Focus Africa
What is development? Sustainable Development. Global population growth and Ecological
Footprints. The image of Africa. Africa in history. Africa in the 21st Century. NGO's, Foreign
Aid and Development Co-operation.
Pathogens and disease:
Structure, function, life cycles and transmission of disease causing microorganisms.
Historical and contemporary importance of diseases to human populations and societies.
The burden of disease. Eradication and control of diseases. Sterile techninque and cultivation
of bacteria.
Water, Sanitation, Health and Development
Water stress and access to clean water and its impact on health and development.
Water-borne diseases.
HIV/AIDS and Development
HIV and its effects on the human body. Living with HIV/AIDS in Sweden and in Southern
Africa. The effects of HIV/AIDS in Southern Africa.
Human Rights, Gender, Health and Development
What is Human Rights?
Sexual and Reproductive Human Rights, Sexual violence in conflicts.
Working methods:
Lectures, guest lectures, in-depth studies, individually and in groups, seminars etc. The course
will be held in English, with the possibility of using material in Swedish and having Swedishspeaking guest lecturers.
Partnership Zambia:
The course connects with Kungsholmen's gymnasium's partnership with some schools in
Zambia.
4. Vad är en människa? – What Makes Us Human?
Samhällsvetenskaplig specialisering, Naturvetenskaplig specialisering
Mål och syfte:
Så länge människan funderat över sitt liv har frågan om vad det innebär att vara människa ställts
och diskuterats. Vad är speciellt, vad skiljer oss från andra arter och finns det något genuint
mänskligt? Genom historien har svaret på frågan förändrats och modifierats. Olika tider har lyft
fram olika perspektiv och ideal, och olika idétraditioner och vetenskapliga upptäckter har
omformat bilden av vad det innebär att vara människa.
Under denna kurs vill vi pröva, utforska och utmana gränsdragningar och givna kategoriseringar
av vad en människa är. Under kursens gång undersöker och ifrågasätter vi några av dessa
traditionella människobilder och blickar framåt mot nyare forskning för att se i vilken mån denna
kan hjälpa oss förstå det mänskliga varat.
Vi tar vår utgångspunkt i de tre stora vetenskapsområdena Humaniora, Samhällsvetenskap och
Naturvetenskap genom att studera texter från olika forskningsfält som: kognitionsvetenskap,
evolutionsbiologi, genusvetenskap, moderna filosofiska teorier, neurovetenskap, modern genetik
och språkvetenskap.
Arbetsgång
Under första delen av kursen läser vi texter från olika discipliner kring olika teman. Varje tema
avslutas med seminarium där vi diskuterar våra olika tolkningar av texterna, med frågan om det
mänskliga som bakgrund. Efter varje tema skrivs ett vetenskapligt PM. Mot slutet av
höstterminen sker ett val av ett specifikt ämnesområde inför gymnasiearbetet. Efter
gymnasiearbetet fortsätter kursen med fördjupande och samtidigt tvärvetenskapliga seminarier.
Undervisning och Examination
Undervisning sker i seminarieform efter en övergripande introduktion av varje tema i form av
studiebesök, film, utställningar och föreläsningar. Bedömning sker löpande utifrån deltagande
under seminarierna. Bedömning sker även genom ett avslutande "paper" som syftar till att lyfta
fram det fördjupade ämnet för gymnasiearbetet och sätta in det i en större kontext, och som
presenteras vid en avslutande konferens.
Undervisningsspråk
Lärare och elever använder det språk som är undervisningsspråk på den sektion läraren
respektive eleven tillhör. Det gäller både muntlig och skriftlig kommunikation. I kursen
förekommer texter på både svenska och engelska.
5. Sustainable development – Planet, People, Profit
Samhällsvetenskaplig specialisering och gymnasiearbete (200p)
Naturvetenskaplig specialisering och gymnasiearbete (200p).
Introduction
We are all familiar with the concept of sustainability; most
of us would automatically think about the environment,
global climate change and the need to move away from
the consumption of fossil fuels to more eco-friendly
alternatives.. We understand the need to move towards
the consumption of reusable resources, before the finite
resources that we have available to us run out for good
However to fully understand what sustainable
development means we need to pay attention the diagram
opposite, and realize that sustainable development has
three separate dimensions: Environment, Economy and
Society. Focusing on only one of these three aspects will
not lead to a sustainable planet – they all need to be
developed together
Course content
This course will focus on all three of the above aspects and therefore, while specializing in sustainable
development, will also give students the possibility of studying a broad range of topics within the
subject. The various topics draw from both the social studies and the natural science programs and
thus provide a unique synthesis in the school that other courses do not fully cover.
Broad topics that we intend to cover:
Political systems and political issues, for instance gender and class
Models of economic systems, corporate and business models
Urban contra rural development, housing, education, segregation
Environmental issues; resources and geographical/social/economical distribution, development and
sustainable ecosystems, , environmental threats to individual health and/or a sustainable society
An evaluation of technological solutions such as green energy production and genetic
modification
Teaching language: mixed English and Swedish
Who can choose this course? N, S, EN and ES – everyone is welcome!
6. Makt och inflytande i det moderna samhället
Samhällsvetenskaplig specialisering
ÄMNESÖVERGRIPANDE: framförallt mellan samhällsvetenskapliga ämnen, såsom
samhällskunskap, religion, historia, psykologi, och filosofi - men även svenska och engelska
- med fokus på examensmålen för Samhällsprogrammet.
MÅLET med kursen är att problematisera begreppet makt och studera det ur olika perspektiv.
Eleverna ges möjligheter att fördjupa sig i olika aspekter av makt.
Eleverna ges verktyg att tolka och påverka sin egen livssituation och sin omvärld, vilket är en
viktig del av skolans vision.
Kursen kan vara en grund och inspiration till gymnasiearbeten där teori kan förenas med
praktik ute i samhället.
Exempel på inriktningar kan vara utformning och utvärdering av stödåtgärder för utsatta
grupper, integrationsprojekt, självhjälpsgrupper, etc.
Kursen kommer att innehålla föreläsningar och vetenskapliga texter, både på svenska och
engelska.
Områden att fokusera på
Definitioner av makt: Makt över – makt att
Maktstrukturer – såsom klass, kön, etnicitet
Offer, aktör, förövare'
Språkets makt
Makt och våld
Socialiseringsprocesser
Socioekonomiska hälsoskillnader
Orättvisor på arbetsmarknaden, kring tex arbetsmiljö och anställningsförhållanden
Status och lycka
Konsumtionssamhället
Makt och media
Globaliseringsteorier
Gamla och nya världsordningar
Dödshjälp
FÖRSLAG på föreläsare:
Maria Borgström, docent i interkulturell pedagogik
Yvonne Svanström, forskare i ekonomisk historia, inriktning genus
Ann Isaksson, chef för Alla Kvinnors Hus, Sveriges första ideella kvinnojour, polis
Alexander Perski, stressforskare på Karolinska Institutet
Torbjörn Tännsjö, professor i praktisk filosofi
Mfl föreläsare
7. Det eviga Rom
Humanistisk specialisering
Kursen syftar till att på ett tvärvetenskapligt sätt fördjupa elevernas kunskap i historia 2b, latin
2, moderna språk, naturkunskap, religion, filosofi och samhällskunskap.
Förslag till innehåll:
 Arkeologi/miljöarkeologi
 Romarrikets historia kulturellt, politiskt, historiskt
 Konstvetenskap
 Genusvetenskap
 Le grand tour, bildningsresan: Europeisk litteratur och filosofi
 Natur- och kulturgeografi
 Klimatpåverkan förr och nu
 språk
Kursen börjar med föreläsningar och seminarier samt inläsning av för kunskapsområdet
relevanta texter, både av lärare och externa föreläsare. ( loggböcker med reflektioner)
En uppgift för gymnasiearbetet formuleras under seminarierna med koppling till kursen och
kommande fältstudier.
Under en vecka i oktober bedrivs därefter fältstudier i Neapel med dess omgivningar och Rom
och under fortsättningen av kursen bedrivs jämförande fältstudier på hemmaplan. ( För att
möjliggöra resan till Italien samlar vi pengar under åk 2 och söker olika stipendier. Skolan
bidrar med en del av summan)
Därefter skrivs examensarbetet. När examensarbetena redovisats i seminariegruppen vidtar
fördjupning och specialisering, förhoppningsvis en fortsättning på examensarbetet. En ny
serie föreläsningar och seminarier vidtar.