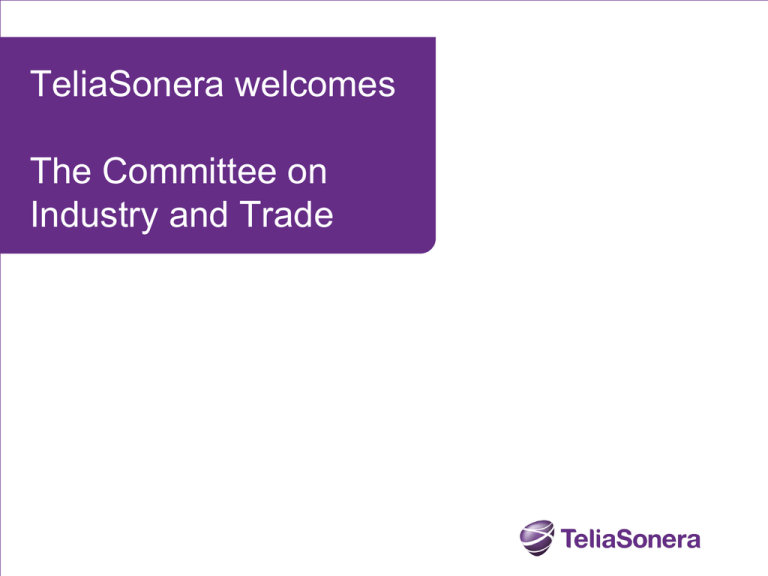 TeliaSonera welcomes
The Committee on
Industry and Trade
Introduction
Marie Ehrling
Chairman
Today's agenda
• TeliaSonera – an update (Johan Dennelind)
• Sustainability update (Eija Pitkänen)
• Anti-Corruption program status and actions (Michaela Ahlberg)
• TeliaSonera Sweden (Malin Frenning)
• Questions & Answers
TeliaSonera
- an update
Johan Dennelind
President & CEO
Our footprint
c
• 185,8 million subscriptions (Q3 2013)
• 26,401 employees (Q3 2013)
• Net sales 104 BSEK (2012)
Shareholder structure December 31, 2013
Shareholder
Holding
Swedish State
37.3%
Finnish State
10.1%
Capital Group Funds
3.5%
Swedbank Robur Funds
2.1%
AMF Insurance and Funds
1.9%
Alecta
1.7%
Nordea Funds
1.5%
SEB Funds
1.3%
SHB Funds
1.2%
BNY Mellon Investment Fund
1.1%
Fourth Swedish National Pension Fund
1.0%
Bank of Norway Investment Mgmt
0.6%
Skandia Life Insurance
0.6%
AFA Insurance
0.5%
Second Swedish National Pension Fund
0.5%
Other shareholders
35.1%
30%
25%
20%
15%
10%
5%
0%
Ownership outside Sweden and Finland
2011
2012
2013
Europe's 6th largest telecom operator
& OMX 6th largest company
Market cap,
January 2014
SEK
billion
Market cap*,
January 2014
SEK
billion
1
Vodafone
1,213.1
1
Astra Zeneca
515.4
2
Telefónica
497.5
2
H&M
480.0
3
Deutsche Telekom
492.1
3
ABB
391.7
4
BT
319.8
4
Nordea
364.7
5
Telenor
234.4
5
Ericsson
256.8
6
TeliaSonera
226.5
6
TeliaSonera
226.5
7
Orange
225.7
7
Atlas Copco
216.2
8
Swisscom
181.4
8
Swedbank
207.5
* Nasdaq OMX Stockholm
Source: Bloomberg
Telecoms: A turbulent industry
Turbulence caused by several trends
•
Ecosystem & new competitive models
•
Mergers & Acquisitions
•
Media & Content
•
Convergence
•
Innovation & new business opportunities
•
Regulatory
Ecosystem: New competitive dynamics in and
around the telecom operator's business model
Ad networks
Downloads
Picture
Pod cast
Video
Content
aggregators
Video
on
Demand
Music
Content
creators
Pay TV
Games
4. Media
Free TV
Consumer
portals
News
E-Commerce
data
Social content
…
Internet
players
Communities
Stores
…
4. OTT
Mobile
Search lists
Mobile 4G
(LTE, WiMAX)
Instant
messaging
WiFi / WLAN
B2B data
Voice services
B2B exchanges
Fixed line
Conversation
SMS
OS & Apps
Authentication
OS for consumer
services
devices
Digital rights
Digital terrestrial
TV / Radio
mgmt (DRM)
Apps for consumer
Digital asset
DVB-H
devices
mgmt (DAM)
3. Cable and Fiber
Security
Cable
operators
services
E-Commerce Software OS for PC
Satellite
developers
services
Order fulfilment
Mobile 2G
Apps for PC
services
Payment 5. Platform players
Mobile 3G
services
OS for handsets /
Mobile 3G+
Billing
smartphones
(e.g., HSPA)
E-mail
Message
Transaction
& Services
Analog TV / Radio
Broadcast / Cable
Advertisement Advertiser
Network
PSTN
1. Telcos
DSL
FTTx
Unified
communication
…
Device
Analog TV
Digital TV
Consumer
electronics
Personal
manufacturers
Video Recorder
Set top box
Media Player
Portable
media player
Video
game
Console
console
manufacturers
Netbook
B2B CRM
Mobile handset
…
…
B2B SCM
On the way
PC PC
Laptop
manufacturers
Handset
Smartphone
manufacturers
ICT / System
Integrators
B2B ERP
At home
Desktop PC
Apps for handsets /
smartphones
EDI business
services
Datacenter
services
Customer
Consumer
Aggregation
PDA
Fixed line
telephone
Modem
Access
equipment
Router
manufacturers
Business
Content /
Information
Small
enterprises
Medium
enterprises
Large
enterprises
Our journey ahead
- shaping the future TeliaSonera
6 months. 9 countries. 1000 colleagues.
My observations.
The good spells A, B and C:
Assets
Brands
Competence
The 4Cs that worry me
•
•
•
•
Competitiveness
Customer
Culture
Complexity
Moving from observations to our journey ahead
Group Management
CEO Office
President & CEO
Ethics & Compliance
Internal Audit
Legal Affairs
Finance
Human Resources
Communications
Technology
EVP Europe
EVP Eurasia
Strategy & Business
Development
VACANT
Commercial
VACANT
EVP Sweden
Sustainability
update
Eija Pitkänen
Head of Group Sustainability
Sustainability focus areas 2014
Human Rights:
Freedom of Expression and Privacy
Customer Privacy
Anti-corruption work
Supply chain management
Occupational Health and Safety
Environmental performance
Sustainability management: materiality (status 21.01.2014)
How many % from the respondents considered the issue very important and important for
TeliaSonera's sustainability work
Supply chain
Labour and Human rights 92%
Occupational Health and safety 89%
Conflict minerals 77%
Own Operations
Anti-corruption 97%
Labour laws 89%
Transparent tax reporting 88%
Issue interest to stakeholders
Materiality analysis
Most
material
issues
Issue impact to TeliaSonera
Markets
Customer privacy 95%
Fair market practices 85%
Products and services improving energy efficiency and
reducing CO2 emissions 74%
Own Operations
Freedom of Expression 98%
Protecting children on-line 88%
Bridging digital divide 76%
Code of Ethics and Conduct e-learning roll-out
Current completion rate
Azerbaijan
Finland
Kazakhstan
Uzbekistan
Sweden
Nepal
Tajikistan
Estonia - Elion
Estonia - EMT
Latvia
Lithuania - Omnitel
Lithuania - Teo
Moldova
96,5%
96,0%
95,7%
97,4%
93,4%
98,0%
95,2%
98,7%
99,8%
100,0%
96,8%
98,8%
100,0%
Wave 1, Jul 3-4
Wave 2, Sep 4-5
Wave 3, Oct 22-23
Wave 4, Dec 3-4
Azerbaijan, Finland,
Kazakhstan, Uzbekistan
Nepal, Tajikistan, Sweden
Estonia, Lithuania
Moldova, Latvia
Denmark, Norway, Spain,
Turkey, Georgia,
TSIC "Rest of the World")
Sustainability is core to TeliaSonera's business and will be
anchored in our strategy
Industry leadership in selective areas for example:
• Enablers of a sustainable future:
social involvement
Leadership
Best
sustainability
practice
• Greening with ICT
• Freedom of Expression
• Sustainability as part of the business
strategy. KPIs established
• Better positions in sustainability indexes
like DJSI and CDP
Good sustainability
practice
Ethics and compliance
• Good level of Sustainability Reporting
• Best in class ethics and
compliance program in place
Anti-Corruption program
status and actions
Michaela Ahlberg
Chief Ethics and Compliance Officer
Ethical
dimension
8. Continuous Improvement / Audit & Monitor
Measure & Report
7. Forensic Investigation & Disciplinary Actions
6. Internal Reporting / Hotline / Non-retaliation
5. Due Care – Third Party DD & Supply Chain
4. Education & Communication & Implementation
3. Policies & Instructions Guidelines
2. Organization
1. Risk Assessment
Ethics and Compliance
Legal and Ethical Commitment / Responsibility
Compliance dimension
Freedom of
Expr, Privacy
Anticorruption
Anti-trust
Customer
privacy
Ethical
dimension
Protection of
children on
internet
8. Continuous Improvement / Audit & Monitor
Measure & Report
7. Forensic Investigation & Disciplinary Actions
6. Internal Reporting / Hotline / Non-retaliation
5. Due Care – Third Party DD & Supply Chain
4. Education & Communication & Implementation
3. Policies & Instructions Guidelines
2. Organization
1. Risk Assessment
0.Remediation
Ethics and Compliance
Legal and Ethical Commitment / Responsibility
Compliance dimension
Ongoing anti-corruption program overview
Degree of
completion
Topic
Comments / next steps
Remediation
• NRF review transactions/local partners Eurasia. Anti
corruption due-diligence for all businesses in Eurasia
Risk
assessment
• Thorough risk assessments for all countries in the Eurasian
business, finalized Q1, remaining countries Q2.
Organization
• An organization responsible for the anti-corruption
program put in place in the E&C office
Policy & Instruction
& Guidelines
• New Policy and Instruction for Anti-Corruption will
be put for approval to the Board 5/03
2
5
%
Training
and communication
• Learning materials and trainings 2013-Q1'14 (e.g. elearnings, workshops, mgmt discussions)
"TS speak-up"
(new whistleblowing platform)
• Launch 15/03. Further, communication around
culture of speak-up non-retaliation in Q2/Q3'14
Consolidated
case management
• Consolidated administration will be put in place
during Q1/Q2'14
Special Investigations
Office
Initiated
2
5
%
Work in
progress
• An office with specific skills to investigate matters of
suspected fraud and corruption
2
5
%
Work
soon completed
Work
Completed
GREC – enables focus
C R E AT E
Board
Business
Service
Sonera
CEO
IT
Office
HR
E&C
Finance
Risk
IA
GREC
P R E S E R V E / S U S TA I N VA L U E
SUPPORT
Comms
GOVERNANCE, RISK,
ETHICS & COMPLIANCE
Eurasia
COMMERCIAL
Broadband
Legal &
Regulatory
GREC
Agenda
VA L U E
Mobility
Strategy &
Business
Develop
Management
Group Agenda
Sustainability
& Ethics
Committee
Audit
Committee
TeliaSonera i
Sverige
Malin Frenning
Head of TeliaSonera Sweden
Vi
Vi bygger ett digitalt Sverige
För att nå ut med tjänster med bra kvalitet till hela
Sverige krävs en mix av olika accesstekniker
Mix of infrastructure
Upgrade to VDSL
3G and 4G
Fiber roll-out
Telia miljardsatsar på Sverige och svensk infrastruktur
Pressmeddelande från Telia fredagen 17 maj, 2013:
"…Parallellt med utbyggnaden av mobilnäten, fortsätter Telias
fiberutbyggnad och uppgradering av de fasta näten.
Sammantaget medför dessa satsningar en årlig investering
på drygt fem miljarder kronor i Sverige fram till 2015. Det gör
Telia till en av de största investerarna i svensk infrastruktur och är
viktiga steg på vägen för att Sverige ska bli bäst i världen på att
använda digitaliseringens möjligheter..."
Ursprunglig utbyggnadsplan för 2015
2G
3G
4G
Ny utbyggnadsplan 2015; mer än 90% geografisk täckning för
både mobiltelefoni och surf
2G
3G
4G
Telia Play+
Användningen av Internet förändras
E-samhälle
Vård & skola
E-banking
Nya innovativa
tjänster
Krav på nya affärsmodeller
Nuvarande modell är fast pris
Framtidens modell har två sidor
OTT aktörer
OTT aktörer
Betalar för hög
kvalitet
Betalar för:
Snabb hastighet
Extra tjänster
Betalar för:
Snabb hastighet
Extra tjänster
Data volymer
Extra kvalitet
Användare
Ny affärsmodell behövs för bredband
Note: OTT – Over The Top
Användare
Vi
Vi bygger ett digitalt Sverige
Thank you!