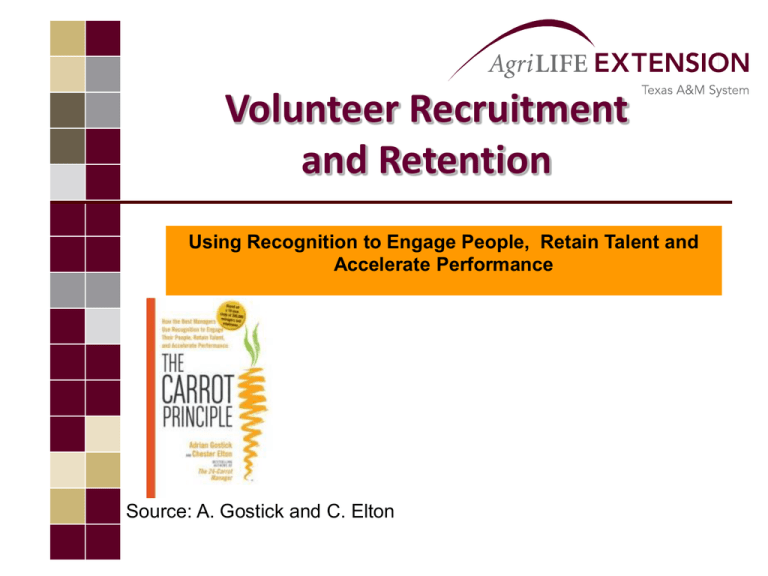 Volunteer Recruitment
and Retention
Using Recognition to Engage People, Retain Talent and
Accelerate Performance
Source: A. Gostick and C. Elton
How do you recruit?
• Internet
• Mailing
• Newspaper
• One-on-one
• Another volunteer
• Friend
Actually, recruitment is not
as hard as retention
Before we talk about retention, lets
review LEADERSHIP.
What does it mean to you?
"Leadership" is typically defined so
broadly that its meaning is
individually determined.
Leadership is not a personality
trait—it involves more than
charisma.
What does it mean to you?
The role of the leader is to create
an environment where all
performers will choose to execute
the mission, vision and values of
the organization.
Leadership is about affecting
behavior.
Defining Leadership
"Leadership is the wise use of
power. Power is the capacity to
translate intention into reality and
sustain it."
– Warren
Bennis
"Leadership is the art of getting someone
else to do something you want done
because he wants to do it."
– Dwight Eisenhower
"The best leaders are those most
interested in surrounding themselves with
assistants and associates smarter than
they are. They are frank in admitting this
and are willing to pay for such talents."
– Amos Parrish
"Leadership is dynamic, and the right
to lead must be earned individually
with each person you meet."
–
John Maxwell
"Leaders aren't born, they are made.
And they are made just like anything
else, through hard work. And that's
the price we'll have to pay to
achieve that goal, or any goal." –
Vince Lombardi
Views of Leadership*
•
•
•
•
TRADITIONAL
Authoritative
Special people who
set direction
Individualistic
world view
Leaders are heroes
who rise in time of
crisis
*P. Senge, 5th Discipline
•
•
•
•
•
•
NEW
Designers
People stewards
Clear vision
Improve shared
mental models
Group-oriented
Teachers
Components of New Leadership
•
•
•
•
•
Inspires organizational vision
"Designs" the organization
Possesses personal and universal purpose
Teaches about purpose and structure
Generates and manages creative tension
The Study
• 10-year study
• 200,000 interviews of managers
• Utilized surveys and focus groups
• One-on-one interviews with more
than 500 CEOs
The Research Behind the Principle
In response to the statement, "My
organization recognizes excellence," the
organizations that scored in the lowest
category had an average return of equity
(ROE) of 2.4%. The top quarter had an
average ROE of 8.7%.
In response to the statement,
"My manager does a good job of
recognizing employee contributions," the
companies rated highest by employees also
scored high for customer satisfaction and
retention.
 Of the people who report the highest
morale at work, 94% agree that managers
are effective at recognition.
What do you think
motivates volunteers?
Purposeful
Recognition
GREATER
RETENTION
What is Purposeful Recognition?
A leader's ability to recognize employees'
talents and contributions in a positive manner.
Results:
• Lower turnover rates
• Enhanced business results
VOLUNTEERS ARE NO DIFFERENT
THAN EMPLOYEES
The "Basic Four" of Leadership
•
•
•
•
Goal-setting
Communication
Trust
Accountability
Great management is born when recognition is
added to the other characteristics of leadership.
Goal-setting
Communication
Trust
Accountability
Recognition is the accelerator.
Applying the Retention Accelerator
1
SEED
Set clear
goals
2
3
PLANT
NURTURE
WEED
HARVEST
Communicate
openly
Build trust
Hold everyone
accountable
Employee
engagement
and
satisfaction
yielding
greater profit
4
5
Goal-Setting and Visioning
• My manager gives me measurable
goals to achieve.
• The organization has clear guiding
values and goals.
• I know and embrace the
organizational mission and vision.
Championing the Vision
Those Who
Champion The
Vision
Those Who Do
Not
Place the organization
first
Place own needs first
Keep vision before
people
Keep themselves
before people
Understand their roles
Misunderstand their
roles
Communication
• I can rely on my manager to answer
my questions.
• My manager listens to volunteers.
• My manager keeps me informed of
the progress of my performance.
• My manager shares all the
information my volunteers and I
need to feel part of the team.
• My manager is available when
volunteers need to talk.
• My manager encourages me to
suggest new ideas and methods for
doing things.
• I feel completely free to express my
views to my manager.
• Other volunteer ideas are often
accepted by my manager.
• My manager encourages and
supports my learning and growth.
Using the "Lingo" - COMMUNICATION
Message from the Leader
Message Received by Volunteer
I saw how you helped that
person…
My manager notices what I do.
This is a perfect example of our
value of…
I belong to a firm worth working
for.
We have another reason to
celebrate as a team….
We are winners, and we are
winning.
This really is one of your strong
points…
I have pride in my work and can do
even better.
I know you can accomplish this…
I can do this and will be rewarded
for my hard work.
I'd like to thank you for your five
years of extraordinary…
This is where I belong.
Thanks for staying late to get that
out…
I'll do anything to help the team
succeed.
Trust
• I trust my manager.
• My manager is fair to all volunteers.
• My manager treats volunteers as more
than "just a number."
• My manager treats me with respect.
• I believe my manager cares about me.
• My manager stresses teamwork.
Accountability
Is this a bad word or a good word? Why is
it considered negative?
• My manager holds all volunteers in our
department accountable for their work.
• My manager is honest when she is
wrong.
Indicator of Retention: Engagement
• Volunteers put in extra effort.
• Volunteers enthusiastically contribute to
organizational success.
• Volunteers strive for efficiency and effectiveness.
• Volunteers feel a sense of personal
accomplishment.
• Volunteers understand how their roles help the
organization meet its goals.
Indicator of Retention: Satisfaction
• I have the opportunity to do what I do best
every day.
• My performance is evaluated in a manner that
makes me feel positive about working.
• Conflicts result in positive solutions.
• My opinions matter to my manager.
• My manager shares all the information
volunteers need to feel part of the team.
Recognition Strategy: Goals
• Celebrate new volunteers upon arrival.
• What makes your volunteers tick?
• What are your volunteers' pet peeves?
• Ask volunteers to tell you their values.
• Turn a responsibility into a reward (acct).
• Use positive reinforcement.
• Find volunteers' strengths.
• Give volunteers tasks that stretch their abilities.
Recognition Strategy: Communication
•
•
•
•
•
•
•
•
Be prepared!
Recognize people on the spot (in front of others).
Make a commitment to call people by name.
At the end of the day, write down a few things that
went right, and pass them on.
Set up a spot to display physical evidence of success
(photos, memo board, etc.).
Ring the bell: Enable people to hear others' success
stories.
Write thank you notes!
Spend time talking about things besides work.
Recognition Strategy: Trust
•
•
•
•
•
•
•
•
•
Find interesting work.
Step up recognition in tough times.
Reward the courage to try something new!
Ask for your volunteers' opinions.
Give people latitude.
Be an active listener.
Pitch in when you can.
Be a part of the team!
Give the gift of trust and autonomy.
Recognition Strategy: Accountability
• YOU are responsible for recognition.
• Be dependable.
• Place volunteers out front, in the spotlight.
• Recognize those that work "behind the
scenes."
• Celebrate achievements publicly.
• Share your own mistakes.
Rounding It All Out
• Volunteers want a manager who values
them and their work.
• Volunteers want systems that work and
the tools and equipment to do the job.
• Volunteers want opportunities for
professional development.
• Volunteers want to be recognized and
rewarded for doing a good job.
• Volunteers don't want to work with low
performers.