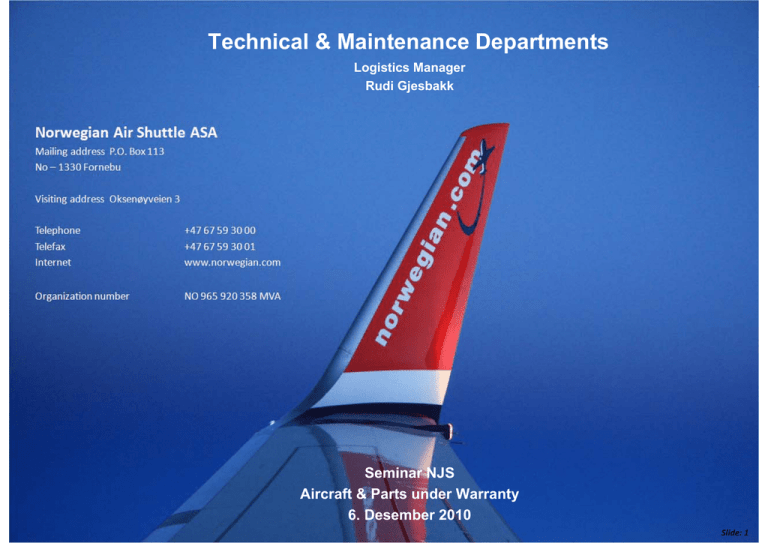 Technical & Maintenance Departments
Logistics Manager
Rudi Gjesbakk
Norwegian Air Shuttle ASA
Mailing address P.O. Box 113
No – 1330 Fornebu
Visiting address Oksenøyveien 3
Telephone
Telefax
Internet
+47 67 59 30 00
+47 67 59 30 01
www.norwegian.com
Organization number
NO 965 920 358 MVA
Seminar NJS
Aircraft & Parts under Warranty
6. Desember 2010
Slide: 1
Contract Documents
Slide: 2
Warranty periodes (Standard Contracts)
Components
2 – 4 Year
IFE-system
4 years
Galley
Equipment
3 Year
Seat Parts
2 years
New Aircraft
Warranty
4 Year
Airframe
12 Years
Consumables
Various
(2 Years)
Landing Gear
4 Years
Engine
5000 FH
Slide: 3
Warranty seat parts
•
•
•
•
•
•
Structure – 6 years
Armrest structure – 3 years
Moving parts – 2 years
Plastic components – 1-2 years
Electrical components – 2 years
All other seat parts – 1,5 years
Slide: 4
Contact to all Departments and Vendors.
Quality dep.
Boeing
Engineering dep.
Warranty/Claim
Handling
Contracts dep.
Logistics dep.
Mechanics
Internal&External
Workshops
Slide: 5
Technical Department Organisation.
Accountable Manager
Quality Dept.
Nominated Postholder
EASA Part M / Part 145
Bjørn Ivar Aarseth
Finance Controller
(Budget & cost control)
Projects
(EIS / EOS, Others)
ARC Staff
Technical IT Systems
Maintenance
Contracts Dept.
Maintenance
Planning Dept.
Engineering Dept.
Maintenance Contracts
(establsihment,
monitoring and
follow up)
Line Maintenence
Technical Records
Technical Library
Support for
A/C lease, fleet planning
Finance, project and
EIS/EOS
Base Maintenance
MRO (Engine, APU,
Components)
System Engineers
Line Maintenance Dept.
MCC
(Production Planning &
Trouble shooting)
Logistics Dept.
Rudi Gjesbakk (30)
Production Manager
Morten Gabrielsen
Purchasing &
Vendor Monitoring
Shift Leaders
Stores
(OSL, SVG, BGO,
TRD, RYG, WAW)
CRS Personnel
(OSL, SVG, BGO,
TRD, RYG, WAW)
Warranty Claims
IT‐System and Work Flows(AMOS)
WF1
Identifiser alle WO som er under Warranty
WF2
Create Warranty/Claim ordrer
WF3
Confirmation from suppliers
WF4
Credit Invoice Checking
Slide: 7
Eksempel Garanti ordre fra AMOS
Slide: 8
IT‐verktøy (Interface)
Metoder og utfordringer
•
Garantioppfølgingen er organisert i Logistikkavdelingen
(Innkjøp). Utfordringen er å få saksbehandlingen inn i de
vanlige WF mot leverandørene ved innkjøpsavdelingen.
•
Forankring i alle avdelinger, og hele organisasjonen får et
forhold til Warranty. Teknikerne som jobber på flyene må ha
et forhold til Warranty og hvor mye penger det dreier seg
om. (Initial and Continuous Training).
•
Organisatoriske utfordringer internt og eksternt. Hele
verdikjeden må sees under ett. (Ansvarsforhold:
Flyprodusenter BOEING, Produsenter OEM, flyselskap
????).
Slide: 10
Metoder og utfordringer
•
Gode prosedyrer vedrørende prosessene. (Warranty
inkluderes i prosedyre manualene).
•
IT verktøy, Gode prosesser og Work Flower i
vedlikeholdssystemet (AMOS). Interface standardisert i
flybransjen med SPEC2000; (Flyprodusenter,
Flyselskap, Produsenter OEM, programvareutviklere).
•
Stor utfordring vedrørende Budsjett. Hva får vi FOC
samt kreditt på claimene. (Frakt, Man Hour, Adm fee,
SB FOC
Slide: 11
Questions or comments ?