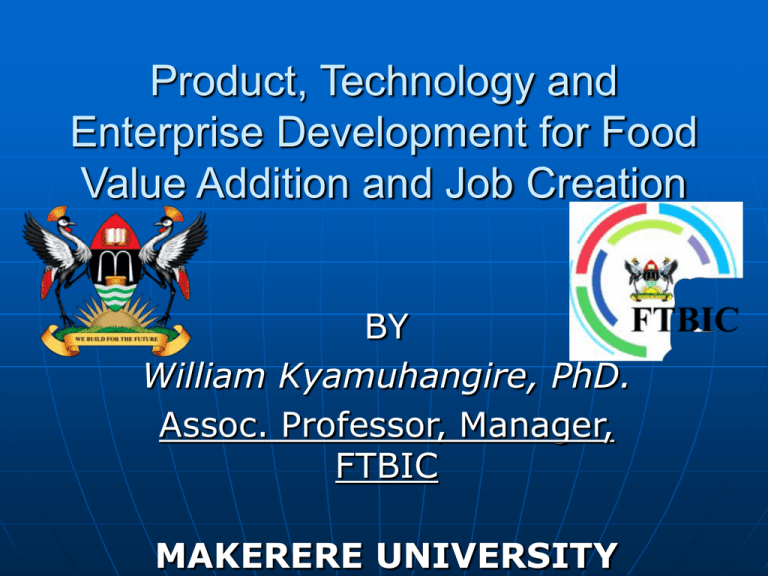 Product, Technology and
Enterprise Development for Food
Value Addition and Job Creation
BY
William Kyamuhangire, PhD.
Assoc. Professor, Manager,
FTBIC
MAKERERE UNIVERSITY
Introduction
Uganda's (Africa's) Development Challenge
 "When we sell a kilo of bean coffee in Uganda,
we get one dollar per kilo, ... The same kilo,
when it is processed [and sold in Britain], goes
for $10, $11 or even more a kilo. That is the
same situation [price disparity] that goes for all
raw materials." Museveni,
 "There are two problems that we, as a country,
must solve. We must create opportunities for
people to earn a living. Fast. The other is to
find something of value that we, as Ugandans,
take to the market and sell sustainably over a
long term for a high return. " Kabushenga,
2013.
Uganda's development
challenges (Vision 2040)


Low Competitiveness;
Weak public sector management and administration;
• Lack of public institutional support


Ideological disorientation;
Low industrialisation and value addition
• GDP is still largely dominated by primary products.
• As a result: unfavourable balance of payments, poor
skills transfer, low levels of employment and high
poverty levels.
• Low levels of Science, Technology, Engineering and
Innovation (STEI).


Limited government investment in strategic and
emerging industries
Low level of saving and inadequate revenue
collection;
What we need to do




Africa's ability to sustain its current growth will depend largely on how
quickly it will be able to shift from reliance on traditional commodity
markets to modern economic structures that focus on technologydriven development. "On the Wings of Innovation: Africa 2024,"
"The real solution is investment in infrastructure, commercialising
agriculture and expanding our industrial base." Museveni,
As a latecomer Africa has the benefit of tapping into vast quantities of
technological knowledge available worldwide. The continent's
leapfrogging into the mobile revolution illustrated the power of
latecomer advantages. Africa is now the origin of new industries such
as mobile money transfer. Juma, 2012
Universities are recognized as sources of knowledge creation,
innovation and technological advances. Across the globe, they are
being positioned as strategic assets in innovation and economic
competitiveness, and as problem-solvers for socio-economic issues
affecting their countries. Sebuwufu, 2012
Macroeconomic Strategies
(Vision 2040)



Realise appropriate growth in investment spending as a proportion of
national income, increase in growth of private capital and labour
utilization and productivity.
Incentives will be provided to increase the size of the productive labour
by fostering labour mobility, increase research and development
activities and the utilization of research and innovation products.
To build a stronger and more competitive industrial base
• i) developing industries that utilise the local potential,
•
•
•
•

ii) attracting industries that can be relocated from fast emerging economies,
iii) offshoring industries,
iv) establishing economic lifeline industries, and
v) investing in strategic industries.
Emphasis will be put in the establishment of economic lifeline
industries including; agro-based industries, iron and steel industry, oil
and gas industry and building a strong STEI foundation that will be a
spring-board for advanced industrialisation.
Makerere University Strategic
Plan 2007/08-2017/18
Strategic pillars of the University
1.
2.
3.
Teaching and Learning
Research and Innovations
Outreach
Research and Innovation
Goals
1. To enhance knowledge generation and access in both science and
humanities disciplines with a view to repositioning Makerere University
as the research university of Uganda and beyond
2. To promote generation of Science, Technology and Innovation (STI) and
their accessibility to Ugandan society with a view to improving the
welfare of the nation.
Objectives
e)
To increase the entrepreneurship ability of staff and students by incubating
ideas in areas such as alternative power solutions, use of bio technology
and software development for adoption by the private sector.
f)
To increase funding to university research and institute competitive grants.
g)
To establish an Intellectual Property facility to protect the university's
intellectual assets.
h)
i)
To promote the use and application of traditional, conventional and
emerging technologies for sustainable development.
Outreach
Goal
To enhance the capacity of the university to link with and service
community, private and public sectors and other universities.
Objectives
a)
To improve the visibility of Mak in Outreach & Community
Development
b)
To improve Government access to pro-policy services,
knowledge & advice from Mak
c)
To improve Community access to knowledge and skills, advice,
technology & innovations from Mak
d)
To enhance Mak's competitive position as a technology
development & referral institution for vocational & community
development
Vision and Mission of the
FTBIC
Vision
•
Where world class products and
enterprises are born.
Mission
•
To nurture and sustain new and existing food
and allied businesses by providing innovative
research, practical solutions, linkages,
entrepreneurship development and outreach
leading to wealth creation and nutritional
enhancement.
Objectives of the FTBIC




To develop viable technologies and knowledge
driven food processing and nutrition enterprises
To promote entrepreneurship amongst students
and staff of Mak and beyond.
To support commercial enterprises (SMEs) based
on technologies developed at the University.
To build human capacity in agro-processing,
value-addition, nutrition and entrepreneurship.
Presidential support and its
achievements








Infrastructure development
Pilot plant equipment
Laboratory equipment
Incubation (in-house and virtual)
Research and development
Services to SMEs (Consultancy, Contract
processing and laboratory services)
Product prospecting and services to the
community
Skills training and entrepreneurship.
Infrastructure and equipment
Infrastructure
• Processing space: 1200 m2
added
• Another structure is being
designed to add 6,000 m2
Infrastructure and equipment
Pilot plant Equipment
• Fruit and veg. processing line
• Dairy line
• Meat line
• Baking line
• Mobile fruit and vegetable
processor
• Cereals processing equipment –
procured awaiting installation
Infrastructure and equipment
Laboratory Equipment
• Food Safety and Quality
assurance labs equipped
Benefits of the FTBIC




Students carry out industrial training inhouse
Students from other Universities and
colleges come for attachment
SME have access to some of the
equipment that are only available in our
plant.
Chemical and microbiological analysis of
food carried out from our labs (for internal
use and SMEs)
Incubation


15 companies have been registered
15 enterprises have been nurtured from
the FTBIC
•
•
•
•
3 have graduated
12 to graduate this year
20 brands registered
More than 30 different products developed and
on the market
• More than 60 jobs created

5 virtual incubates being supported
Choice Cuts Ltd
Company
Choice Cuts Ltd
Products
Beef Sausages, Smoked
Beef and meat loaf
Production
Volume/Month
2000 kg
Revenue/ Month
UGX 16,000,000.00
Current Direct
Employment
6
Potential Direct
Employment
50-70
Prospects
Production 10,000
kg/month
Revenue 80
million/month
Investment 500 million
Dawn Industries Ltd
Company
Dawn Industries Ltd
Products
Pineapple Nectar and
Cocktails
Production
Volume/Month
500 Crates
Revenue/ Month
UGX 7,200,000.00
Current Direct
Employment
5
Potential Direct
Employment
100-150
Prospects
Production 2500
Crates/month
Revenue 36
million/month
18
Investment 300 million
Nutreal Ltd
Company
Nutreal Ltd
Products
Health Amaranth Grain/Cereal/
Legume Products
Production Volume/Month
2000 kg in assorted packages
Revenue/ Month
UGX 12,000,000.00
Current Direct Employment
6
Potential
Employment 50-70
Prospects
Production 10000kg/month
Revenue 60 million/month
Investment 300 million
House of Russa Ltd
Company
House Russa Ltd
Products
Natural flavored liqueurs
Production
Volume/Month
200 Bottles
Revenue/ Month
UGX 6,000,000.00
Current Direct
Employment
4
Potential Direct
Employment
50-70
Prospects
Production 1000
bot/month
Revenue 30 million/month
Investment 300 million
Research and Development
Food product and process development




16 projects supported to develop products that address
specific market needs
All products reached market testing stage
2 patents obtained
• improved process for banana juice extraction (factory
being set up)
• Process for extraction of mulondo flavor and its use in
flavouring beverages (company producing Omulondo
liqueur being incubated)
3 patent applications filed
Research and Development
Process machine design and
manufacture



Soya milk extraction machine designed,
manufactured and is being pilot tested by one of
the enterprises.
Batch pasteurizer (multipurpose use, juice, milk,
etc) designed, manufactured and being pilot
tested.
Continuous pasteurizer undergoing design
Services to community and prospecting

Mobile fruit and vegetable
processor acquired
• Deployed in Yumbe
District to process
mangoes 2013 and 2014

As a result a mango
processing plant is planned
for Yumbe District
• Deployed to pilot process
tomatoes in Nakaseke
District 2013

A rural industrial centre is
being established in
Kapeeka
Services cont.



Pineapple pulp and Citrus juice extractors hired by
SMEs to process their products.
Food composition and microbiological tests carried out
for SME on a regular basis.
Consultancy in product development and trouble
shooting for the food industry by our staff.
Skills Training and
entrepreneurship


Entrepreneurship is part of the curriculum
in the School
Short skills and entrepreneurship courses
conducted for SMEs and those intending to
set up businesses
• Dairy products, Bakery products, Fruit juices
and jams, Sauces and condiments etc
(demand driven).
• More than 600 people have been trained
Challenges

Limited public institutional support

Lack of an incubation policy

Lack of a soft landing for graduate incubatees


Lack of infrastructure that meats GMP for food
based SMEs
Market access for products by start-ups
Conclusion and Recommendations


One of the biggest challenges government is facing
today is job creation for the unemployed. This can
be achieved through growth of the private sector
(increase in numbers of private enterprises and by
expansion of existing ones).
Government policy is to have a private sector led
economic development. This requires building a
sustainable and strong private sector for national
development. Therefore, nurturing private
enterprises is a critical process to deliver the
enterprises of tomorrow. We no longer have the
luxury of a hands-off or "spanner boy" approach to
business start-ups. Incubation needs to be
mainstreamed in government policy and structures
put in place to nurture and grow the enterprises of
tomorrow.



It has been demonstrated that Mak is a capable and willing to
partner with government and the private sector to advance food
value addition technology development , its application to start
enterprises and to nurture the enterprises. Ultimately, it calls for
a sustainable, transparent and competitive support arrangement.
The biggest driver to private sector development is a market.
Startups have challenges in accessing markets and therefore
government needs to preferentially purchase goods that are
locally produced, particularly from start-ups.
Uganda is capable of developing her own home grown agroindustry, processing local foods that can be sold local, regional
and internationally markets.
•
If all the wild mangoes in northern Uganda were processed, they could form an
industry worth USD 100 million.