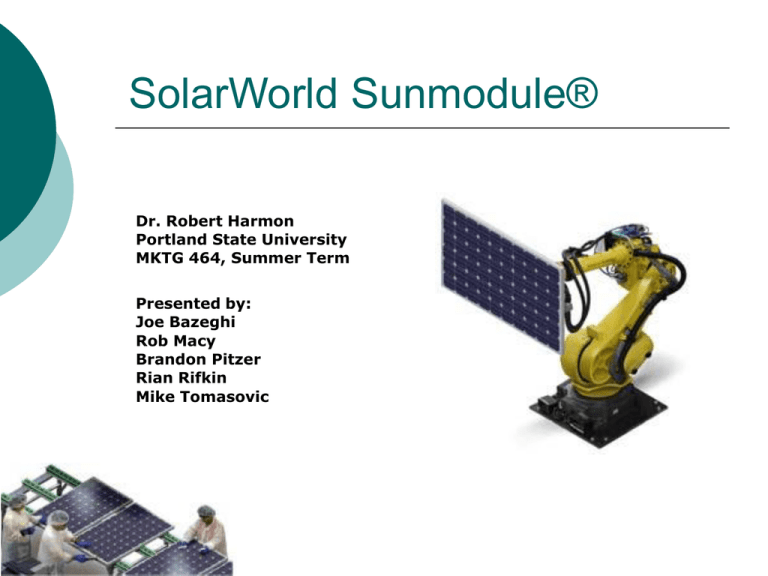 SolarWorld Sunmodule®
Dr. Robert Harmon
Portland State University
MKTG 464, Summer Term
Presented by:
Joe Bazeghi
Rob Macy
Brandon Pitzer
Rian Rifkin
Mike Tomasovic
Agenda








Business Overview
Technology Assessment
Market Analysis
Competitor Analysis
Net Assessment
Marketing Strategy
Implementation
Conclusion
The BIG Idea

Why solar?






Rising energy prices and increased environmental
concerns are driving solar energy adoption.
Renewable energies lessen dependence on foreign
and fossil fuel sources.
Extension of 30% federal ITC until 2016.
Installing solar saves money on energy bills, and
increases property values.
Solar installations have a life-cycle of 25-30 years.
Boosts the economy by creating jobs for domestic
manufacturers and installers.
Business Opportunity

The U.S. is currently the fourth largest PV market in the
world, and poised for massive growth as the economy
recovers, driven by falling prices for solar products and
government incentives at both the state and federal level:




The PV industry generated $38.5 billion in global
revenues in 2009.
34,000+ new solar installations in the U.S. in 2009.
Solar is closer than ever to achieving grid-parity.
The 30% federal tax credit has been extended through
2016 for both commercial and residential PV installations.
Achieving Grid Parity
Business Unit Overview

SolarWorld USA



Hillsboro, OR: Produce monocrystalline silicon
ingots, cut wafers, and manufacture of PV cells.
Camarillo, CA: Cells assembled into high-quality
Sunmodule® solar panels.
Vancouver, WA: Recycling and reprocessing of
silicon for reuse.
Product Description

SolarWorld provides customized solar
energy solutions for consumers seeking
renewable and sustainable sources of
power.
Objective, Scope & Advantage



Objective: To become the quality leader and top-of-mind
brand for solar modules within the United States in the
next 3 years.
Scope: The company's production facility location strategy
allows for rapid market response within key geographic
segments with the greatest growth potential. Vertical
integration throughout the PV value chain allows the
company to secure access to raw materials at competitive
prices. With more than 30 years experience in the solar
market it is a recognized brand name, and has a history of
quality production to back it up.
Advantage: SolarWorld will provide the highest quality,
most efficient solar panels at competitive prices for
residential and commercial segments within the United
States. Understanding the consumer better than
competitors will allow SolarWorld to create value through
superior design, efficiency, functionality, support and
services, and effective marketing communications.
Brand Identity







Pioneering Spirit
Social Responsibility
Innovation
Durability
Safety
Sustainability
Economic Success
Strengths/Weaknesses to Address


Strengths:
 Proven Technology
 Best Value
 Industry Experience
 Brand Equity (Germany)
Weaknesses:
 Focus on Existing Technology
 Low-cost Competition
 Lack of Brand Equity (USA)
Product Description

Sunmodule Plus® and Sunkit®
Customized Solar Solutions









Max Power: 240 W
17% STC Efficiency
60 Monocrystalline Cells
66" x 40"
48.5 lbs.
4 mm Tempered Glass
Aluminum Frame
25-year Linear Performance Guaranty
ISO 9001:2000 Certified Facilities
Product Technology





Solar Installation: PV module array,
interconnective wiring, inverter, and batteries
(optional).
Solar Modules: Solar cells encased in glass
and framing for durability and protection from
elements.
Solar Cells: Cut from monocrystalline (USA)
and polycrystalline (Germany) silicon wafers.
Photons from the sun are captured by solar
cells, dislodging electrons in the silicon wafer,
and producing energy.
Direct current (DC) power runs through the
inverter, and is converted to alternating
current (AC).
The Solar Value Chain
1. Silicon
2. Wafers
3. Cells
7. Recycling
6. Systems
5. Kits
4. Modules
Competing Technologies


Thin Film:
 Primarily uses cadmium telluride (CdTe) as
semiconductor material
 18% of PV product market in 2009
 First Solar (China) module was #1 PV
product in 2009.
 43% of U.S. production was in thin cell
technology in 2007 (Jager-Waldau, 2008)
 Cheap to produce (>$1/W), but CdTe is
highly toxic and banned in the EU.
Ribbon:
 Silicon is grown in thin two-dimensional
strips between two ribbons to overcome
inefficiency of crystalline ingot production.
 Evergreen is primary competitor using
ribbon technology, but are not yet able to
achieve power or efficiencies of SolarWorld
modules.
Disruptive Technologies



Concentrating Solar Power (CSP):
Uses mirrors and lenses to
improve power generation
efficiency.
Axis-tracking Systems: Rotates
panels on vertical and/or
horizontal axis to increase degree
of insolation (i.e. sun exposure).
Electrochemical PV Cells: Possibly
cheaper to manufacture than
silicon-based technology, but
efficiency and durability not yet
proven.
Potential Market Segments
Residential customers are those living in space that has been designated by
local authorities as an area primarily used for housing. The average residential
installation consists of fewer than thirty individual modules; however, in 2008
almost 90% of total installations were at residential locations. (Sherwood,
2009)
Commercial facilities are those that are designated for
commerce. They include retail, event, office space, and public
buildings (including universities and other government facilities), as
well as multi-family residential facilities such as apartment buildings,
condos and duplexes; which are included because a decision to
install a solar system will be based, at least in part, on increased
sales of units.
Industrial includes all utility scale developments, which may
include a thousand or more individual modules per installation, as
well as factory and production based systems. These are very large
systems; in 2008 "a total of 84 systems larger than 500 kW
accounted for more than 30% of the total PV capacity installed."
(Sherwood, 2009) Aggressive growth rates expected due to the introduction
of statutory minimum shares of renewable energies in the energy mix as well
as Cash Grant programs available for the utilities providers.
Segmentation Forecast
U.S. - New Capacity Forecast (MW)
2010e
2011e
2012e
600
1,200
1,500
1,000
2,000
3,000
Number of Solar Modules Needed to Achieve
Capacity Forecast - Moderate Scenario
(210 W Average)
2,857,143
5,714,286
7,142,857
Number of Solar Modules Needed to Achieve
Capacity Forecast - Policy-Driven Scenario
(210 W Average)
4,7691,905
9,523,810
14.285.714
Moderate Scenario (MW)
Policy-Driven Scenario (MW)
Source: EPIA. (2010). Global market outlook for photovoltaics until 2014.
TAM by Segment
TAM by Segment - New Capacity Installed,
2009
Index
New Installation Capacity 2009 (kW)
Number of Installations
USA
Residential
100%
228,960
76,320
34,000
12,240
16,320
5,440
817,714
1,090,286
363,429
Solar Panels per Installation (210 W)
67
Avg Expenditure per Installation
Total Solar Panel Market Potential
16.0%
171,720
14
Avg Expenditure per Panel
48.0%
Industrial
477,000
Avg Capacity per Installation (kW)
Total Solar Panels Sold
36.0%
Commercial
2,271,429
$600
$600
$600
$600
$40,084
$1,362,857,143
$ 490,628,571
$ 654,171,429
$ 218,057,143
TAM by State: Chain Ratio Model
TAM by Top-10 States - New Capacity Installed,
2009
USA
CA
100%
Index
New Installation Capacity 2009 (kW)
Number of Installations
13.0%
8.0%
5.0%
62,010
38,160
23,850
34,000
16,660
4,420
2,720
1,700
1,113,000
295,286
181,714
113,571
$ 667,800,000
$ 177,171,429
$ 109,028,571
Connecticut
North Carolina
Solar Panels per Installation (210 W)
67
2,271,429
Avg Expenditure per Panel
$600
Avg Expenditure per Installation
$40,084
Total Solar Panel Market Potential
$1,362,857,143
Hawaii
5.0%
$
Arizona
233,730
14
Colorado
49.0%
Florida
477,000
Avg Capacity per Installation (kW)
Total Solar Panels Sold
New Jersey
New York
3%
Massachusetts
3.0%
2.0%
2.0%
$
68,142,857
Others
2.0%
7.0%
23,850
14,310
14,310
9,540
9,540
9,540
33,390
1,700
1,020
1,020
680
680
680
2,380
113,571
68,143
68,143
45,429
45,429
45,429
159,000
68,142,857
$
40,885,714
$
40,885,714
$
27,257,143
$
27,257,143
$
27,257,143
$
95,400,000
Segment Profiles
Residential
Industrial
Commercial
Demographics
Age: 25-50
Gender: Male and Female
Income: Moderate - High
Marital: Married
Education: Bachelor's Degree or
MBA
Race, ethnicity, nationality:
Caucasian, Asian
Social class: Upper/Middle
Geographic: Southwest US
Age: 40-60
Gender: Male
Income: High
Marital: Married
Education: MBA
Race, ethnicity, nationality:
Caucasian, Asian
Social class: Upper
Geographic: Southwest US
Age: 25-60
Gender: Male
Income: High
Marital: Married
Education: MBA
Race, ethnicity, nationality:
Caucasian, Asian
Social class: Upper
Geographic: Southwest US
Psychographics
Personality: Identity driven
Perceptions, attitudes: Liberally
minded individual who is heavily
influenced by trends of sustainable
living and green marketing.
Values: Reduce energy
dependence and lower carbon foot
print.
Personality: Incentive driven
Perceptions, attitudes: Slightly
skeptical of green marketing.
Motivated to utilize sustainable
practices because of financial
incentives and environmental
regulations.
Values: Success of business,
capitalize on green trends.
Personality: Identity/Incentive driven
Perceptions, attitudes: Concerned
about environmental sustainability but
is motivated into action by sales/profit
opportunities driven by green
marketing trends.
Values: Develop into a green business,
improve value of business and
increase profits.
Behavioral
Purchase behavior:
One time purchase
Preferred POP: Retail Outlets /
Customized Business Solutions
Loyalty: Low
End user: Home owner
Purchase behavior:
Multiple purchases as solar operations
continue to grow.
Preferred POP: Customized Business
Solutions
Loyalty: Low
End user: Employees
Purchase behavior:
One – Three purchases, possibly
more.
Preferred POP: Customized Business
Solutions
Loyalty: Medium
End User: Local consumers,
customers, residents,
Customer-Value Drivers










Cost of Ownership
ROI/Profitability
Best Quality/Reliability/Durability
Outperforms Competition
Superior Service & Support
Shared Values
Credibility (Trust, Expertise, Similarity)
Visibility, Recognition, Self-Esteem
Desire to Be Viewed as a Problem Solver
Buyer's Task Requirements
Segment
Weighted Average
Residential
7.84
Commercial
7.95
Industrial
7.01
fO
wn
er
RO
it y
sh
I/P
,R
ip
r
el
of
ia
i
ta
bi
O
bi
lit
ut
lity
y,
pe
D
Su
rfo
ur
ab
rm
pe
ilit
r io
s
y
Co
rS
m
er
Cr
p
vic
et
ed
itio
e
ib
an
ilit
n
y
d
(T
Su
Vi
ru
pp
Sh
sib
st
or
,E
ar
ilit
De
t
ed
y,
x
p
sir
R
er
Va
ec
e
t
ise
lu
to
og
es
,S
Be
ni
t
im
io
Vi
n
ila
ew
&
rit
ed
Se
y)
lfas
E
Bu
a
st
ee
Pr
ye
ob
m
r's
l
em
Ta
-S
sk
ol
R
ve
eq
r
ui
re
m
en
Se
ts
gm
en
tS
iz
e
G
ro
wt
h
Be
st
Q
ua
l
Co
st
o
Rank
Segment Attractiveness Analysis:
Customer-Value Drivers
Segment Attractiveness Factors
10
9
8
7
6
5
4
3
2
1
0
Grid-Connected
Residential
Industrial
Commercial
Customer-Value Drivers
Features, Advantages, & Benefits








Price
Cell Technology
Power Output
Power Tolerance
Design
Warranty
Durability
Performance







Recycling Program
Safety
Increases Property
Value
Sustainability
Green Self-Image
Support Economy
Reduces Risk
Segment
Weighted Average
Residential
7.71
Commercial
7.93
Industrial
6.93
C
Po ell
we Te Pri
r O ch ce
n
P o ut p ol o
Li
ne
we ut gy
ar
r T (kW
Pe
ol
rfo
er h)
an
rm
an
D ce
es
ce
W i gn
ar
r
D ant
u
R Pe r a y
ec
b
yc rfor ility
lin m
In
g an
cr
Pr ce
ea
og
se
ra
s
m
P
Su r o
Sa
st pe
ai rty fety
n
R Su Gr ab Va
ed pp e le lu
uc or en E n e
es tin Se er
Ri g U lf-I gy
sk
m
S
(E Ec age
n e on
rg
om
y
Pr y
ic
es
)
Rank
Segment Attractiveness Analysis:
Features, Advantages, & Benefits
Segment Attractiveness Factors
10
9
Grid-Connected
Residential
8
7
Industrial
6
5
4
Commercial
3
2
1
0
Features, Advantages & Benefits
Perceptual Map of Segments/Drivers
Customer-Referent
Value Drivers
(Emotional)
Residential
Commercial
Product-Referent
Value Drivers
(Rational)
Industrial
The Strategic Sweet Spot
Customers' Needs
Information
ROI
Performance/Efficiency
Self-Image
Competitors' Offerings
Lowest Price
New Technologies
Ad-Hoc Systems
SolarWorld-Customer Alignment
Experience → Information
Best Quality → Performance/Efficiency
Brand Identity → Self-Image
SolarWorld Capabilities
Best Quality
Competitive Pricing
Brand Identity
Experience
Solar Solutions
Target Market Selection


Primary Market:
"Green Money"
Secondary Market
"Joe Greenthumb"
RATIONALE: The Commercial segment is our most
attractive market via our Segment Attractiveness model.
Additionally, growth rates for this segment are also very
optimistic and provide strong motivations for SolarWorld.
However, the Residential market also appears attractive
and so we hope to expand our efforts into that market in
the near future (3-5 years).
Porter Model: Competitive Forces
Supplier Power:
Low – Market spot prices
for silicon have
plummeted recently, and
long-term procurement
contracts mitigate risk.
Evergreen
BP Solar
Sharp
Kyocera
& more….
Substitution
Supplier Power
New Entrants
Threat of New Entry:
High – The number of
solar manufacturers in
the U.S. has more than
doubled since 2005, and
Chinese production has
surged.
Buyer Power:
High – There are a
number of solar products
available for buyers to
choose from.
Buyer Power
Threat of Substitution:
High – Until solar power
can achieve grid parity,
many consumers will
continue to obtain power
from non-renewable and
alternative energies.
Competitor Analysis
Sales
Revenue
(2009)
No. of
Employees
Market
Position
(Cell/Module
Production
2009)
Technology
SolarWorld
$1.4
billion
>2,700
worldwide
14.8%
Monocrystalline and
Polycrystalline Solar
Cells
Evergreen
$267
million
729
6.4%
String Ribbon®
Technology
BP Solar
$5 billion
2,200
6.7%
Monocrystalline and
Polycrystalline Solar
Cells
Sharp
$2.24
billion
64,500
6.8%
Crystalline and Thin
Film Solar Cells
Kyocera
$1.77
billion
6,783
(Applied
Ceramics
Parts Group)
4.2%
Polycrystalline Solar
Cells
Be
st
Q
ua
l
fO
wn
er
sh
RO
ip
it y
I/P
,R
ro
f it
el
ab
ia
bi
ilit
l
i
y
ty
O
,D
ut
pe
ur
rfo
ab
Su
rm
ilit
pe
y
s
r io
Co
rS
m
pe
er
tit
vic
io
Cr
e
n
ed
an
ib
d
ilit
Su
y
pp
(T
Sh
or
ru
t
st
ar
Vi
,E
ed
sib
xp
Va
ilit
De
er
y,
lu
t
ise
sir
es
R
ec
e
,
Si
to
og
m
Be
ni
ila
tio
Vi
rit
n
y)
ew
,S
ed
el
f
-E
as
st
a
ee
Bu
Pr
m
ob
ye
le
r's
m
Ta
-S
sk
ol
ve
R
r
eq
ui
re
m
en
ts
Co
st
o
Rank
Competitive Factors Mapping
Competitive Factors Analysis
10
9
8
7
SolarWorld
Evergreen
Kyocera
Sharp
6
BP Solar
5
4
3
2
1
0
Customer-Value Drivers
Competitive Factors Analysis










Cost of Ownership
ROI/Profitability
Best Quality/Reliability/Durability
Outperforms Competition
Superior Service & Support
Shared Values
Credibility (Trust, Expertise, Similarity)
Visibility, Recognition, Self-Esteem
Desire to Be Viewed as a Problem Solver
Buyer's Task Requirements
Manufacturer
Weighted Average
SolarWorld
7.96
Evergreen
5.93
Kyocera
6.40
Sharp
6.99
BP Solar
5.86
SWOT Analysis
STRENGTHS
WEAKNESSES
SolarWorld
is the largest PV panel manufacturer in
U.S. with 30-years experience and a strong quality
reputation.
Vertically integrated from silicon to solar module.
Solid financial position and growth.
Location strategy puts manufacturing near regions
where high-growth is anticipated.
Sunmodule panels independently tested and shown
to be one of the most efficient available.
Price Competitive: based on multiple quotes
average price for SolarWorld modules are $2.25$3.00 per watt, versus industry average of $4.18
per watt as of July, 2010.
Unique linear performance guaranty.
Focus
OPPORTUNITIES
THREATS
Increasing
Cost
U.S. production capacity will allow for
rapid market response to anticipated growth.
Continuous process and design improvements are
leading to more efficient solar modules without
increased costs.
Price of silicon is expected to remain low or
continue to decrease.
Incorporating new technologies such as CSP or
axis-tracking systems could improve installation
efficiencies.
State-by-state incentives and emerging FiT models
will continue to drive growth in the U.S.
on existing silicon-based technology.
company lacks a diverse portfolio of products
in contrast to some competitors.
Until solar power achieves grid parity, business is
reliant on government incentives to drive growth.
Manufacturing in Germany, South Korea, and the
U.S. may result in labor costs that prevent
competitive pricing with solar products from China.
Inability to rapidly scale-down production if
anticipated demand declines.
The
of power from other renewable energy sources
such as hydro and wind is less than current cost of
solar energy.
In 2009 PV supply exceeded demand, yet highgrowth potential continues to lure new entrants to
the market.
Emerging technologies such as thin film and
electrochemical cells are cheaper to produce than
crystalline cells.
Global economic instability may continue, leading
to poor capitol market performance, and decreased
demand for solar.
Critical Risk Factors
Critical Risk Factor
Description
Mitigate
Metrics
PV modules are
commoditized
Differentiation between
SolarWorld's PV modules
and their competitors is not
clearly defined to
consumers.
Provide value
innovations to
consumers through
unique features and
designs.
Sales Growth,
Customer
Satisfaction
Self-limited distribution
While the company has a
long history of producing
PV technology, the
company has limited their
distribution through
partnered wholesalers and
retailers who then sell to
installers.
Include retail stores like
Home Depot, who have
their own contractors
and installers, in their
distribution chain.
Addition of Retail
Channels
Sales reliant on
continued government
incentives and support
The cost of installing a PV
solution becomes much
less attractive when
consumers have less
financial incentive to do so.
Improve panel
efficiency and cost
reductions to make PV
systems more equitable
with conventional
energy prices.
Parity Comparisons
with Other Energy
Sources
Manufacturing capacity
SolarWorld has only three
manufacturing facilities in
North America.
Continue to increase
manufacturing
operations domestically
in other key market
areas.
Production Capacity
in MW
Critical Success Factors
Critical Success
Factor
Description
Leverage
Metrics
Improve brand
management
SolarWorld must continue to
build on the equity of their
brand name in order to
differentiate from
competitors.
Turn SolarWorld's stance on
supporting domestic
manufacturing into a unique
brand factor.
Focus Group
Studies on Brand
Recognition,
Installer
Brand/Quality
Scorecards
Technology
innovations and
panel efficiencies
Due to the lowered costs of
materials, SolarWorld has
room to improve efficiencies
of their products and create
new value drivers.
Refocus company resources
towards product improvement
and increased panel
efficiencies.
Installer
Brand/Quality
Scorecards, % of
Budget Allocated to
R&D
Build # of business
relationships
SolarWorld's key product
offerings could better
benefit from external
support (product design,
distribution, product
support) in domestic and
foreign markets.
SolarWorld should forge new
relationships with additional
distributors, retailers,
government agencies, and
drivers of sustainable energy.
Addition/Acquisition
of Suppliers,
Addition of Contract
w/Government
Business
Reduce
manufacturing
costs
SolarWorld must continue to
cut costs in different stages
of the manufacturing
process.
Improve logistical systems
and internal communications
to reduce excess materials
and overproduction.
Reduction in
Materials, WIP
Goods, and
Finished Goods
Marketing Strategy
Strategy Platform - Dashboard
Market Share
Growth in Sales for SunModule panels
between 2011-2013
$25,000,000
$20,000,000
$15,000,000
$10,000,000
$5,000,000
$0
Sales
8.00%
7.00%
6.00%
5.00%
4.00%
3.00%
2.00%
1.00%
0.00%
Market Share
20
11
:Q
20 1
11
:Q
20 2
11
:Q
20 3
11
:Q
20 4
12
:Q
20 1
12
:Q
20 2
12
:Q
20 3
12
:Q
20 4
13
:Q
20 1
13
:Q
20 2
13
:Q
20 3
13
:Q
4
1
2
3
4
1
2
3
4
1
2
3
4
:Q :Q :Q :Q :Q :Q :Q :Q :Q :Q :Q :Q
11 11 11 11 12 12 12 12 13 13 13 13
20 20 20 20 20 20 20 20 20 20 20 20
70,000,000.00
60,000,000.00
ROM
50,000,000.00
40,000,000.00
Investment in
Marketing ($)
30,000,000.00
20,000,000.00
Return on Marketing
(Revenues)
10,000,000.00
2011: Q1
2011: Q2
2011: Q3
2011: Q4
2012: Q1
2012: Q2
2012: Q3
2012: Q4
2013: Q1
2013: Q2
2013: Q3
2013: Q4
0.00
Profit
Unaided Recall per hudered
respondents
$2,500,000.00
2013: Q4
2013: Q3
2013: Q2
2013: Q1
2012: Q4
2012: Q3
2012: Q2
Unaided Recall per
hudered respondents
2012: Q1
20
11
:
20 Q1
11
20 : Q2
11
20 : Q3
11
:
20 Q4
12
20 : Q1
12
:
20 Q2
12
20 : Q3
12
:
20 Q4
13
20 : Q1
13
20 : Q2
13
:
20 Q3
13
:Q
4
$0.00
Profit
2011: Q4
$500,000.00
2011: Q3
$1,000,000.00
100
80
60
40
20
0
2011: Q2
$1,500,000.00
2011: Q1
$2,000,000.00
Ansoff Growth Matrix
Existing Products
Existing Markets
Market Penetration
•
•
•
New Markets
•
Product Development
•
Target competitors customers
Additional promotions focusing on
SolarWorld quality & performance
Increase promotions in spring and
summer when weather is best for
solar efficiency and
construction/remodeling project
investments.
Market Development
•
New Products
As prices for solar decline it will
become more reasonable for
lower income customers to
acquire.
Partner with existing retail and
commercial establishments to
retro-fit buildings with solar.
•
Further innovation of current
solar modules to increase
nameplate watt capacity
Develop integrated online solar
installation tracking system
Diversification (The "Blue Ocean")
•
•
•
•
Creating a "put it together
yourself" solar module
Development of a plug in solar
module
Create solar module financing
Incorporate axis-tracking systems
into Sunkit solar solutions
Positioning as Quality Leader Tangible and Intangible
Tangible quality refers to gaps, or surpassed achievement, between expected and
perceived performance of physical elements of the value proposition.
Associated value drivers: Outperforms the competition, reduces environmental
costs
KPI's: Customer retention rate, customer complaints, total life performance,
delivered watts, freedom from defects
Intangible quality extends to encompass all aspects of customer and product
imbedded services. Benefits can be broken into two basic categories:
•Functional benefits = ƒ(operational excellence, knowledge, time, innovation)
Associated value drivers: reduced environmental costs, best customer
service
KPI's: Product platform, design metrics, usability, technology
•Social benefits = ƒ(customer intimacy)
Associated value drivers: Shared values, self/brand image congruency
KPI's: Internet buzz, customer satisfaction, adoption rate
Positioning - continued





We choose to position on intangible
benefits.
Solar panels are quickly becoming
commoditized
Service as differentiating factor
Knowledge, skills, techniques, and
customer relations are not
commodities
They are not easily copied by
competitors
Market Leadership Strategies
Value Discipline Radar Chart
Knowledge
3
2
Time
1
Innovation
0
Customer Intimacy
Operational Excellence
Value Proposition
SolarWorld does not tell us what we want; they develop
relationships and listen to the customer in creating value.
Every step of the way and throughout the lifetime of the
system, SolarWorld collaborates with the customer and
provides customized solutions to meet our energy needs. The
systems consistently outperform the competition, and their
customer service is unmatched in the category.
The individuals and companies that purchase SolarWorld
solutions care about our environment, our nation and their
relationships with others and society. That is only one reason
that SolarWorld owners are the type of people that you want
to be associated with; because they care, and they care
enough to change the broken paradigm that is our nation's
energy crisis. These people are compassionate innovators,
consummate patriots and problem solvers; members of a club
that you want to be associated with.
"Together with SolarWorld making a better world, one solar
solution at a time."
Brand Strategy
Together with SolarWorld creating a better world,
one solar solution at a time.
We're going on the OFFENSE!
 Invest to grow
 IS and marketing communications
 New production capacity
 Improve position
 Marketing communications
 Increase customer intimacy
 New market entry
 Existing offerings to new markets.
 Community purchasing agreements – lowmoderate income levels.
Linking Strategy to Value
Knowledge
• Source credibility
• Best technical solution
• Best feature set
Innovation
• Innovative solution
• Further decrease of environmental costs
Operational Excellence
• Delivered initial cost
• Best quality/reliability/durability
• Meets/exceeds expectations
Customer Intimacy
• Shared values
• Self/brand image congruency
• Best customer service/support
Time
• Best customer service/support
Transition to the 4 P's
Associated Value Drivers
Product – Outperforms the competition, customer service, reduced environmental costs
Promotion – Shared values, self/brand image congruency
Product Launch Timeline




2011- Release of Axis Tracking
System to customers in Q1
2012- Smartphone application
released in Q1
2013- Product launch at retail
outlets of the home Sunkit in Q1
2013- In house financing offered to
all segments in Q3
SolarWorld Product Platform
Residential Segment
Monocrystalline
Modules
Polycrystalline
Modules
Sunkit® w/
Axis-Tracking for
Residential
SunModule
Plus® 240 W
Sunkit®
App for
Residential
Sunkit® w/
Axis-Tracking for
Commercial
Commercial Segment
Wafers & Cells
SolarWorld
DIY Home Kit
In-House
Financing
Sunkit®
App for
Commercial
Solar Farm
Installations
>1MW
Industrial Segment
Solar Modules and Customized Solutions
Cell Technology (c-Si)
Unique
Product
Elements
Common
Platform
Elements
Silicon Ingots, Wafers, and Cells
Time
Adapted From Source: McGrath, Michael (2001), Product Strategy for High Technology Companies,
New York: McGraw-Hill
Sales & Distribution Plan
Promotion Plan

"Working together to make a better world, one solar solution at a time."

Advertising (CA, NJ, FL, CO, & AZ spot markets)








Public Relations




Regular news center updates and press releases to generate awareness.
Make marketing personnel available for interviews.
Corporate Social Responsibility: Expand Solar2World program into lower income
neighborhoods within the U.S.
Sales Promotion


Television: 3-month rollout 2011, then transition to flighting schedule. High reach medium
to build awareness rapidly.
Radio: Coverage in select geographic locations.
Outdoor: Geographic flexibility and buzz factor.
Magazines: Regionally-based commercial development and business magazines with
distribution in key markets.
Brochures: Distribution to installation partners and in response to individual requests for
information.
POP: Necessary for year 3 rollout to retail chain (Lowes).
Internet: Key medium for consumers as solar is high-involvement product.
Trade Shows: Key trade show events centered in CA.
Direct Marketing


Social Media:Active participation in social media vehicles (Facebook & Twittter).
Customer Relationship Management: Develop robust CRM program; Make customers know
that with purchasing system they have become part of the SolarWorld family.
Pricing Plan




Hybrid pricing strategy over the next
three years that includes both skimming
and penetration pricing. During the
launch of the each new SunModule
refresh, SolarWorld will want to price
skim and leverage the value of their
brand and emphasize high quality with
premium prices.
This will also allow SolarWorld to skim
the inelastic demand with brand image
pricing. Overtime, it will be important to
reduce prices over the product life cycle
to attract those price sensitive buyers
and sustain their market share.
The initial launch price (Q1 2011) for the
SolarWorld SunModule Plus 240 will be
$699.99 per module as we believe it is
sufficiently higher than most competitors
to signal a premium quality message.
With increased watt performances in
each product refresh, we plan to lower
the price to $639 (by Q4 of 2011) to get
rid of outdated wattage modules as well
as penetrate the market.
Annually, the price of SunModule is
expected to decrease at an average rate
of 8%.
Implementation: Marketing Budget

Marketing Objectives


Sales: $59 million (Y3)
Market Share: 7.5% (Y3)
Sunmodule Plus® 3-Year Sales Potential
$70,000,000
$59,091,293
$60,000,000
Revenue
$50,000,000
$40,000,000
$30,231,624
$30,000,000
$20,000,000
$11,049,743
$10,000,000
$1
2
Year
3
Organizational Requirements
CEO
VP Marketing
Sales
Director
Marketing
Director
Dir. Product
Development
Sales
Department
Marketing
Department
R&D
Department
Marketing Budget
SolarWorld Marketing Budget
2011
2012
2013
Marketing Management
$169,686.60
$464,255.10
$907,441.65
Sales Management
$124,436.84
$340,453.74
$665,457.21
Planning & Market Development
$124,436.84
$340,453.74
$665,457.21
Account Managers
$45,249.76
$123,801.36
$241,984.44
Technical Support
$33,937.32
$92,851.02
$181,488.33
Installer Training
$11,312.44
$30,950.34
$60,496.11
Marketing Communications
$113,124.40
$309,503.40
$604,961.10
Advertising
$169,686.60
$464,255.10
$907,441.65
Public Relations
$113,124.40
$309,503.40
$604,961.10
Sales Promotions
$90,499.52
$247,602.72
$483,968.88
Direct Marketing
$79,187.08
$216,652.38
$423,472.77
Other Miscellaneous
$56,562.20
$154,751.70
$302,480.55
$1,131,244.00
$3,095,034.00
$6,049,611.00
Total Marketing Budget
Marketing Communications Budget
% of
Budget
3-Yr Budget
53%
$
2,723,110
$
299,780
$
820,184
$
1,603,147
Television (Cable)
50%
$
1,361,555
$
149,890
$
410,092
$
801,573
Radio
15%
$
408,467
$
44,967
$
123,028
$
240,472
Outdoor
10%
$
272,311
$
29,978
$
82,018
$
160,315
Magazines
15%
$
408,467
$
44,967
$
123,028
$
240,472
Brochures
3%
$
81,693
$
8,993
$
24,606
$
48,094
POP
5%
$
136,156
$
14,989
$
41,009
$
80,157
Internet (Tiles)
2%
$
54,462
$
5,996
$
16,404
$
32,063
20%
$
1,027,589
$
113,124
$
309,503
$
604,961
100%
$
1,027,589
$
113,124
$
309,503
$
604,961
15%
$
770,692
$
84,843
$
232,128
$
453,721
Exibits
40%
$
308,277
$
33,937
$
92,851
$
181,488
Trade Shows
60%
$
462,415
$
50,906
$
139,277
$
272,232
7%
$
359,656
$
39,594
$
108,326
$
211,736
Social Media
30%
$
107,897
$
11,878
$
32,498
$
63,521
CRM
70%
$
251,759
$
27,715
$
75,828
$
148,215
5%
$
256,897
$
28,281
$
77,376
$
151,240
SEO/SEM
75%
$
192,673
$
21,211
$
58,032
$
113,430
Solarworld App
25%
$
64,224
$
7,070
$
19,344
$
37,810
$
5,137,944
$
565,622
$ 1,547,517
$
3,024,805
SolarWorld MarCom Budget
ADVERTISING
PUBLIC RELATIONS
CSR Initiatives
SALES PROMOTION
DIRECT MARKETING
Internet/Web
TOTAL
2011
2012
2013
3-Year Profit & Loss Statement
SolarWorld 3-Year P&L Statement
2011
2012
2013
$ 11,312,435
$ 30,950,339
$ 60,496,105
$
6,787,461
$ 15,475,170
$ 27,223,247
$
4,524,974
$ 15,475,170
$ 33,272,858
R&D
$
113,124
$
309,503
$
604,961
SG&A
$
1,696,865
$
4,642,551
$
9,074,416
Mktg Personnel
$
1,131,244
$
3,095,034
$
6,049,611
Mktg Expense
$
565,622
$
1,547,517
$
3,024,805
TOTAL Operating Expenses
$
3,506,855
$
9,594,605
$ 18,753,793
Earnings Before Taxes
$
1,018,119
$
5,880,564
$ 14,519,065
Taxes (35%)
$
(356,342)
$
(2,058,198)
$
(5,081,673)
Net Income
$
661,777
$
3,822,367
$
9,437,392
Gross Sales
COGS
Gross Income
Operating Expenses
Conclusion



The Commercial market for solar panels in the United
States is very attractive due to high growth and high
brand identity alignment with customer value drivers.
SolarWorld is unique from other PV competitors due to
their vocal support of domestic manufacturing and strong
reputation for quality panels at affordable prices.
In order to be successful reaching the Commercial (and
eventually Residential) segments SolarWorld will need to
emphasize their accessibility and ease of purchase in all
future marketing efforts.