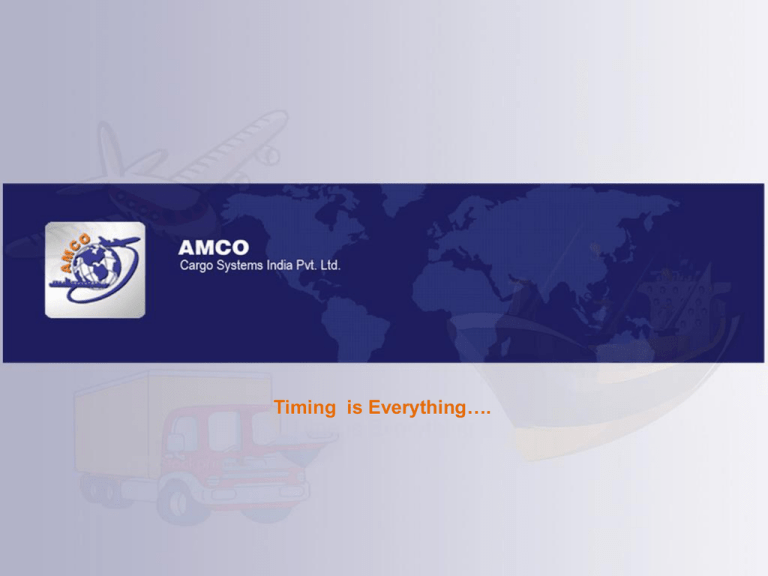 Timing is Everything….
What is our Vision / Mission?
Vision : To be a value based global organization and develop logistics to
provide you the competitive edge.
Mission : Strive to attain leadership in custom-tailored integrated
logistics programs and in the process help our clients manage
materials, products and information from vendors straight to our
clients customer's door-step. Through services like Integrated logistics,
personalized customer service , Logistics management,
Consultation & exim formalities benefits such as competetive
cost advantages will accrue to the client.
Timing is Everything….
Who are we ?
We are a prominent Logistics service provider which includes a
gamut of integrated services in the process giving you a
competitive edge . Our global presence is augmented by our
several branches in various parts of the world and in all major
ports and airports in India
Timing is Everything….
What do we do ?
Today competition has redefined economic activity consists of
sourcing from one location , manufacturing at another and selling it
at a third location . We work with you as integral partners in
providing you logistical support in these activities with cost effective
solutions leaving you to focus on your core activities .
Timing is Everything….
What are the services we offer ?
We offer Integrated logistics services through the following
horizontals :
International Freight forwarding through Air & Sea
Consolidation
Customs Clearance
Warehousing
Logistics
Project Cargo
Timing is Everything….
Air Freight
Ware House
Consolidation
Services We Provide….
Logistics
Sea Freight
Project Cargo
Custom Clearance
How do we do it ?
Using our experience accumulated over the years through
the tried & tested processes to perfection we give you the
best viable solutions factoring in all the processes which
are crucial to the activity . By implementing Technology
centric answers to challenges assisted by our staff we
provide sustainable results to help to maintain the
competitive edge .
Timing is Everything….
Why are we global ?
With branches in all major regional geographic hubs namely USA,
China, Hong Kong, UK, Thailand, Malaysia South Korea , Singapore
and Europe etc we enable you to use our neural network to do all
activities be it sourcing , ready market access or manufacturing
logistics . Our seamless network helps you to tide over short market
turbulences and insulate you from uncomprehending able factors.
Timing is Everything….
What is our Quality Policy ?
Our quality policy encompasses the following
Strive to achieve market leadership in the services we provide.
Maintain a quality system that delivers & guarantees
the services to meet customer expectations.
Understand clearly the expectations of our customers in order
to continuously meet them and to strive to exceed them
Critically support the improvement of processes and procedures
in the interest of an efficient and productive organization.
Timing is Everything….
Admin Dept
Transport Dept
Timing is Everything….
CS Dept
The best way to get in Touch with us.
Amco Cargo Systems ( India ) Pvt Ltd
No. 29 / 30, Thapar Complex, Sector - 15,
C. B. D. Belapur
Navi Mumbai, Maharashtra - 400 614, India
Email : info@amcocargo.in
Telephone : +(91)-(22)-27566246/ 27566247
Mobile : +(91)-9619588807/ 9167997066
Fax : +(91)-(22)-27566247
Timing is Everything….
THANK YOU
We believe 1 action is equal to a 1000
words so lets act and the best time is now
so lets forge a new beginning ..........
Timing is Everything….