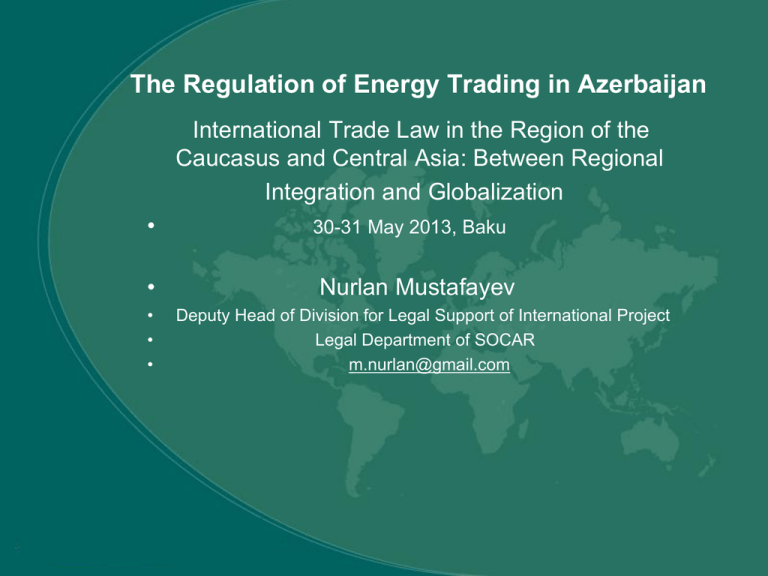 The Regulation of Energy Trading in Azerbaijan
International Trade Law in the Region of the
Caucasus and Central Asia: Between Regional
Integration and Globalization
•
•
•
•
•
30-31 May 2013, Baku
Nurlan Mustafayev
Deputy Head of Division for Legal Support of International Project
Legal Department of SOCAR
m.nurlan@gmail.com
Structure of Presentation
•
•
•
•
•
Energy Market Structure in Azerbaijan
Regulatory Framework
Trading in Oil and Gas
Trading in Electricity
Trading in Renewable Energy
Energy Market Structure of Azerbaijan:
The Main Features
• State monopoly on major industries (oil & gas,
electricity, water, utilities, telecommunications, transport
etc).
• The upstream petroleum sector is partially liberalized
with participation of IOCs in major projects, PSAs.
• Vertically integrated state-owned enterprises in energy
sector – SOCAR (incl. Azerigas) and Azerenergy OJSC
(production, transportation, refining, sales).
• Limited room for domestic energy trading
• Most energy trade occurs within and among the stateowned vertically-integrated companies;
• Price (tariff) regulation of the overall value chain in major
industries.
• External Energy trading (crude oil sales and GSAs with
Georgia, Turkey, Russia)
Some International Law Issues
• Can WTO be interpreted to cover energy markets
or energy trading?
• Does the Energy Charter Treaty oblige the member
states to have a liberilized energy market and
energy trading?
Regulatory State Authorities
• The Ministry of Industry and Energy - the central
executive authority implementing state policy and
regulation for the energy sector;
• Tariff Council establishes the tariff (price) (Incl.
energy) in regulated industries, proposes changes
to laws relating to pricing; and settles disputes on
price regulation and tariff application;
The Laws Regulating Energy Trading
• Charter of Tariff Council, 2005
• Numerous Resolutions of Tariff Council
• Rules of Ensuring State Control Over Setting and
Applying the Tariffs (Prices), 2005
• List of Goods (Works and Services), Prices
(Tariffs) Regulated By the State, 2005
• Law on Regulated Prices, 2003
• Law on Natural Monopolies, 2001
• Law on Electric-Power Industry, 1998
• Law on Gas Supply, 1999
Trading in Oil & Gas
• SOCAR has monopoly in production,
transportation, wholesale of crude oil and products
• Azerigas (SOCAR's subsidiary) as monopolist gas
supplier is engaged in gas transportation,
distribution, sale and supply;
• Tariffs for certain oil and gas trading activities:
• (a) Wholesale and transportation prices of crude oil
• (b) Retail and wholesale prices of some oil
products and adjustment of excise amounts;
• (c) Wholesale, refining and transportation tariffs of
natural gas;
• (d) Retail tariffs of natural gas to end-consumers;
• (e) New natural gas processing tariffs;
Trading in Electricity
• Azerenergy OJSC, a 100% state-owned enterprise,
is engaged in the production, transmission,
distribution, purchase and sale of electricity in
Azerbaijan;
• There is no wholesale electricity market.
• A uniform tariff for the population and other tariffs
for commercial and industrial enterprises:
• (a) tariff for purchase from electricity producer;
• (b) wholesale electricity sale tariff;
• (c) retail electricity sale tariff; and
• (d) export and import electricity tariff.
Trading in Renewable Energy
• The Agency for Renewable and Alternative Energy
Sources under the MIE
• State programme for the Development of
Alternative Energy (wind, solar , geothermal
waters, hydraulic and biomass energy)
• There is no established market for renewable
energy
• The Tariff Council set tariffs for only wind energy
and mini hydro power
• There are no schemes of subsidies aimed to
encourage energy efficiency
• No specific obligations to purchase renewable
energy.
THANK YOU FOR YOUR ATTENTION!