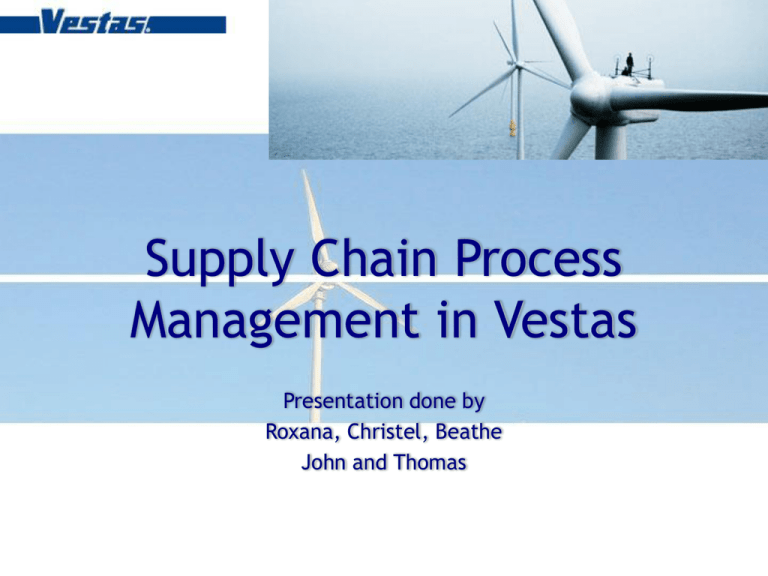 Supply Chain Process
Management in Vestas
Presentation done by
Roxana, Christel, Beathe
John and Thomas
Introduction
The study
Vestas
SCPM Problems
7 objectives
Evaluation
Recommendation / conclusion
Study question
The study of Supply Chain Process
Management application in Vestas
WHY
Vestas changed their strategy in 2006 to
improve its market leader position in the
global wind power industry
Facing problems, especially in SC process
management
Supply Chain Process Man
Suppliers
Towers and
Steel components
Vestas
Customers
- Private owners
- Wind turbine asso
- Local power companies
Company Information
Vestas is the world's leading producer
of high-tech wind power systems
Head office in Randers Denmark.
13000 employees.
Production facilities in: Denmark,
Germany, India, Italy, Scotland,
England, Spain, Sweden, Norway,
Australia and China.
Strategy
"Vestas' strategy is to supply customized
wind power solutions… that can
generate electricity of the optimal
quality at the most competitive price"
Vision: Oil, Wind and Gas
Mission: At Vestas failure is not an
option
Share price 1998 - 2007
Source: www.Euroinvestor.dk
Supply chain
Complex product (over 8000 parts)
Deteriorating customer satisfaction
The stability of supplies of key
components is crucial to Vestas' ability
to fulfill orders
SWOT
Strenghts
Weaknesses
•Goodwill from capital markets
 Lack of production
•Geographically spread (less risk)
facilities in the US
•R&D department with great
 Past production errors
knowledge
has resulted in
•Employee development programs
uncertainty
•Market-leader position in all
 Backorders
product segments
Opportunities
 Green power is supported
politically with subsidies, and
preferred choice among
consumers.
 Deregulation of power
markets
 The production price per
output (kWh)
 Economy of scale makes
 Large projects with large
customers e.g. offshore wind
parks
Threats
 local community attitude
towards turbines
 Larger customers lead to
more competition and
bargaining power
 Growth without the
necessary capital for
development
 Dependent on high-tech
components from suppliers
SCPM objectives
Effective
Efficient
Adaptable
Customer Friendly
Supplier Friendly
Environmentally Friendly
Mistake proof
Effective SCPM
Until 2005: effectiveness internally:
growth, R&D, market share, acquisitions
Efficiency demanded by suppliers
Mergerforced suppliers to lower prices
Pricetag sourcing
Lack of common SCP improvement
Defects occurred after installation  loss
Source: Bang, 2005
Lack of common SC
objectives
Suppliers
Vestas
Customers
Effectiveness
Efficiency
Efficiency
Ideal situation
Suppliers
Vestas
Customers
Effectiveness
Efficiency
Difficult to balance effectiveness and efficiency
but needed to survive in compettition
Efficiency and effectiveness in SCPM after 2005
 efficiency in Vestas
 effectiveness in suppliers
 Goals:
short and long term profitability for all trading
partners
asset utilllization in SC
Vestas' Six Sigma consultants help suppliers for
long term commitment alliances
Increase prices to take advantage of capacity
shortage and high demand
 Lesson learned:
"The fundamental challenge of integrated mangement
is to redirect traditional emphasis on functionality
in an effort to focus on process achievement"
(Bowersox et al. 2006)
Adaptable
Adapt to changes in the environment
2005 New business structure
Geographically distributed business units
Closer to the customers (logistics)
Local knowledge (culture)
Improved relations with local suppliers
ERP system (SAP) implemented in 2006-2009
(parallel integration)
Full integration of the different BU's
Customer Friendly
Study shows a decrease in customer
satisfaction due to poor…
Turbine performance
Handling of customer wishes and enquires
Handling and performance of service
Information/knowledge sharing with customers
Delivery of spare parts on time
2006: "Dialogue for development"
Improving customer satisfaction
Investing in testing facilities
Policies for quick responses to customers
Acting proactively, contacting customers
regularly to get feedback (Use of Key
accounts)
Integrate customers in the ERP system, to
improve knowledge sharing
Extensive reporting
Supplier Friendly
Forecasting and Demand
High Demand
Pressure on suppliers
High emphasis on
Dialogue suppliers
Estimate safety stock and inventory pre-build
Good forcast can be made from statistical data
Supply Demand Vestas
Actual demand –
Rates are the answer
Suppliers' and own inventory –
Magnifies with the Supplier inventory over or under
Replenishment rules Magnifies with the customers replenishment rules
Supplier key suggestions
 Integrated product development is the key
word with strategic suppliers
 Due to ERP they can intergrate supplier in the
process
 Never be dependent on one supplier
 Why = To reduce reliability and vulnerability
 Recognizes the need for strategic suppliers,
and give a fair margin on their products
 Why = satisfactory is more important in the long run
Environmentally friendly processes
"With quality and care we use the wind to create competitive
environmentally friendly energy"
 Big issue: Environmental awareness is increasing
throughout the world
 At Vestas consideration for environmental aspects
is
the foundation for the products
and the basis for the business concept
 high priority to the environment– both globally and
locally
Increase in external environment issues and safety
How are processes being made environmentally
friendly?
 Certifiable management system
 ISO 14001 and OHSAS 18001 (77%)
 Communicating knowledge at all levels
 integrated enviromental policy
 Continuous environmental improvement
 Suplliers auditing
 abide by Vestas' chemical and material blacklist
 Reporting system
 Group level environmental reporting
Impact on the external environment
Most significant environmental impact: CO2savings from
Vestas' turbines. Environmental pay back time: 7 months
HOW: true LCA (Life Cycle Assesment) reports and Environmental Product Declarations
Suggestion: Sponsor "green" events to increase brand awareness and attention like
theFIRST LEGO League (FLL) tournaments
Occupational health & safety issues
 Top priority at Vestas: Safety
 Integration: 'Will to win' culture = high safety culture
 Changing mission: 'Failure is not an option'= zero
accidents
Major challange: reducing injuries by improvement,
information and training implementation
Results: decrease with 22 % from last year but still major
concern!
 Suggestions:- continuous improvement in in-house
processes, training and education
 integrate different cultures together
Mistake proof
Failure in First Off Shore project
Weakness was component quality
performance
Repair at sea not possible transport on
shore for repair extremely costly
Learning:
failure is not an option also apllies to suppliers
education of everyone in Vestas also suppliers:
Vestas lends Six sigma consultants to its suppliers
Stop selecting by pricetag
New Mission:
Failure is not
an option
Suggestions
Focus on importance of supplier
qualification and selection by:
Implementing an efficient supplier selection
process
Contract administration
Summary
 Emphasis should be put on some issues in particular
 Improving communication throughout the supply-chain
 Quality problems escalate throughout the SC
 An efficient supplier management is of central
importance for successfull supply chain
Questions ….
Why does supplier management (or
suppliers as trading partners) – play
such an important role in SCPM?
What possible risks and losses can an
enterprise face due to lack of
integration, collaboration to trading
partners in the SCM?