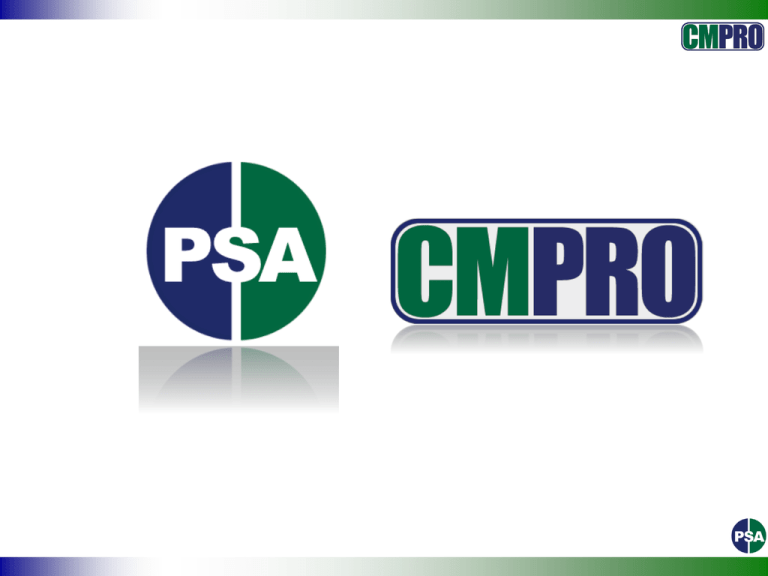 Professional Systems
Associates, Inc.
http://www.psasys.com
We've been building
powerful, people-oriented
software solutions for
commercial and
government customers for
over 20 years
We design and build
CMPRO
CMPRO is an affordable and
flexible software solution
(Provides much more than just
configuration management)
(Numerous out-of-the-box solutions as well the ability
to be tailored to fit individual customer needs)
CMPRO is a Product
Life-cycle Management (PLM)
solution
(PLM is the process of managing the entire lifecycle of
a product from its conception, through design and
manufacture, to service and disposal)
CMPRO is a 100%
web-based solution
Zero Client Footprint
CMPRO
Functionality Overview
and Benefits
CMPRO PLM Process Overview
Configuration
Status
Accounting &
Reporting
Authorize &
Plan
Design &
Document
Plan,
Procure &
Produce
Changes
Deliver,
Track &
Maintain
CMPRO PLM Data Flow
Document
Physical End Item
Drawing
Software
Document
Parts / Drawings
Document
Drawing
Assembly
Component
Assembly
Assembly
Component
Software
Inventory &
Requisitions
Assembly
Software
Documents
Component
Component
Document
Component
Software
Work Orders &
Non-conformance
Baselines
Software
As-Built
(Fielded Items)
CMPRO PLM Benefits
• Enter data once, use many
times
–
–
–
–
Reduce labor costs
Reduce data-entry errors
Real-time status
Increate data usability
• For example: Parts List on
a released drawing  Part
Tree  Work Order  Buy
List  Requisitions 
Inventory  As-built
• Integrated modules
provide end-to-end
automation
• Modules can stand alone
when needed
• Centralized repository of
data (product, status,
files, etc)
CMPRO
Additional Component Detail
Workflow
Electronic forms
Originator
Planning
Exec
Approval
CM
Specialist
CCB
Document
Lead
Review
CCB Prep
CM Final
Review
Flexible routing
All forms share common
features (annotations,
attachments, …)
50+ forms out-of-the-box
ECP
For those that follow the
ECP model for change
management
Complete
Formal
Revisions, Class I and
Class II, preliminary /
formal
Standard CMPRO
workflow features – with
printing / PDF
Revisions
Pre-liminary
Enterprise
Change (CMII)
For those that subscribe
to the CMII model for
change management …
Problem Report
Change Request
Change Notice
Change
Request
Problem
Report
Change
Notice
Product
Baseline
Project
Tracking
Simple structure (project,
task, subtask)
Workflow enabled Action
Items
Integrates across other
modules in CMPRO
Contract
Tracking
CDRLs / SDRLs
Actual DD1423
Document Repository
integration for document
deliveries
IT Asset
Management
New module
Network and Node
configuration tracking
Actions for Nodes
(patches, IAVA/Bs, etc)
Import data from
discovery tools
And there's more …
CMPRO Industry Assessments
• Institute of Configuration Management (ICM)
– ★★★★★ rating (5-star)
– First software tool to receive five stars (under current and
previous rating system)
– http://www.icmhq.com
• Configuration Management Process Improvement
Center (CMPIC)
– Preferred vendor status.
– http://www.cmpic.com
Potential U.S. Navy and Marine Corps customers may be interested to know that
CMPRO is DADMS Approved
Without Restrictions
(ID: 20419)
Multiple ATOs for CMPRO have been approved in
SPAWAR, NAVSEA, and NAVAIR (details available upon request)
CMPRO Does Not Stand Still
• Updated builds are released regularly to enhance
and improve current version
• Enhancements and improvements customer-driven
through built-in issue reporting and tracking
(CMPRO Issue Reports / C-IRs)
• Annual conference (CMPROficiency) and other PSA
training resources provide opportunities for the
entire user-base to become more proficient in using
CMPRO
– (http://www.psasys.com/cmproficiency2011.html)
CMPRO Support
• Telephone / e-mail support with CMPRO experts during
normal business hours (24x7 support available)
• Maintenance (all updates) included in annual support
• Training classes are available (come to us or we can come
to you)
• Implementation support is available for detailed assistance
with getting CMPRO to work optimally in the context of your
processes and data (including on-site visits)
CMPRO Summary
• Affordable and flexible.
• 100% web based (zero client foot print)
• Provides much more than configuration management
(including custom-built solutions)
• DADMS approved (USN and Marine Corps)
Thank you for your time.