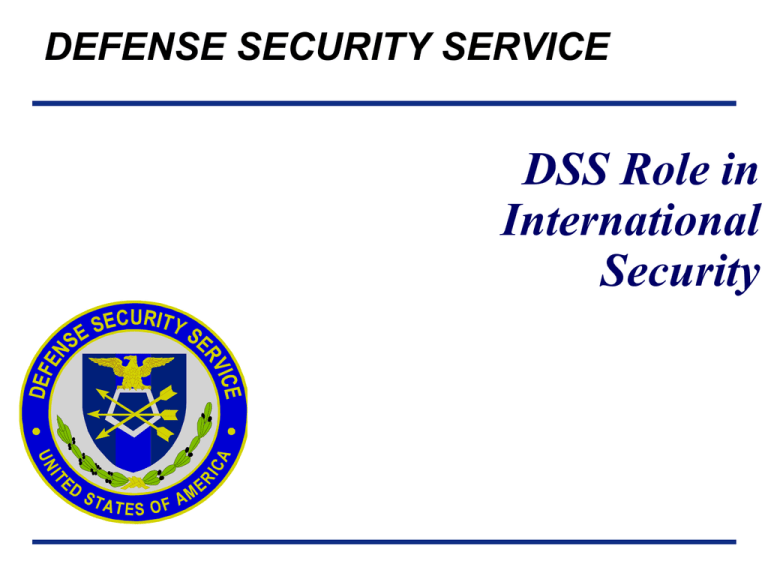 DEFENSE SECURITY SERVICE
DSS Role in
International
Security
What is an International Program
• A lawful and authorized government or commercial effort in
which there is information and/or technology transferred from
one country to another
– Commercial Programs initiated by a contractor such as
Direct Commercial Sales (DCS)
– Government Programs initiated by a government entity
such as Foreign Military Sales (FMS) or a cooperative
agreement.
DSS Authority
• Arms Export Control Act (AECA)
– Gives the President of the United States the authority
to control the import and export of defense articles
and defense services
– Places certain restrictions on American arms traders
and manufacturers, prohibiting the sale of certain
sensitive technologies to certain parties and requiring
thorough documentation of such trades to trusted
parties
DSS Authority
• 124.1(b): MLA/TAA copies provided to DSS by DDTC
• 124.3 and 125.3: Classified transfers and disclosures IAW
NISPOM
• 125.5: Classified visits are IAW NISPOM
• 125.9: Licenses forwarded to DSS for authorization,
endorsement/decrement
• 126.13c: Technology Control Plans submitted will facilitate
license processing
• 127.5: In cases of exports of classified tech data or defense
articles, DSS may take appropriate action to ensure
compliance with the NISPOM
DSS Authority
• General Security Agreements also known as GSOIA and
GSOMIA (adding military, depending on scope and year)
– Negotiated through diplomatic channels, requires each
party of the agreement to afford to the classified
information by the other substantially the same degree
of security protection afforded it by the releasing
government.
– Contains provisions concerning limits on the use of the
information
– Restrictions on third party transfers and proprietary
rights
– Provides for reporting, the lose or compromise or the
possible lose or compromise of classified information
DSS Authority
• Industrial Security Agreement
– Negotiated by the DoD as an annex to the GSOIA or
GSOMIA with foreign governments which DoD has
entered into arrangements involving industry participation
– Includes provisions for:
•
•
•
•
•
Information handling
Security classification guidance
Visits
Exchange of security assurances
Designates a responsible government agency to administer
the agreement (DSS)
DSS Authority
INDUSTRY
D
State
Department
S
Security
Agreement
S
Department
of Defense
International Security Role
• Determines eligibility of personnel and facilities for access
to classified information
– Adjudicate clearances for contractors
– Provides security assurances on U.S. contractor facilities and
individuals to foreign governments
– Validates clearance information for visit authorizations from U.S.
contractors to foreign locations
• Oversees contractor compliance with security provisions
of international contracts and agreements
• Mitigate Foreign Ownership, Control or Influence (FOCI)
for US companies with classified information
International Security Role
• Oversight responsibility for plant visits by foreign nationals
• Provide interpretations and guidance of the NISPOM
• Coordination of the Secure Communication Plan with
NSA, Foreign government and U.S. Program Office
• Coordinates and approves contractor international hand
carry and transportation plan arrangements
International Security Role
• Security violation reports to foreign governments
• Provides advice and training to cleared contractors and
selected foreign governments
– Industrial security
– Personnel security investigations
– Information security
Contact Information
•
•
•
•
•
Richard Stahl
Byron Jenkins
Tom Jessen
Jason Heit
Bron Stacey
Division Chief
Western
Northern
Capital
Southern
International@dss.mil
Regions
Conclusion
QUESTIONS?