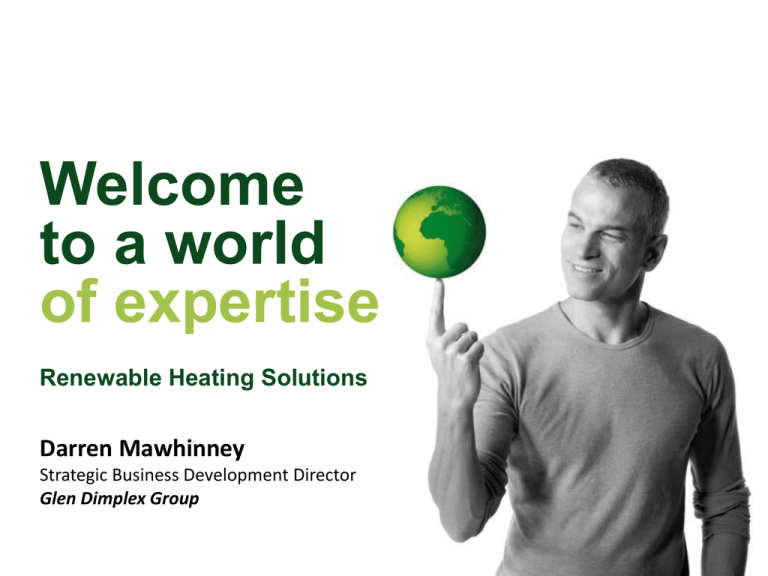 Welcome
to a world
of expertise
Renewable Heating Solutions
Darren Mawhinney
Strategic Business Development Director
Glen Dimplex Group
Glen Dimplex - Investment in Low Carbon Technologies
The Glen Dimplex Group
• Founded in 1973
• The worlds largest electrical heating
business
• Holds significant market positions in
the domestic appliance markets
• Operates through 33 autonomous
businesses throughout the world
• Employs 8,500 people
• Annual turnover Є2 billion
• Privately owned
Group Brands
Dimplex Renewables
• 30 years experience manufacturing 60,000 heat pumps per year from our
German factory and UK factories.
• Widest range of heat pumps in the UK – over 120 different units
• Air, ground and water source from 4kw - 130kw
• Domestic & Commercial Environments
• Recent €10m investment in UK R&D and manufacturing
• Domestic heat pumps and cylinders, Heat Emitters and Solar Thermal
A Class Heatpump
A Class of its own
Outstanding performance and
efficiency
High output, high temperature
Sophisticated heating, made
simple
Innovative technology
Complete system packages
My Green Heating
What Is It?
Renewable Heating Has Clear Benefits:
•
•
•
•
Low heating bills
Low maintenance
Low carbon
Secure energy supply
So What's Preventing Market Uptake?
Barriers
Solutions
• High up front CAPEX
Funded Solution supported by RHI
• Concerns over technology
Long term full service contract from
reliable partners
How does it work?
OFGEM
Up-front
Payment
Dimplex
Renewables
Purchases
Product
My
Green
Heating
Monthly
Service Fee
RHI
Payments
Contracts for Survey,
Installation and
Maintenance
Installer
RHI
Payments
RSL
EXAMPLE OF FUNDED MODEL
2 bedroom Semi Detached Property:
Property size:
60m2
Construction:
Cavity fill and loft insulation
Occupants:
3
Heating and DHW demand: 8,500 kWh/yr
RHI Income over 7 years
£2,800
Option 1
mygreenheating
Conventional
Procurement
Option 2
Option 2
My Green Heating My Green Heating
£2000 DEPOSIT PAID UP FRONT



Green Deal Assessment
£100


EPC Certificate
£50





£8000
£2000
£5250
MCS Registration



Quarterly Payments to MGHF
-
£150
£0
Quarterly RHI Administration
£25


7 year Parts & Labour Warranty
£400


Annual Servicing & System optimisation Check
£150
£150
£150



£10,300
£7,500 net of RHI
£7,250
£6,300
Housing Stock Assessment
Property consultation Report & Design
Installation of New renewable energy Heating and Hot Water System
24 hour Heating Response service
Total Cost For solution (net of RHI income) over 7 years
(all figures shown net of VAT)
Annual Heating Bill (£)
1200
1000
Tenant saves
£3,000 +
over 10
years
800
600
400
200
0
Yr 1
Yr 2
Yr 3
Yr 4
Yr 5
Oil
Yr 6
MGHF
Yr 7
Yr 8
Yr 9
Yr 10
What's the Process?
RSL Identifies Potential Homes
MGH Carries Out Survey and
Provides Green Deal Assessment
and EPC for each property
MGH prepares a scheme design for each
property and makes a proposal to RSL based
on the portfolio of properties
RSL decides whether to proceed
and which properties to include
in the scheme
MGH Installs and Commissions the
Systems and Applies for RHI funding
from OFGEM for each property
7 Year Maintenance and Support
Programme Commences
Partnering Opportunities
Survey
Installation
Design
Graphic /
website
design
Service &
Maintenance
Misc IT skill
TBD
Project
Management
13
Any Questions?