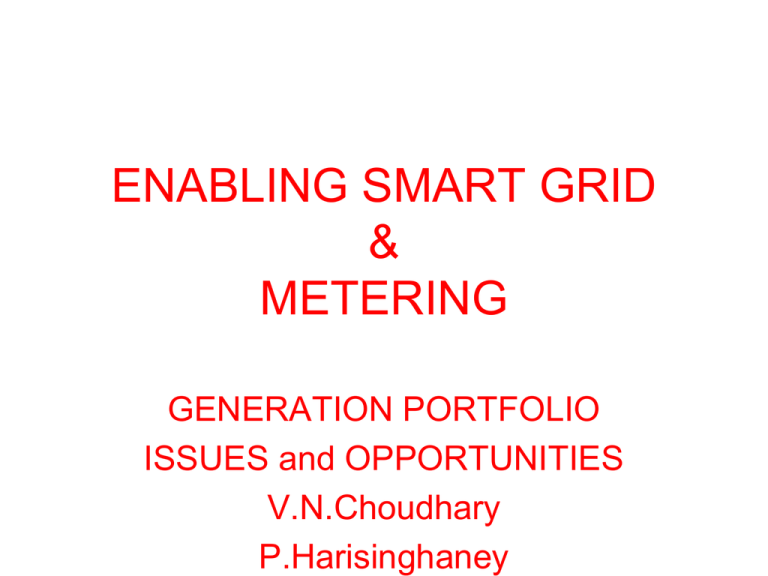 ENABLING SMART GRID
&
METERING
GENERATION PORTFOLIO
ISSUES and OPPORTUNITIES
V.N.Choudhary
P.Harisinghaney
Contd.
contd
Issues
Mix of Generation Portfolio
Changing
% of Renewables &
Distributed generation is
going to increase
CONTD.
Contd.
Billing as per Time of Day
Peak time rate
Off Peak time rate
Export rate
Import rate
Frequency related rate
Contd.
Even Central generating
Station will have to
Adopt Advance Metering
Higher sized Units 660 – 800 MW
UHV transmission limes
- Energy efficiency calculation
- Internal energy
- Reactive Power Control
- Blackout & Brown out protection
Nature of supply varies
Base Load Power supplier
Peak Load power supplier
Intermittent Load supplier
Merchant Power supplier
Captive Power supplier
Degree of Smartness
Increasing
Right from the beginning i.e. 1888
Now it will Lead frog
Due to advanced electronics &
Communication and software
Relevance of Smart grid elements
Generation/distribution
For Poverty Elimination
& Inclusive growth
We can use cluster approach
Contd.
Like Intranet
&
Internet
Contd.
Clusters of
Renewables & alternative
Resources may be
Created at remote places
contd
These clusters can be
Interconnected via
High Cap Transmission
Lines To
Connect rural ,mountain ,and desert located
population clusters
contd
Different schemes like
RG Grameen Vidutikaran Yojna
APDRP
MNREGA
Urbanisation
PURA
May be synergised to generate
Energy in rural clusters as cottage industry
To provide opportunity for small/home industry &
employment
19
Renewables – present
status in India
Total installed capacity ( till end May-10)
20
Total Thermal
Hydro (Renewable)
Nuclear
RES** (MNRE)
10%
23%
64%
3%
Total Installed Capacity
(as on 31.05.2010)
Installed Renewable capacity ( till March-10)
21
Biomass Power (Agro
residues)
1% 5%
8%
Wind Power
16%
Small Hydro Power
(up to 25 MW)
70%
Cogenerationbagasse
Solar Power
Total Installed Capacity
(as on 31.03.2010)
Contributes 4% of total Electricity
Generation
4/13/2015
RPO status for FY 09-10
22
Province
RPO Target
RPO Met
Maharashtra
6%
5%
Gujarat
2%
2%
Karnataka
10%
11%
Tamil Nadu
13%
12%
Punjab
2%
1.0%
Haryana
10%
0.2%
Madhya Pradesh
10%
0.2%
RENEWABLE ENERGY
WIND
650 MW
•
•
SOLAR
301 MW
BIOMASS
15 MW
GEO
THERMAL
30 MW
SMALL
HYDRO
300 MW
300MW Solar projects by 2014
1000MW capacity RE projects by 2017
MOUs
•
MoU with KPCL signed on 12.01.2009 for development of 500 MW wind energy projects
in Karnataka
•
MoU with GPCL signed on 20.03.2010 for development of 500 MW renewable energy
based projects in Gujarat
•
MoU with A&N Administration signed on 27.11.09 for development of 5+1 MW solar PV
projects in Andaman & Nicobar.
•
MoU with NGRI signed on 26.03.08 for development of Geo-thermal energy based
projects..
•
MoU with SDC signed on 05.09.08 for development of two-stage gasifier technology.
•
MoU with Government of Rajasthan for development of wind and solar energy based
projects in Rajasthan.
DG PORTFOLIO
PROJECTS
PROJECTS COMMISSIONED:
UNDER
No of Projects
15
IMPLEMENTATION
01 Nos
Total Capacity:
300.5 kW
• Chhattisgarh:
01
Capacity: 40 kW,
Household/ Population 2153 /12000 Micro Hydro, HH-82
Concerns:
• Fuel availability
• Gap between revenue and expenditure
• Income Generation Scheme
• Villages getting electrified with grid supply.
DPRs UNDER
CONSIDERATION
28 NOS.
• ER-I : 16
• Coal Mines: 12
Basket of RE Projects
1.Solar PV- 110MW
2. Solar Thermal-240MW
•
•
•
•
•
•
•
•
•
•
•
•
5MW A&N
5MW Dadri
5MW Faridabad
10MW Unchhahar
25MW Ramagundam
10MW Korba
50MW MP
15MW Anta
25MW Singrauli
50MW Gujarat
100MW Karnataka
50MW Rajasthan
4. Small Hydro (<25MW)
• 8MW project at CW outfall of NTPCSingrauli
• 100MW ( Land offered by bidders) under evaluation
3. Wind energy projects 800MW
• 100MW at Guledaguda, Karnataka
• 400MW at Karnataka under identification
• 200MW at Ambliyara & Vondh in Gujarat
5. Geothermal-50MW
•Preparation of FRs at Tapovan in
Uttarakand & Tatapani in Chhattisgarh.
Solar Resource Availability in India
 5000 trillion kWh solar radiation
incident in a year over India
 Radiation data collected by
India Meteorological
Department and some other
centres
 Daily solar radiation 4 - 7 kWh
per sq. m.
 Most parts of the country
receive solar radiation
sufficient enough to effectively
utilize solar energy systems
 Typically, 2.0 hectare of open
space is required for one mega
watt solar power plant
Road Map - Solar
350
301
Cumulative MW
300
250
200
101
150
100
50
11
0
2011-12
2012-13
2013-14
Phase I (2010-14)
Year
Project details
2011-12
Dadri, PV 5 MW
A&N Island, PV 5+1 MW
2012-13
Anta thermal, 15 MW
Singrauli, thermal 25 MW
NTPC sites, PV 50 MW
2013-14
Karnataka, thermal 50 MW
Gujarat, thermal 100 MW
Rajasthan, PV 50 MW
Annual (MW)
11
90
200
Cumulative (MW)
11
101
301
Issues of solar power
• Hugh land requirement
• Production of the solar cells carries an upfront
cost to the environment via production, but offers
clean energy throughout the lifespan of the solar
cell.
• Intermittent power generation & available in day
time only
• Low efficiency & CUF
• High capital cost & high Cost of electricity
generated
WIND ENERGY IN INDIA
• Installed Capacity of India 12009.48 MW as on 30.06.2010
• India ranked 5th in the World in terms of installed capacity
after USA, Germany, China, Spain.
• India has a potential of 48,199 MW
WIND
RESOURCE
MAP
OF INDIA
WIND ENERGY IN INDIA
• 1150 wind monitoring stations established by C-WET
• States with high potential
Tamil Nadu / Gujarat / Maharashtra / Karnataka /
Rajasthan / Madhya Pradesh / Andhra Pradesh /
Kerala
• 216 sites with annual average wind power density > 200
Watts/m2.
• Wind Atlas for India has been prepared by C-WET.
CRITICAL ISSUES FOR WIND ENERGY PROJECTS
•
UNCERTAINTY IN ENERGY ESTIMATION FROM A WINDFARM
•
AVAILABILITY OF LAND
•
SHARING OF FACILITIES
•
INTEGRATION WITH THE GRID
•
PERFORMANCE EVALUATION & TESTING
•
O&M
•
MONOPOLY OF MANUFACTURERS
•
COSTS & ECONOMICS
Initiatives in Wind energy by NTPC
• 650MW capacity addition plan
• Installation of 100 MW Wind Farm under process
• MOU signed with KPCL for Development of 500MW wind
energy projects in Karnataka
• 100MW wind energy project allotted to NTPC at
Guledagudda site, Distt. Bagalkot, Karnataka by GoK.
• DPR finalised in-house for Guledagudda wind energy
project. Approved by Project Sub-Committee of the Board of
Directors
• MOU with GPCL for development of wind energy projects in
Gujarat
Hybrid RE Systems
In the future, several hybrid systems consisting of wind ,
solar, Biomass & small hydro installations could be
connected in clusters to form micro grids which can
support the functions of the smart grid by firming up
variable generation.
These micro grids can be integrated to a larger power
system or national grid. Some hybrid systems could be the
combination of the following:
PV/Battery, PV/Diesel, PV/Battery/Diesel,
Wind/Battery; Wind/Diesel; Wind/Small Hydro;
Wind/PV/Small Hydro; Wind/PV/Biomass.
Small Hydro/Biomass; Small Hydro/Battery/Biomass;
CONCLUSION
 Solar & Wind energy technologies are pollution free and
environment friendly and are compatible with smart grid.
 Hybrid systems shall help in firming up the variations in
generation .
 Wind energy has very good potential and it is the fastest
growing energy source
 The future looks bright for RE technologies as smart grid
technology will make these installations viable and
attractive for generators as well as consumers.