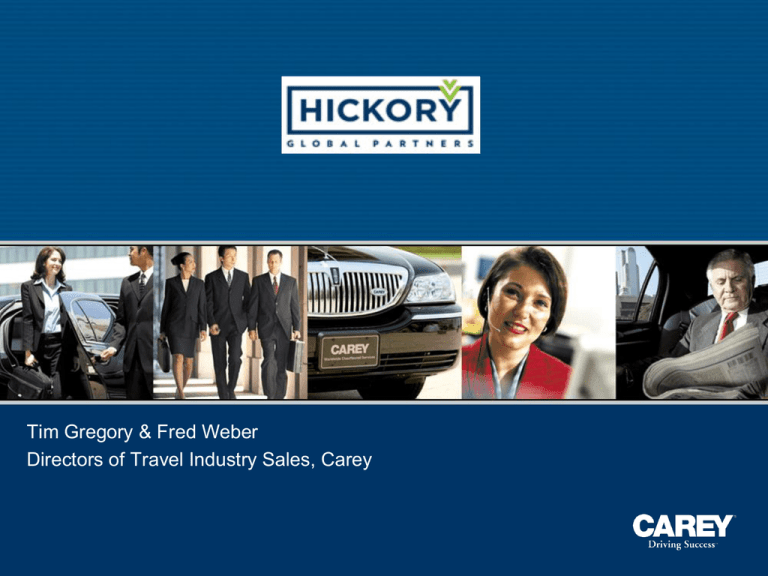 Tim Gregory & Fred Weber
Directors of Travel Industry Sales, Carey
Carey Credo
"Dedicated to providing World-Class chauffeured ground
transportation service"
The customer is the driving force behind everything we do. Our steadfast commitment
and dedication to them is our competitive strength.
Carey is a global company focused on providing world-class service with unsurpassed
professionalism. Our mission is to deliver impeccable service that consistently
exceeds the expectations of our customers at every point of contact.
"On time every time" is not just the way we conduct our business on the road, but in the
office as well. Every day brings new opportunities and challenges to distinguish
ourselves as responsive, savvy professionals who always get the job done right.
Carey Network Advantage
•
Only Branded Franchise Network in the Industry
•
Service in More than 550 Cities & 65 Countries
•
Unsurpassed Standard of Customer Care
•
Unparalleled Level of Service
•
Unrivaled Worldwide Reach
The Carey Worldwide Network
Carey Chauffeurs
•
Professional Independent Operators
•
Carey Chauffeur Certification Program
•
Thorough Background Investigations
•
Regular Performance Evaluations
•
Continued Certification & Safety Training
•
Exclusive Carey Chauffeur Safety Incentive Program
Carey Equipment
•
Finest Late Model Vehicles
•
Superior Vehicle Condition Standards
•
Frequent Mechanical & Service Inspections
•
Regular Operation Audits & Spot Checks
Fleet- Individual Options
•
Limited "Carey" Edition Lincoln Town Car
•
Luxury Sedan
•
Lincoln Navigator
•
Executive Stretch Limousine
Fleet- Group Options
•
Luxury Van (8-10 passengers)
•
Executive Van (10-14 passengers)
•
Mini-Bus (21-28 passengers)
•
Motorcoach (49-57 passengers)
Carey Safety Standards
•
Industry Leading Insurance Coverage
•
$20.0 million in total policy limits
•
Carey Executive Safety Council
•
Frequent Safety Inspections
•
Seatbelts in All Specialty Vehicles
•
Impeccable Safety Record
Carey Services and Departments
•
Designated Quality Control Department
•
International Reservations Department
•
Meetings and Events Department
•
Private / Corporate Aviation Department
•
Road Show Department
Carey Reservations
•
Worldwide Reservations Center
•
Carey.Com
•
GGA/GDS/Corporate Booking Software
•
Hickory dedicated toll free line – 800-868-5314
•
Ground Travel Technology (GGA) Saturn System
•
Connectivity with (Sabre, Apollo, Worldspan)
Carey Reservations
•
Dedicated 800 phone number for worldwide reservations
•
Designated special services staff available 24/7 and 365 days a year.
•
Call recording capabilities on all calls
•
Emphasis on Quality of interactions not Quantity
•
No automated attendant or queue
•
Personalized attention - Call Center Specialization
•
ARC number for individual offices for commission tracking
•
Customer Profiles
•
Arranger Profiles. Individual (Office) ARC numbers
•
Reservations can be made via phone, email, or on our website, Carey.com.
•
Confirmations can be sent out in the same format.
•
Agent Incentive Unlimited Budget: Points = Dollars
Carey Reservations
www.Carey.com
• Arranger and Passenger profile management
• Rate Quotes
• Online Booking
• Credit Card Receipts
Central Reservations Center provides telephone support 365 days a year
Agent Incentive Unlimited Budget: Points = Dollars
Carey Dispatch
•
Carey Local Dispatch Teams
•
Real-Time Dispatch, Service, and Invoicing System
•
Nextel Network w/ Blackberry Handsets
•
Global Positioning Units
Carey Customer Care
•
Designated special services staff available 24/7/365
•
Call recording capabilities on all calls
•
No automated attendant or queue
•
Resolution within 24 to 48 hours.
• Personalized attention - Call Center Specialization
•
Travel Agents
•
Commission Inquiries
•
Corporate Accounts
•
International Desk
•
Web based reservations
Carey Meet & Greet Service
•
"Meet & Greet" service always provided
•
Most highly trained team in the Industry
•
Worldwide availability
•
Professional & helpful
•
Centrally coordinated
•
Nextel wireless network
•
Cutting-edge GPS & in-car navigational equipment
Carey International, Inc. Presents:
The New Option for Affordable &
Environmentally Responsible
Chauffeured Ground Transportation.
Carey International, Inc.
• Parent company of embarque and
world's leading chauffeured
transportation provider since 1921
TM
• The New Option for Affordable &
Environmentally Responsible
Chauffeured Ground Transportation.
• Industry's ONLY Global Franchise
Network
• $20M in comprehensive auto liability
insurance coverage, and 99.9% safety
record
• Specialized transportation logistics
management services
Carey & embarque™
• Embarque™ is a separate company owned
by Carey International, Inc.
• The New Option for Affordable &
Environmentally Responsible Chauffeured
Ground Transportation.
• Embarque™ participates in Carey's
proprietary reservations, billing, reporting
and customer care programs to provide true
one-stop shopping for both Premium and
Value chauffeured services
• Embarque™ shares Carey's stringent
operational standards for safety,
presentation, and performance
• Existing Carey customers can book
embarque™ using the same account
information and reservation channels
Product Features
• Affordable pricing & transparent
invoicing…no hidden fees
• Specialized fleet of EPA SmartWay
designated fuel efficient & hybrid vehicles
SM
• Professional drivers with defensive driving
training and thorough background
investigations
• The New Option for Affordable &
Environmentally Responsible Chauffeured
Ground Transportation.
• Seamless and secure on-line, GDS, and
telephone reservations
Specialized Fleet
• EPA SmartWay and SmartWay Elite
Certified fleet
SM
SM
• Fuel efficient standard fuel and gas/electric
hybrid vehicles that meet 20 CTY/30 HWY
minimum MPG standards, and low
emissions levels
• Hybrid fleet featuring the 2010 Motor Trend
Car of The Year Award® winning Ford
Fusion, Toyota Camry, The Hyundai Sonata,
& Ford Galaxy MPV (UK)
• Frequent quality and mechanical
inspections enforce strict presentation and
safety standards
Embarque™ features both standardfuel and gas/electric hybrid versions
of all US models.
Professional Drivers
• Possess safe driving records
• Undergo independent, background
investigations on the following:
-Seven year social security locator
-Federal, state and local jurisdiction criminal search
-National terrorist alert and sex offender search
-Motor vehicle records search
**Embarque™ also performs internal verification of driver's
Social security number via the SSNVS and authorization
To work in the US via the US Department of Homeland
Security's I-9 Program**
• Complete certification in the Smith System of
Defensive Driving
®
• Pre-employment 5-panel drug screen for all
candidates and random drug and alcohol
testing for all drivers
• All English speaking
Safety & Security
• $20M in comprehensive auto liability
insurance coverage
• Frequent fleet inspections to ensure
vehicles meet the highest standard of
maintenance, cleanliness, and presentation
• All vehicles equipped with a safety kit
including a first aid kit, and fire extinguisher
• Quarterly review of all driver motor vehicle
reports to ensure safe driving records
• Shares Carey's culture of safety, and 99.9%
safety record
Availability
• Embarque Chauffeured Ground
Transportation Service is available in:
TM
Roll-Out Plan
o The New York City
o Chicago
Detroit, MI
o New York Tri-State Area,
o Baltimore,
Dallas, TX
o The Greater Los Angeles Area
o Philadelphia
o Orange County
o Stamford,
o Boston
o London
o San Francisco
o Washington D.C.
o San Jose
• Embarque™ is opening locations in major
business hubs across North America and
internationally
• Embarque™ is building a branded service
network to best meet the complete
chauffeured ground transportation needs
of all clients.
Miami, FL
Seamless Reservations
• Online reservations at www.embarque.com
• Secure, online transactions, with
user-friendly interface
• Fully staffed reservation hotline operating
24/7/365 ………………………866-444-2144
• Direct connect with GGA and GroundRez®
for real-time automated booking
• Full integration with corporate booking
tools and GDS
• Dedicated toll-free airport arrival dial-in
number
Travel Agent Services
• Travel agents earn commission on nondiscounted net base rates for Embarque™
delivered transactions
• Rates & reservations can be obtained via
Embarque.com, the embarque™
reservations hotline 866-444-2144, or travel
agent GDS
• Hickory member agents must provide their
ARC number at time of booking
• Embarque™ is a participant in the Unlimited
Budget® travel agent loyalty program
Unlimited Budget Program®
• Unlimited Budget® is a travel agent loyalty
program (created by Budget Rent A Car)
• Travel agents must be enrolled in the
program to participate
• Points are awarded for bookings via
telephone, embarque.com, or GDS
• Unlimited Budget® provides cash rewards
on a pre-paid Unlimited Budget® storedvalue card
• Travel agents earn points with every
Embarque™ booking or participating
partner reservation
• Enroll at www.unlimitedbudget.com
Award Winning Chauffeured Services
Travel Weekly is among the most influential news resources
serving the travel industry, and the Magellan Awards are
known throughout the industry as among the most
prestigious.
•Carey International was recognized in the Ground
Transportation segment with a Gold Award in the
International Network category.
•Carey International received Silver Awards in the Worldwide
Coverage, Global Reach and Loyalty Program categories.
From all of us at Carey International,
thank you for this opportunity.
Questions?