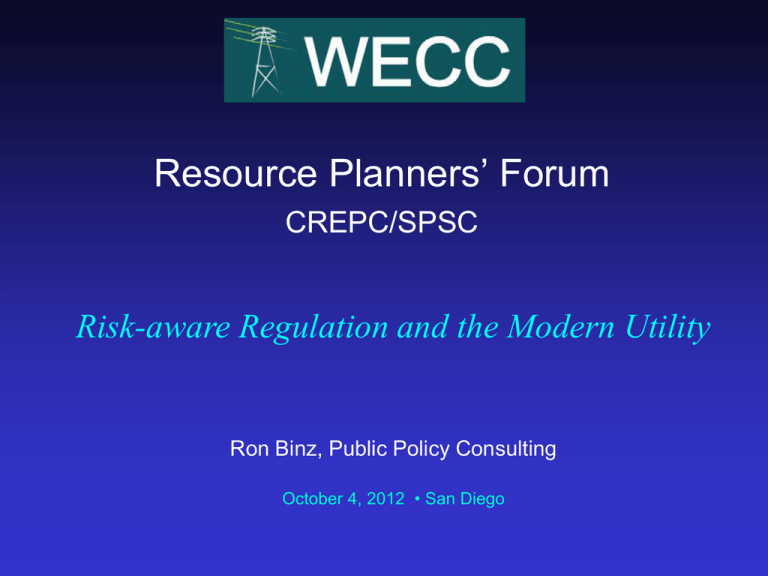 Resource Planners' Forum
CREPC/SPSC
Risk-aware Regulation and the Modern Utility
Ron Binz, Public Policy Consulting
October 4, 2012 • San Diego
Ron Binz
• Public Policy Consulting
• Center for the New Energy Economy,
Colorado State University
• Former Chairman Colorado PUC
• Former Colorado Consumer Counsel
• M.A. (Mathematics) University of
Colorado; B.A. (Philosophy) St. Louis
University
• Makes wine, beer, cheese and pickles
rbinz@rbinz.com
• Authors
–
–
–
–
Ron Binz
Richard Sedano
Denise Furey
Dan Mullen
Available at www.ceres.org
High Stakes
• The US electric industry is entering a "build cycle" with much higher
investment than in recent history
– Brattle Group estimates $2 trillion by 2030
• Causes
–
–
–
–
–
Aging infrastructure
New transmission requirements
Demand side and smart grid
Much stronger air and water regulation, including GHGs
Fuel economics
• Challenges to utilities
–
–
–
–
Flat load growth
Distributed generation
Uncertain economy
Financial metrics less forgiving than in 1980s
The US generation fleet is aging
US Electric IOUs Rating History
1970 – 2010
4%
AA
AA
AA
A
22%
BBB
46%
BBB-
27%
A
AA
A
A
A
BBB
BBB
BBB
1%
Source: Standard & Poor's, Macquarie Capital
The Key Question for Utilities
and Their Regulators
How do we ensure that $2 trillion
is spent wisely?
Notes
• Unadjusted 2010 cost estimates were used for
consistency
CO2 costs
• Costs for wind and photovoltaics have fallen
sharply in last two years (faster than these 2010
estimates)
With incentives
• Cost of nuclear power has risen post-Fukushima
(more than these 2010 estimates) No incentives
A Catalog of Investment Risk
• Cost-related
• Time-related
Seven
categories
in scoring…
Construction
cost overruns of risk– used
Construction
delays
–
–
–
–
–
–
–
–
Capital •availability
Construction cost
Operational surprises
• Fuel and Operating
Fuel cost escalation
New Regulations
"Bet the• company"
investments
Management
imprudence
• Carbon
Price
Resources limited
• Water Constraints
Consumer reaction to rates
• Capital Shock
• Planning
– Changing markets
– Environmental regulations
cost
– Changes in load
– Technology advancement
– Catastrophe
– Contingent projects
– Government policies
Cost
Risk
Risk Aware Planning at the
Tennessee Valley Authority
Seven Essential Strategies for
Risk-Aware Regulation
•
•
•
•
•
•
•
Diversify utility supply
Utilize robust planning processes
Employ transparent ratemaking practice
Use financial and physical hedges
Hold utilities accountable
Practice active, "legislative" regulation
Reform, re-invent ratemaking policies
Rewards for Sound Decision-making
•
•
•
•
•
•
For consumers: keep more $$, quality
For utilities: corporate health, predictability
For investors: safety, value, expectations
For employees: safety and welfare, pride
For the regulatory process: public confidence
For society: spending precious capital wisely
Utilities 2020
• Foundation funded
• Run by two former Colorado regulators
named Ron
• Advised by board of experts
• Goal: to explore new business models and
advocate new regulatory models to enable
new utility business models to evolve.
• Methods:
– Interviews with utility CEOs and leading states
regulators
– Evaluations of other systems here and abroad
– Dialogues with utility execs and commissioners
What we've heard from utility CEOs:
• CEOs want a clearer, more consistent direction from
state energy policies
• Utilities have little incentive for innovation, firm level
efficiency
• Commissions need a better understanding of the utility
business and its needs
• Utilities want certainty on climate policy
• Utilities want healthier working relationships with
commissioners and staff
What we've heard from commissioners:
• A primary concern is with increasing utility rates
• Regulators are open to modifying the regulatory
model; looking for ideas
• Some commissioners are dissatisfied with the
adversarial process
• Many commissioners face severe barriers to
communications with stakeholders, and even fellow
commissioners
• Commissions have inadequate resources
Conclusions
• Operating and regulating utilities will get more challenging.
• Affirmative risk management can help avoid expensive mistakes.
• The utility business model is changing; regulation must also
change.
• Investors are more vulnerable in this build cycle.
• Risk shifting is not risk minimization; not all "credit positive" cost
recovery mechanisms are sustainable policies.
• Energy efficiency performs well in risk-aware regulation.
• Regulators should be more than judges; they must also operate in
"legislative mode."
• Regulators should strive to be informed, active, consistent, curious
and courageous.
Thanks for the invitation
I look forward to your questions.