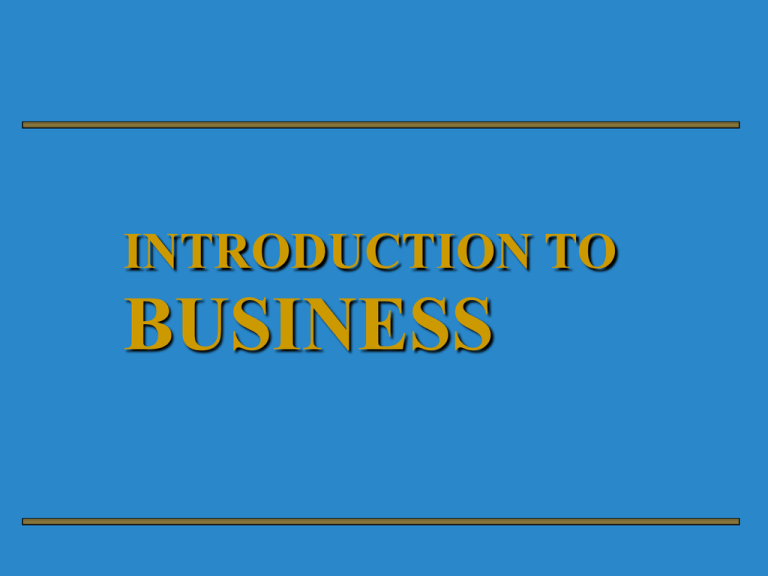 INTRODUCTION TO
BUSINESS
The Role of
Business in
Economy
Business Defined
A business is an enterprise or any lawful
activity that provides products or services
desired by customers for profit.
BUSINESS ORGANIZATION
Sole Proprietorship
Partnership
Corporation
SOLE PROPRIETORSHIP
A business organization owned by one individual
Advantage
• Easier to start
• Least regulated
• Single owner
keeps all profits
• Taxed once as
personal income
Disadvantages
• Limited to life of
owner
• Equity capital limited
to owner's personal
wealth
• Unlimited liability
• Difficult to sell
ownership interest
PARTNERSHIP
a business organization owned by two or more
individuals but not more than fifteen
is a contract between two or more persons
bind themselves to contribute money, property
and industry into a common fund with the
intention of providing profit among themselves.
(Civil Code of the Philippines, Article 1767)
PARTNERSHIP
Advantages
–Two or more owners
–More capital
available
–Relatively easy to
start
–Income taxed once
as personal income
• Disadvantages
– Unlimited liability
• General partnership
• Limited partnership
– Partnership dissolves
when one partner dies
or wishes to sell
– Difficult to transfer
ownership
CORPORATION
An artificial being created by
operation of law, having the right of
succession and the powers and the
powers, attributes and properties
expressly authorized by law or incident
to its existence(The Corporation Code
of the Philippines, Sec.2)
CORPORATION
Advantages
– Limited liability
– Unlimited life
– Separation of ownership
and management
– Transfer of ownership is
easy
– Easier to raise capital
• Disadvantages
– Separation of ownership
and management (agency
problem)
– Double taxation (income
taxed at the corporate rate
and then dividends taxed
at personal rate)
NATURE OF BUSINESS
Manufacturing/Industry
Merchandising/Commerce
Service
Manufacturing Business
 change basic inputs into products
that are sold to individual customers.
Classification per Industry
 Genetic – agriculture, forestry, fish culture
 Extractive-mining, lumbering
 Construction – airports, seaports, dams, hi-way
 Commercial – foods, automotive, apparel etc.
Merchandising Business
 engaged in buying and selling of
goods and services.
Classification as per Industry
 Supermarkets
Dry Good Stores e.g. groceries, drugstore
 Sari-Sari Store
Service Business
 engaged in selling of services to
customers.
Classification as per Industry
 Recreation – Movie Houses, Theaters, Radio
Station, etc.
Personal – Restaurant, Barber Shop,
Transportation, Hotel, etc.
Finance – Banks, Investment Houses, Lending,
Company, etc.
Objectives of Business
Profit
Political Influence
Family Control of the Business
Community Involvement
Lifestyle
Organizing a Business
Reasons to Engage in Business
Provision of employment to people
Profits
Service to the community
Personal satisfaction
Means to earn a living
Achievement of power
Protection of one's self and family
Key Business Decisions
Product
– What type of product should be produced?
Production
– How should the product be produced?
Promotion
– How should the product be promoted?
Financing
– How should the company obtain funds to finance
the cost of producing the product?
Business Decisions
Key Stakeholders
Owners
– Entrepreneurs
– Co-owners
– Stockholders
Creditors
Employees
– Managers
Suppliers
Customers
Creating Business Idea
Identify a competitive advantage.
Differentiate the product or service
from competitors.
Determine necessary resources.
Assess feasibility of the idea.
Key Function of Business
Management
Means by which employees and other resources are
used by the firm
Marketing
Means by which products and services are developed,
priced, distributed, and promoted to customers
Finance
Means by which firms obtain and use funds for their
business operations
Continued . . .
Accounting
Summary and analysis of the firm's financial
condition
Used to make various business decisions
Information systems
Information technology, people, and procedures
that provide appropriate information to make
effective decisions
How Business Decisions Affect a Firm's
Earning
Developing a Business Plan
Assess the Business Environment
Economic environment
Industry environment
Global environment
Develop Management Plan
Organizational Structure
Production
Human Resources
Continued. . .
Marketing Plan
Target Market
Product Characteristics
Pricing
Distribution
Promotion
Financial Plan
Financing
Feasibility
Online Resources
Advice and basic information
Yahoo's Small Business site
American Express
Small Business Administration
Financing Options
Quicken Small Business
Garage.com
The Elevator
Business Planning Software
Lessons to Remember
Successful businesses do not require a
great invention.
Many focus on making life more
convenient for customers.
Some business ideas will fail—but
entrepreneurs can learn from failures and
make revisions.
Top Ten Corporations
The SM Group of Companies, regarded as the
Philippines' largest retail company, was founded by FilipinoChinese business tycoon Henry Sy. It is comprised of retail
outlets, shopping malls, banking and finance institutions, and
property developments. The company as it is today is a far cry
from the small shoe store Mr. Sy opened in Carriedo back in
the 1950s.
Top Ten Corporations
Jollibee Foods Corporation is the mother
company of popular FilJollibee Foods Corporationipino fastfood chain Jollibee. Tony Tan and his family founded the first
Jollibee joint in Cubao in 1975. In 2007, the company opened
its 600th Philippine store in Aparri, Cagayan and also a new
branch in Las Vegas, Nevada, USA. In 2009, Jollibee
celebrated its 31st year as the fast-food chain most loved by
Filipinos.
Top Ten Corporations
United Laboratories started as a small drugstore
in post-war Philippines back in 1945. It slowly became the
leading pharmaceutical company in the country, providing
quality yet affordable medicine to every Filipino. The
company's products has also penetrated neighboring Asian
countries such as Indonesia, Thailand, Malaysia, Singapore,
Hong Kong, Vietnam, and Myanmar.
Top Ten Corporations
San Miguel Corporation is the Philippines' largest
food, beverage, and packaging company. It was founded in
1890 as a brewery and presently has 100 facilities in the
Philippines, Southeast Asia, China, and Australia. Its divisions
and subsidiaries include San Miguel Beer, Ginebra San
Miguel, Incorporated, Purefoods-Hormer Company, San
Miguel Packaging Products, and other businesses.
Top Ten Corporations
Ayala Corporation functions as the holding
company of the many diversified interests of the Ayala Group.
It is the oldest and largest conglomerate operating in the
Philippines since its founding in 1834. Currently, the company
is being headed by Jaime Augusto Zobel de Ayala, the older
son of former chairman Jaime Zobel de Ayala.
Top Ten Corporations
The Philippine Long Distance Telephone
Company is the largest telecommunications provider in the
country. It was incorporated in 1928 following the merger of 4
telephone companies under US ownership. As of present, the
company has grown to include fixed lines subsidiaries,
wireless companies such as Smart Communications, Inc., and
companies engaged in information and communications
technology.
Top Ten Corporations
Filinvest Development Corporation is a company
engaged in real estate development and leasing, financial and
banking services, and the sugar business. It is controlled by
the family of Andrew L. Gotianun Sr. through ALG Holdings
Corporation. The corporation has several subsidiaries, namely
Filinvest Alabang, Inc., Filinvest Land, Inc., East West Banking
Corp., and Pacific Sugar Holdings Corp..
Top Ten Corporations
The Lopez Group of Companies is the business
conglomerate owned by the Lopez family of Iloilo. Its flagship
company is Benpres Holdings Corporation which was first
listed in the Philippine Stock Exchange in 1993. Among the
businesses listed under its names are ABS-CBN, Maynilad
Water Services, Inc., Rockwell Land Corporation, Bayan
Telecommunications, SKYCable, and The Medical City.
Top Ten Corporations
JG Summit Holdings, Inc. started in 1957 when
Universal Corn Products, Inc. (now Universal Robina
Corporation) was founded in Manila. From then on, the
business grew and expanded into different fields. Under its
helm are Universal Robina Corporation, Robinsons Land
Corporation, Digital Telecommunications Philippines, Inc., JG
Summit Petrochemicals Corporation, Cebu Pacific Air,
Robinsons Savings Bank, and JG Summit Capital Services
Corporation.
Top Ten Corporations
Metropolitan Bank and Trust Company or
Metrobank is the country's largest bank in terms of assets. The
bank's first branch was established by four enterprising
individuals on 5 September 1962 in Binondo, Manila.
Presently, the company has a combined network of over 800
local and international branches, remittance offices, and
subsidiaries worldwide.
BUSINESS TYCOONS
Being the owner of the SM Group of Companies,
who wouldn't know Henry Sy? For four years in a row, he has
been number 1 in the list of the richest men in the Philippines.
In 2010, he continued to expand his investments to other
industries such as leisure, banking and financial services, and
commercial property development in very strategic locations.
All his businesses compliment each other so well that his net
worth went up to 38 billion USD from only 5 billion USD in
2009.
BUSINESS TYCOONS
The government ads that discourage people to smoke and the issues that
happened to some of Lucio Tan's businesses might have affected his income in 2010
but he is still one of the most prominent business magnates in the country. From being
an ordinary employee, he is now the owner of the largest tobacco company in the
Philippines, Fortune Tobacco. He also expanded his investments to different fields.
Among his well-known businesses are Asia Brewery (the 2nd largest brewer in the
Philippines), Tanduay Holdings (one of the world's largest rum makers), Philippine
Airlines, Philippine National Bank, and Allied Bank. Like the other tycoons, he also
ventured to commercial properties development when he started Eton Properties
Philippines. According to estimates, the total value of his business empire would not be
less than 2.1 million USD and he himself controls 40 to 60% of the said amount.
BUSINESS TYCOONS
John Gokongwei, Jr. has one of the most inspiring
stories among the successful business men in the country. Following the
history of his career, his businesses just kept on rising. His most
successful business is the Universal Robina Corporation (URC) which is
the manufacturer of well-known brands such as Jack n' Jill, C2, and
Great Taste. He is also the owner of various successful businesses in the
Philippines such as Sun Cellular, Cebu Pacific Airlines, and Summit
Media publications. In 2010, he continued venturing into property
development, hotel management, and retailing through Robinsons Land
Corporation.
BUSINESS TYCOONS
Jaime Zobel de Ayala stayed focused and competitive
with his businesses even though he was born from a wealthy family. He
is credited for steering the Ayala Group of Companies into its fastest
growth periods. They say that the 90s saw the "Golden Age of the Ayala".
He has been the Chairman Emeritus of Ayala Corporation since April
2006. Zobel de Ayala served as the Chairman of the Board of Directors
of Bank of the Philippine Islands (BPI) and Chairman of the Board of
Trustees of [[Ayala Foundation]].
BUSINESS TYCOONS
Andrew Tan is a son of a factory worker who put himself
through college and worked in an appliance store. From humble
beginnings, he later made his first fortune in brandy. He is also the man
behind the [[Megaworld Corporation. He also owns the Alliance Global
Group, Inc. which includes businesses engaged in food and beverage,
real estate, and gaming.
BUSINESS TYCOONS
The man who started his business with only two ice
cream parlors, Tony Tan Caktiong became World Entrepreneur of the
Year 2004 and is the current head of Jollibee Foods Corporation. Also
from modest beginnings, his business has grown to become one of the
most admired and respected companies in Asia. Jollibee Foods
Corporation now employs 30,000 people in almost 1,000 outlets in seven
countries which includes the United States and China. In the Philippines,
Jollibee commands 65% of the domestic fast food market, competing
very successfully against established global brands.
BUSINESS TYCOONS
Beatrice Campos' family is well-known for being the
owner of the leading local pharmaceutical company Unilab. The
company was co-founded by her late husband, [[Jose Campos]]. She
also has a controlling stake in the Singapore-listed Del Monte Pacific
Limited which is run by son her Joselito who recently invested in San
Miguel Corporation.
BUSINESS TYCOONS
George Ty is the owner of G.T. International Tower, one
of the most famous landmarks in Makati. He is the founder of the
Metropolitan Bank and Trust Company. He is one of the most powerful
tycoons in the Philippines with his current net worth of 805 million USD .
BUSINESS TYCOONS
Eduardo Cojuangco, Jr. , better known as Danding
Cojuanco, is the chief executive of the largest food and beverage
company in the Philippines, San Miguel Corporation. He used to be an
advisor and a close friend of the late former president Ferdinand Marcos.
In 1992, he ran for presidency but lost. His current net worth is 760
million USD.
BUSINESS TYCOONS
Manuel V. Pangilinan ,also known as Manny Pangilinan
and MVP, is a Filipino businessman. He is the Chairman of the Philippine
Long Distance Telephone Company, from 1998 up to the present.
Pangilinan spent his elementary and high school days at San Beda
College. He graduated cum laude from the Ateneo de Manila University
with a Bachelor of Arts degree in Economics. He received his MBA
degree in 1968 from the Wharton School of the University of
Pennsylvania. He is also the owner of ABC/TV5 network, Cignal Digital
TV and Smart Communications. He was the former Chairman of the
Board of Trustees of Ateneo de Manila University.