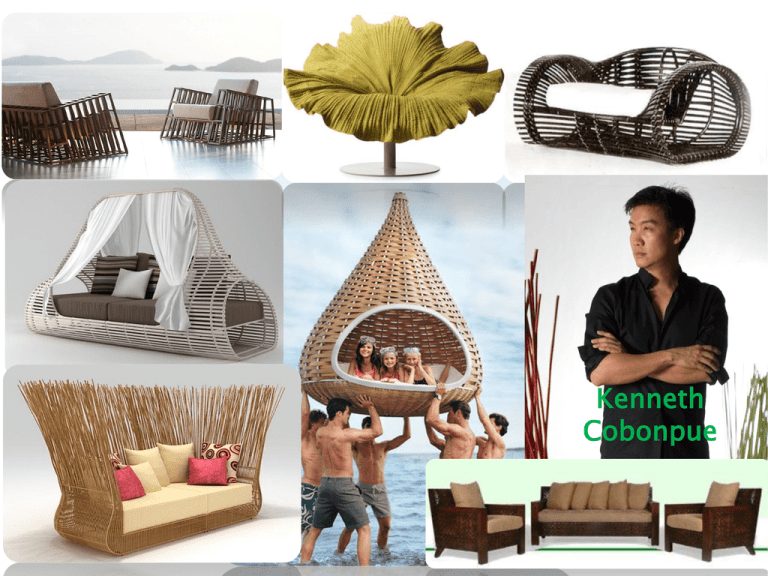 Kenneth
Cobonpue
Kenneth
Cobonpue
Furniture and Furnishings's Annual Export Performance
2006 -2013
Jan –
JanNovember November
2013
2012
2006
2007
2008
2009
2010
2011
274.12
240.32
219.73
137.19
150.75
161.36
145.89
203.68
Furnishings
21.33
20.29
20.43
11.61
18.82
23.22
25.53
27.84
Total Export
295
261
239
148
168
184
171
231.51
Furniture
Lifted from the presentation of DED Emma Mijares during Road
mapping workshop of Furniture industry updated by BETP
PUBLIC CONSULTATION
PEDP 2014-2016
12%
1
No
A.
B.
Because the traditional markets were expected to
rebound end 2013
Exchange
rate
Inflation rate - changes on the prices of
chemicals, packaging, etc
Labor Cost
Power Cost
Uncompetitive
pricing
i. Domestic Economic
Environment
Fell Short
ii. Govt Policies and
Regulations
EO 23, DAO 99-46, Pending Sustainable Forest
Management Bill
iii. External environment
Slow down in the economic activities of
target markets
International standards on Sustainable
sourcing of wood.
 Lack of an intensified global marketing strategy/ approach for the
industry
 Lack of sustainable supply of raw materials – wood (EO 23) and other
non-timber products
 Influx of foreign furniture products due to the low tariff imposed to
China, Malaysia and Indonesia products. Local condominiums,
residential, hotels and resorts tend to import furniture rather than
purchase locally.
 Lack of management education/manufacturing program – for middle
managers and skilled workers – institutionalize in selected schools in
the Philippines
 High cost of inter-island shipping due to the "Cabotage" principle
iv Industry situation
Rare introduction of new technologies as companies are not willing to
invest on machines anymore
New designs introduced but there is always an
issue on pricing
v. Industry initiatives to
promote exports
No budget for international trade fair promotions - companies
joining individually
vi. Government export
promotions
No budget allocated for export promotion for the BSO
initiated projects
There are inbound and outbound missions but not significant enough to
push the companies forward
2 Target is very low.
Domestic Economic
Environment
Address the abrupt strengthening of
the domestic currency
Retail Open Access for Power
Consumption
Attract more investors in the Furniture industry to decrease
pressure in the prices of inputs
Government policies and
regulations
PLEASE REFER TO ITEM C
Sustainable Forest
Management Law
EU Timber Regulation
compliance
Establishment of industry
plantation programs
5-10%
Yes with the implementation of the
programs above
Yes with the support of the government in the
implementation of the Roadmap
Yes with the establishment of a Business plan to
complement the Roadmap
Element
Description
Products
Diverse range of furniture and furnishings which vary according to
material, function and utility
Markets
Medium to high-end segment of the traditional markets (i.e., North
America, Europe, Middle East and Japan); Asia (specifically, Kuala Lumpur,
Jakarta, Shanghai, Ho Chi Minh, Bangkok and Singapore); and BRICs.
Growth Projection
Target growth rate of 1% in 2013; 2% in 2014; 5% in 2015; 7% in 2016;
and 10% in 2017
Assumption: US market continues to grow positively in the next 5 years
Timeline
2013 - 2017
Key Strategies
Market Development - Niche Marketing
Indicators
 Jobs Generated - maintain for 2013 – 2014
 Local Sales - Php50M in 2013; 10% increase every year until 2017
 Export Sales - 1% increase in 2013 from the 2012 BETP export figures of
US$159.59M
 Investments - green technologies
PRODUCT DEVELOPMENT
PROGRAMS
1. Material Manipulation and Innovation
2. Design Development Seminars
3. Hiring of International Trends consultants
4. Region-Based material innovation and Furniture
component production
5. Product Development programs
6. Green Furniture program
Marketing Programs
Tie up with leading brands in target (glocal) markets
Establishment of local showrooms
in the ASEAN region
Buyer-Designer-Exporter Merchandise Development
Program
Selling missions (inbound and outbound)
Participation in International shows abroad
Philippine Furniture Shows for promotion, sales and
branding
Tap design consultancy programs
 Branding of Philippine furniture products
Alternative Markets Program (BRICS)
Strategic Options
. Technology and Packaging
development program
. Continuing R&D programs
Action Step
1)Raw Material Development
Reverse Trade Fair (suppliers of parts,
components)
Materials suppliers' Database program
2) Product and Design Development
R & D Clinic
Design Development Program
Student Internship Program (SIP)
Obra Design
Green Design Competition
KAGIKAN
Timetable
Strategic Options
. Tap CBI, DTI and Philexport for
market information
. Conduct continuous market
intelligence
. Do country profiling of target
markets
. Invite professional designers
who are knowledgeable in
other markets
Action Step
Market Intelligence
 Subscription of CSIL
 Info Sessions on BRICs Market
Opportunities
 Buyers' Forum
 Market Analysis
Timetable
2013
2014
Starting 2014
Strategic Options
Action Step
Timetable
Creation of marketing team for
local markets
Domestic marketing
 Regional Roadshows (Davao, Palawan,
Panay Is.)
 Strengthening of regional / local Chamber
trade shows
•"TUBOD" The Philippines' Ultimate
Domestic Furniture Trade Show
. Strategic regional showrooms
•Furniture & Furnishings Equipment Show
for domestic market
•Pampanga Furniture & Furnishing Show
. Linkage with allied industries
(e.g., PhilConShows)
. Organize Design Congress
October (Davao)
June
September
December
Strategic Options and Action Plan
INPUT PROVISION
Strategic Options
Action Step
Timetable
Organize info sessions to BSOs re
. Massive information campaign in
updates
all levels on EO 23
Determine what plantation species
. Consistent implementation of EO
are not part of the log ban
23
Work out for the DENR Certification
. Strengthen linkage with
that the wood is sourced from a
Philexport for advocacy issues
plantation
Link / Bridge plantation owners to
manufacturers
To get data from DENR on the list of
plantations and with reactivated
cutting permits
Review relevant policy particularly
on the value added process (e.g.,
DENR - Section 46.4 of DAO 04
Series of 1989 exportation of raw Submit letter to DENR to review
Section 46.4 of DAO 04 Series of 1989
rattan poles; abaca fiber)
2013
2013
Strategic Options and Action Plan
Strategic Options
Action Step
Lobby for the abolishment of DAO 9946
Aggressive follow-up with the
with DFA (Authentication of Supplier's
Office of the DENR Secretary
Contract on Importation)
Timetable
ongoing
ENABLING ENVIRONMENT:
Lobby for the reclassification of
plantation trees from forest to
agriculture product and compliance to
Timber Legality Assurance System (EU
FLEGT)
Benchmark with Malaysia
(Ministry of Timber) experience /
EU FLEGT: done by
best practice
2013
Prepare project study
Reclassification: done
Position Paper to lobby for the
by 2015
reclassification
Establish bulk buying facilities (Cebu,
Pampanga, Metro Manila)
Prepare business plan to secure
PhP10M funding from SBCorp. for
bulk buying
2014
Locate / establish SSFs in the identified
plantations (e.g., North Cotabato,
Butuan)
Submit proposal to PD Bravo re
establishment of SSF
2013
Strategic Options and Action Plan
Strategic Options
Action Step
Use alternative raw materials for
product development
Promote the use of manipulated
. Aluminum and metal
industrial materials and mixed. Synthetic / Plastic
media
. Environment friendly or green
materials (e.g., bamboo, coconut)
Increase the critical mass and
upgrade the level of technology
and skills
Commission a consultant to conduct
a study on the best practices of
Myanmar, Vietnam and Indonesia in
inviting foreign companies to their
countries
Develop incentives specific to the
furniture industry
Invite foreign companies to locate in
the Philippines
Timetable
2013-2017
2014
Strategic Options and Action Plan
MANUFACTURING
Strategic Options
Action Step
Declaration of existing furniture
companies with at least 1
hectare facility as ecozone
Follow-up with PEZA for the approval
of one hectare company / two or
more companies as an ecozone
Greening the workplace
Implement 'RECP' (resource efficient
clean production)
Skills upgrading
. Skills transfer from OFWs to PH
workers
. Organize skills upgrading programs
(e.g., upholstery, packaging training,
quality control, product reengineering, carving)
. Train new generation of workers and
expand the HINABI (e.g., weavers)
Develop short intensive
management courses for the
furniture executives & middle
managers
Commission an academic institutions
to develop the module
Timetable
2014-2017
Strategic Options and
Action Plan
Strategic Options
Action Step
Encourage companies to invest in
capital equipment to technology and
productivity
Tap the DOST SET-UP Program
Green manufacturing
Tap wastes of other products as inputs to
manufacturing
Public-Private Partnership
PRIVATE SECTOR:
LEAD THE INDUSTRY
GOVERNMENT SECTOR:
RESOURCE GENERATOR/PROVIDER
THANK YOU..