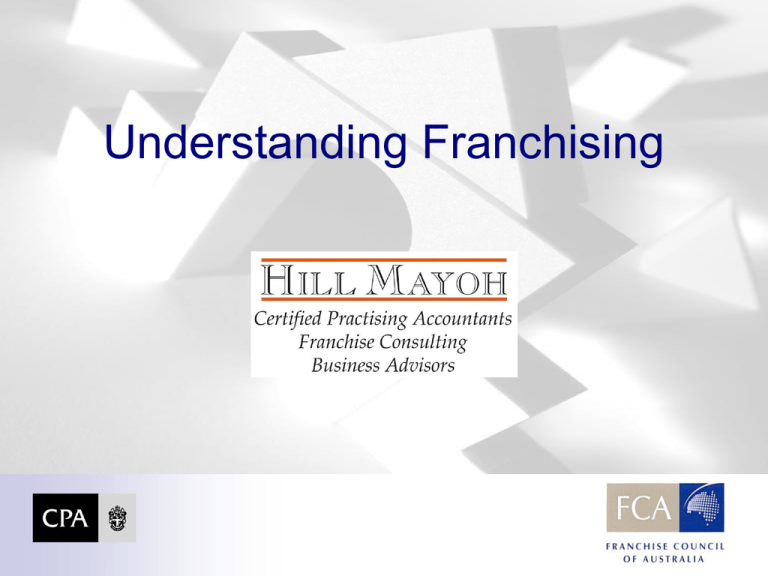 Understanding Franchising
Who is HILL MAYOH ?

HILL MAYOH are a team of CPA's who understand Franchising. We
assist people who are looking to buy a franchise, those who are
looking to franchise their business & existing Franchisors who want
specialist accounting & taxation advice.

HILL MAYOH is a member of the Franchise Council of Australia with
Brian having assisted via participation on the NSW Chapter
committee of the FCA for the last 8 years, writing articles,
presentations etc.
Our business……………

HILL MAYOH …specialist franchise work includes:
Concept advice,
Franchise Development strategies,
Specialist Accounting & Taxation advice… eg Marketing Funds,
Business Valuations, Business Structures
Health checks,
Documentation…….for

Businesses looking to Franchise - including conversion of Contractor
and Distributor models.

Franchisors - existing.

Prospective Franchisees – Evaluation, Business Valuations, Structures
Finance - assistance in sourcing.
Introduction

Advantages and Disadvantages of Franchising

Evaluating a Franchise

Key Accounting & Management Issues

Tax Considerations – Franchisee & Franchisor

Can the Business be Franchised?

The process of Franchising a business.
Why Franchise ?

Because franchising offers solutions to:
Capital

People

Time
Advantages of franchising

Reduced risk.

Enhances cost savings and purchasing power.

Improves Quality control / best purchasing.

Increases brand exposure and market penetration.

Provides a platform for asset growth.

Is a solution to Contractors, Agent or Dealership issues.

Exit Strategy.
Disadvantages of franchising

Potential goal conflict.

Share potential customer base.

Corporate policies.

Potential restrictions on sales/assignment.
Evaluating a Franchise

Initial Enquiry

Initial Meeting

Start Work

Decision Meeting

Finance Approval

Legal Advice

Ready to Buy
Key Accounting & Mgt Issues













Actual Trading Key Performance Indicators (KPI's)
Greenfield v Resale
The Learning Curve
Sales / Income levels
Cost of Goods Sold & Labour
Franchisor Ongoing Costs
Contribution Margin
Rent
Equipment expenses
Other expenses
Owners Draw (living & financing expenses)
Cash Flow Items – Initial Costs (Franchisor & other), Working
Capital
Borrowing – Serviceability & Security
Tax Considerations

Business Structure

Initial Franchisor Costs – capital v expense

Marketing / other Funds – how to treat?

Chart of Accounts – standard
Can the business be Franchised?
The Five Essentials:

Proven Business System – USP.

Profitable with strong margins.

Relatively easy to learn.

Passion & long term Commitment.

Investment Capital
?
Franchising Model
Begin with the end
in mind'
The Process
Franchise
Documentation
System Design
Feasibility
Legal
Documentation
Legal Brief
Franchisor
Training
Project
Completion
Ongoing
Coaching /
Consulting
Stage One - Feasibility Study

The Feasibility takes many hours studying the business
including time with the management and staff. The
subsequent report advises on issues such as;
U.S.P.'s (Unique Selling Propositions)
Intellectual property
Examining the Current Distribution Model
The ability to replicate the business unit
Ongoing support requirements
Splitting the Pie
Equitable returns for all parties
So why conduct a Feasibility?
To understand the business to be franchised.
To determine if the business can be franchised.
To determine the key structural elements of the business under
a franchise system.
To assess the financial feasibility of franchising
Stage One outcomes

The Feasibility may, or may not, give the green light to franchising
as the preferred development method.

If a red light is revealed, an alternative development may be
proposed. e.g. Licensing

If a green light emerges, the process commences and we proceed
to the Stage 2.
Stage Two – System Design
Key Structural Components;
Franchisee and Franchisor obligations
Franchise model
Franchise Support Structure
Franchisor and Franchisee structures
Income Streams
Territorial delineations and protocols
Franchise terms and renewals
Systems and documentation
Some Forms of Franchising
FRANCHISOR
FRANCHISEE
FRANCHISEE
FRANCHISEE
FRANCHISEE
Single Unit Model
FRANCHISEE
Some Forms of Franchising
FRANCHISOR
MASTER FRANCHISEE
FRANCHISEE
FRANCHISEE FRANCHISEE
MASTER FRANCHISEE
FRANCHISEE FRANCHISEE FRANCHISEE
Master Franchising Model
Example of a Business Structure
Licensor
XYZ Trust
Holds IP
License Agreement
Should not hold assets or
build equity
in its balance sheet
FRANCHISEE
Franchisor Trading Entity
XYZ Pty Ltd atf
XYZ Franchising Trust
FRANCHISEE
FRANCHISEE
FRANCHISEE
Factors influencing System Design
Market size
Dispersion of demand for the business
Complexity of the product/service offering
Managerial implications of running the system under franchise
Financial and managerial resources
Personal and business objectives of the Principals
System Design financial modeling
"Splitting the Pie"
We will examine the following:Discover the key business drivers
Determine the environment for success
Carry out a future value test
Match or better the market on ROI for the franchisee
Unit potentials
Franchisee then Franchisor
Capital requirements
Income streams & operating costs
Realistic G.P.'s, sales and costs for SUSTAINABLE net profit.
Strike equity in profitability
Growth rate
System Design financial modelling
continued.
Franchise terms and renewal
Site selection procedures and supporting manual
Territorial structures
Communication and reporting structures
Induction and ongoing training
etc etc
Stage Three - Documentation
Stage Three is the production of all the documents
necessary under the Franchising Code of Conduct (Trade
Practices Act).
Legal Documents
Confidentiality Agreement
Disclosure Document,
Franchise Agreement, Licence Agreement,
Franchisee Advice Statement,
We work directly with the lawyers - our experience assists
to significantly shorten this process. We suggest a choice of
experienced franchise lawyers and review all documents
before the prospective franchisor sees them.
Stage Three - Operational

Stage Three also provides the necessary documents and systems for
a Franchisor and Franchisee to work effectively under a strictly
defined system.

Further systems documentation is developed according to your
specific requirements.

We organise the production of the Operations Manual/s which involves
specialists working closely with client management and project mgt
from HILL MAYOH.

This stage of the project is intrusive and can sometimes impose upon
daily business activities.
Documents
The following documents are normally required to enable the
business to reach the point of readiness to recruit
Franchisees:





Franchise Compliance Manual
Operations Manual
Site Selection Guide (if applicable)
Franchisee Recruitment Manual
Franchisee Selection Criteria
Recruitment Brochure draft
Note: If other Manuals are required, such as technical manuals, these are
quoted separately.
Stage Four

Stage Four involves the creation of a recruitment process and
conducting training with management to ensure compliance with
procedures.

We also to develop a Franchisee selection criteria based upon :Background and experience
Personal attributes
Financial stability
Personal factors
Technical requirements
Stage Five

Stage Five is our Project Completion where everything is reviewed
to ensure a complete understanding of all aspects of the new
franchised business by key management.

The Franchisor is fully trained in all aspects of the business
including The Operations Manual.
We say to the prospective Franchisor…




Be prepared for this exercise to an investment in both time and
money.
Invest in professional help from
Franchise Consultant (franchise structure and system)
Specialist Lawyer (franchising experience and legal structure)
Specialist Accountant (Business structure and tax advice)
Franchise Division of a major Bank
Be prepared that despite all the best planning, preparation and
investment that the market may not automatically accept the
concept.
Conversely, be prepared to be hugely successful. This brings its
own problems to the table – are you prepared?
HEART OF FRANCHISING
Is that it allows people from all walks
of life fulfill their dream of
successfully owning and operating a
small to medium business with little
to no business management skills or
experience!
Brian Mayoh - Principal

Initial 11 years in charted and commercial accounting.

6 years as a franchisor with Kwik-Kopy.

3 years in corporate marketing and general management.

15 years in franchise advisory & CPA with Franchise Systems,
Franchise Alliance & Hill Mayoh.

Independent franchise and business consultancy work ongoing.

Brian holds a Diploma of Business (Franchising) and the qualification of
FCA Fellow with the Franchise Council of Australia.

Brian is also a Certified Practicing Accountant.