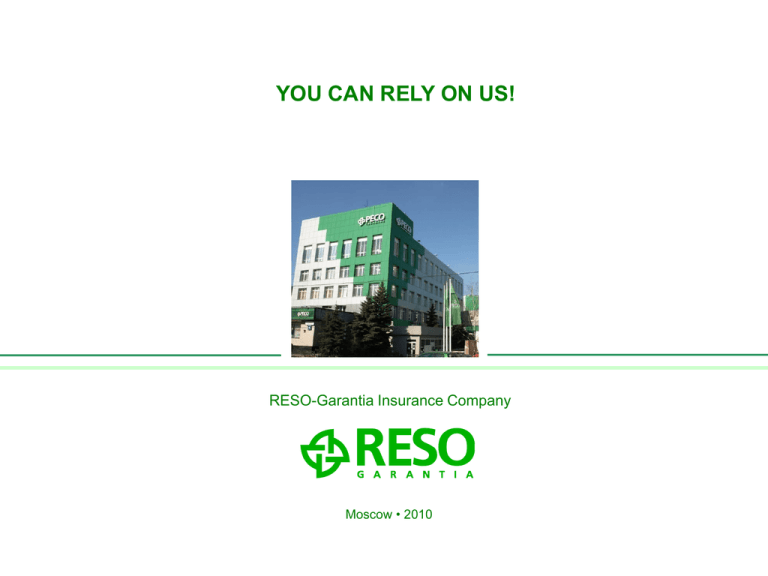 YOU CAN RELY ON US!
RESO-Garantia Insurance Company
Moscow • 2010
YOU CAN RELY ON US!
RESO-Garantia
insurance company
was founded on
November 18, 1991.
Corporate top management:
The share capital
of the company stands at
RUB 3.1 billion.
Principal shareholders:
S.E. Sarkisov,
27.2%,
N.E. Sarkisov,
27.2%,
A.N. Saveliev,
2.5%;
AXA Global
Insurance Group,
36.7%
Еuropean Bank
for Reconstruction
and Development
(EBRD),
6.3%
Sergey Sarkisov
Chairman, Board of Directors
Dmitry Rakovschik
General Manager
Igor Cherkashin
Senior Deputy General Manager
YOU CAN RELY ON US
2
RESO-Garantia is the Recognized
Insurance Market Leader
The company's financial stability is confirmed by the rating of А++, Extremely High Reliability Rating,
assigned by Expert RA (rating agency)
The company is included in the most prestigious, ranked list of Russia's top companies as made
by Expert 400: in 2010, RESO-Garantia OJSIC ranked # 132 in the honorary list of the leading companies
in the Russian economy.
RESO-Garantia is the winner in the nation-wide contest Popular Brand/ Brand # 1 in Russia,
in the Insurance Company category
In 2009, RESO-Garantia won the National Prize of Financial Olympus, in the Motor Insurer category
The Company is listed among 40 best Russian brands that is annually drafted by the Interbrand
international company
YOU CAN RELY ON US
3
RESO-Garantia in 2009
In 2009, the Russian insurance
market premiums were down by 7%.
Insurance market receipts,
RUB billion
RESO-Garantia's market share
-7%
RESO-Garantia's market share
increased to 5.9%
During the recession, RESOGarantia showed stability and
business solvency and maintained
# 4 in Russia in terms of collected
insurance premiums (# 3, without
regard to captive insurance
companies).
Car sales in Russia,
million/year
RUB 30,161,000,000 –
collected insurance premium
RUB 18,589,000,000 –
indemnity payments
Mortgage loans in Russia,
USD million a year
halved
4-times
drop
RUB 2.4 billion – net profit
3,175,000 individual customers
178,000 corporate customers
YOU CAN RELY ON US
4
RESO-Garantia Portfolio
Accident
Stability is ensured by the balanced portfolio
of contracts, the structure of which is similar
to that of the entire insurance market.
RESO-Garantia OJSIC
is a multi-purpose
insurance company
holding licenses S # 1209
77 and P # 1209 77
issued by the Federal
Insurance Supervision
Service for 102 types of
insurance services and
reinsurance
The company offers the widest selection
of insurance services for companies
and individuals and is particularly
successful in selling of the most sought
and popular services, such as motor
insurance, compulsory motor liability
insurance (CMTPL), property, voluntary
health, cargo and liability insurance.
Tourism
VMI
CMTPL
Liability
Property
CASCO
Cargo
Simple mass insurance products
for individuals.
Special products for a broad range of small enterprises – RESO-Office
and RESO-Entrepreneur policies.
Specialized departments of the company are in charge of corporate customers:
they develop insurance solutions adapted to customers' needs to provide high
quality services.
RESO-Garantia uses services of global reinsurers:
YOU CAN RELY ON US
5
RESO-Garantia Market Share in TOP-5 per LOBs
as of 9m 2010
Hull / car insurance
Voluntary health insurance
CMTPL
31,2%
1. SOGAZ
20,4%
2. RESO-Garantia
9,5%
2. ROSNO
8,0%
3. INGOSSTRAKH
6,7%
3. ZHASO
7,1%
1. INGOSSTRAKH
14,1%
1. ROSGOSSTRAKH
2. ROSGOSSTRAKH
13,2%
3. RESO-Garantia
11,2%
4. VSK
6,4%
4. SPASSKIE VOROTA
5,2%
4. INGOSSTRAKH
5,8%
5. SOGLASIE
4,9%
5. VSK
3,8%
5. RESO-Garantia
5,7%
Property (excl. casco)
Protection
1. SOGAZ
17,4%
1. GENERALI PPF
2. ROSGOSSTRAKH
14,5%
2. AVIVA
3. Alfastrakhovanie
6,3%
Liability
14,2%
1. INGOSSTRAKH
10,9%
6,3%
2. SOGAZ
10,2%
3. VSK
5,6%
3. ROSGOSSTRAKH
5,8%
4. INGOSSTRAKH
5,1%
4. ROSGOSSTRAKH
5,5%
4. VSK
5,4%
5. ROSNO
4,7%
5. VTB Insurance
5,0%
5. RussoGarantia
3,9%
6. KAPITAL
4,2%
6. SOGAZ
3,8%
7. RESO-Garantia
3,3%
7. RESO-Garantia
3,7%
***
9. РЕСО-Гарантия
3,2%
YOU CAN RELY ON US
6
Agency Network and Sales Channels
RESO-Garantia is
represented in all of the
Russian Federation
constituents, both in multimillion-strong cities
and in small population
centers.
Regions account for 46%
in the company's premium
collections.
There are 787 sales and
customer service offices
across the country.
19,925 insurance agents –
the best agency network in
Russia in terms of the
training level
5,447 staff employees in
the head office and
branches
More than 1,500 new
employees were engaged,
212 new branches and
sales outlets were opened
during the recession.
YOU CAN RELY ON US
7
RESO School – Professional Training Center
The Golden Salamander prize was awarded to RESO School,
a professional training center, twice, as to the country's best
insurance school
56,500 persons were trained at RESO School for 10 years
55 training courses in insurance products and sales
methods were designed; most of them were converted into
the DVD format
More than 70 business coaches teach at RESO School
branches
The system of remote training and online testing in the main
products of the company, via the Training Portal, was
established
Webinar technologies are used to work with regions
YOU CAN RELY ON US
8
Service Quality and Innovation Technologies
Uniform customer service quality standard
Customer satisfaction and loyalty studies. As compared with 2008, in 2009 the satisfaction index rose by 4 points.
Mystery Shopping in branches throughout the country: in 2009, 'secret buyers' visited 225 agencies across Russia; in
2010, the plan is to check up at least 350 agencies.
"Hot line" for customers is a tool enabling not to lose customers' calls, if the required specialist is busy or absent.
During 6 months of 2010, 4,274 hot line calls were processed. 99.9% messages were processed in due time (for 1 to 2
business days).
Daily handling of customers' calls: none of the customer's messages is left without attention and response. Customers
have more than 10 channels to contact RESO-Garantia.
Mystery Shopping Geography
Feedback Channels with Customers
YOU CAN RELY ON US
9
Modern IT and Communications Technologies
All of the company's branches operate in the online mode:
• Centralized accounting
• Centralized settlement of insurance cases
• Payments at any branch
Remote access of agents to the information System
The 24/7 calling center in Moscow with the single federal number handles more than
4,500 calls daily. The average waiting time on line does not exceed 22 seconds.
24/7 medical helpdesks in Moscow and St. Petersburg
Short text messages are automatically sent to customers as to the need to extend a
policy or to pay an installment
Compulsory motor liability insurance (CMTPL), and casco insurance policies can be
issued independently on the company's website*
*special product version for the Internet
Video conferences with remote branches
YOU CAN RELY ON US
10
Service Quality Leads to Increase in Sales
RESO-Garantia became
the leader in the direct damage
indemnification (DDI) procedure
in compulsory motor liability
insurance (CMTPL), by offering
payments within 7 days
to customers*
The promo campaign in autumn
2009 was based on the 7-day
DDI offering.
In the recession, a possibility to
get money quicker is a significant
advantage sought for by many.
*Upon filing of all documents and obtaining
acceptance from the guilty company
(provided that the Law requires that the
indemnity be paid within 30 days, i.e. 4 times
longer).
YOU CAN RELY ON US
11
Cooperation between
and
Developed since 2008, the strategic partnership with AXA, one of the worldwide global
insurance leaders, enriched RESO-Garantia with experience, tools and solutions that enables to
meet the needs in insurance and financial protection of any global company developing
business in Russia.
RESO-Garantia:
• is the Russian representative of AXA Corporate Solutions, a global leader in corporate insurance
• as their local insurer, RESO GARANTIA protects and takes care of AXA Group's corporate customers as part of global
programs and in accordance with the requirements of all stakeholders involved in the program
• deals with AXA-MAXIS network, a global expert in development and implementation of employee benefit programs for
international corporations
• is a member of the French Chamber of Trade and Commerce in Russia, and a key partner in insurance of French
companies developing business in Russia.
Special focus on customers:
•A special business unit with experienced experts who are fluent in different languages was established for servicing
foreign customers
• A representative of AXA Group is a top manager of RESO-Garantia holding the post of Deputy General Manager,
Development. He is in charge of, in particular, global customers to ensure the necessary and absolute attention to them
and the delivery of appropriate insurance solutions and of expected service level
YOU CAN RELY ON US
12
Cooperation between
and
Insurance coverage for large enterprises and multi-national customers:
• Flexible approaches
• Quick solutions
• Service quality
• Impeccable reliability
• Dedicated contact for all matters
•
Insurance contracts are drafted in Russian and English
•
Insurance Terms and Conditions take into account the customers' needs and largely meet global standards and
state of the art international practice
•
Extensive experience in insuring various industrial and business facilities – buildings, production facilities,
warehouses, office premises
•
Insurance against business interruption
•
Liability insurance, including professional liability
•
Cargo and other risk insurance
•
Pre-insurance appraisal and assessment of works of art and other rare insurance objects
•
Extensive reporting to the customer and/or broker when needed (number of claims, time settlements ,…)
YOU CAN RELY ON US
13
Cooperation between
and
Insurance coverage for large enterprises and multi-national customers:
Motor insurance leader in Russia
•
A special center for multi-national customers' car fleet insurance was created
jointly with AXA
•
The company has in place the biggest payment centers in Moscow and St.
Petersburg, which ensure maximum convenience to customers in both capitals
and guarantee prompt and accurate settlement of loss events in any place of
the country
Expert in voluntary health insurance
•
Special center for voluntary health insurance for corporate personnel
•
Own ambulance services in Moscow and St. Petersburg
•
Broad range of insurance programs and coverage types for employees and
their families based on own modern polyclinics and a network of partner
specialized medical institutions of any profile throughout Russia
YOU CAN RELY ON US
14
Some French international customers of
Insured at RESO-Garantia
YOU CAN RELY ON US
15
Some customers of RESO-Garantia – globally known
companies and business leaders in Russia
YOU CAN RELY ON US
16
Partners of RESO-Garantia – major banks
YOU CAN RELY ON US
17
Membership in Associations and Unions
• All-Russian Union of Insurers
• Housing Mortgage Loans Agency
• Russian Union of Motor Insurers
• Green Card National Office
• National Union of Liability Insurers
• Russian P&I Pool
• Russian Tourist Industry Union
• Union of Maritime Insurers
• Moscow Chamber of Trade and Commerce
• Anti-Hijacking Association
• French Chamber of Trade and Commerce (CCIFR)
• Association of Russian Car Dealers
• Union of Insurers of St. Petersburg and the North-West
• National Union of Agricultural Insurers
• Russian Corporate Club of the World Wildlife Foundation
(WWF)
• Sochi Insurance Pool
YOU CAN RELY ON US
18
Corporate Governance
•
•
11 members of the Board of Directors, including:
–
Two independent directors
–
Three directors from АХА, including a member of the AXA Group Management Board
–
Director from EBRD
Independent members of the Board of Directors head
–
Audit Committee
–
Remunerations Committee
•
Efficient internal audit system
•
IFRS auditors of the company are KPMG, RAS auditors are Marillilon (Kreston International)
•
Top management visits at least 15 corporate branches annually
YOU CAN RELY ON US
19
Information Policy: Corporate Mass Media
The Golden Salamander award in the Corporate Edition category
•
25,000 copies is the aggregate circulation of corporate
mass media, namely: RESO Newspaper, RESO Magazine,
RESO University
•
Information mailing of the RESO Group News newsletter
to all employees and agents
•
Internal corporate website (Intranet) is available at all of the
company's branches
•
Every branch has its own page at www.reso.ru
YOU CAN RELY ON US
20
Information Openness – www.reso.ru
The website
of www.reso.ru is the most
frequently accessed
website of a Russian
insurance company –
more than 110,000 visitors
monthly
Hot line on the website for
compulsory motor liability
insurance (CMTPL)
customers
Eleven online calculators to
calculate the cost of policy
Comprehensive corporate
information: Articles of
Association, quarterly
balance sheets, issuer's
reports, annual reports.
YOU CAN RELY ON US
21
Social Responsibility
It is for more than 8 years already that the company has partnered
with the World Wildlife Foundation (WWF).
The company makes charitable donations to the Foundation upon
each hull insurance policy sold.
Partnership with CAF (Charities Aid Foundation).
Employees gathered more than 650,000 rubles of personal donations
under CAF programs in 2009.
Sergey Sarkisov's charitable foundation channeled more than
2.3 million rubles to help sick children in 2009.
YOU CAN RELY ON US
22
RESO Group
RESO Group was founded in 2004 and currently represents a diversified holding with assets not only in the insurance
business (including in the CIS countries) but also in medical services, leasing, development and asset management.
INSURANCE
COMPANIES
RESO-Garantia OJSIC
Multi-purpose insurance company
LEASING COMPANIES
RESO-Leasing LLC
Leasing of highly liquid types of
machinery and equipment
MEDICAL CENTERS
Medilux-TM LLC
Belrosstrakh
Chain of MedSwiss medical
centers
Belarus
RESO-Garantia Life
Assurance Company
СORIS Assistance (St.
Petersburg) LLC
Life assurance company
Private ambulance service
UNITY Re RIC LLC
Reinsurance
MIC RESO-Med LLC
Statutory health insurance
BANK
RESO-Credit Business
Bank OJSC
INSURANCE IN CIS
PRO100 Insurance
Ukraine
NSK
Kazakhstan
Impromed LLC
Private ambulance service
Uni RESO
Armenia
Mortgage lending
Retail deposits
PENSION FUND
RESO Savings Fund
(private pension fund)
Private pension fund
CAR REPAIR
RESO-Avto-Service LLC
Car maintenance. Body repair
station
YOU CAN RELY ON US
23
6 Nagorny Proezd, Moscow 117105
Tel. (495) 730 30 00, fax (495) 956 25 85
mail@reso.ru www.reso.ru
OJSIC «RESO-GARANTIA» • 09/2010
YOU CAN RELY ON US!