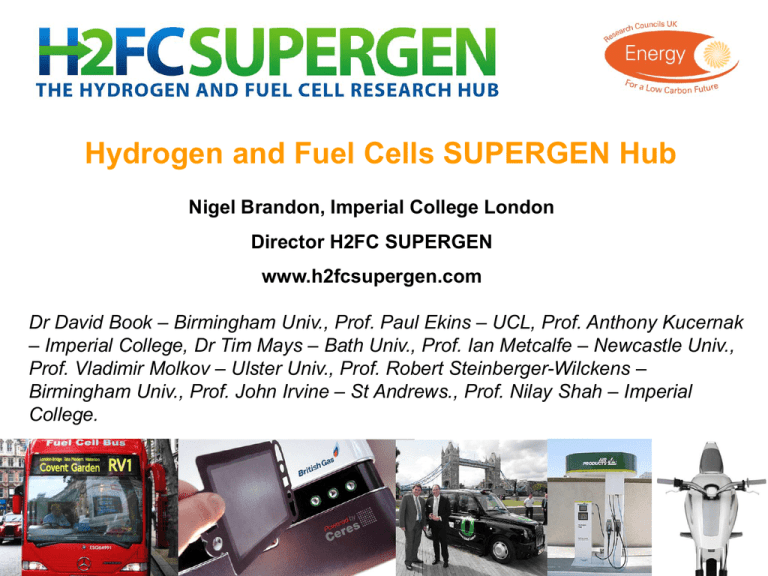 Hydrogen and Fuel Cells SUPERGEN Hub
Nigel Brandon, Imperial College London
Director H2FC SUPERGEN
www.h2fcsupergen.com
Dr David Book – Birmingham Univ., Prof. Paul Ekins – UCL, Prof. Anthony Kucernak
– Imperial College, Dr Tim Mays – Bath Univ., Prof. Ian Metcalfe – Newcastle Univ.,
Prof. Vladimir Molkov – Ulster Univ., Prof. Robert Steinberger-Wilckens –
Birmingham Univ., Prof. John Irvine – St Andrews., Prof. Nilay Shah – Imperial
College.
Advisory Board
•Sue Ellis (Low Carbon technology manager, Johnson Matthey) - Chair
•Phil Whalen (CTO Ceres Power)
•Paul Adcock (Director Research and Technology, Intelligent Energy)
•Nigel Holmes (CEO, Scottish Hydrogen and Fuel Cells Association)
•John Loughhead (Executive Director, UK Energy Research Centre)
•Andrew Haslett (Director Strategy Development, Energy Technologies
Institute)
•Diana Raine (Head Hydrogen Systems Europe, Air Products)
•Graham Hillier (Director Strategy and Futures, CPI)
•Neville Jackson (CTO, Ricardo plc)
•Marcus Newborough (Development Director, ITM Power)
•David Hart (Director, E4Tech)
•Rowland Travis (Head of Business, Rolls Royce Fuel Cell Systems)
•Ray Eaton (Dept. Energy and Climate Change)
•Richard Kemp-Harper (TSB)
Where will we focus our resources?
•We will use our Hub funding in four ways
•A core research programme (40%) addressing selected areas of
underpinning science in hydrogen and in fuel cells.
•A flexible research programme (41%) awarded over time to support
new research both within and outside the Hub core partners.
•A network activity (16%) to integrate across the HFC community, and
to help translate research into impact with external stakeholders.
•Support for PhD student training at core universities to help establish a
broader 'cohort' of PhD students in Hydrogen and Fuel Cells (3%).
• Both our core and flexible funding research will take 2 main forms.
•The first will provide outputs which include white papers to inform
policy makers about the role and potential of hydrogen and fuel cells,
and help bridge the gap to other areas in the energy sector.
•The second will be underpinning science and technology focussed on
addressing and overcoming key technical barriers inhibiting the
commercial realisation of the benefits that could arise from widespread
uptake of these technologies
Hub Structure
Education / training
Fuel cells / heat engines
Management
ETI
Management
Board
EC,
….
Advisory
Board
National
Networks
Associates
Knowledge
Exchange
Research
Grand
Challenges
Systems / infrastructure
Science
Board
International
Networks
Safety
Academic
Industry
Business
Socio-economics
Networking
TSB
Policy
RCUK
Energy
Programme Industry
Storage / distribution
Outreach
Production
Science Board
•The Science Board comprises full members of the Hub outside the
Management Board. Such individuals will either be engaged directly with the
Hub through the receipt of flexible research funding, or they will have been
invited to become full members via their role as leads of other significant
research programmes relevant to the hydrogen and fuel cell sector.
•The Science Board offers advice to the Management Board on the research
and networking priorities for the Hub, and helps support the peer review
process for the award of flexible funding.
•Current members of the Science Board are
• Bill David, STFC.
• Alan Guwy, Glamorgan Univ.
• Malcolm Eames, Cardiff Univ.
• Peter Bruce, St Andrews Univ.
• Gavin Walker, Nottingham Univ.
• Plus the PI's of the new EPSRC H2FC challenge projects.
• Plus ……
Structure of our Core research activity
WP9: Research synthesis
WP5:
Hydrogen
Production
WP6:
Hydrogen
Storage
WP7:
Polymer
Electrolyte
Fuel cells
WP1: Policy and Socio-economics
WP2: Hydrogen and Fuel Cell Systems
WP3: Hydrogen and Fuel Cell Safety
WP4: Education and Training
WP8:
Solid Oxide
Fuel cell
(SOFC)
Electrolyser
(SOEC)
Leads for each area within the Hub
•WP 1: Policy and Socio-economics (Paul Ekins, UCL)
•WP 2: Hydrogen and Fuel Cell Systems (Nilay Shah,
Imperial)
•WP 3: Hydrogen and Fuel Cell Safety (Vladimir Molkov,
Ulster)
•WP 4: Education and training (Robert Steinberger-Wilckens,
Birmingham)
•WP 5: Hydrogen production (Ian Metcalfe, Newcastle)
•WP 6: Hydrogen storage (Tim Mays, Bath)
•WP 7: Polymer Electrolyte Fuel cells (Anthony Kucernak,
Imperial)
•WP 8: Solid Oxide Fuel cells (SOFC) and electrolysers
(SOEC) (John Irvine, St Andrews)
•WP 9: Research synthesis (Nigel Brandon, Imperial)
H2FC SUPERGEN events
• UK-Korea H2FC meeting, December 10-11th 2012,
Birmingham.
• Joint workshop with STFC on hydrogen and fuel cell
research – Feb 21st and 22nd 2013.
• Second International Symposium on Solid Oxide Fuel Cells:
SOFCs and Renewable Energy, 19th April 2013, Imperial
College.
• H2FC Annual Conference alongside All-Energy, Aberdeen,
21-22nd May 2013.
• Anion-Exchange Membrane Electrochemical Device
Workshop, Surrey Univ., 25-26th July 2013.
How can you become a Hub member?
We have two levels of membership of the Hub.
The first is Associate Members. Associate Membership will be available to all.
Associate members (eligible to receive EPSRC funding) will be entitled to
respond to calls for proposals for flexible funding, and will automatically be
notified of open events, lectures, seminars and workshops organised by the
Hub.
The second is Full Membership of the Hub. Full Membership is offered to
those who are funded through flexible funding awarded by the Hub, those who
bring to the Hub leadership of major programmes relevant to the Hydrogen
and Fuel Cell sector – e.g. PIs of the programmes funded under the EPSRC
Hydrogen and Fuel Cell Challenge call. Full members are invited to become
members of the Science Board.