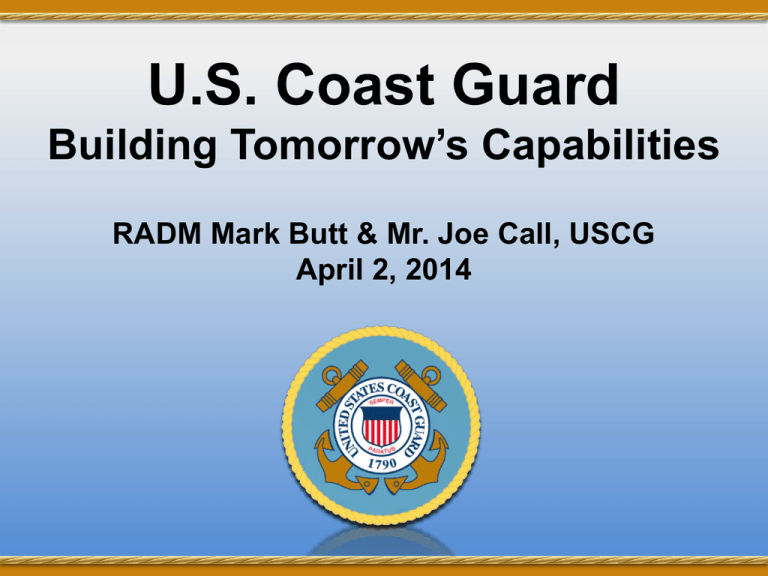 UNCLASSIFIED
UNCLASSIFIED
U.S. Coast Guard
Building Tomorrow's Capabilities
RADM Mark Butt & Mr. Joe Call, USCG
April 2, 2014
UNCLASSIFIED
Maritime Environment Challenges
Discerning Vulnerability Versus Threat
 Current Threat Assessments
 Threat and the Risk Equations
High Criticality
Huge Vulnerabilities
Demonstrated Capabilities - Transference
Intent (Aspirational-Specific)
UNCLASSIFIED
Understanding Our Adversaries
Vessels don't hurt people, people hurt people
 Not metal in water
Indications of Evolving Intentions
 Pre-OP recon – Planning – Training
Inside the Decision Cycle
 Changing Dynamics
Network & Communications Analysis
 Non-obvious relationships and patterns
Future ISR – Integrated all source – All-INT
UNCLASSIFIED
Improved Requirements Management
• Established in 2012, the C4ISR&IT Capabilities
and Requirements Oversight Panel (CROP) was
created to ensure C4ISR&IT-related gaps are
identified, documented, & routed for action.
• The CROP manages the requirements validation
process to:
• Identify, assess, validate & prioritize C4ISR&IT capability
requirements;
• Provide technical & administrative direction;
• Ensure proper documentation of capability gaps (CONOPS,
OV-1, etc.);
• Monitor progress of capability requirements to ensure
operational gaps are resolved as effectively & efficiently as
possible.
UNCLASSIFIED
C4ISR&IT CROP
• CROP and JCIDS
• Similar to the JCIDS Process, the CROP documents
the critical link between validated capability
requirements & the implementation of materiel/nonmateriel capability solutions.
•Think of the CROP as where JCIDS was 3-4 years ago
• CROP Analysis
• The process utilizes DOTmLPF Analysis to conduct a
capabilities-based assessment to identify capability
requirements & associated capability gaps.
UNCLASSIFIED
C4ISR&IT CROP Process
UNCLASSIFIED
JCIDS Process
UNCLASSIFIED
Once Requirements are Approved
• For Non-Major System Procurements (similar to
USN/USMC ACAT IV), the Coast Guard uses the
System Development Life Cycle (SDLC)
framework to provide oversight & management to
the project
• This process is vendor oriented
• Most partnering with industry is initiated through
RFI's/RFP's.
• RFI's are our way of insuring our specs are accurate,
state of market & affordable
• Minimal $$$ available for acquisitions
UNCLASSIFIED
C4IT Organizational Construct
C4IT Service Center
• Contracting & Procurement
• Asset Logistics
• Workforce & Facilities
Operations Service Center
(OSC)
• Enterprise Applications
• Enterprise Applications Core
Technologies
• Business Operations
• Information Assurance
• Field Services
Command, Control &
Communications Engineering
Center (C3CEN)
• C3ISR Product Lines
• C3ISR Core Technologies
Telecommunication &
Information Systems
Command (TISCOM)
• Enterprise Infrastructure Product
Lines
• Enterprise Infrastructure Shared
Services
UNCLASSIFIED
Questions?