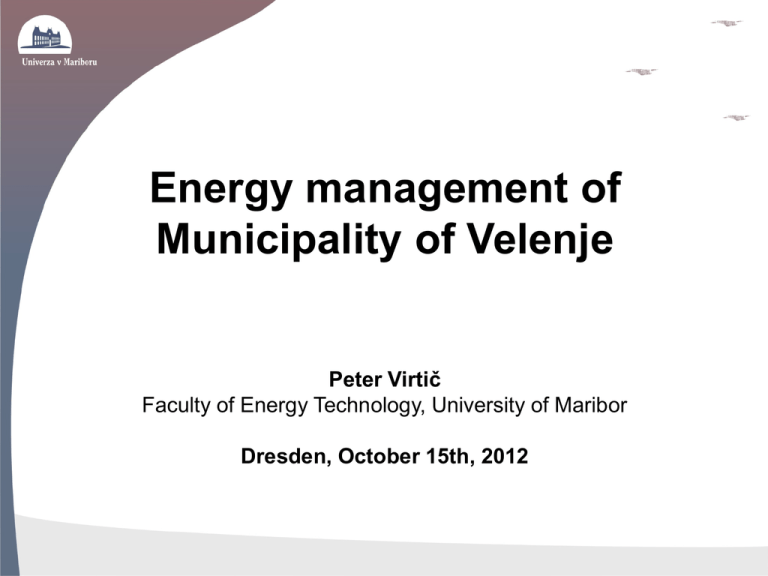 Energy management of
Municipality of Velenje
Peter Virtič
Faculty of Energy Technology, University of Maribor
Dresden, October 15th, 2012
Municipality of Velenje
• 5th largest Slovenian city
• 35.000 inhabitants
• In 1959 Velenje became the City
• City of Velenje has made tremendous efforts
to revitalize ruined landscape because of coal
exploitation and to turn that handicap into
advantage.
• Strong economy with major company
"Gorenje" (domestic appliances) and "Coal
mine Velenje" are along with the youth of the
city the main reasons for pleasant and healthy
living conditions.
Main heating system in the
Municipality of Velenje
• Private: 56,8 % use of energy
• Industry: 30,2 % use of energy
Shares of heating
Municipality of Velenje
Heat
Total
438.000 MWh
Heat equivalent of fuel oil
931 l heat oil/person a
Share of heating (private):
Wood
12,9 %
Fuel oil
District heating from the Coal Thermal Powerplant in
the neighboring municipality of Šoštanj
7,9 %
74,0 %
Other (liquified natural gas…)
5,2 %
District heating system in Šaleška
Valley
Second largest district heating system in Slovenia: Velenje and Šoštanj,
with suburban's: Podkraj, Pesje, Lokovica and Topolšica.
CHARACHERSITICS:
- 256 MW installed power,
- 144 km od pipelines,
Solving of energy problems
Reducing the impact of Climate
Changes:
• Rational use of energy
• Renewable energy sources
• Energy management
Energy management of
Municipality of Velenje
•
•
•
2004: Energy concept of the Municipality of Velenje;
2006: Establishing of the Energy Agency KSSENA;
2007 – 2011:
- Operational plan for energy reconstruction of public lightening in the
Municipality of Velenje;
- Energy audits, analyses, energy bookkeeping, energy reports (consumption
and costs), etc;
- Action planed for RES and RUE;
- Implementation of RES and RUE process.
What is KSSENA?
•
Established in 2006 within the framework of
Intelligent Energy Europe (IEE)
•
Founders: Municipality of Velenje (MOV),
Municipality of Celje (MOC), Municipality of
Slovenj Gradec (MOSG) and Public utilities
company (KPV)
•
Number of employees: 6
•
Expert organisation specialized in the field of
energetics, with the emphasis on RES and RUE,
and project management.
•
Professional bridge between potential users
(emphasis on the public sector) and suppliers of
specialized energetic services and products.
Energy Audits
More than 100 energy audits in Velenje (KSSENA):
- Energy supply and consumption analyses,
- Processing of energy data,
- Determination of optimal measures,
- Preparation of RES and RUE action plan for each particular building.
Energy bookkeeping
Energy Act
- All public buildings with over 500 m2 of netto heat surface
MAIN FUNCTIONS:
- managers recognize their energy
consumption;
- invoice management (advanced
energy bookkeeping),
- energy and financial data
management,
- analysis,
- financial and energy planning,
- energy and financial reports,
- financial and energetic planning
for energy efficient measures,
- monitoring,
- all buildings connected in
one comprehensive energyinformational system.
35 buildings in Velenje
CHP of Primary School Škale
- Before
Preliminary heating: Fuel oil (consumption over 20.000 l)
Obsolete and outdated boiler
Energy number : > 200kWh/m2 (in 2007)
- Reconstruction of the heating system
Implementation of cogeneration of heat and electric
power system
2 units (5,5 kWe and 12,5 kWh)
Other Reconstructions:
Replacement of windows
Replacement of the door
Replacement of blinds
Installed Power: 17,4 kWp
Estimated annual electrical energy production: 17,4 MWh
Estimated annual production in EUR: € 6,600
Selected contractor: BISOL, d.o.o.
The completion of works: July 2010
zidaki
Zidak
1 sq m
1 sq m
Zidak
Zidak
1 sq m
1 sq m
Strojnica
56 sq m
14800,00
27000,00
PV power plant:
Municipality of Velenje
PV power plant:
Primary school Livada
Installed power: 49,68 kWp
Estimated annual electricity production: 50 MWh
Estimated annual production in EUR: € 19,000
Selected contractor: Antim, d.o.o.
Completed: December 2010
Small PV power plant on
Primary school Gustava Šiliha
•
•
•
•
•
Installed power: 46 kWp
Estimated annual electricity production: 46 MWh
Estimated annual production in EUR: € 18,000
Selected contractor: Antim, d.o.o.
The completion of works: December 2010
Free public transportation
Lokalc
Free public transport has a direct impact on the environmental burden through
the exhaust and noise. We assume the potential saving of CO2 emissions of at
least 169 tones of CO2 per month, at the annual level this means of 2034 tones
of CO2 emissions. (Source: ''Lokalc'' Survey in 2009 conducted by the Municipality of Velenje and the Energy
Agency KSSENA among the users on the bus and the local population).
District cooling system in
Velenje
•
•
•
•
In 2008 the Municipality of Velenje, Utility Company of Velenje and the Institute
of District Energy established the first district cooling system in Slovenia
The installed power of cooling is 970 kW
The system is designed in three phases - it is expected to be completed by
2012
The advantage of cooling
• Utilization of excess heat from the thermal power plant
• Reduced energy use for cooling by 16% (comparing to the individual
cooling units)
MO VELENJE
TPP 324
Legenda
TRASA OPUŠČENE KINETE
NOVA TRASA
• District cooling in Velenje
Number of
building:
Building
HO 1-1. PHASE
Municipality
Velenje
of
3.933
150
HO 1-2. PHASE
Administartive unit
of Velenje
3.080
118
HO 1-2. PHASE
Gallery of Velenje
960
37
HO 1-2. PHASE
Cultural centre of
Velenje
2.756
106
HO 1-2. PHASE
Restaurant DK
1.568
60
HO 1-2. PHASE
Court
3.498
135
HO 1-2. PHASE
New bus station
2.000
78
HO 1-2. PHASE
Sport hall
Red hall
3.600
200*
HO 1-2. PHASE
Steklena direkcija
PV
1.500
59
HO 1-2. PHASE
Local swimming
poool
650
25
23.495
967
Total
ADH-GO
Velenje:
House
Velenje
Surface
[m2]
of
Required power for
cooling [kW]
Street lighting :
PV lights
Illumination of the pavement, where the power is supplied by the photovoltaic
panels
Length of pavement: 450 m
Number of lamps: 13
Lamp: LED LSL 30
Pillar height h = 7 m
Rechargeable Batteries: 2x40 Ah
Photovoltaic Panel: 85 Wp
Inverter power: 75 W
Street lighting:
PILOT PROJECT "Energy self-sufficient STREET
LIGHTING"
2 energetically independent street lamps
2 different RES: wind turbine and thin film PV module on pillar:
Velenje Lake
Technical specifications
PV panel:
• 136 W,
• dimensions: 5,49 m x 0,39 m x 0,004 m
Vertical wind turbine:
• rotor diameter of wind turbine: 1,25 m
• height of the rotor: 1,1 m
• mass of wind turbine: 25,5 kg
35 W LED lamp
Municipality of Velenje and
Covenant of Mayors
• March 2010: presentation of Action plan to the
Mayor of Velenje
• April 2010: presentation of the Action plan to
Velenje City Council and the Covenant of
Mayors
• May 2010: Signature of the Covenant of
Mayors in Brussels
Thank you!