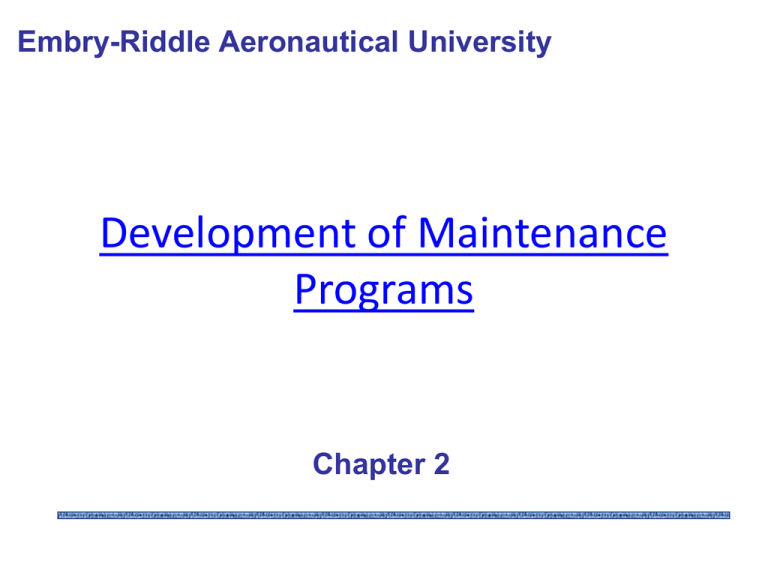 Embry-Riddle Aeronautical University
Development of Maintenance
Programs
Chapter 2
THIS DAY IN AVIATION

February 5
• 1914 — Lt. J.C. Morrow
became 24th and last flier
to qualify as "Military
Aviator."
THIS DAY IN AVIATION

February 5
• 1919 — The first regular,
daily passenger service in
the world is launched at
Berlin's city airfield. A
German airline operates
the new service on route
from Berlin to Weimar via
Leipzig.
THIS DAY IN AVIATION

February 5
• 1929 — Frank Hawks and
Oscar Grubb land their
Lockheed "Air Express" in
New York after a record
flight of 18 hours 20
minutes from Los
Angeles.
THIS DAY IN AVIATION

February 5
• 1949 — An Eastern Air
Lines Lockheed
"Constellation" lands at
LaGuardia, New York, at
the end of a flight of 6
hours 18 minutes from
Los Angeles, a coast-tocoast record for transport
aircraft.
THIS DAY IN AVIATION

February 5
• 1951 — The United
States and Canada
announce the
establishment of the
Distant Early Warning
(DEW), the air defense
system that uses more
than 30 radar stations
located across the
northern portion of the
continent.
THIS DAY IN AVIATION

February 5
• 1962 — A Sikorsky HSS-2
"Sea King" of the United
States Navy sets a world
helicopter speed record of
210.6 mph, in the course
of a flight between Milford
and New Haven,
Connecticut.
Questions / Comments
Embry-Riddle Aeronautical University
Development of
Maintenance Programs
Chapter 2
Before the Wright Flyer…
Development of Maintenance
Programs








Introduction
Maintenance Steering Group (MSG)
Approach
Process-Oriented Maintenance
Task-Oriented Maintenance
Maintenance Program Documents
Maintenance Intervals Defined
Changing Basic Maintenance Intervals
Summary
Introduction

Two basic approaches to Maintenance



Process-oriented
Task-oriented
Difference between two:
 is the attitude toward maintenance actions
 the manner in which actions are assigned to
components and systems
Introduction

Process-oriented Approach



Hard time (HT)
On-condition (OC)
Condition monitoring (CM)
Introduction

Process-oriented Approach


HT and OC are for components
or systems that have definite life
limits or detectable wear out
periods (Table 1.1 – A, B, C) – pg 10
CM items are operated to failure
and failure rates are tracked to
aid in future prediction or failure
rate prevention (Table 1.1 – D, E, F)
Introduction

Task-oriented Approach


Uses predetermined
maintenance tasks to avoid
in-service failures
Redundancy and reliability
programs utilized
Maintenance Steering Group
Approach (MSG)



Began in 1968 (747) with reps from
Boeing's design and maintenance groups,
from the suppliers, airlines who desired to
purchase aircraft and the FAA.
6 working groups – structures, mechanical
systems, engine and auxiliary power plant
(APU), electrical and avionics systems,
flight controls and hydraulics, and zonal.
Used "bottom-up" review to determine
which process to use HT, OC or CM.
Maintenance Steering Group
Approach (MSG)

MSG-2 used: (pg. 17)


Systems and components; structures; and
engines
 Step 1 identify the maintenance or
structure items requiring analysis
 Step 2 identify the functions and failure
modes associated with the item and the
effect of a failure
 Step 3 identify those tasks which may
have potential effectiveness
 Step 4 assess the applicability of those
tasks and select those deemed
necessary
 Step 5 for structures only, evaluate initial
sampling thresholds
MSG-2 no longer used
Process-Oriented Maintenance

Hard Time (HT)


On-condition (OC)


is the removal of an item at a predetermined
interval (hrs, cycles, calendar time)
item will be checked at specific intervals (hrs,
cycles, or calendar time)
Condition Monitoring (CM)

monitors failure rates, removal rates etc. to
facilitate maintenance planning
Hard Time (HT)

Requires item be removed and either completely
overhauled, partially overhauled (restored), or
discarded before exceeding the specified interval


(calendar time, engine change, cycles, flight hours, specified
flights – over water etc..)
Items that can have an adverse effect on safety but no
maintenance check for that condition
 Rubber seals, bushing etc..
 Structural inspection, landing gear overhaul, and life
limited engine parts, mechanical actuators, hydraulic
pumps and motors, electric motors and generators
 Can be OC as long as not safety related…
On-condition (OC)

Requires item be periodically inspected or
tested to determine if item can continue in
service – overhaul, restore or replace





On-condition limited to continued airworthiness by
measurements or tests without doing a tear-down
inspection
Examples – tire tread and brake linings, scheduled
borescope inspections of engines, engine oil
analysis
Other include – Brake wear indicator pins
Control cables (measure for diameter, tension,
and broken strands)
Linkages, control rods, pulleys etc (measure for
wear, end or side play, or backlash
Condition Monitoring (CM)



Involves the monitoring of the failure rates,
removals, etc. of individual components or
systems that do not have a definite lifetime or
noticeable wear out period
CM components are operated until failure occurs
– unscheduled maintenance
FAA states regarding CM:






Item has no direct, adverse effect on safety
Must not have any "hidden function" (not evident to crew)
that could effect safety
Must be in condition monitoring or reliability program
Avionics and electronic components
Basic elements include – data on unscheduled
removals, maintenance log entries, on-board data
systems, shop findings etc. – can be used to
adjust HT and OC intervals
Only monitors failure not the condition of items
Task-oriented (MSG-3)



"Top-down" approach or "consequence of
failure" – safety driven
Used to identify suitable scheduled
maintenance tasks to prevent failures and
maintain the inherent reliability of the
system
Three categories:



Airframe systems tasks
Structural item tasks
Zonal tasks
Maintenance Tasks for Airframe
Systems








Lubrication
Servicing
Inspection
Functional Check
Operational Check
Visual Check
Restoration
Discard
Maintenance Tasks for Structural
Items

Environmental Deterioration


Accidental Damage


Climate or environment – may be time dependent
Result of human error or impact with an object
Fatigue Damage

Crack or cracks due to loading or stress
Inspections for Deterioration of
Structural Items

General Visual Inspection


Detailed Inspection


Visual exam that will detect obvious conditions or
discrepancies
Use of inspection aids, (i.e. mirrors, hand lenses)
may require surface cleaning and detailed access
Special Detailed Inspection

Use of Nondestructive inspection (NDI): dye
penetrant, high-powered magnification, magnetic
particle, eddy current
Zonal Maintenance Tasks


Ensures all systems, components, and
installations within a specified zone
receive adequate screening, security of
installation and general condition
Look, listen, and feel test


General visual inspection
Detailed visual inspection
MSG-3

Failure is assigned safety and economic
whether it is an evident or hidden failure

Fig. 2-2, Pg. 25 – Level One analysis

Fig 2-3, Pgs. 26, 27 – Level Two analysis
Maintenance Program Documents

Maintenance Review Board Report (MRBR)



Contains the initial scheduled maintenance program
for US certificated operators
Includes the systems and power plant maintenance
program, the structural inspection program, and the
zonal inspection program
Also includes aircraft zone diagrams, a glossary, and
list of abbreviations and acronyms
Maintenance Program Documents

Maintenance Planning Document (MPD)



Contains all the maintenance task information
from the MRBR report plus additional tasks by the
airframe manufacturer
Sorts tasks in various ways: letter check, hrs,
cycles and calendar time
Includes diagrams showing locations and
numbering of access doors and panels, aircraft
dimensions, planning for maintenance checks – to
include man-hour requirements
Monthly Maintenance Plan
• The Monthly Maintenance Plan is used to
identify the projected maintenance work
load such as inspections,
receipts/transfers, technical directive
compliance, etc.
• The Monthly Maintenance Plan provides
requirement data for aircraft maintenance,
SE material, manpower and training.
• The Monthly Maintenance Plan is under
the cognizance of the MO.
Monthly Maintenance Plan
1. Projected known operational commitments, including
number of flights, flight hours, and utilization goals.
2. Dates of scheduled inspections.
3. Date of receipt or transfer of aircraft.
4. Precision Measuring Equipment (PME) calibration
requirements.
5. Schedule of technical training.
6. Forced removal items.
7. Technical Directive Compliance (TDC) requirements.
8. Schedule of personnel for ejection seat safety check out
9. Schedule of pre-inspection meetings.
10. Current list of QA personnel
11. Dates of scheduled SE inspections.
12. Scheduled nondestructive inspection (NDI) requirements
Maintenance Intervals


Most intervals are standard but airlines
can create own intervals as long as the
integrity of the original task is maintained
or receive FAA approval
Transit Check – pre-flight and turn


48 hour Checks – "daily"


Visual, open/loose panels, fluid leaks
Wheels, brakes, fluid levels, hydraulic fluid
Hourly limit Checks – (100, 200, 250 etc.)

Engines, flight control systems
Maintenance Intervals

Operating cycle limit Checks


Letter Checks – (A, B, C, and D)


Tires, brakes, landing gear, airframe structures
Development of 777, MSG-3 eliminated checks
Changing Intervals



Hot, humid climates – more CC
Dry, desert climates – check for sand and dust
As aircraft age intervals for some items may
shorten while others may lengthen
Summary

Process-oriented and Task-oriented
approaches


MSG, MSG-2, and MSG-3





HT, OC and CM vs. scheduled, redundancy, and
reliability
Structures, mechanical systems, engine and APU,
electrical and avionics, flight controls and hydraulics,
zonal
Systems and components; structures; and engines
Straightforward logic approach; "How does failure effect
operation?"
Maintenance Documents – (MRBR and MPD)
Maintenance Intervals


Transit, 48 hr, hourly, cycles, Ltr Checks
Changing Intervals
Questions?