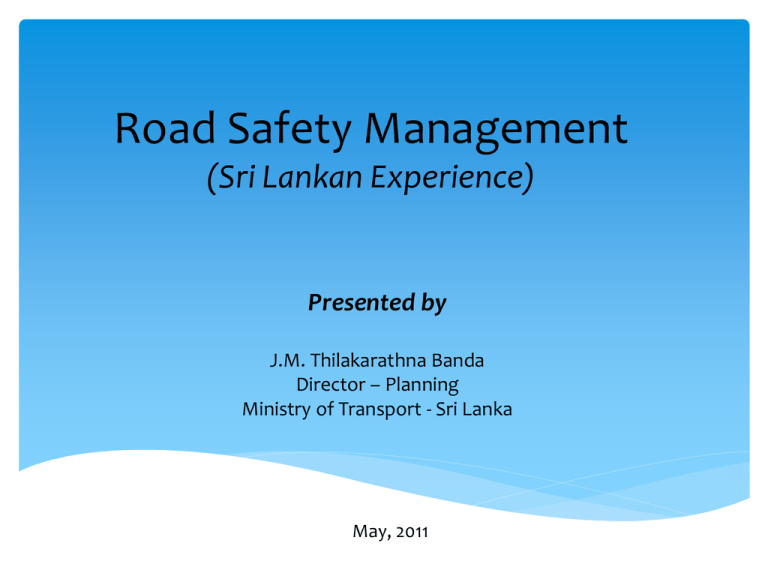 Road Safety Management
(Sri Lankan Experience)
Presented by
J.M. Thilakarathna Banda
Director – Planning
Ministry of Transport - Sri Lanka
May, 2011
Road safety
In recent few decades, increasing trends of road traffic accidents in world wide
has paved the way to nations to look into this issue severely.
 1.3 mn - deaths annually (more than 3000 each day)
 50% of these people are not travelling by a car
 90% road traffic deaths occur in low and middle income countries. These
countries claim less than 50% of registered vehicle fleet in the world
 RT injuries are among the three leading causes of deaths for people
between 5 and 44 years of age.
 UN general assembly has declared 2011 -2020 as the decade of action for
road safety
(Date source: Global plan for the decade of action for road safety 20112020, UN)
To prevent RTA in a country, an adequately funded lead agency and a national plan or
strategy with measurable targets are crucial. In view of the Global plan for the Decade of
Action for road safety -2011 -2020, Some of effective interventions are as follows:
 Incorporating road safety features into land-use
 Urban planning and Transport planning
 Designing safer roads and requiring road safety audits for new construction projects
 Effective speed management by police and through the use of traffic –calming
measures
 Setting and enforcing internationally harmonized laws requiring the use of seat belts,
helmets and child restraints.
 Setting and enforcing blood alcohol concentration limits for drivers
 Improving post crash care for victims of road crashes
 Public awareness programs for supporting the enforcement of legislative measures





Sri Lanka – Transport sector profile at a
glance
Length of Highways in Sri Lanka 100,000 Km approximately
Length of Rail lines
1449 KM
No. of Motor vehicles registered in 2007 3,125,794
No. of motor vehicles operated
2.2 mn
Annual growth rate of vehicles
6-8%
Classification
2 wheelers & 3 wheelers
- 63%
Motor cars
- 12%
Trucks
- 8%
Mini buses, Vans Less than 20 seats - 6%
Buses
- 3%
Other vehicles
- 8%
Market share of the public transport
 SLTB
 Private Bus
 Train
20% (Expected 40%)
37 %
04
 Motor bike & three wheelers 14
 Other private vehicles
25
Road Traffic Accidents – (Magnitude of the
problem in Sri Lanka )
Some figures 2000 - 2009
150 Accidents daily
21059 died
(5-6 lost of lives daily)
179894 injured
45922 seriously injured
Around 2300 people are killed annually
Around 25000 people sustain non-fatal injuries annually
Approximately 75% road accidents are due to human
errors
Death by Road user category
Drivers and riders
Pedestrians
Passengers
41%
33%
26%
During Last 30 years (from 1977 to 2007)
1,120,848
40,000
370,000
1,000,000
accidents were reported
peoples died
injured-out of which 68,440 seriously injured
vehicles damaged
Data source: Ministry of Health
Factors Influencing Traffic Accidents in Sri
Lanka
• Increase of traffic
(59% road accidents occur in western province within a
radius of 50 km from Colombo city center)
•
•
•
•
•
Unfavorable road conditions
Deficient systems and regulations
Errant driving
Errant pedestrians
Mechanical defects of vehicles
Road Safety Management in Sri Lanka
• Institutional framework
• Engineering solutions
• Education & Public awareness
Road Safety Management - Institutional Framework
Transport Policy- Road safety is a matter of great concern in
Transport policy in Sri Lanka.
Ministry of Transport -Involving with all matters pertaining to
safe and reliable passenger transport service in the country is
one of the main functions of the ministry. Hence road safety
has been identified as a shared responsibility at national,
regional, and local levels.
National Road Safety Secretariat - To improve the road safety
situation of Sri Lanka the Ministry of Transport and Highways
established the National Road Safety Secretariat (NRSS) in
1966.
Legal Framework
 Traffic Act-Regulations published in the Government Gazette
No.444/19 dated 13/03/1987 under Section 237 along with Section
164 of the Motor Traffic Act is the basis for providing traffic control
devices at present.
 These regulations were gazetted to introduce necessary
amendments to incorporate International Traffic Control Devices
agreed upon for adoption at the UN Conference on "Road Traffic"
held in VIENNA on 08/11/1968.
 The Traffic Control Devices that are being adopted in Sri Lanka are
those that were agreed at the Convention for adoption in the Asian
Region.
National Council for Road Safety - In 1999, the National Council for Road
Safety (NCRS) was established as per Motor Traffic (Amendments) Act No.
05 of 1998. NRSC is operating since 2004.
NCRS POLICIES
(1) Road safety to be given political priority
(2) Effective legislation to ensure maximum Road safety standards
(3) Strict enforcement of Road safety regulations
(4) Promote Road safety strategy for health promotion
(5) Motor vehicles to meet with safety standards
(6) Promote educational awareness and campaign program towards
Road safety
Key participatory Stakeholders of NRSC
Ministry of Transport
Ministry of Highways
Ministry of Education
Ministry of Provincial Council and Local government
Department of National planning
Department of Motor Traffic
Department of Police
National Transport Commission
University of Moratuwa
Sri Lanka Transport Board
Road Development Authority
National Transport Medical Institute
Urban Development Authority
Colombo Municipal Council
Insurance Board of Sri Lanka
The Ceylon Society foe prevention accidents
Automobile Association of Ceylon
Vision
"SAFE ROAD FOR ALL"
Mission
"TO PROMOTE A SOCIEITY FREE OF ROAD ACCIDENTS"
Objectives
Interact with Government and Non Government agencies on the National
Road Safety Policy
Develop and Enact comprehensive regulations to prevent road accidents
Technical and financial support to implement road safety policy
The coordination of activities with multi disciplinary organization to
promote road safety
A procedure for the implementation of economically, technically and
socially viable and environment friendly safety measures.
Main functions of NRSC
Maintain a data base on
vehicle population with composition
Traffic accidents
Local and international statistics on road safety
Maintain a library on the subject of road safety
Collate information and conduct research and surveys on related subjects
Assist researches on related subjects
Liaise with similar international institutions & share experience
Road Safety Management – Engineering Solutions
 Adoption of proper Traffic Control Devices is crucially considered in Road Safety
Management
Guiding the road users and thereby improve safety and efficiency of highways.
Enhancing the orderly movement of motorized, non-motorized, and pedestrian
traffic.
Maintain uniformity in application of traffic controlling measures.
 Development of Manuals on Traffic Control Devices for Sri Lanka
the
Road Development Authority (RDA) of Sri Lanka has been focusing attention on
need for a
manual of Traffic Signs and Markings since 1992.
First Manual on Traffic Control Devices was published in 1997, which was in
conformity with the stipulations given in the Vienna Convention.
to
Revision was carried out to the above Manual in 1999 paying particular reference
the proposed expressways.
Currently used Manual was published in 2003 through a continuous development
process, whilst maintaining the original sequence of presentation and ensuring the
provisions of the revised Vienna Convention of 1995.
Road Safety Audit is the main methodology adopted in Sri Lanka
for Selection of appropriate safety measures and RSA are conducted
- to examine the accident potential and safety performance
of a new road projects
- to identify safety deficiencies of an existing road, which
are not consistent with the road's function and use
Safe roads for all road users
- Improve the safety aspects of road design standard for
new
roads & effective improvements to existing roads
- carry out safety audits and remedial actions for all existing
roads to ensure minimum safety standard
- Providing parking facilities at strategic locations
- Parking management
Road worthiness vehicles
- Improve the standard for vehicle registrationEffective
inspection program for the inspection of roadworthiness
vehicles
Road Safety Management –
Education and Public Awareness
•
Disciplined road users
•
Continuous training of road safety personnel
•
Educational programs at schools
•
Public awareness campaign
•
Improved standard for training of drivers and
riders
•
Improve driving & riding skills
Success or failure ?
with rapid increase of motor vehicle fleet and consequently alarming
increase of RTA in recent few decades warns us , to rethink about RSM in
the country
• Commitment of authorities to ensure an effective road safety management
• Revision on achieving a strong results focus through their institutional
management
• Clear identification of: a lead agency/department; the core group of
Government ministries and agencies to be involved
• The core groups' roles and responsibilities defined
• high-level strategic review of performance
• definition of a long term safe system goal etc.
• Long-term governmental ownership, leadership and political commitment.
For a better future……
There are further areas to formalize concerning institutional
management functions such as;
Coordination
legislation
funding and resource allocation
promotion
monitoring and evaluation and
research and development and
knowledge transfer etc.
These functions should be delivered primarily by the
government agencies producing interventions with civil society
partnerships for successful results-focused intervention.
Parliament SELECT Committee
SELECT Committee was appointed recently for look
into the alarming increase of Traffic Accidents in Sri
Lanka. The committee provided guidance for
preparing a National road safety action plan was
prepared.
National Action Plan For road Safety
As per the guidance of the parliamentary Select committee
National road safety action plan was prepared .
In line with the Global plan for the Decade of Action for road
safety -2011 -2020, Strategic actions were formulated stand
on 5 pillars as follows:
•
•
•
•
•
Road safety Management
Safer road and mobility
Safer vehicles
Safer road users
Post crash responses
National Road Safety Conference – organized by the
Ministry of Transport with the assistance of World
Health Organization was held on 11th May 2011 in
Colombo .
The Conference was declared opened by His
Excellency the President of Sri Lanka.
UN decade of Road safety was launched officially in
Sri Lanka at the conference by the His Excellency, the
president.