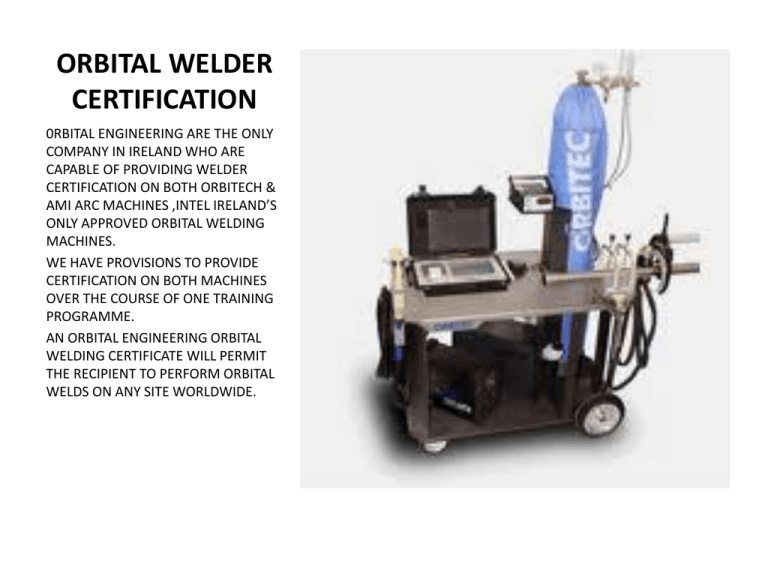 ORBITAL WELDER
CERTIFICATION
0RBITAL ENGINEERING ARE THE ONLY
COMPANY IN IRELAND WHO ARE
CAPABLE OF PROVIDING WELDER
CERTIFICATION ON BOTH ORBITECH &
AMI ARC MACHINES ,INTEL IRELAND'S
ONLY APPROVED ORBITAL WELDING
MACHINES.
WE HAVE PROVISIONS TO PROVIDE
CERTIFICATION ON BOTH MACHINES
OVER THE COURSE OF ONE TRAINING
PROGRAMME.
AN ORBITAL ENGINEERING ORBITAL
WELDING CERTIFICATE WILL PERMIT
THE RECIPIENT TO PERFORM ORBITAL
WELDS ON ANY SITE WORLDWIDE.
ORBITAL WELDING
PRESENTATION
ORBITAL ENGINEERING HAVE A
COMPLETELY MOBILE PRESENTATION
UNIT FULLY OPERATIONAL AND
CAPABLE OF PRODUCING SAMPLE
WELD COUPONS.
THIS PRESENTATION IS TARGETED AT
TECHNICAL INSTITUTES WHO ARE
CONTEMPLATING INITIATING A
ORBITAL WELDING CLASS.
THOSE WHO LOOK TO AVAIL OF THIS
SERVICE ARE COMPANIES ASSESSING
THE POSSIBILITIES OF UTILISISING
ORBITAL WELDING FOR THEIR
CONSTRUCTION PROJECTS.