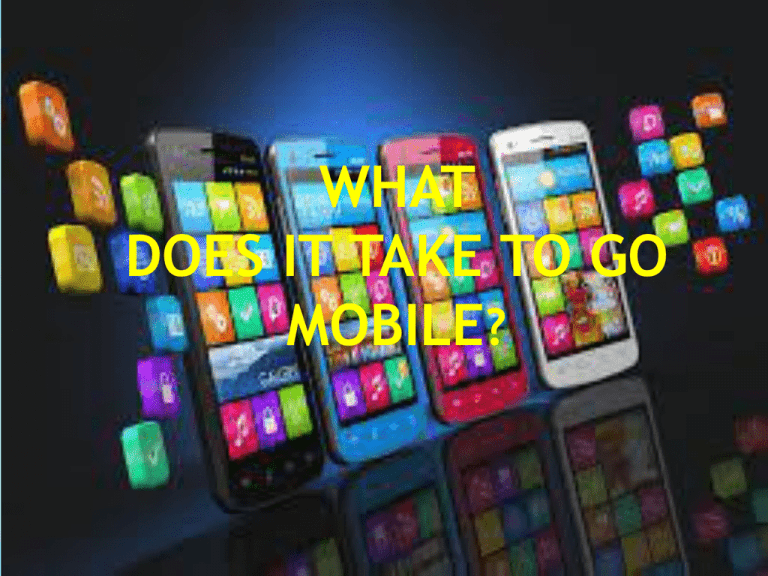 WHAT
DOES IT TAKE TO GO
MOBILE?
BACKGROUND
 By 2013, more people will use their mobile phones than
PCs to go online, and there will be one mobile device
for every person on earth by 2015.
 The number of Web searches performed on mobile
device has more than quadrupled since 2010.
 Customers expect, and even demand, to be able to use
a mobile device of their choice to obtain information or
perform a transaction anywhere and at any time.
Q1. WHAT MANAGEMENT, ORGANIZATION, AND
TECHNOLOGY ISSUES NEED TO BE ADDRESSED WHEN
BUILDING MOBILE APPLICATIONS?
MANAGEMENT
•What companies do?
•Whey do they start?
ORGANIZATION
•Do customers who use app handle a greater number of
transaction on their own and use the phone less?
•Do they spend more or less time researching products and
shopping from a mobile device?
TECHNOLOGY
•When people use mobile devices?
•How do they research the products?
Management
Organization
 Develop mobile apps
or a mobile Web
 Special features –
location based
services
 Multiple mobile
platforms to work
with – iPhone,
Android, Windows
Phone and Black
berry.
 Spent time to study
customers mobile
behavior.
 Looked at how
customers use their
mobile devices while
shopping and
researching brands
to find out how
consumers would
connect with its
brand through the
mobile channel.
Technology
 Select mobile
devices, operating
systems and
applications.
 Change to business
process or fail to
deliver benefits if
the mobile
application is not
properly designed
Q2. HOW DOES USER REQUIREMENT DEFINITION FOR
MOBILE APPLICATIONS DIFFER FROM THAT IN
TRADITIONAL SYSTEMS ANALYSIS?
 Customer wants to be able to look at a product on his or
her mobile device and see the same information on that
device as that person would obtain in the store, plus
some additional information, such as consumer reviews.
 Mobile technology can streamline processes, make the
device more portable, and enhance them with
capabilities such as touch interface, location and
mapping features, alerts, texting, cameras and video
functionality.
 The technology can also create less efficient processes
or fail to deliver benefits if the mobile application is
not properly designed.
Q3. DESCRIBE THE BUSINESS PROCESSES CHANGED BY
USAA'S MOBILE APPLICATIONS BEFORE AND AFTER THE
APPLICATIONS WERE DEPLOYED
 USAA launched its Web site in 1997 and went mobile ten
years later, with about 90% of its interactions with
customers taking place on these two self service
channels.
 In 2011, USAA handled 183 millions customer contacts
through the mobile channel alone, and expects the
mobile channel will its primary point of contact with
customers in the next two years.
 USAA has 100 dedicated mobile developers writing apps
for devices using the iPhone, iPad, and Android
operating systems, along with apps for the Blackberry
an Windows Phone 7.
CONT'S
 Anytime access to the most timely data, but they did
not want to be overloaded with unnecessary data so
they could focus on the "watch-up indicators"
considered crucial to the business
 Up-to-the-minute reports that they could see quickly
on their desktops.
 The data can be access via the Web or their mobile
devices.
 Enterprise-wide data that could be accessed and
shared easily across various business units and
functions to support the company's expansion
geographically and by product line.
WHAT PROBLEMS THE NEW SYSTEM DESIGNED TO
SOLVE?
 HPC's existing systems provided managers with reports
to guide their business decisions, but in many cases the
data in the reports were out-of-date and "sanitized".
 Individual managers were processing and manipulating
the data to make their departments "look better" to
senior management.
 The report data were also somewhat stale and
presented only on periodic basis.
WHAT WERE SOME OF THE MANAGEMENT ORGANIZATION,
AND TECHNOLOGY ISSUES THAT HAD TO BE ADDRESSED
BY THE NEW SYSTEM
ISSUES
MANAGEMENT
 Develop new business
process
 Monitoring the
implementation of
the new system.
 Allocation of human
and financial
resources
ORGANIZATION
 Conduct employees
training
 Change of corporate
culture
TECHNOLOGY
 Accessible of data
(via Web-based and
mobile devices)
 Determine the right
set of reports and
dashboards
 Extracting data from
SAP NetWeaver
Business Warehouse
Q2. TO WHAT EXTENT WERE "PEOPLE" PROBLEMS
AFFECTING MANAGEMENT DECISION MAKING AT H[C?
 In many cases, the existing HPC's systems provided outof-date and "sanitized" data in the reports. Moreover,
the reports data are presented only a periodic basis.
 It really affecting the management decision making
because the systems allow the individual managers to
process and manipulate the data to make their
departments "look better" to senior management.
 As a result, the decision making are made based on the
inaccurate, manipulated, inconsistent and untimely
data (based on last quarter's number).
HOW DID THE SYSTEM'S DESIGNERS MAKE THE SYSTEM
MORE "PEOPLE-FRIENDLY?
 In order to determine the right set of reports and
dashboards for HPC's executives, the information
systems team started by:
- asking the executives to list existing reports, and
- assess the usefulness of each reports
 Then, a highly intuitive Web-based user interface was
created to make the system very accessible and required
little training for users to use the system.
 The information systems team visited various
manufacturing plants to encourage users to start working
with the systems as well as had in-dept discussion with
executives about the system's benefits and how to use
it.
Q3. WHAT ROLE DID END USERS PLAY IN DEVELOPNING
HPC;S NEW SYSTEM
 User information requirements drive the entire systembuilding efforts.
 End user must have sufficient control over the design
process to ensure that the system reflects their business
priorities and information needs, not the biases of the
technical staff.
 End user of HP's played role to help the project
information systems department by providing them the
existing report that they already used.
HOW DID THE PROJECT TEAM MAKE SURE USERS WERE
INVOLVED?.
 Once HPC's project team determined the business
intelligence tools for the solution, its focus turned to
determining which data and reports were required by
the company's 200 high-level users of the new system.
 The team started by asking executives to list existing
reports they were already receiving and to assess the
usefulness of each.
 The list was cut to more manageable size and the
executives were asked if there were any additional
reports or data from which their organization groups
could benefit.
CONT'S
 The project team make sure the user are attended the
training on how to use the new system or to access data
and reports.
 To encourage users to start working with the system,
members of the information department conduct a
discussion with the user about the benefits as well as
how to use the new system.
 Information systems department also to run campaigns
to ensure that user are using the system with most
effective way.
WHAT WOULD HAVE HAPPENED TO THE PROJECT IF THEY
HAD NOT DONE THIS?
 The users involved are very important in developing
new systems to make sure that the information's or
users needs that was determined were fulfilled.
 If that is not happened, the new systems were plan to
develop might be failed and not achieved the
management objective.
 Eventually, the project might be 'white elephant' and
result in wasting of time and money as well.
Q4. WHAT OTHER STEPS DID HPC TAKE TO MAKE SURE
THE SYSTEMS WAS SUCCESSFUL?
 Phased approach – HPC used a phased approach in
implementing the new system. HPC waited until the
company was experienced with ERP software and
confident in its data quality and its data collection and
processing methods.
 Benchmarking – HPC CIO, Jong Pyo Kim also emphasized
the important of benchmarking with other companies in
the industry before designing and implementing an
executive-facing system. Most manufacturing will want
access to similar data and performance indicators.
Q5. WHAT TYPES OF SYSTEMS-BUILDING METHODS AND
TOOLS DID HPC USE FOR BUILDING ITS SYSTEM?
1. SAP BusinessObjects Dashboards
 SAP BusinessObjects is a drag-and-drop visualization tool
designed to create interactive analytics for powerful,
personalized dashboards based on SAP's BusinessObjects
business intelligence platform.
 BusinessObjects software can be used for performance
management, planning, reporting, query and analysis,
and enterprise information management, and provide
self-service access to data from database and Excell
spreadsheets.
CONT'S
2. SAP BusinessObjects Web Inteligence
 SAP BusinessObjects Web Inteligence is an ad hoc query,
reporting, and analysis tool that is used to create
queries or use existing reports, format retrieved
information, and perform analysis to understand trend
and root causes
Q6. WHAT WERE THE BENEFITS OF THE NEW SYSTEM?
HOW DID IT CHANGE THE WAY HONAM RAN ITS BUSINESS?
HOW SUCCESSFUL WAS THIS SYSTEM SOLUTION?
1. Timelier Decisions :
Reduces time needed to collect, process, and track
data for decision making. Supports faster decisions
with quicker and more thorough analyses. Delivers
timely information and various analytics to end users.
2. Personalized Delivery Of Information :
Provides option for Early Warning System of data alerts,
allow for differentiated or personalized delivery of
information for executives, managers, and front-line
employees.
CONT'S
3. Measurable Watch-Up Indicators Across All Business
Areas:
Ensures consistency of information and establishes
structure for global sharing of information, increases
business competitiveness through increased use of
global information systems.
4. Improved Accessibility:
Displays data via management cockpits, dashboards, or
widgets, provides unstructured details and causal
analysis, leverages visual graphics to improve
readability.
HOW DID IT CHANGE THE WAY HONAM RAN ITS BUSINESS?
 Executives not longer are limited to sanitized, stale
data in an outdated presentation format.
 Management discussions and decisions are based on
timely, consistent, and accurate company-wide data.
HOW SUCCESFUL WAS THIS SYSTEM SOLUTION?
 The system is very successful to solve the problems
occur at HPC.
 The system reduces the time required to collect,
process, and track the data, executive decision making
takes place more rapidly.
 HPC's information systems are now ready for global
information-sharing as the company expands.