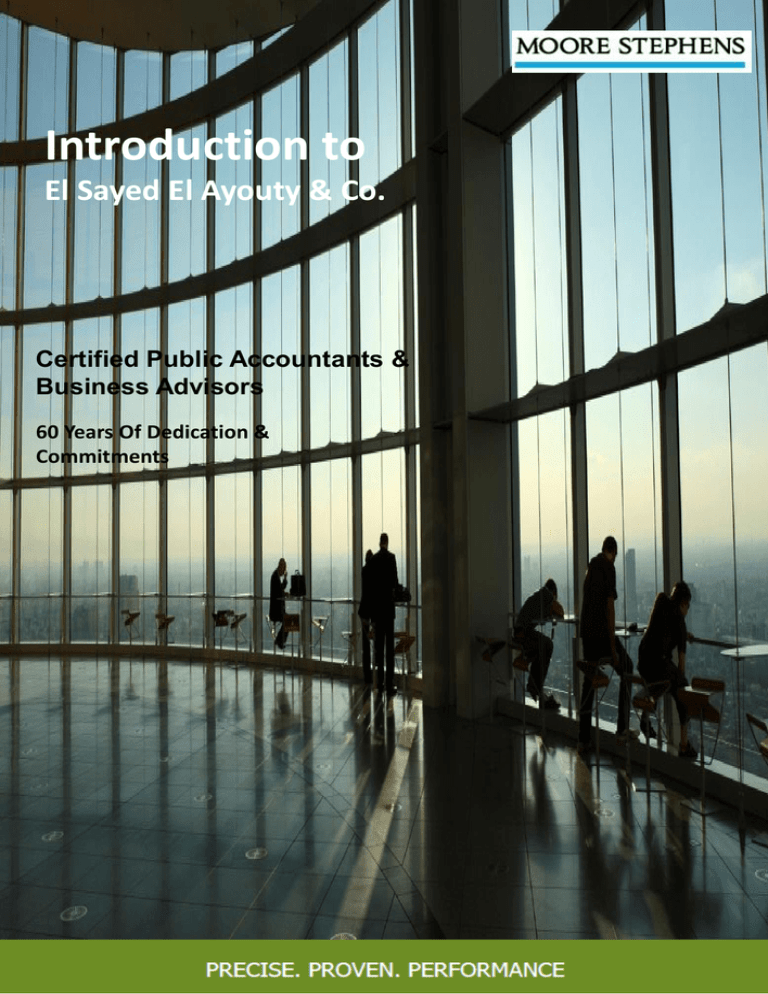 Introduction to
El Sayed El Ayouty & Co.
Certified Public Accountants &
Business Advisors
60 Years Of Dedication &
Commitments
El Sayed El Ayouty & Co.
El Sayed El Ayouty & Co. ("The Firm") is a member firm of one of the world's
leading accounting and consulting networks, Moore Stephens International
Limited.
We believe our strong presence in the local and international market, our historical
experience and professional team enable us to provide a responsive and efficient
service as you would expect.
The information provided in this brochure demonstrates our ability to provide you
with a quality service and makes you feel confident in choosing our firm.
We offer a highly professional service. In gaining a real understanding of individual
needs of each client we develop longstanding relationships and help to play a
significant role in the management of clients affairs over many years and indeed from
one generation to another.
The firm leads the way in the provision of the highest quality of personal services to
business and their owners to support them in creating and preserving wealth.
Mohammed El Ayouty
Managing Partner
2
About Moore Stephens International
North America
50 Firms
146 Offices
China
03 Firms
47 Offices
Europe
159 Firms
321 Offices
Middle East
Africa
15 Firms
18 Firms 27 Offices
22 Offices
Asia Pacific
17 Firms
42 Offices
Latin America
27 Firms
33 Offices
Vision
To be a leading, recognized and
highly regarded international
accounting and consulting
network and the first choice in
our chosen markets.
Australasia
18 Firms
29 Offices
Values
• Quality – no compromise
• Innovation in what we do and how we do
it
• Supporting the profitable growth of
member firms Honest, ethical and open
• Demonstrate our commitment to
member firms, their staff and their
clients
• Generate trust through integrity and
honesty
• Proactive and resourceful
• Responsible corporate citizens
Mission
To enable member succeed
through strong leadership of a
cohesive and well resourced
international network with a
top-down culture of quality.
• Engage with and encourage support in
the local communities
• Minimize impact on the environment
• Enjoy what we do
• Passionate and engaged
• Involved with our member firms and
their regions
3
About Moore Stephens International
Moore Stephens International Limited is a global accountancy
and advisory network with its headquarters in London.
Since Moore Stephens London was founded a century ago,
Moore Stephens International Limited has grown to be one of
the largest international accounting and consulting groups
worldwide. Today the network comprises 667 offices in 105
countries throughout the world, incorporating 27,081 people
and with fees of more than US$2.682 million. You can be
confident that we have the resources and capabilities to meet
your needs.
Managing audits and dealing with multi-jurisdictional tax
matters of multi-national operations is the core of our
business. The scope of our global client management extends,
therefore, beyond the delivery of compliance services to
advising on international business structures and tax planning
to minimize tax liabilities
World Statistics
Members and correspondents Countri
es
Firms
Offices Principal
s and
Staff
Fee
Income
US$m
Africa
7
18
22
688
26.2
Asia Pacific region
13
17
42
2,292
70.8
Australasia region
2
18
29
1,065
153.0
China region
1
3
47
5,909
276.7
Europe region
43
159
321
8,140
980.0
Latin America region
17
27
33
1,382
41.8
Middle East region
14
15
27
626
22.6
North America region*
8
50
146
6,979
1,111.0
105
307
667
27,081
2,682.1
Total:
4
Global Solutions
Moore
Stephens
International
member
firms' focus on excellence in business sectors &
their needs enables them to deliver practical,
commercial solutions to your own unique issues.
Sectors
• Commerce, Banking & Finance
• Insurance
Good advice benefits all businesses, so Moore
Stephens International members' clients come
from a wide variety of backgrounds. But, if one
feature characterizes them all, it's the dynamic
and complex nature of their financial interests
that span national boundaries and different
business sectors. That's why member firms
provide a depth as well as a breadth of
expertise, which is at the core of their strategy
to be the best in their chosen markets. They
achieve that depth by encouraging their people
to develop industry specific expertise.
• Property & Construction
• Manufacturing & Retail
• Maintenance and Service
• Leisure & Tourism
• Shipping & transport
• Government, Public Sector, Education
& Health
• Not‐for‐Profit
Services
• Audit & Assurance
• Corporate Finance
• Business Advisory
• Governance, Risk and Internal Audit
• Accounting and Forensic services
• Zakat and Taxation
5
About El Sayed EL Ayouty & Co.
Moore Stephens Saudi Arabia
The Firm was established in 1954 in Saudi
Arabia Registered with Ministry of Commerce,
under the license and is managed by four
licensed partners in Saudi Arabia.
Our firm focuses on providing professional
services marked with depth, technical
experience, and flexibility in meeting the
local, regional, and international business
requirements.
The Firm is one of the largest public accounting
and consulting firms in Saudi Arabia, having
offices in major cities in the Kingdom, Bahrain
and other member firms in GCC.
The firm employees over 150 highly qualified
professionals
specializing in the different
professional and consulting fields and other
services and holding various professional
certifications (CPA, SOCPA, CA, ACCA, ACMA and
CIA).
We work closely with Moore Stephens
International London, UK, and relies on its
international resources. This approach enables us
to combine the international experience with the
local knowledge to ensure our clients get the best
services.
Our staff is of diverse nationalities, natives and residents, and this enables us to maintain a high
level of expertise while ensuring that we have local and expatriate employees that posses a
completeness understating of the local environment.
6
Service Offerings
Audit & Assurance
Audit and Assurance
Assurance services and 'adding value' are not usually
viewed together, since the primary objective of an audit is
to provide an independent opinion on a company's annual
accounts.
We do not subscribe to this concept. we recognize the
commercial importance of providing assurance on business
controls so that there are no surprises. Equally, understand
the importance of providing advice to help clients develop
their business.
The key to a valuable compliance service is the strength of
the relationship between the client and the service team.
This enables us work to be thoroughly and accurately
planned and tailored to their specific needs.
As such, we can quickly identify risks as well as any areas
for potential improvement. We will through the
development of strong, long‐term relationships gain
understanding into what makes you successful. This means
we can feedback insights, improvements and intelligence to
senior management. The most important aspects of our
audit methodology are:
• A top down risk based approach,
• Clear and continuous lines of communication,
• Focused on business processes and internal
controls,
• Complaint with international standards of
auditing,
• Delivery on time,
• Value added services reporting and feedback,
• IFRS expertise,
• Adds value by identifying ways to enhance
performance and cost
• Reduction opportunities for the business.
7
Service Offerings
Corporate Finance & Advisory
Corporate Finance
Business Advisory
Whatever ambitions you have for your
business,
the firm's corporate finance
specialists can help you to achieve them. They
can provide specialist skills, practical
experience, know-how and objectivity to
assist you in your future plans, whether you
are looking to expand, merge or sell your
business. We can assist on a variety of issues,
including:
Whatever ambitions you have for your
business, our business advisory specialists
can help you achieve them. The Firm provide
the right skills practical experience,
know‐how and objectivity to assist you in
your future plans, whether you are looking
to expand, restructure, merge or sell your
business. We can assist on a variety of
issues.
• Identifying
purchasers;
acquisition
targets
or
• Due diligence investigations;
• Valuations;
• Assisting with negotiations;
• Preparing a business for sale;
• Public offerings
markets;
on
all
international
We partner with our clients in designing and
achieving performance excellence. We
develop customized tools and solutions
based on our clients' values and objectives.
We work as trusted business advisors and
focus on delivering exceptional value.
including:
• Business Process Definition;
• Policies and Procedures Preparation;
• The structuring and funding of ventures;
• Process Flow Design;
• Business recovery support.
• Diagnostic Reviews;
• Organization Structure;
• Feasibility Studies;
• Business Plans.
8
Service Offerings
Internal Audit & Accounting Services
Governance, Risk and Internal
Audit
The management of risk and implementation
of robust governance has become an
increasingly important aspect of global
business. While many companies are required
by law, regulations or stockholders to apply
these process and procedures, even more
elect to do so as a part of successful business
strategy. Our aim is to leverage our expertise
and sector knowledge to help organizations
meet their governance, risk and assurance
objectives. We provide internal audit, risk
advisory,
corporate
governance
and
regulatory advice and compliance which
includes the following;
• Assisting business in developing risk based
internal audit plans;
• Facilitating risk (self) assessments and
creating risk awareness;
• Establishing an internal audit function or
reviewing the quality of the existing
function;
• Co-sourcing and outsourcing of the internal
audit function;
• Assisting business in strengthening their
internal control structure;
• Transferring knowledge through workshops
and courses on Risk Management, Internal
Auditing, Corporate Governance & "In
control" issues.
Forensic Accounting
As business becomes ever more complex and
challenging, the size and complexity of disputes
makes it all the more important that they are
resolved as quickly as possible with the best
available outcome.
We offer experts with skills in a variety of areas
and experience in all types of dispute from all
over the world.
IT Audit
In today's competitive environment, businesses
increasingly depends on effective computer
systems. But the risks of failure can be high and
the ever increasing challenge is to harness the
power of IT whilst avoiding the risks. Whatever
your needs, our experience and expertise can
help you meet your IT challenges, ensuring that
it helps not hinders your business.
Accounting Services
We offer a wide range of accounting services
including:
• Recording and posting of entries;
• Preparation of trial balances;
• Reconciliation of nominal ledger accounts;
• Compilation
accounts;
of
monthly
management
• Preparation of annual financial statements in
accordance with IFRS;
• Monitoring
9
Service Offerings
Zakat & Taxation
Zakat and Taxation
There are zakat or/ and tax implications for
whatever we do decisions made today will
often affect your zakat or/ and tax burden in
the future. Our zakat and/ or tax experts
ensure you are not only aware of them, but
you achieve maximum efficiency in the short
and long‐term. They provide a range of local
zakat and/ or tax services and advice for
international clients, including:
• Zakat and tax planning and management
strategies;
• Preparation, translation, filing of zakat and
tax returns;
• Preparing clients for zakat and tax
inspections, assisting with the process and
obtaining zakat & tax assessments letters;
The fact that Moore Stephens internationally
has independent member firms in most major
cities and low tax areas enables the provision
of a comprehensive international tax planning
service.
This includes:
• International group and financing structures;
• Cross-border
pricing;
transactions
and
transfer
• International trading;
• Corporate residence;
• Trust and estate planning;
• Personal tax planning, consultancy and
structuring.
• Assisting with zakat and tax objections,
appeals;
• Assessing ,negotiating and finalizing the
zakat and tax;
• Obtaining zakat and tax certificate.
10
Sector Expertise
Good advice benefits all businesses, so our clients come from a wide variety of backgrounds. But,
if one feature characterizes them all, it's the dynamic and complex nature of their financial
interests that span national boundaries and different business sectors. That's why we provide a
depth as well as a breadth of expertise, which is at the core of our mission to be the best in our
chosen markets.
Commerce, Bank & Finance
Insurance
Financial and commercial institutions are
facing increasing demands in today's current
economic climate.
Ever-increasing demands from customers,
combined with relentless market pressure
and increased government regulation place
insurance companies in a tough position.
They must reduce the costs of doing
business while providing faster, more
accurate
claims
management
and
personalized customer service...not to
mention creating profits.
We have seen energized merger activity and
an expansion of financial service offerings
amongst lenders, brokerages, insurance
players and the investment industry as a
whole.
In a highly regulated environment there are
many challenges and increasing demands
made on the financial services industry, from
managing change to implementing effective,
robust compliance procedures.
The firm provide support and guidance to all
types of financial and commercial entities,
ensuring that regulatory requirements are
met through to implementing long term
growth strategies and everything in between.
Now customers are expecting better financial
services efficiently from a variety of channels.
We offer services to underwriters and
brokers, insurance regulators and claims
assessors. With their experience in providing
services to the insurance sector, it is
probably not surprising that they are viewed
as one of the leading advisors to the
industry.
So whatever area you are in, we have got the
expertise to help.
In a highly regulated environment under the
Capital Market Authority and Saudi Arabian
Monetary Agency there are many challenges,
from managing change to meeting new
risk‐based compliance procedures.
We provide support and guidance to all types
of financial and commercial entities, from
ensuring that regulations are met through to
implementing long‐term growth strategies,
and everything in between.
11
Sector Expertise
Property and Construction
In a changing industry, sensible advice is
required.
The real estate sector continues to develop to
meet the needs of customers and the
environment. There has been a noticeable
movement towards niche and specialist services,
with businesses focusing on their core
competences. This, coupled with the ongoing
success of private finance initiatives, has led to
more joint ventures and project-based work.
The firm know this because we are there,
providing integrated solutions to property
developers, investors and other sector
specialists.
Manufacturing and Retail
Manufacturers are facing more complex business challenges than ever before.
A global marketplace is demanding production of higher quality goods, faster response times and
lower costs while mass customization, outsourcing, and leaner margins are increasing competitive
pressure.
Retailers too are facing intense competitive pressure from newcomers to an already saturated
market. Traditional retail models are under fire from differentiators in price, product, and service
delivery methods. Purchasing dynamics are being revolutionized and successful companies are
learning to survive and thrive in the hostile new economy with intelligent retail strategies supported
by high-quality, timely market information.
We know this because we listen to our clients, building relationships to allow us to understand the
business, client sector and their objectives. It means we can provide real value to our clients.
12
Sector Expertise
Maintenance and Service
Shipping and Transport
The firm has been associated in audit, assurance
and related services for maintenance and service
sector since its inception and having experience
around 60 years. Our long association with this
sector has enabled us in unique position to
deliver unmatchable services to our clients.
In our long association with the shipping
industry, we have accumulated an
unparalleled depth of knowledge and breadth
of worldwide experience, and with member
firms in all of the principal shipping locations
throughout the globe, we are able to provide
a truly international service to clients.
Leisure and Tourism
The fast growing leisure sector incorporates a
number of mini-sectors, including hotels, sports,
restaurants, garden equipment, hobbies, outdoor
activities.
But one thing is constant: high levels of growth
and increasing competition means that
companies must have the ability to adapt quickly
while differentiating themselves from others in
the sector.
Clients range from single vessel owners to
large multinational corporations, and include
not only ship owners but brokers, ship
managers, port operators and logistics
businesses, with offices from Southampton to
Sasebo! But key to our success is people:
dedicated experts who have worked both for
and within the maritime industry.
We work with leisure and tourism clients to help
them to gain that all important edge over their
competitors. By understanding the key market
drivers they are able to provide advice that really
adds value.
13
Sector Expertise
Government, Public Sector,
Education and Health
The Firms public sector teams have extensive
expertise in public sector bodies. Through
practical hands-on experience, we have a
comprehensive and thorough understanding of
the issues that affect local and central
government, educational institutions and
health authorities.
Our experience is much wider than external
audit, and we have dealt successfully with:
• Value-for-money/best value auditing
Not – for profit
We understand that in the not-for-profit
sector, every penny is crucial and that best
value is an over-riding factor in decisionmaking.
We act for substantial charities,
foundations and professional institutions in
an audit and advisory capacity. Our
objective is to help clients prosper in a
highly competitive marketplace, and
services are therefore geared to helping
clients succeed.
• Performance indicator reviews
• Corporate governance and risk management
reviews
• Fraud irregularities and investigations
• Complaints investigations
14
Clientele Relationship
Our objective is to foster close working relationships
with our clients so that we are always aware of their
changing circumstances and hence able to be
proactive in delivering timely and relevant support
and advise.
15
Our Valued Clientele
We are partner in success
of our valuable clients,
following is the list of
major clients.
• Al Rajhi Banking &Investment Corporation.
• Al Aman Insurance And Reinsurance Brokers Company Ltd.
• United Cooperative Assurance.
• Jeddah Holding Co.
• Xenel Industries Limited (Holding) and its Subsidiaries & Affiliated Cos.
• Saudi Diyar Co. Ltd.
• Jamjoom Wescon Saudi Arabia Co. Ltd.
• Globe Marine Services Co.
• Ajil Financial Services Company.
• Hitachi Zosen Corporation.
• King Abdul Aziz Endowment Development Project Of the Holy Mosques
– Makkah
• Nesma Holding Co. Ltd. and its Subsidiaries & Affiliated Cos.
• Saudi Binladin Group
• Mohamed Binladin Company
• Mitsubishi Heavy Industries Ltd.
• Tabouk Cement Co.
• The Arabian Petroleum Supply. (APSECO) (Mobil)
• National Factory for Can Ends Ltd. (NAFCEL)
• Zahid Tractor & Heavy Machinery Co. Ltd.
• Al Yamama Cement Company
• Saudi Services and Operating Co. Ltd. (SSOC)
• Sheraton Hotel Jeddah & Makkah
• Marriott Jeddah Hotel
16
Contact Information
JEDDAH OFFICE
58 – AL Watan Al Arabi Street
Al Hamra District,
P.O. Box 780, Jeddah 21421
Kingdom of Saudi Arabia.
Tel: +966 12 669-3478
Fax: +966 12 6602432
jeddah@elayouty.com, jeddah.info@elayouty.com
www.elayouty.com
RIYADH OFFICE
Dabab Tower, 2nd Floor, Office no. 7,
Dabab Street,
Riyadh, Kingdom of Saudi Arabia.
Tel: +966 11 408-1801
Fax: +966 11 408-1836
Riyadh.info@elayouty.com
www.elayouty.com
AL-KHOBAR OFFICE
Bandaria Dist,
Back to Riyadh House Establishment,
P.O. Box 200, Al-Khobar 31952
Kingdom of Saudi Arabia.
Tel: +966 13 882-2193
Fax: +966 13 882-1973
Alkhobar.info@elayouty.com
www.elayouty.com
We believe the information contained herein to be correct at the time of going to press, but we cannot accept any
responsibility for any loss occasioned to any person as a result of action or refraining from action as a result of any item
herein. Printed and published by © Moore Stephens El Sayed El Ayouty & Co. (January 2013) Moore Stephens
International Limited, a company incorporated in accordance with the laws of England, provides no audit or other
professional services to clients. Such services are provided solely by member and correspondent firms of Moore
Stephens International Limited in their respective geographic areas. Moore Stephens International Limited and its
member firms are legally distinct and separate entities. They are not and nothing shall be construed to place these
entities in the relationship of parents, subsidiaries, partners, joint ventures or agents. No member firm of Moore
Stephens International Limited has any authority (actual, apparent, implied or otherwise) to obligate or bind Moore
Stephens International Limited or any other Moore Stephens International Limited member or correspondent firm in
any manner whatsoever. January 2013.