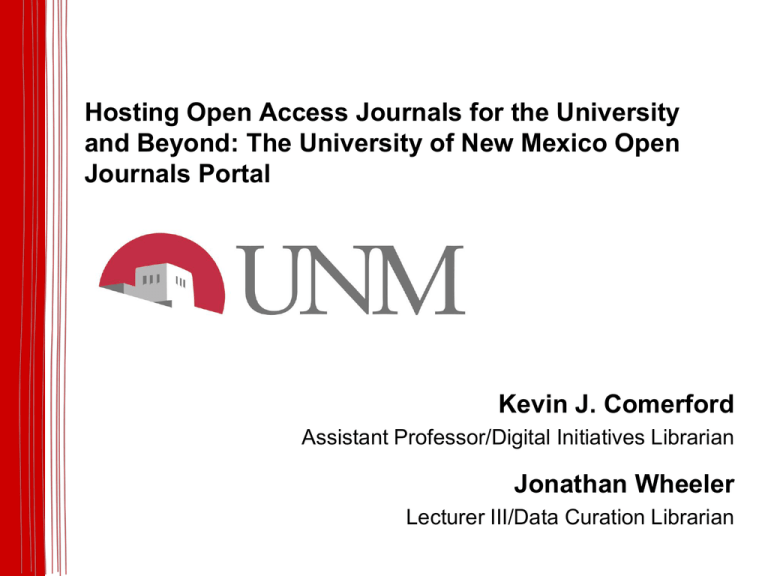 Hosting Open Access Journals for the University
and Beyond: The University of New Mexico Open
Journals Portal
Kevin J. Comerford
Assistant Professor/Digital Initiatives Librarian
Jonathan Wheeler
Lecturer III/Data Curation Librarian
UNM Open Journals Initiative
ejournals.unm.edu
 Early attempts using DSpace
 Project started Spring, 2010
 eScholarship team selected OJS/OCS
 Pilot Project 2010-2011
 Development 2011-2012
 Soft Launch Fall, 2012
UNM Open Journals Initiative
ejournals.unm.edu
 Hosted Journals
Arid: Journal of Desert Art, Design & Ecology
Himalayan Research Papers Archive
New Mexico Historical Review
New Mexico United Methodist Historical Journal
Wagon Tracks (Santa Fe Trail Association)
 Hosted Conferences
ISEA 2012 (Proceedings Submissions)
UNM Open Journals Initiative
ejournals.unm.edu
UNM Open Journals Initiative
ejournals.unm.edu
 Motivating Factors
Rising cost of print publication and distribution
Ongoing cost of ecommerce/website vendors
Evaluate online peer review and editorial workflows
Exploration of electronic distribution methods
Desire for better application features than provided in
institutional repository
Focus on publications that have:
 Significance to UNM
 Require financial or technical assistance
 Not covered by larger repository initiatives
UNM Open Journals Initiative
ejournals.unm.edu
 Project Sponsored by University Libraries
 Collaboration between Library IT & Scholarly
Resources Unit
 Hosting Services Provided by SRU:
Online Journal Setup and Configuration
Article/Issue Digitization and Conversion
Training and Documentation
University Bursar Payment Interface (Custom Dev.)
 Development services provided by PKP
Fee-Free Support Services
New Mexico Historical Review




UNM Sponsored & Funded Publication
Prestigious Southwest Historical Journal
Small Circulation (~700)
Maintains small but essential revenue stream from
subscriptions
 University Libraries investing in custom OJS payment
module
 Revenue stream stays at UNM
 Cost Savings to NMHR from ongoing external web and
ecommerce vendor fees
 Payment module can be repurposed to other journals
UNM Open Journals Initiative
ejournals.unm.edu
 Formal Launch January, 2013
 4 of 5 journals available now
 2 Journals, 1 Conference in Development
Finch Report Findings
 June, 2012 – Landmark Report
 "Open Access is the future of academic publishing"
 Focuses on access, not hosting issues
 Recommends Open Access Gold publishing model –
"Article Publishing Charges"
 Questions Remain for UNM & Similar Size Institutions:
 Funding Source of APCs?
 Would authors pay to publish in smaller academic journals?
 Are the Finch Recommendations Sustainable?
Open Access Sustainability Factors
Content
Production &
Costs
Editorial
&
Administrative
Costs
Audience
Usage &
Costs
Sustainability
Factors
Online
Hosting
Service Costs
Printing &
Physical
Distribution Costs
Open Access: Content Costs
(Research, Writing, Submission & Peer Review)
Average UNM Library Faculty
Description
Amount
Article Research & Writing –
1 Article (10% of time)
$7,150
Total
$7,150
Open Access: Publishing Costs
(Editorial, Print & Online Distribution)
UNM Small Academic Journal:
(Print and Online Distribution)
Description
Amount
Staff Salaries
$38,122
Graduate Students
$34,500
Printing
$10,000
Shipping
$ 8,000
eCommerce & Website Vendors
$ 3,500
Total
$94,122
FY2013
Cost Savings
Open Access: Hosting Costs
UNM Libraries:
OJS/OCS/OMP Hosting (5 Journals/1 Conference)
Description
Amount
Project Staff (2 @ 10%)
$13,715
IT Systems Manager (5%)
$ 3,991
Est. Infrastructure Costs
(Virtualized Servers)
$ 2,000
Development (FY2012-13)
$ 2,000
Total
$21,706
Hosting Cost per Journal/Conference: $3,617
Open Access: Who Pays?
Roughly Estimated
Annual Costs – 1 Journal Title
University
University
Subscribers
Ind. Scholars
University
Subscribers
Funding Source
University
Libraries
Expense
Online
Hosting
Services
($3,617)
Printing
and
Mailing
($18,000)
Editorial &
Administration
($72,600)
Content
Production
28 Articles
($202,000)
University Libraries
Open Journal &
Open Conference System
Clients
Nepal Study Center
Dedicated to fostering policy research,
international partnerships, collaboration
and knowledge sharing focused on
development, democracy, conflict and
environment as they pertain to low
income economies.
Broadly focused on Himalayan and
South Asian countries.
Nepal Study Center
http://nepalstudycenter.unm.edu/
NSC OJS Home
NSC Need
The Himalayan Research Paper
Archive
Working paper series.
International and interdisciplinary
collaborations.
Streamlined user management and
submission process.
Content rich and quickly customized
interface.
Annual Working Papers
Flexible Scheduling
Role Based Landing Page
Customizing the Content
Customizing the Look
Creating a Theme
Customizing the Template
Inter-Society for the Electronic Arts
International
ISEA: "An international non-profit
organization fostering interdisciplinary
academic discourse and exchange
among culturally diverse organizations
and individuals working with art,
science and technology." (http://www.isea-web.org/)
2012 Conference Held in Albuquerque
Artistic Director UNM Faculty
ISEA 2012 Need
Symposium includes performances,
tours, panels, lectures.
Conference proceedings to include
essays and panel abstracts.
Published on symposium website.
Copyediting workflow needed.
Centralized communication, revision tracking
and auditing.
Additional Features
Website and conference setup
managed separately.
Flexible scheduling of conference
events and website content.
Granular user management.