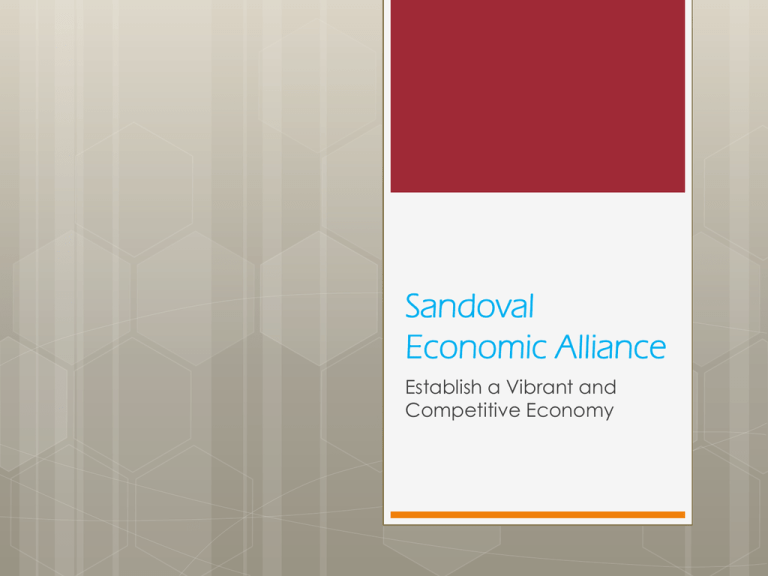 Sandoval
Economic Alliance
Establish a Vibrant and
Competitive Economy
Region
Regional Corridors


Rural

North 550 corridor - Cuba, Zia Pueblo, Counselor,

Jemez Valley corridor – Jemez Pueblo, Jemez Springs,

North I-25 corridor – San Felipe Pueblo, Santa Domingo
Torreon, La Jara
Ponderosa, San Ysidro
Pueblo, Algadones, Cochiti Lake, Pena Blanca
Urban




Rio Rancho
Corrales
Bernalillo
Placitas
Sandoval Economic Alliance









What occurred?
Who are the principals?
Why are we doing this?
Who are we targeting?
What is our timeline?
What is economic development?
What is an economic based job and how
many do we need?
How are we different?
What is next?
What occurred?








There remained a need for an economic development organization.
The existing organization could no longer service incoming qualified
leads and relations with the public and private sectors had become
strained.
Both the County and the City of Rio Rancho continued receiving leads
from companies looking to expand or relocate plus there was a need to
retain the companies already here.
The County engaged an independent contractor to produce an
assessment of what needed to be done to establish and economic
development company.
The Economic Development Assessment Strategy (EDAS) was the result
of that contract.
This assessment detailed what should be included in the business plan,
who should be involved, what to achieve, how many jobs were needed
to get back to full employment and provided a matrix for lead
generation.
It was the thought of both the City and the County that the private
sector could act much quicker than the public sector.
Time was of the essence.
Who are the principals?














Joe Sierra – Chairman (Century Bank)
JR Allison – Chair Elect (Old Republic Title)
Jo Ann Newton – Treasurer & Finance Committee Chair (PNM)
Perry Bendicksen – Board Development Committee Chair (Rodey Law
Firm)
Mick Skolnick – Public Relations Committee Chair (Excalibur Realty)
Jeanie Springer – Board Member (Springer 5 Investments)
Jim Easley – Board Member (US Bank)
Gary Housley – Board Member (Don Chalmers Ford)
Pierce Runnels – Board Member (Geobrugg)
Brian Brichford – Board Member (HP)
Liz Shipley – Board Member (Intel)
Phil Rios - Board Member (Sandoval County, County Manager)
Keith Riesberg – Board Member (City of Rio Rancho, City Manager)
Antoinette Vigil – Board Member (State of New Mexico)
Why are we doing this?
 The
region needs to replace jobs lost and
return to full employment.
 There continues to be interest from
companies with a need to expand or
relocate.
 The region offers multiple tracts of land
that are both private and public that can
be developed for plug and play.
What is the timeline and
planning horizon

First 90 days









Operational organization
Continuation of transition
Conduct national President/CEO search
Increase board members
Marketing and sales
Business retention and expansion
Sales matrix
Support from private sector
Product development
What is an economic based
job and how many are
needed?




Economic based jobs are those where the goods
and services produced are sold to or paid for by
individuals or organizations outside the jurisdiction.
We need to create 10,000 jobs over 10 years to
replace jobs lost over the past 7 years.
These economic based jobs are needed to make
up for the jobs lost during the recession, support
future population growth and replace jobs lots
through attrition.
Of the 10,000 jobs required 8,900 are required in
urban areas and 1,100 in rural areas.
Who are we targeting?










Back-office and Tele-service Centers – 3,500 Jobs
Health and Social Services – 2,500 jobs
Manufacturing – 2,500 jobs
Independent – solo work – 800 jobs
Agriculture – 100 – 300 jobs
Integrated IT and Cyber – 200 jobs
Digital Media – 200 jobs
Energy and Extraction – 50 – 100 jobs
Visitor Driven Services – 100 jobs
Transportation and Warehousing – 150 jobs
10-Year Need: 10,000 Economic Base Jobs
SEA Target: 700 Economic Base Jobs/Year
(30% of jobs are created organically)
What is the current state*?
Top cities (3,292 Job Postings) - YTD 2014
0
RIO RANCHO, NM
BERNALILLO, NM
CORRALES, NM
CUBA, NM
PLACITAS, NM
JEMEZ SPRINGS, NM
SAN YSIDRO, NM
COCHITI PUEBLO, NM
PENA BLANCA, NM
JEMEZ PUEBLO, NM
ALGODONES, NM
SANTO DOMINGO PUEBLO, NM
COCHITI LAKE, NM
REGINA, NM
PONDEROSA, NM
COUNSELOR, NM
LA JARA, NM
500
1,000
1,500
2,000
2,500
2,295
429
219
81
54
38
30
27
23
22
21
18
11
9
6
5
4
* Source: Burning Glass Market Insight
What is the current state*?
Top Occupations (O*Net Codes) - YTD 2014
0
Heavy and Tractor-Trailer Truck Drivers
Registered Nurses
Medical and Health Services Managers
Customer Service Representatives
Retail Salespersons
First-Line Supervisors of Retail Sales Workers
Sales Representatives, Wholesale and Manufacturing, Except…
Licensed Practical and Licensed Vocational Nurses
Education Teachers, Postsecondary
Maintenance and Repair Workers, General
Combined Food Preparation and Serving Workers, Including Fast Food
Nursing Assistants
Secretaries and Administrative Assistants, Except Legal, Medical, and…
Special Education Teachers, All Other
Middle School Teachers, Except Special and Career/Technical…
Office Clerks, General
First-Line Supervisors of Food Preparation and Serving Workers
Light Truck or Delivery Services Drivers
Medical Assistants
General and Operations Managers
Software Developers, Applications
Clinical Psychologists
Occupational Therapists
Physical Therapists
Waiters and Waitresses
100
200
300
280
239
108
100
98
79
68
64
55
49
44
38
35
35
32
32
32
31
30
29
26
26
25
24
24
* Source: Burning Glass Market Insight
What is the current state*?
Education and Experience – YTD 2014
High school
8+ years of
experience
5 to 8 years of
experience
2 to 5 years of
experience
Less than 2 years of
experience
Post-secondary or
Associate's degree
Bachelor's degree
Graduate or
professional degree
0
100
200
300
400
500
* Source: Burning Glass Market Insight
What is our perspective on
economic development?




Growing the economy faster than the
population.
Providing economic based jobs that produce
product and deliver services that are
exported from the area – drive the multiplying
effect.
Product Development - Build/grow available
assets (land/buildings, infrastructure) and
capacity (infrastructure, workforce, capital).
Develop and work through alliances and
partnerships.
How are we different?






We are promoting the region and all of its assets.
We are partnering with other EDCs and business
organizations.
We are partnering with State and local
municipalities.
We are including retail support in our scope.
We will be strategic about integrating education,
workforce development and talent-attraction in
our job-creation strategies.
We will be prepared to innovate a new spectrum
of programs and initiatives to meet the challenges
of this new era.
What is next?
 We
ask for your support.
 We ask for your input.
 We ask for your expertise
 Get involved!
 Ask us for assistance.