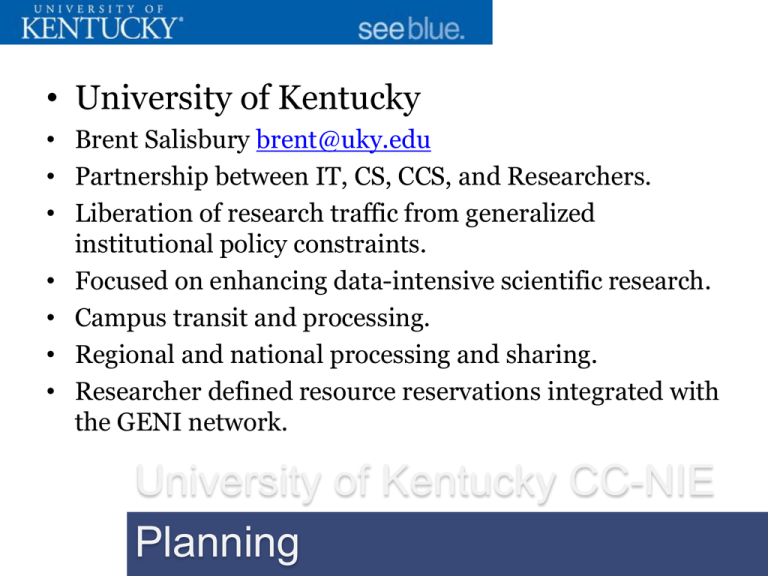 • University of Kentucky
• Brent Salisbury brent@uky.edu
• Partnership between IT, CS, CCS, and Researchers.
• Liberation of research traffic from generalized
institutional policy constraints.
• Focused on enhancing data-intensive scientific research.
• Campus transit and processing.
• Regional and national processing and sharing.
• Researcher defined resource reservations integrated with
the GENI network.
University of Kentucky CC-NIE
Planning
Pre-Grant: UK Network Today
KyRON / Louisville MX960
KyRON / Lexington MX960
Legacy Path
State R&E network I2 connector
Internet2
KyRON UK POP
Existing Campus Network
UK Internet POP Routers
Campus Edge Firewall
UK MPLS Backbone Core
UKIT & Computer Science Buildings
Chem/Physics Building
UK Data Center
Networks
KyRON / Louisville MX960
Legacy Path
KyRON / Lexington MX960
SDN Path
State R&E network I2 connector
KyRON UK POP
Internet2
Existing Campus Network
NSF Funded Infrastructure
UK Internet POP Routers
-Converged hybrid
Core native/SDN
At least one GENI rack
per block of buildings.
All circuits are 10Gbps
Campus Edge Firewall
(Vendor code
dependent)
UK MPLS Backbone Core
-Overlays are
the alternative
solution.
Stitch OF islands with Vlans
or L2 Pseudowires Through Existing Core
GENI Rack
GENI Rack
GENI Rack
IT & Computer Science Buildings
Chemical/Physics Building
UK Data Center
Inside of an SDN "Island"
•
•
The network infrastructure objective is
to provide both OpenFlow forwarding
and legacy packet forwarding via the
FIB in the same physical network.
If code and/or hardware support is not
available for the existing hardware in
the campus core, path isolation will be
done with L2 Vlans and L3
MPLS/VPNs.
•
OF Controller(s) and GENI racks are
distributed in each switch block.
•
Hardware from the distribution down
will be replaced if it cannot be
retrofitted with new software with OF
support.
• Hybrid Forwarding logic:
1. IF: there is a match in the OF pipeline
on the packet-in then; match + action.
2. Else: No match is found in the
controller from the packet-in event, the
flow is passed to the "normal/local"
FIB for L2/L3 packet forwarding via
the native FIB.
OpenFlow Path to Internet2 Stitched via KYRON
Link Placement
Dependent on OF
SW Availability
in the core
OpenFlow or L2 Path to
Lateral UK OF Islands
Campus MPLS Core
OF Controllers
and/or GENI
GENI rack in each
SDN Block (3 Total)
All hosts including non-research
have SDN paths available.
GENI Research, Faculty and Staff Contacts
•
Network Integration Contacts
– Brent Salisbury brent@uky.edu
– Cody Bumgardner cody@uky.edu
– Lowell Pike pike@netlab.uky.edu
•
•
•
•
GENI Research Projects: The INSTOOLS, Shadownet, and GEMINI
projects are developing instrumentation and measurement tools for GENI
Educational Use: GENI is being used in our networking and operating
systems courses.
Faculty: James Griffioen and Zongming Fei.
Key Research Collaborators:
–
–
–
–
–
–
–
–
–
–
–
–
Vincent Kellen
James Griffioen
Kenneth Calvert
ZongMing Fei
Nathan Jacobs
Jinze Liu
Terrence Draper
Eric Grulke
Kei Fei
Mary Molinaro
Subba Palli
Isaac Shlosman
Senior Vice Provost
Computer Science
Computer Science
Computer Science
Computer Science
Computer Science
Physics
Chemical and Material Engineering
Lui Physics
University Libraries
Entomology
Physics and Astronomy
Slide)
•
"I think we'll see a Balkanization where the traditional SDN interface will be more suited for research
and educational type uses, and where applications like network virtualization are customer and
product focused," --Martin Casado
•
GENI Racks:
•
On or coming to market Cisco, IBM, HP and Dell. HP racks are deployed today.
•
Edge Hardware:
–
–
–
–
–
•
Distribution:
–
–
–
–
–
–
–
•
10Gb Uplinks.
OpenFlow v1.0 agent.
Hybrid OF_local and/or OF_normal support.
Native FIB and Flow table pipeline interaction is vital for quality hybrid support.
LSR Roadmap Support
Candidate HW Platforms – Juniper MX, Brocade MLX and existing Cisco 6500.
Whitebox PE nodes are attractive but unrealistic within 1H 2013.
KY Regional Network and I2 Connector:
–
•
POE – POE limits hardware vendor selection greatly. Most OF 1U enabled switches are Trident chipset
based TOR switches missing POE.
Non-POE switches are only candidates in the Data Center.
OpenFlow v1.0 agent.
Candidate HW Platforms: HP, Pica8, Cisco hardware(leverage existing 6509), (Dell still stealth split-data
plane), Brocade and Juniper. Hardware reviews begin in January 2013 since many announcements are
slated for Q1.
Track VC startups as their products become GAin 2H2013. Particularly data center and Optical with
hardware and channel strategies. Plexxi, Adara, Plumgrid.
Openflow enabled Junos image for RON nodes. Junos 12.0 has a beta image 1Q2013 that is GA in Q4.
Controllers/SW - Needs Research for GENI Integration:
–
–
–
Candidate OF controllers: Cisco Alpha, HP Q1, Big Switch Q1, Floodlight- Open Source, RYU (NTT).
NOS – Open vSwitch as OVSDB firms and Vmware control plane strategy is articulated.
OVS is the base of many vendor OF agents. OVS v1.3 support is in progress.