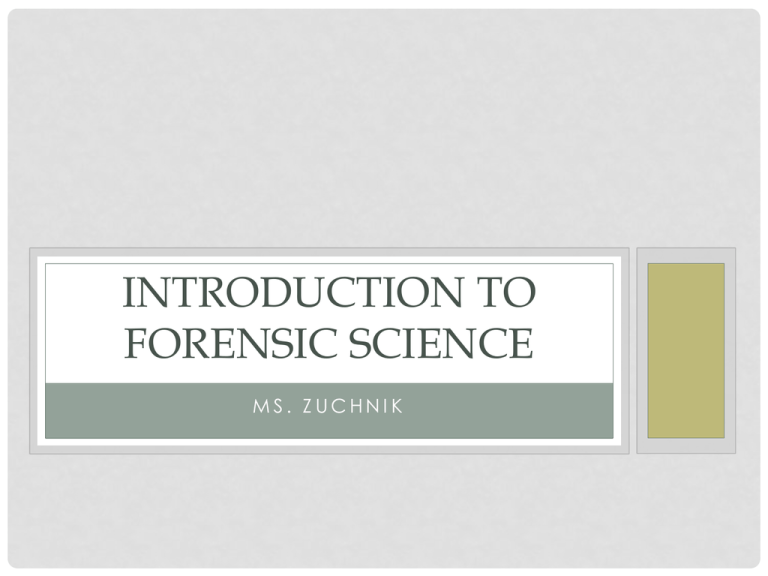 INTRODUCTION TO
FORENSIC SCIENCE
MS. ZUCHNIK
WHAT IS FORENSIC SCIENCE?
• https://www.youtube.com/watch?v=_58XsN6XJWQ
WHAT IS FORENSICS??
• In its broadest definition, forensic science is the
application of science to criminal and civil laws.
• The goal of this class is to show how science plays a
crucial role in criminal justice
• Forensic science owes its origins to individuals such
as Bertillon, Galton, Lattes, Goddard, Osborn, and
Locard, who developed the principles and techniques
needed to identify or compare physical evidence.
HISTORY
• Roots reach back to the third century
• Early Developments
• Third century China, a report Yi Yu Ji reported how a coroner solved a
murder case
• Woman suspected of killing her husband and burning the body
• This type of forensic 'science' was not heavily practiced that early
HISTORY
• Twentieth-Century Breakthroughs
• Edmond Locard pioneered the crime lab
• Locard's Exchange Principle—states that when a
criminal comes in contact with an object or person, a
cross-transfer of evidence occurs.
HISTORY
• Mathieu Orfila—the father of forensic toxicology.
• Alphonse Bertillion—devised the first scientific
system of personal identification in 1879.
• Francis Galton—conducted the first definitive study
of fingerprints and their classification.
• Leone Lattes—developed a procedure to determine
blood type from dried bloodstains.
• Calvin Goddard—used a comparison microscope to
determine if a particular gun fired a bullet.
• Albert Osborn—developed the fundamental
principles of document examination.
HISTORY
• Walter McCrone—utilized microscopy and other
analytical methodologies to examine evidence.
• Hans Gross—wrote the first treatise describing the
application of scientific principles to the field of
criminal investigation.
• Edmond Locard—incorporared Gross' principles
within a workable crime laboratory.
• Sir Alec Jeffreys—developed the first DNA profiling
test in 1984.
THE CRIME LAB
• Crime labs are facilities specifically dedicated to forensic
analysis of criminal evidence
• History of Crime Labs in the United States
• The oldest forensic lab in the US is with the LAPD created in 1923
• In 1932 the FBI organized a national laboratory offering forensic
services
• This lab is now the largest in the world performing over a million
examinations a year
THE CRIME LAB
Why have we seen growth in crime labs?
• Supreme Court decisions in the 1960s forced police to be MORE secure
with their evidence
• Modern technology has provided forensic science the tools it needed to
grow and be more credible
• Also there has been an increase in crime rates
• Drug-abuse increasing
• DNA profiling technology increasing
THE CRIME LAB
THE CRIME LAB
• There are 4 major federal crime laboratories
• The FBI Lab mentioned earlier
• The DEA labs focusing on drug seized in violation of federal laws
• The BATFE or Department of Justice analyze alcohol, firearms, and tobacco
regulations and laws
• US Postal Inspection Service- criminal investigations with mail
THE CRIME LAB
• Services of the Crime Lab
• There is wide variation due to
• Variations in local laws
• Different capabilities and functions of the organization for which the lab is
attached
• Budgetary and staffing limits
• Many crime labs solely process drug specimens
THE CRIME LAB
• Basic Services Provided by Full-Service Crime Laboratories
• Physical science unit  principles and techniques of chemistry, physics,
and geology use chemical tests and modern analytical instrumentation to
examine drugs, glass, paint, explosives, and soil
• Biology unit  biologists and biochemists performing DNA profiling
THE CRIME LAB
• Firearms Unit  examines firearms, discharged bullets, cartridge cases,
shotgun shells and ammunition
• The basic principles of firearm examinations are also applied here to the
comparison of marks made by tools
• Document examination unit  studies handwriting an typewriting on
questions documents, also may analyze paper or ink
• Photography unit  examines and records physical evidence. Prepares
photographic evidence for courtrooms
THE CRIME LAB
• Optional services provided by full-service crime labs
• Toxicology unit  examines body fluids and organs to determine
presence or absence or poisons and drugs. This is frequently done by the
medical examiner's office
• Latent fingerprint unit  examines evidence for prints
• Polygraph unit  many times found in the law enforcement, done by
criminal investigator, though sometimes in labs
THE CRIME LAB
• Voiceprint analysis unit  specialize in voice identification, look at a
graphic representation of a voice
• Crime-scene invesigation unit  specially trained personnel to collect
and preserve physical evidene to be processed at the lab
• Other Forensic Science Services
• Forensic pathology, forensic anthropology, and forensic entomology
THE CRIME LAB
• Forensic psychiatry  looks at human behavior and legal proceedings,
used in both civil and criminal cases
• Forensic odontology  dental evidence, like identifying a body, or bite
marks
• Forensic engineering  failure analysis, accident reconstruction, and
causes and origins of fires or explosions
• Forensic computer and digital analysis  identifying, collecting,
preserving, and examining info from computers or cell phones….etc.