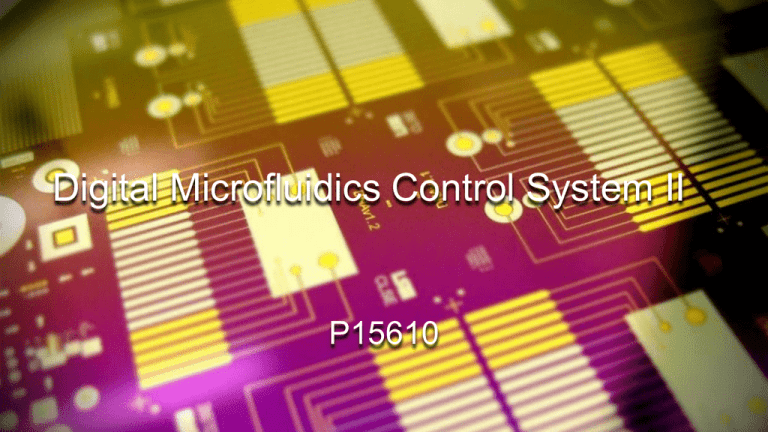 Digital Microfluidics Control System II
P15610
Agenda
● Review
o Problem Statement
o Customer Requirements
o Engineering Requirements
o Risk Assessment
● Market Comparison
● Functional Decomposition
● Morphological Chart
● Concept Selection
● System Architecture
● Feasibility Analysis
● Project Plan
Problem Statement
Current state - The current control system is not self contained
and uses a class AB amplifier which makes the system large and
nonmodular.
Desired state - A fully enclosed control system that efficiently
operates the DMF chip while providing accurate feedback.
Project Goals - Make key improvements to functionality of control
system, and complete all assigned deliverables.
●
●
Repeatable, consistent droplet motion.
Durable, lightweight, modular design.
Constraints - Use provided DMF chip, control fluid droplets using
electrowetting, use DI water as test fluid, ensure compatibility
with peripheral hardware and GUI.
Customer Requirements
Engineering Requirements
Risk
Assessment
Market Comparison
Parameters
DropBot
NeoPREP
Capacitance Precision
~5pF
Not Specified
Droplet Speed Range
0-70mm/s
Not Specified
Impedance Precision
Not Specified
Not Specified
$1500
$150,000
Portability
Contained
Not Portable
Size
1'x1.5'x1'
5'x5'x5'
Cost
Market Comparison
DropBot
NeoPREP
Sandia Digital Microfluidics Hub
Functional Decomposition
Morphological
Chart
Concept Selection
Oscillator and Demultiplexer
Temperature range:
-10C to 60C
Cost:
$1.00 each
Frequency:
100 kHz+
Size:
Diminutive
Concept Selection
Miniature Circuit Breaker
Trip conditions:
5A; 240V
Cost:
$18.00
Size:
Deck of cards+
Concept Selection
Server Rack
Weight:
2.4 lbs
Cost:
$60.00
Size:
~Toaster oven
Concept Selection
Mechanical Heat Sink With Fans
Airflow (HS/fan):
55/30 ft3 /min
Cost (HS/fan):
$45.00/$4.00
Weight (HS/fan):
1.4 lbs/<1 lbs
Size (both):
Deck of cards +
System Architecture
Feasibility Analysis Capacitive Measurements
Capacitive sensor circuit
● Circuit should be able to
measure 0.01pF change in
capacitance
● Sampling Frequency = 4MHz
● Requires a comparator
● Inexpensive (~$3.00)
Example Circuit
Feasibility Analysis - Amplifier
Amplifier Requirements
Input AC Voltage
~117 V
Input AC freq.
60 Hz
Peak Output
Voltage
170 Vrms
Capacitive Load
10 nF
Cut off frequency
100 kHz
Voltage gain
~48 dB
Input Resistance
20 kΩ
Ambient Temp.
25 C
-
Requirements are based off
the amplifier used in the
previous project.
-
The current design will use
two cascaded common
emitter BJTs with a crystal
oscillator providing a
frequency of 100kHz.
Feasibility Analysis - Cost
Electrical Components
Cost (USD)
Control Board
$20.00
I/O Board
$50.00
Arduino Mega
$25.99
Crystal Oscillator
$1.00
Amplifier
$250.00
Mini Circuit Breaker
$5.00
Mechanical Components
Cost (USD)
Server Rack
$200.00
Fan + Heatsink
$60.00
- Rough estimate of
Total Cost ~ $600
- Assigned budget is
$2000
Feasibility Analysis - Weight
Engineering Requirement: <13,600 g
Engineering Analysis to be Completed
Electrical
- Component
Tolerances
- Noise Analysis
- Power Consumption
- Speed of computation
Mechanical
- Structural
- Shock &
Vibration
- Heat
Project Plan
Questions?