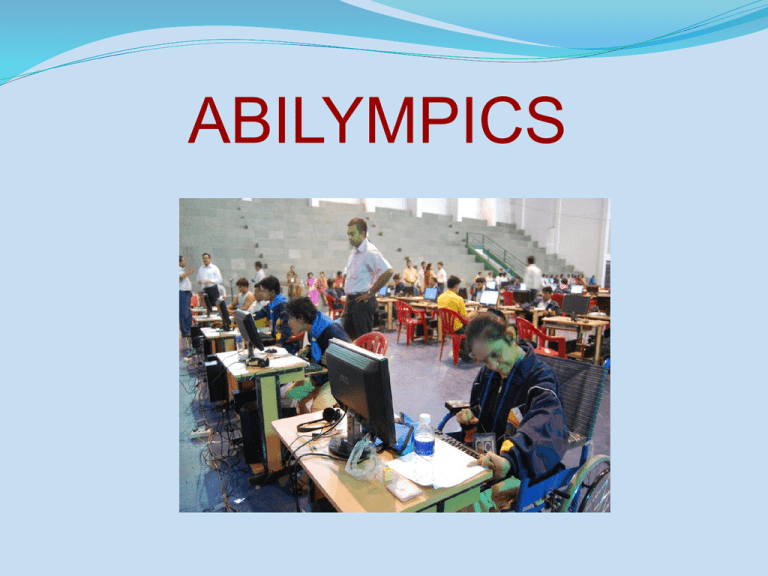 ABILYMPICS
Worldwide three major organizations
organize events for persons with disabilities :
Special Olympics – games and sports with focus on
mentally challenged.
Paralympics – games and sports mainly for persons with
locomotor disabilities.
Abilympics – Abilympics are Olympics with a
difference. Abilympics is a combination of the words
Ability and Olympics. These are vocational skills
competitions for persons with all disabilities. The focus is
to showcase the abilities not the disabilities.
International Abilympics are held once in four
years in different parts of the world under the
aegis of International Abilympic Federation
(IAF) & Rehabilitation International.
Members
of
IAF
participate
in
the
International Abilympics. GRF has recently
become a member of IAF.
The International Abilympics were held in 1981 in Japan for the
first time to commemorate the United Nations International Year for
Disabled Persons. The second, third, fourth, fifth, sixth,
seventh, eighth Abilympics were held in Colombia, Hong Kong,
Australia, Czech Republic, India, Japan and South Korea respectively.
The Abilympics in India were
introduced by Amar Jyoti
Charitable Trust.
14 contestants participated in
5th International Abilympics
(IA) held in Prague in 2000
where India's bid to hold 6th
IA was accepted.
1400 participants from 33 countries participated in
45 events in 6th International Abilympics held in
India in 2003. India won 30 medals (7 gold, 8 silver
and 15 bronze).
Mission Statement
The Mission of Abilympics is to create
public awareness and nurture the
productive talents of persons with
disabilities
by
providing
them
opportunities to acquire and enhance
their vocational skills to achieve
economic independence.
Objectives
 Discover, nurture and showcase the
potential and talents of persons with disabilities
and promote economic self-reliance.
 Sensitise and create awareness among
government, the corporate sector and society at
large about the productive skills of persons
with disabilities.
 Expose persons with disabilities to the
relevant and latest trends in technologies in
their respective areas.
Ensure involvement of the government, the
corporate sector and NGOs in the economic
upliftment of the disabled.
 Promote international friendship through
exchange of knowledge and programmes.
Who can participate
•A person with any disability.
•He / She should be 15 years and above, for senior
abilympics and below 15 for junior abilympics
•He / She can participate in a maximum of two
contests if the date and time do not clash.
•No outside person is permitted to assist the
contestants in any way. In case a contestant needs
some help due to his / her disability, the organisers
provide the necessary assistance
National Abilympics Association Mauritius
LIST OF ACTIVITIES UPDATED
(23.04.13)
[Senior Competition - >15yrs]
Activity Code
Name of Activity
001
Basket Making
002
003
004
005
006
007
008
009
010
011
012
013
014
015
Jewellery making
Beading works
Wood carving/Coconut carving
Painting (on paper)
Fabric painting
Cake decoration
Bakery
Dress making
Floral arrangement
Crochet works
Embroidery
Basic typing skills
Clay/Modeling
Candle Decoration
NGOs undertaking activity
ADSP, TEDPB, MMHA, Centre Lois Lagesse STH Handicapped,
Lizie dan la main, CWA,
ADSP, APEIM, Centre Lois Lagesse, TEDPB
Centre Lois Lagesse, MMHA, liziedan la main
MMHA,STH Hand,
ADSP, APEIM, STH handicapped, FIH, CWA
ADSP, STH handicapped
APEIM,FIH, CWA
APEIM,FIH
STH Hand.,
Centre Lois Lagesse
ADSP, STH hand, CWA
Centre Lois Lagesse, ADSP, liziedan la main
Centre Lois Lagesse, liziedan la main
ADSP, APEIM, Lois Lagesse
[Junior Competition - <15yrs]
Activity Code
Name of Activity
016
Card Making
017
Beading works
018
Painting (on paper)
019
Singing (vocal)/Occidental/sega
020
Music (Instrumental)
NGOs undertaking activity
ADSP, CWA
ADSP, APEIM, CWA
ADSP
Liziedan la main, ,FIH
Lois Lagesse
NOTE: To be able to carry out an activity at the Abilympics level, there should be at least 5 participants from
3 institutions.
CONTEST – CATEGORIES
V1
V2
V3
V4
V5
V6
V7
V8
V9
V10
Furniture Making –
Advanced
Furniture Making - Basic
Basket Making
Jewellery Making
CAD - Machinery
CAD-Architecture
Wood Carving
Tie & Dye
Artificial Limb Making
Photography – Studio
V11
V12
V13
V14
V15
V16
V17
V18
V19
V20
Photography – Outdoor
Poster Design
Silk Hand Painting
Tailoring Men's
Dress Making –
Advanced
Dress Making - Basic
Electronic Circuit
Connection & Technique
Electronic Assembly &
Testing
Bicycle Assembly
Cake Decoration
V21
V22
V23
V24
V25
V26
V27
V28
V29
V30
English Text Processing
Desktop Publishing
Computer Programming
Data Processing – Basic
Data Processing –
Advance
PC Assembly
Creating Web Pages
Floral Arrangement
CNC Turning
Cake Decoration
V31
V32
V33
Block Printing on Fabric
Dress Making – Basic
Painting oil on canvas
Leisure &Living Skills
L1
L2
L3
L4
L5
L6
Pottery
Hand Knitting
Embroidery
Waste Reuse
Crochet Work
Painting (Water Colours)
on paper
The list includes tasks for each disability e.g.
Visually Impaired – Computer Assembly,
computer programming, cane technology,
knitting etc.
Intellectually Challenged – word processing,
painting, dress making – basic, bead work,
block printing etc.
Speech & Hearing Impaired - need a sign
language interpreter.
Judges, Convenors and Technical Assistants are
identified from
Industry, Technical and
Educational
Institutes.
An
orientation
programme is organised to familiarise them with
the tasks and explain their role and the
methodology of assessment of the contestants.
A 3 to 5 member Jury is constituted to deal with
any appeal against the judgement.
The contests are
judged entirely on
professional merit and not on the measure
of the disability of the contestant. No
concession is made for severity of
disability.
Benefits
• Abilympics
provide an opportunity to
participants to upgrade their skills and learn
about employment
opportunities though
networking with other disability organisations
and potential employers.
• Facilitates Mainstreaming
• Helps understanding about job potential and
employability.
• Creates awareness in the society about the
abilities of the disabled.
• Brings about Convergence of Resources
between government/academic/professional
institutions, industry, NGOs etc..
• Helps in creating barrier-free environment.
• Generates international friendship.
Training & Employment Generation
• Involvement of academicians, professionals, institutions,
and industry.
• Identification of jobs, skill development initiative
schemes in consultation with Government/ Industry.
• Raise awareness among the employers including giving
them incentive for employment of persons with
disabilities.
• Provide incentives to medal winners in National and International
abilympics.
Membership
IAF - Global Rainbow Foundation
National
• Individual membership
 Annual membership
 Life membership
• Institutional membership
 Annual membership
 Life membership
The hardest thing to overcome is
not physical disability but the
mental condition which it
induces.