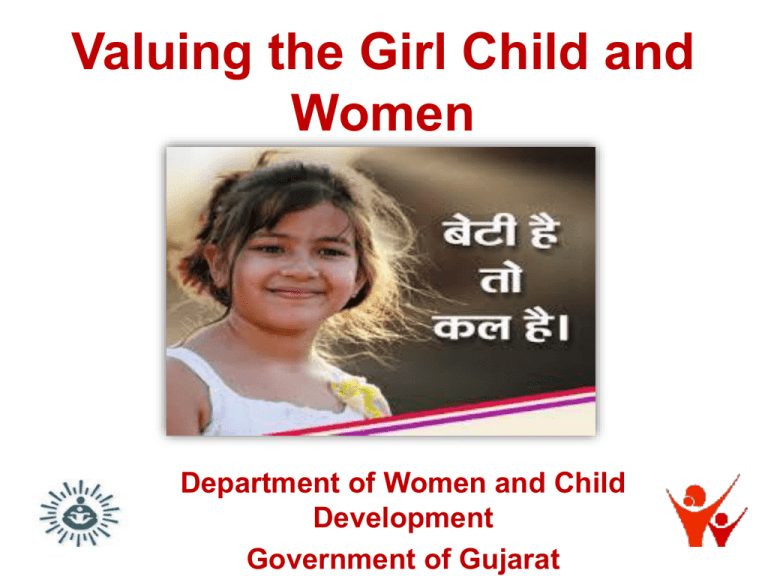 Valuing the Girl Child and
Women
Department of Women and Child
Development
Government of Gujarat
If we desire to build a modern Gujarat, we will
have to first give priority to the women of
Gujarat
-Shri Narendra Modi
Hon. Prime Minister of India
NARI GAURAV NITI- 2006
A Multipronged Strategy
 Education
 Quality of Life- Health And Nutrition
 Financial Empowerment
 Partnering in Administration and Decision
Making Process
 Security – Protection against violence
 Legal Initiatives
 Sports
EDUCATION
Shala Praveshotsav and Kanya Kelavani Rathyatra
• Started in 2003, a three day devotion for the cause of education
• Increased women literacy rate in state by 12.93%
• The drop-out rate reduced from 18% to about 2%.
4
EDUCATION
Separate Toilet Facility for Girls
A small step with a major impact
Covering all government schools across the state
Saraswati Sadhana Yojana:
Free cycles to girl students of Class IX to reduce drop out.
5
EDUCATION
Vidya Lakshmi Bond
Bond of Rs 2000 to girls in villages having less than 35% literacy rate.
An amount of Rs. 2310.68 lakhs has been disbursed in the year 2013-14
Financial Support
An incentive scheme to encourage women for preparation for civil
services examination conducted by UPSC.
6
EDUCATION
Mukhya Mantri Kanya Kelvani Nidhi: 90 crore rupees collected
by auctioning gifts received by Hon. CM
Estabilishing Women ITIs
• For skill development/vocational training.
• 20 women ITIs and 44 women wings have been operational in
state's general ITI center
• Total 5188 seats made available in 64 ITIs specially granted for
women.
7
QUALITY OF LIFE –
HEALTH AND NUTRITION
• E-Mamta Initiative– One of the path breaking initiative to reduce
avoidable child and maternity-linked death, using mobile
technology.
• Launched in the year 2010 in the month of May.
• Families registered under E-Mamta are given UID numbers.
• 118 lakhs families have registered for E-Mamta covering 5.51
crore individuals i.e. 84.4% of the state population.
• Taking cue from Gujarat, several others states have rolled out EMamta with the help of National Informatics Council.
QUALITY OF LIFEHEALTH AND NUTRITION
• Chiranjeevi Yojana: 9.97 lakh pregnant women have been
benefitted under Chiranjeevi Yojana
• With innovative initiatives, the percentage of institutional
deliveries in the state have touched 95%.
• With focused activities on social indicators, maternal mortality
rate has reduced from 202 in the year 2001 to 112 currently.
QUALITY OF LIFEHEALTH AND NUTRITION
• Kasturba Poshan Sahay Yojana (KPSY): In order to facilitate
adequate nutrition and rest during pregnancy a cash support to the
BPL mothers of Rs. 6000 per pregnant woman is provided.
• 531 Emergency Ambulance vans (108) have been operational –
more than 17 lakh pregnancy related problems have been carried out
in 108 vans.
• Khilkhilat: An ambulance for safe home coming of infants and
mothers post delivery.
QUALITY OF LIFEHEALTH AND NUTRITION
Mukhyamantri Amrutam "MA Vatsalya"
Yojana.
• Based on the success of the 'MA'Yojana
(for BPL families), the scheme has been
extended to "all the females and their
children (below the age of 21 years)
belonging to the families having an annual
income below Rs. 1.20 Lakh per annum.
• MA Vatsalya Yojana provides tertiary
care treatment for seven catastrophic
illnesses which covers 544 defined
procedures along with their follow ups.
• The sum assured is up to Rs. 2,00,000/per family per annum
QUALITY OF LIFEHEALTH AND NUTRITION
• Doodh Sanjeevani Yojana: (Launched in 2007) The scheme was
initiated in 10 tribal blocks of six tribal district wherein 3-6 years
children are provided pasteurized flavored milk.
• Improvement in the nutritional status have been noted in 72671
children
• In year 2014-15 this yojana is expanded to all the tribal blocks of
tribal districts.
• Beneficiaries of the Yojana: 6 months to 6 years children and
pregnant and lactating women.
QUALITY OF LIFEHEALTH AND NUTRITION
• Through 52,137 Aanganwadi centers, 49.26 lakh people including
pregnant and lactating mothers and children (6m-6yrs) have been
benefited under Integrated Child Development Service (ICDS)
• Micronutrient fortified Premix - Sheera, Sukhadi and Upma as
Take Home Ration (THR)
• To provide Sukhadi in 21990 Anganwadi through Matru Mandals
FINANCIAL EMPOWERMENT
Sakhi Mandals - Mission Mangalam
• Freedom from shackles of debt and financial problems
• 2.21 lakh 'Sakhi Mandals' created, having nearly 24.94 lakh
members.
Mahila Pashupalak Prohatsahan Yojna:
• To increase the number of Dudh mandali run by women.
• 300 sqmt plot, Rs 5 laks aid for construction of Dudh ghar
• Loan waiver for purchase of milking animals
SUCCESS STORIES- SHGs
Amul parlour run through the group of
widow women
The stitching unit in Indraprastha village- Anjar
Khakras Go International- Shraddha Sakhi Mandal (Rajkot)
FINANCIAL EMPOWERMENT
• Waiving of registration fee on registration of Land/Property in
name of women: 11.73 lakh houses have been registered on
women's name, exempting Rs. 414.47 crore as registration fees.
• Mata Yashoda Gaurav Nidhi Insurance scheme for Anganwadi
workers and helpers in an attempt to provide social security to them
and their families.
GENDER BUDGET- 2014-15
• Gujarat Government has introduced Gender
Budget for the first time in the country.
• It is a policy decision that will prove to be a
milestone in the state's march towards Women
Empowerment.
• It has a budgetary provision to develop schemes
and women oriented programmes in the state.
• Every department will now have to keep aside
some amount of their budget specifically for
Women Empowerment.
• Some 495 women oriented schemes with a
budget of nearly 45, 259 Cr have been allotted
to the Gender Budget.
PARTNERING IN ADMINISTRATION AND
DECISION MAKING PROCESS
• 33% reservation for women in the police force
• 30% reservation for women in all government jobs.
• More than 74,000 women members in 18, 185 pani samitis.
"Mukhyamantri Mahila Pani samiti Protsahan Yojana"Incentive of Rs 50,000 for newly formed all women pani samiti.
• 6.37 lakh women member successfully run 2,415 milk groups.
• Gram Sanjeevani Samitis have nearly 70% members as women.
SECURITY
• 181 - Abhayam Women Helpline for all women aged 14 or more in
Gujarat, in association with GVK EMRI.
• 24x7 Toll free helpline
• Support for women in distress.
• Services: Rescue in threatening situations, free counseling,
guidance and information through centralized response center.
• Accessible through any mobile or landline.
SECURITY
• Suraksha Setu: Self-defence training imparted to women under
Suraksha Setu Society- a state-wide public outreach programme
• "The police station based Support Centres" for Women in
Gujarat- well trained counselors in all districts
• To ensure women safety, 25 women police station and 9 women cell
have been operational
• Gujarat ranks first in Female Security Index
LEGAL INITIATIVES
• Nari Adalats (102) by Gujarat State Women's Commission- an
alternative justice system.
• 243 Multipurpose Women Welfare Centres (MPWWCs) have
been setup in 25 districts and 218 talukas and urban areas across
the states to help women deal with social, legal and employmentrelated concerns.
• Implementation of women related laws with focus on PC & PNDT
Act 1994, Protection of Women from Domestic Violence Act
2005, Sexual Harassment of Women at Workplace Act 2013.
Pre- Conception and Pre-Natal Diagnostic Technique Act (PC-PNDT Act)
POLITICAL EMPOWERMENT
• Mahila Samras Panchayat
• PM Shri. Narendra Modi (as the then CM
of Gujarat) "Work as CMs or PMs of
villages" –10th March,2013
• 831 female sarpanchs of samras village
panchayats felicitated
• Incentive prizes worth of Rs.22.50 crore
awarded.
• As many as 250 village panchayats have
become samras entirely.
50 % reservation for women in PRIs.
SPORTS
• Khel Mahakumbh: Platform to women of remotest areas of the
state to perform at state level.
• Participation of nearly 8 lakh women
• Self-defence training to 1.53 lakh girls and women during Khel
Mahakumbh 2013 by Sports Authority of Gujarat
• Scholarships offered to women participants to encourage female
participation in the mega-sports event.
SPORTS
• Padkar - A self defense program to empower women across the
state with basic training in self defense. The launch of the program
was done through a massive demonstration on Self Defense by
1250 girls during the Opening Ceremony of the Khel
Mahakumbh on 23rd November, 2013.
COMMUNITY PARTICIPATION
• Vatsalya Diwas - celebrated to facilitate regular counseling to
Pregnant, lactating mothers and Follow up of the underweight child
till he/she reaches the green zone and maintains it for at least 3
months and creating awareness among the community through
focused counseling.
• The total number of beneficiaries covered under Vatsalya Diwas in
2014 is 14.84 Lakhs
COMMUNITY PARTICIPATION
• Gatisheel Gujarat- I, Poshan Jagruti Saptah -celebrated in every
village and urban wards of the state.
• Mothers of only one or two daughters honoured under 'Beti
Vadhavo' title to spread awareness for girl child
• As a part of the week long celebrations, Kishori Divas celebrated
and various competitions organised to encourage adolescent girls
in such activities
THREE PILLARS of HOLISTIC
DEVELOPMENT
•
SWASTHYA (HEALTH)
•
SURAKSHA (SECURITY)
•
SASHAKTIKARAN (EMPOWERMENT)
Fortnight Celebration for Women Empowerment based on the above three themes from
1 to 15 August 2014
STILL IN ACTION!!!!!!!