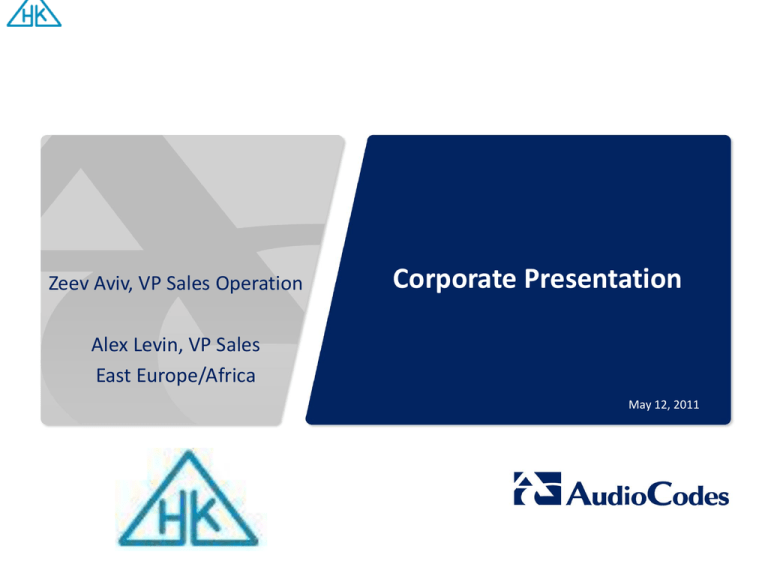 Zeev Aviv, VP Sales Operation
Corporate Presentation
Alex Levin, VP Sales
East Europe/Africa
May 12, 2011
Always Team Work…
Mission Statement
Innovative Leading Supplier of Converged VoIP & Data Solutions for Service
Providers and Enterprises Worldwide.
AudioCodes: A Brief Intro
•
•
Market leader in VoIP Technology and Products
Deployed in over 100 countries in service providers broadband, mobile & enterprise
networks
•
•
Strong brand for quality & performance
Global partner to leading telecom players including Alcatel-Lucent, Avaya, Broadsoft,
Microsoft, NSN
•
•
Global distribution network
18 years of operations, Public since 1999
Strong Global Presence
Main Worldwide Offices:
•
Headquarters: Israel
•
North America: NJ, TX, NC
•
APAC: Singapore, Korea, China, India, Australia
•
EMEA: UK, France, Germany, Russia
•
LATAM: Miami, Brazil, Mexico, Argentina, Colombia
620 Employees
•
R&D (255), Sales & Marketing (225), Operations (90), G&A (50)
•
Israel (410), US (140), Europe (35), APAC (25), LATAM (10)
AudioCodes Performance Snapshot
•
Ranked #1 in VoIP chips (1997-2000)
•
Ranked #1 in VoIP communications blades (1998-2006)
•
Ranked #1 in VoIP Medium Density and Low Density media gateways (2008-2010)
•
Focused now on Converged voice & data networking
200000
Yearly Historical Revenues (KUSD)
180000
160000
140000
120000
100000
80000
60000
40000
Technology
20000
Networking
0
1996 1997 1998 1999 2000 2001 2002 2003 2004 2005 2006 2007 2008 2009 2010
AudioCodes Revenues History & plan for 2011
(plan)
200000
180000
160000
140000
120000
100000
80000
60000
40000
20000
0
1996 1997 1998 1999 2000 2001 2002 2003 2004 2005 2006 2007 2008 2009 2010 2011
Focus on 3 Market Segments
Broadband
•
•
•
VoBB
Trunking / Peering
Hosted VoIP
Mobility/Wireless
•
•
•
SP Mobile VoIP
Enterprise Mobility
Fixed Wireless
•
IP Telephony and UC network
elements
Contact Center
Enterprise
•
Go To Market Strategy
•
Offer leading global channel
partners broad solutions
from a single vendor
•
Partner with leading OEMs to
provide reliable and cost
effective products
•
Provide Solution Partners
best of breed, interoperable
products
•
Supply Service Providers and
Enterprises with a
comprehensive set of flexible,
feature rich solutions
Enterprise
DoD
Channel
Service Providers
Solution Partners
OEM
Our Partners and Channels
What AudioCodes Does…
The Communications World:
•
Applications
Communications world is shifting
towards an all IP infrastructure
•
Growth driven by desire for unified
communications, cloud computing
and mobility
•
Incumbent vendors struggle to adapt
to demands of newly emerging
software applications
Mobile
UCC
Mediant Gateways Residential Gateways
MSBG
Cloud
SBC
IP Phones
AudioCodes
All IP World
TDM
All IP
2030
AudioCodes innovative,
interoperable and diverse portfolio
of solutions are uniquely
positioned to enable this transition
Our Vision of the emerging network
IP Phones
Enterprises
Multi Media Servers
Mediant 1000
Intelligent CPE
The Cloud
MP-252
Residential
Intelligent IAD/App
Enterprise & Service Provider Solutions
Residential Services
•
VoIP Calls and Broadband
SMB/SME Services
•
Access
•
•
•
(SIP Trunk)
Domestic and intl. Calling
•
VoIP over Mobile
BroadBand
Business VoIP Service
Enterprise and Public
Sector
IP-Centrex and Hosted
(SIP Trunk)
•
Services
•
•
•
Business VoIP Service
Managed Enterprise IP
telephony
Open Source IP Telephony
•
Unified Communications
Unified Communications
•
Contact Centers
Mobility applications
AudioCodes' products help
Service Providers:
•
•
•
Fight churn through innovation
Increase ARPU by service diversification
Reduce TCO while evolving to all IP NGN
"One Stop Shop" for VoIP
Residential Services
SMB/SME Services
•
•
•
Enterprise and Public Sector
All Your Network Needs, Small and Large
In front of the customer, or in the servers room
At the premise or in back-office
Our Solution Partners
Building successful, innovative, low TCO, NGN requires
openness and interoperability
Our Service Provider Customers
"Never Alone" Global Customer Support
Interoperability, certification
and lab support
Regional Customer Support
Call Center: Tier1 & Tier 2
AMERICA
Training infrastructure
24x7 "Follow the Sun"
Technical support
Regional Customer Support
Call Center: Tier1 & Tier 2
EUROPE
Corporate
Customer Support
Tier 3 & Tier 4
Worldwide
Regional Customer Support
Call Center: Tier1 & Tier 2
ASIA-PACIFIC
Growth Opportunities
•
•
•
•
High Definition VoIP
Enterprise Unified Communications and Collaboration
•
Enterprise SBC
•
Mobility
•
Microsoft Lync
Mobile VoIP
Residential Multimedia Home Gateway
High Definition VoIP
• Extends bandwidth range
• From 200 Hz – 3.4 kHz
• To 50 Hz – 7.1 kHz
• Substantially higher voice quality
• Superior Clarity, Intelligibility and Richer Sound
AudioCodes HDVoIP Products
HD VoIP Products
IPMedia™ 3000 Media Server
IP Phones
Mediant™ 3000 Enterprise and
Carrier-grade Media Gateway
Soft Clients PC/Mobile
Mediant™ 1000 MSBG
Multi-service business gateway
MP-252™
Residential Multi-Media Gateway
Voice Over Packet
Processors & Modules
Enterprise SBC, UCC & Contact Center
September 2010
Enterprise Session Border Controllers (E-SBC)
•
Enterprise Session Border Controllers are used to securely and transparently connect
Enterprises to SIP Trunks, Hosted Services and Remote Workers
•
The E-SBC market will grow in next 4 years from 2010 to 2013 to $742 million
(Infonetics Research,2009 )
•
SIP Trunking adoption and E-SBC demand is primary in North America - 68% of total
E-SBC deployments. SIP trunking penetration worldwide will drive further growth.
Soft Switch
IP-PBX
IP
IP Phones
SIP Trunk
SP WAN
Enterprise SBC
Source: Infonetics Research (8 July 2010)
AudioCodes E-SBC Line
AudioCodes Advantages:
•
•
Strong PSTN capabilities enable Integrated PSTN/IP Solution
Comprehensive DSP capabilities
Mediant 800 MSBG
Mediant 1000 MSBG
Mediant 3000 Border Gateway
E-SBC
E-SBC
E-SBC
SMBs
SMBs and SMEs
Large Enterprises
Up to 24 sessions
Up to 150 sessions
Up to 1000 sessions
Multi Service Business
Gateway
Multi Service Business
Gateway
Hybrid SBC and PSTN
Microsoft Unified Communications
•
Unified communication market to top $1 billion by
2013; Microsoft, Cisco, AT&T top vendors
(Infonetics, 2010)
•
"Unified communications offers the ability to
improve how individuals, groups and companies
interact and perform tasks.."
•
Microsoft is the leader in the Unified
communications world market (Gartner Magic
Quadrant)
•
AudioCodes is a leading partner of Microsoft in
providing products which enable enterprises to
connect their legacy telephony system with
Microsoft Unified Communications networks.
AudioCodes products/Solutions for Microsoft UC
PSTN Networks
SP PSTN
Secured SIP
Trunking
SP IP WAN
TDM Trunks
….
Media Gateway
….
CS recording
solution
SIP Trunks
Enterprise SBC
Legacy TDM PBX
Media Gateway
SmartTAP Call Recorder
E1/T1/BRI/FXO
PBX
Fixed Mobile Convergence
Microsoft Unified
Communications
Non certified IP PBX
Media Gateway IP-PBX
Enterprise SBC
SIP
SIP
3rd party Analog and SIP
based Phone Support
MGW & Enterprise SBC
Legacy Fax & other
Analog devices
Media Gateway
IP
Phones
Hosted Contact Center Peripherals Reference Design
MxK as E-SBC for SIP Trunking
MxK Media Server for
transcoding and
Media VAS
MxK GW as
PBX aggregation
MxK as GW for TDM Trunking
Contact Center Application
M8C, M1K GW
On-Prem PBX
Connectivity
M8C, M1K E-SBC
On-Prem IP-PBX
Connectivity
M8C, M1K MSBG
On-Prem Branch
Survivability
MxK E-SBC for
Remote Worker
Bonding
MP11x GW On-Prem
Analog Phone
Aggregation
Mobile VoIP
Mobile VoIP: The Future of Mobile Communications
•
Increased sales of smartphones
and apps
•
Explosion in mobile data drives
build-out of Wi-Fi and 3G HSPA
•
Skype and Google Voice drive
voice services prices down
•
30
25
20
15
10
Economics drives consolidation of
5
data & voice services over same
0
infrastructure (pre-LTE)
•
Global Mobile VoIP Revenues, in USD Billions
35
Improved quality of service
2008 2009 2010 2011 2012 2013 2014 2015
Frost & Sullivan: Impact of Mobile VoIP on Next Gen Cellular Networks
Mobility for UCC in SMB/SME
Smartphones & Tablets with
Mobility Client
Mobility Gateway
All-in-one solution
•Application Server
•E-SBC
•MGW
3G/LTE
IP-Voice, Instant Messaging, Presence,
IP-Video, Collaboration
"Business Mobile VoIP Gateway Revenues to Soar Past $6 Billion in 2015 – In-Stat
January 2011"
Initially Focused on Microsoft Lync
Mobile VoIP: AudioCodes VMAS Value Proposition
With AudioCodes VMAS, Service Providers can enjoy the benefits of Mobile VoIP
prior to deploying LTE
•
Comprehensive end to end solution: From mobile/Web/PC clients to
gateways and Client management system
•
Leading Quality of Service solutions and network resiliency schemes tested
and implemented
•
Feature rich and robust solutions that are interoperable with all leading
mobile operating systems
* Substantial increase in deployments in 2010
Residential Multimedia Home Gateway
IAD market
•
Old market: Separated devices, sold via retail:
• Modem (ADSL / Cable / XttH)
• Router / Firewall
• VoIP ATA
•
New market: Integrated, all-in-one residential device, sold
via Service Providers, integrating:
2x2 MIMO Wi-Fi 802.11n, Gigabit LAN, IPv6, HD VoIP,
DECT, home PBX, router, access, security.
•
The residential IAD market is expected to reach $1.1B in 2010
and expected to grow by 35%-40% by 2013 (Source: MIC, Aug
2010)
MP-252 All in one multimedia Home Gateway
AudioCodes HDVoIP Products
For All Your VoIP Needs
• Superior Voice Quality
• Rich Portfolio
• Interoperability
• Uniform Technology
• Innovative
AudioCodes DNA
Inspiration
Devotion
Execution
Orientation
Achievement
Creation
Dedication
Success
Understanding
Organization
Thank You!