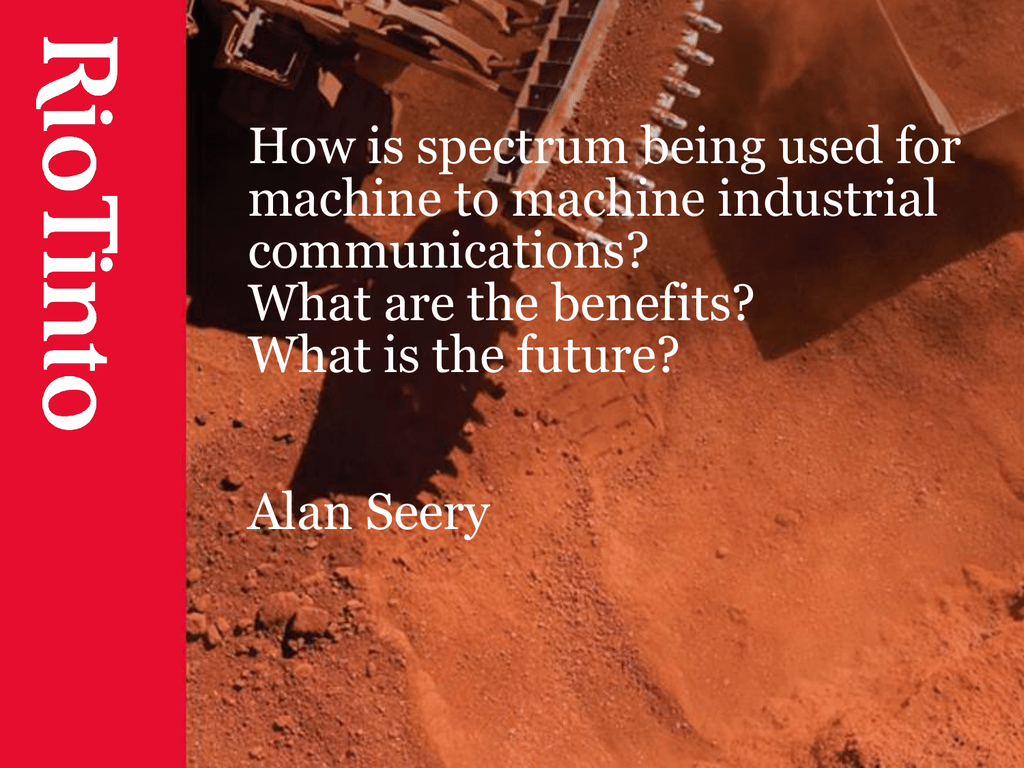 How is spectrum being used for
machine to machine industrial
communications?
What are the benefits?
What is the future?
Alan Seery
Supply chain
15 mines in the Pilbara
Four independent shipping terminals
Largest privately owned freight railway in Australia
spanning 1600 kilometres
Pilbara Map
Communications in Mining
Changing mobile communication
needs:
Mobile fleet data is increasingly
reliant on wireless connectivity
Communications in mining
The Rio Tinto LTE network has been developed to support business, safety
and production critical systems through a single converged network.
Safety and Production Critical
Systems:
• In-Pit CCTV monitoring
• Dewatering telemetry
• Deformation Monitoring
• Prism Monitoring
• Slope Radar
• High precision GPS
• Intelligent Earthmoving
In-Pit Wall Monitoring Systems
Communications in mining
Changing mobile communication
needs:
Industry wide drive towards use of
autonomous mining platforms
Autonomous drilling system (ADS)
Autonomous haulage system (AHS)
Communications in mining
Pilbara mines, rail and ports operated
from a single location in Perth
(Operations Centre)
Incorporates visualisation and
collaboration tools to provide real-time
information across our demand chain.
Operations Centre - Perth
Why LTE?
Key Benefits
Improved reliability and resiliency for production and safety critical services

The LTE network operates on a licenced frequency – no interference

Complete wireless coverage of all operational areas
Ability to prioritise traffic (QOS)

Safety and production critical traffic given priority over corporate traffic
Consolidated network platform to support all in-pit systems concurrently

The network can support all current in-pit systems concurrently which are typically
supported by multiple wireless networks/technologies
Reduced infrastructure requirement
•
4 LTE communications trailers compared to 30+ WIFI communications trailers
•
All LTE infrastructure located outside of blast zones – no need to move trailers.
Radio Base
Station –
a new
approach
The business case - with LTE we can
consolidate infrastructure
Mobile infrastructure delivering LTE
•
Rapidly deployable transportable
communications infrastructure
•
Provides sharing, co-location and
standardisation of network assets,
The ever changing topology presents
communications challenges
Additional benefits of LTE
•
Provides access to business applications from tablets or tough books
anywhere within the operational areas of the mine
•
The system provides the capability to support both current and future
business demands for operational needs in relation to M2M connectivity,
voice, video and data
Additional benefits of LTE
Roll out of unified communications (voice/video mobile services)
solutions in pit.
 Voice over LTE
 Video over LTE (live video streaming)
For the future
 Push to talk (two-way radio) over LTE
 Location based services, personnel and asset tracking etc.
Design and implementation considerations
•
Spectrum allocation – Working with the regulator
– Australian Communications and Media Authority (ACMA)
• Availability & development of end-to-end ecosystem…
•
Creating opportunities for industry
Rio Tinto SIM Cards
Design and implementation considerations
•
Geographic constraints & Remoteness limitations
•
Drive testing was completed across all operational areas of the mine
•
Adequate capacity to support all HME, autonomous drills, light vehicles,
and future voice and video on a single common wireless network.
Coverage area – drive testing results
Shading indicates drive test route. Areas in red indicate high data
throughput (above 10Mb/s)
17
Challenges to industry
Location Based Services
•
Personnel Tracking
•
In-Pit Proximity Detection
•
Collision Detection
– Safety
•
Asset tracking and management
– Efficiencies
PTT over LTE
(form factor and battery life are key
components to the solution)
Project achievements
First in the resources sector, first private LTE network in Australia
•
The network provides wireless 4G coverage to all operational areas of West
Angelas
•
High throughput rates in both uplink and downlink directions
•
Support model established with a Network Operations Centre providing 24x7
support
•
The LTE network is operational and has been supporting mining operations since
August 2013
"Making connection in the middle of nowhere"
"I'm in a very big hole in the middle of nowhere and there's
better mobile internet than in my Parliament House office.
Welcome to the Pilbara."
By Australian Associated Press (Katrina Curtis)
Published: 08:30 AEST, 10 July 2014
2014 National iAwards Winner
Resources Category
Rio Tinto for Wireless 4G LTE Network
In Summary: The network enables M2M, Mobility
and analytics opportunities
Thankyou
© 2014 Rio Tinto. All rights reserved.