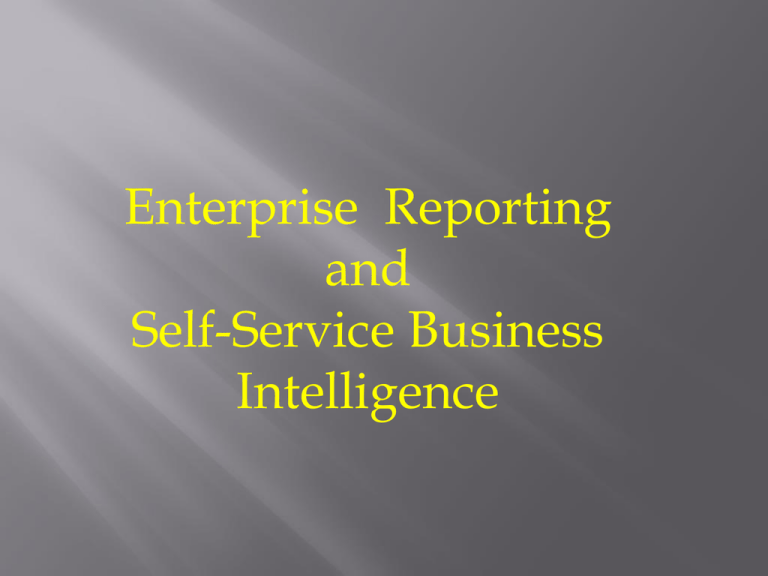 Enterprise Reporting
and
Self-Service Business
Intelligence






Overview of Enterprise reporting, BI and SelfService BI
BI Architecture
Governance: ComIT, people and processes
Demos
Takeaways
Questions







LOB applications built-in reports
Custom reports
SS challenge
Access control
Multiple versions of truth
Data silos
Data versus information
A report is any informational work
made with the specific intention of
relaying information or recounting
certain events in a presentable form.
According to Gartner
Business intelligence (BI) is an umbrella term that
includes the applications, infrastructure and tools, and
best practices that enable access to and analysis of
information to improve and optimize decisions and
performance.
Self-service business intelligence is defined as end users
designing and deploying their own reports and analyses
within an approved and supported architecture and tools
portfolio.
Q: What is reporting and what difference
"Enterprise" does in "Reporting"
Enterprise reporting is:
A combination of technology , tools , policies and
procedures that provides robust unified platform
for report development and presentation
utilizing enterprise data sources for sharing
across departments and business units while
providing security and controlled access to
information on a corporate, team and individual
levels
SharePoint
Dashboards &
Scorecards
SharePoint
Collaboration
Analysis
Services
Integration
Services
Excel
Workbooks
PowerPivot
Applications
Reporting
Services
Master Data
Services
LOB
Apps
Odata
Feeds
ENTERPRISE REPORTING ARCHITECTURE
SharePoint
Internet Explorer
Power View
SQL Server Data
Tools
Excel Services
Reporting Services
PowerPivot for
Excel
xlsx
Excel
Analysis Services
PowerPivot for
SharePoint
(Analysis Services)
BI Semantic Model
xlsx
Third Party Apps
Personal BI
Team BI
Corporate BI
Sophisticated Design
Environment
Report Viewer
Controls
Productive Authoring
Re-use of insights
Flexible layout
Visual data
representation
Highly Interactive
Rich Presentation
Rich Design
Capabilities
Report Designer
Report Builder
Embedded
Operational
Power View
Business
http://www.vbgov.com/government/departments/realestate-assessor/Pages/annual-reports.aspx
https://wwws.vbgov.com/ePRO/MainUI/Crimes/CrimesM
ain.aspx






Expand reporting and BI service to
customers
Follow industry's path in BI technology
Data warehouse and data services
Master data files
Create enterprise data catalogs
oData



Environment is built and is ready to be
utilized city-wide on a corporate, team
and individuals levels
Think how you can apply this
technology in your workplace?
Which of your customers will benefit
and in what ways from using this
technology?