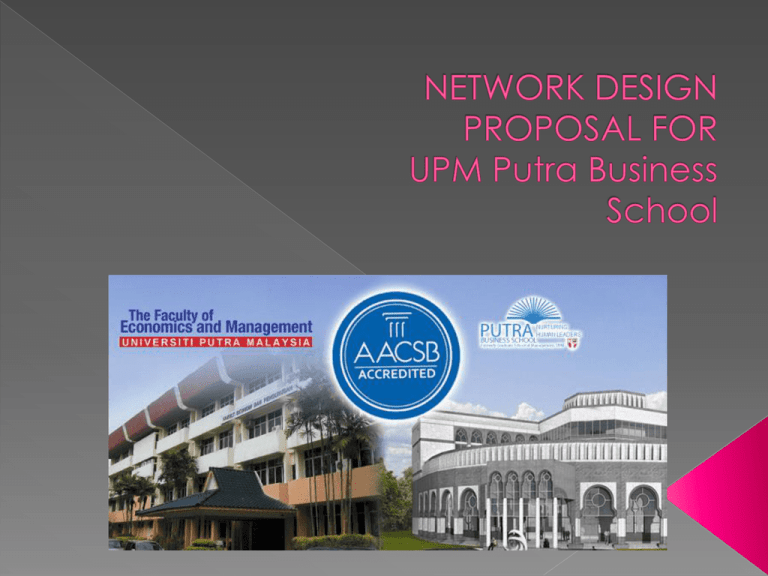 AHMAD
SYAFEEQ
ABD SHUKOR
SN086798
MANAGING
DIRECTOR
NOR SHAFEERA
WAHAB
SN087222
IT OPERATIONS
MANAGER
NOR BAHANI HAYATI
ABDUL AZIZ
SN085806
ACCOUNTS
MANAGER
MEGAT ISKANDAR
MEGAT HASHIM
SN087218
SENIOR NETWORK
ENGINEER

Putra Business School - formerly the Graduate School of
Management in Universiti Putra Malaysia, Serdang is
looking to establish their own private institution for higher
education and ASTech Sdn. Bhd. was awarded to simplify
their business goals.

Area/ Location
• Situated inside the vicinity of UPM Serdang
• Strategically located in the education triangle,
Serdang, Bangi and Cyberjaya
• Major highways and road trunkings make it easier to
access without involving extra cost

To improve Quality of Services
• Currently the building has no network infrastructure
as well as internet access which we are providing
them.
• Surveillance system will help to improve security of
the end users as well as the equipments
• with the expandable design of network, it will be
much easier to improve the Quality of Service for
the school in future.
To further enhance the understanding of
Network Analysis and Design subject
 To provide ICT, security, surveillance, and
structured cabling for the training room
located at the UPM Putra Business
School.
 To provide the best network design in
terms of performance and efficiency to
users.

Focus on designing a network for UPM
Putra Business School
 The design will take account the size of
the school
 At the moment we only focus on the first
floor especially the training room as
awarded periodically

Lecturers
 Students
 Administrator

Wireless Access Point
 Switch
 Server
 CAT6 (network cable)
 Personal Computers
 All-in-one Printer/Scanner/Fax Machine
 Surveillance System
 AntiVirus


- we use Cisco Aironet 1600 series
› Key Features
 Versatile RF coverage with optional external antennas. UL 2043 plenumrated for above-ceiling installation options or suspended from drop ceiling.
 Easy Installation and Power Efficient – 802.11n performance with existing PoE
switches.
 Easy-to-Install Multipurpose Mounting Bracket – Designed for easy
replacement of existing access points. Locks for theft protection.
 Deployment Options – Controller-based or standalone deployment options.
 Secure Connections – Supports rogue access point detection and denial-of
service attacks. Management frame protection detects malicious users and
alerts network administrators
 Cisco Video Stream Technology – Efficient multicast-to-unicast conversion.
The video call admission control to prevent oversubscription. Queue
prioritization to help ensure best user experience for corporate videos.

- we use Cisco Catalyst 2960-S series
› Key Features
 10 and 1 Gigabit Ethernet uplink flexibility with Small Form-Factor Pluggable
Plus (SFP+), providing business continuity and fast transition to 10 Gigabit
Ethernet.
 24 or 48 ports of Gigabit Ethernet desktop connectivity.
 Cisco Flex Stack stacking module with 20 Gbps of throughput, allowing
ease of operation with single configuration and simplified switch upgrade.
 PoE+ with up to 30W per port that allows you to support the latest PoE+
capable devices.
 Power supply options, with 740W or 370W fixed power supplies for Poe+
switches are available.
 Limited lifetime hardware warranty, including next-business-day
replacement with 90-day service and support.

- we use Dell PowerEdge R320

Key Features
-1U rack server with the right computing power
(Powered by Intel Xeon Processor 3400 Series)
- business scalability, simplified management, data
protection and security features.
- Simplified Management – With optional Dell Lifecycle
Controller and full Open Manage suite for enhanced
diagnostics and reduced management time.
 .
- backward compatible with
the Category 5/5e and Category 3
cable standards.
-features more stringent specifications
for crosstalk and system noise.
-provides performance of up to
250 MHz and is suitable for 10BASET, 100BASE-TX (Fast Ethernet), 1000BASET/1000BASE-TX (Gigabit Ethernet)
and 10GBASE-T (10-Gigabit Ethernet).
-we chose to supply Lenovo Think Centre Edge72z All-In-One
Desktop

- Space saving

- Spill resistant Keyboard

- Powered by the latest 3rd generation Intel® Core™ i7
processor and up to 1600MHz DDR3 Memory.

-have extra display port for use with multi-screen applications
Brother's new monochrome laser fax Multi-Function Centre
(MFC) series can deliver outstanding results in a short time with
superior technology and innovatives features performing with
incredible strength and efficiency.

We use Panasonic WV-ASM200
› Key Features
 Video Management Software (VMS) – Provides
advanced IP functionality.
 Matrix Switchers – Provides advanced
programmability for analog systems.
 System Controllers – delivers advanced remote
operation for analog and digital systems.
 Multiplexers & Quad Systems – provides highly
efficient operation for small system applications

We use Kaspersky Lab Business 2012

The cloud-based infrastructure used by Kaspersky Lab
products to report telemetry and to deliver instant
protection in the forms of blacklists and heuristic rules,
which are designed to catch the newest threats.

Overall, Kaspersky Lab's products detected and blocked
more than 1.5 billion web-based attacks in 2012 and more
than 3 billion infected files.

At the present time Kaspersky Lab detects and blocks
more than 200,000 new malicious programs every day, a
significant increase from the first half of 2012, when 125,000
malicious programs were detected and blocked each
day on average.
Simple Licensing
 Low Operating Cost
 Comprehensive Coverage
 Focus on Security and Compliance





Gained a lot of knowledge about
designing a simple network
Overall, this project is to improve the
system and quality of the service of UPM
Putra Business School, Serdang.
The end users will have better security and
internet access to ease their work and
studies.
Facilitates the end users to communicate
using the network internally and externally
more effectively.