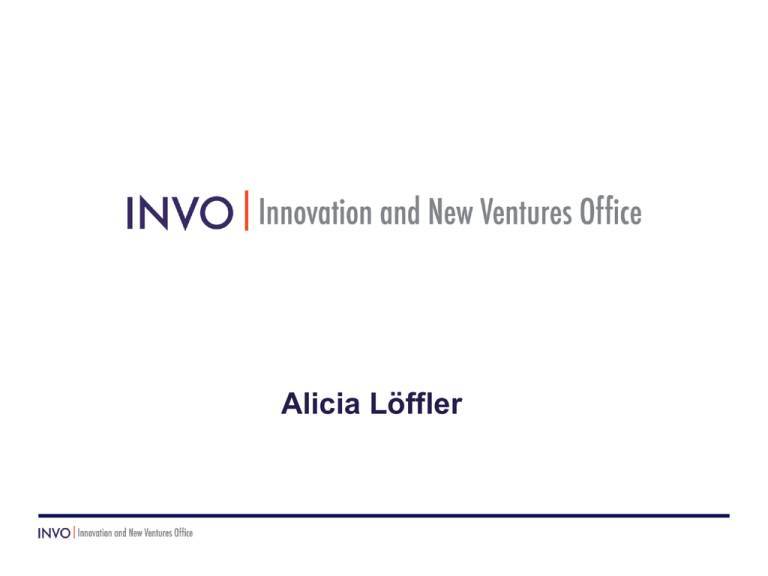 Alicia Löffler
Northwestern is at an Inflection Point
Extraordinary Faculty
First IPO
Alumni Success
Highest Licensing Revenues
Invention is serendipitous
Innovation is not
"It is an organization-wide effort that requires
infrastructure and discipline and impacts how
Northwestern University behaves within & with
the world around"
Inspire a culture of innovation
that bridges research and its practical use
for public benefit.
Many Ways to Bridge the Gap Between
Research and Practical Use
RESEARCH
START-UP
LICENSE TO
CORPORATIONS
NEW PRODUCTS
FOR THE PUBLIC
Students
Publications
Seminars, conferences, etc.
Faculty consulting
Industry sponsored research
Industrial affiliate programs
Commercialization: Intellectual Property, licensing, start-up
What Keeps Us Moving in the Morning?
Treating millions of patients around the globe
with fibromyalgia, pain associated with diabetes
shingles, and epilepsy
Initial patent 1989
Licensed to Parke-Davis 1990
NIH
ABO- Early detection of colon (and other)
cancers –
Will save millions of lives
2006
Developed in collaboration with industry
NIH and NSF
Wildcat System - HIV testing in remote and
resource-poor areas of the world - predicted
to save 4 million lives in Africa/year
Developed in collaboration with Industry
2006
Bill and Melinda Gates Foundation
Process of Innovation Fundamentally
Changed in the Last Twenty Years
Government
Academia
Industry
Innovations
Academia
Government
Innovations
© Kellogg School of Management
The structure of innovation and commercialization today is
so interwoven that it is difficult to delineate government,
academic from commercial institutions
NIH
The US Position in Innovation Fueled by
Cornerstone Policies 1978-80

VC --Reagan's Pension Funds

Patents - The Supreme Court's Diamond vs. Chakrabarty decision,
allowed recombinant organisms

Bayh-Dole Act of 1984, helped move federally funded discoveries
off the shelf and into private development.
Balance innovation incentives with access of innovation
to the public
Bayh Dole Act
Allows:
 US Universities to have IP control of their inventions that resulted
from Federal Government Grants
 US Universities to grant exclusive licenses in the technologies to
private companies.
Restrictions:
 Universities must share proceeds with inventors.
 Reserves to the government a royalty-free non-exclusive license to
use the invention for government purposes.
 Bayh- Dole gives the government so-called "march-in rights" which
enable it to compel licensing of a federally funded invention if the
patent owner has not commercialized the invention in a reasonable
time or makes the product not accessible to the public
US Patent Activity from Academia
20,000
18,000
16,000
Total Patent Applications
14,000
12,000
10,000
8,000
New Patent Applications
6,000
4,000
2,000
Issued Patents
1991199219931994199519961997199819992000200120022003200420052006200720082009
11
Licensing Income
$3,500
$3,000
Licensing Income ($ million)
Total Income
$2,500
$2,000
$1,500
$1,000
Running Royalties
All Other
$500
Sale of Stock
$0
Year
12
Start-Ups Formed
900
800
Number of Start-Ups Formed
700
600
500
400
300
200
100
-
Year
13
University Start-Up Companies
7,251 start ups formed 1980-2009
279,000 jobs created since 1996
$187 billion added to U.S. GDP
 72% located in same state as institution
Every state except Alaska
12.3% from California institutions
11.8% from Massachusetts institutions
363 by MIT
349 by University of California System
175 by University of Utah
34 by Northwestern University
14
Process
Expanded Purpose of the Function:
From Linear to Multidimensional
Transactional
Business Development
To Comprehensive, Open, and Pro-active
Faculty Outreach &
Translation
Chemical, Pharmaceutical, Medical
Device, Diagnostic Company Advisors
Disclosure
Patentability
Patent
Auction, trade,
bundle, etc
Commercialization
Plan
Business/
Financing
Plan
Angel and Investor Advisors
Market and
Licensing
Start-up
Faculty Outreach
Innovation Mentors Program
Commercialization Clinics
DISCLOSURE
Creates important documentation:
a record of the invention
identifies the inventor(s) involved
identifies who sponsored the work
lists public disclosures and publications
First to Invent vs. First to File (soon to change)
Disclosure: Back-office Considerations
Discuss with inventors


Inventor provides technical expertise
Inventor may also provide industry
contacts
Contact industry experts
Consult with legal experts
Internal analysis
Cross check sponsored work
Report to government
Determine inventor's "home"
Determine previous commitments made
Typical criteria






Prior art
Invention development status
Intellectual property position
Enforceability
Commercial potential
Licensing potential
PATENT
Exclusive rights granted for a limited period of
time in exchange for a disclosure of an invention.
Must be new, useful and non-obvious.
Why Patent?
Required by investors and commercial developers to justify investments
Only currency for startups
Positions faculty for further funding
Facilitates exchange of knowledge, promote disclosure rather than secrecy
Adds clarity to agreements and partnerships
Patent decisions are often driven by publication (usually too early)
Patents: Back-office Considerations
 Licensing associates manage the process
 Technology and commercial expertise
 Responsible for invention from cradle to license
 Very resource intensive (money/skills/time)
 Patent costs
 Typically $25,000 to $35,000 over life of U.S. patent
 USPTO (US Patent and Trademark Office) fees
 Patent attorney/agent costs
 Higher patent costs for foreign coverage
 PCT (Patent Cooperation Treaty) application preserves
foreign rights while delaying costs
COMMERCIALIZATION PLAN
Plan to determine best path to bring the
technology to society
License to operational company
License to startup
Commercialization Plan
Discuss with inventors
 Inventor may also provide industry contacts
 Inventor's preference (startup or license?)
Typical criteria
Contact industry experts
Consult with investors
Match Faculty with entrepreneurs
Develop Marketing Plans
(with Kellogg students)
Market and "promote" technologies






Technical Risk
Market Risk
Financial Risk
Regulatory Risk
Management Capabilties
Licensing potential
LICENSE
An agreement where the owner of intellectual
property gives permission to allow another party
to act under all or some of the owner's rights to
further develop the technology
Licensing: Back Office Considerations
IP Rights
Licensor
Northwestern
University




Licensee
Development
Organization
Complex agreements, covering decades
Different inventions, different strategies
Many ways to negotiate, approach to terms. Emotional
Licenses NEVER die. They accumulate through decades. Renegotiations are the norm. About 200 active licenses
Northwestern's Distribution Policy
Net Royalties = Cash Royalties
minus 20% for legal and administrative expenses
inventor's research
20
35
inventor
Department
School or Center
30
5
10
Central
Facts
The People
PARTNERS AND ADVISORS
4 ADMINISTRATORS
 12 investor advisors from VC
firms in the country
 Two external early stage VC firms
 Finance
 Databases
 Government compliance
7 LICENSING MANAGERS
2 BUSINESS DEVELOPMENT MANAGERS
 Strong technical background, PhDs
 Conduct due diligence
 Manage invention from cradle to
license
 Manage outside counsel
 Market technologies
 Commercial and Start-up experience
 Work with licensing managers and inventors
to determine commercialization path
30-35 STUDENTS
Vital Signs 2010
200 inventions/year, 75% biomedical
58 issued patents
6 start-ups (5 biomedical)
Licensing revenues of $180 million
222 active licenses
Northwestern University Licensing Revenues are
the Highest in the Nation
Followed by Columbia, MIT, Rochester, Stanford and
Harvard
Northwestern University Licensing Revenues have been
ranked the Highest in the Nation
(last survey released Dec. 2010)
Northwestern University Royalty Revenues
900,000,000
800,000,000
700,000,000
600,000,000
500,000,000
400,000,000
300,000,000
200,000,000
100,000,000
0
2005
2006
2007
2008
2009
2010
Invention Disclosures per School
Six month report
July thru December 2010
Total 103 inventions
20%
28%
Feinberg School of Medicine
McCormick School of Engineering
52%
Weinberg College of Arts and Sciences
Invention Disclosures by Department
Six month report
July thru December 2010
McCormick
Biomedical Engineering
5%
Chemical and Biological Engineering
29%
22%
Civil and Environmental Engineering
Electrical Engineering and Computer
Science
Industrial Engineering and
Management Sciences
2%
16%
Materials Science and Engineering
24%
Mechanical Engineering
2%
Invention Disclosures by Department
Six month report
July thru December 2010
Weinberg College of Arts and Sciences
5%
Chemistry
Neurobiology and
Physiology
95%
Invention Disclosures by Department
Six Month Report
July thru December 2010
Feinberg School of Medicine
Cell and Molecular Biology
Medicine
7%
17%
Microbiology/Immunology
Neurology
24%
Obstetrics and Gynecology
14%
Physical Medicine and
Rehabilitation
Physiology
4%
7%
Radiology
3%
7%
14%
3%
Surgery
Urology
Start-ups by School
25
20
15
10
5
0
MEAS
WCAS
FSM
Potential profit is not a driver to bring research to the market:
It is a numbers game.
Research
Disclosure
Patents
Profits
License
15 – 20 Years
$1 – 3B
Research
Funding
1000 disclosures
500 patents
150 licenses
15 start-ups
1 -2 licenses
will generate $1M
1 IPO
Such long time lines make it almost impossible to pick winners
Evolving Towards a Translational Culture
Description
Programs
Celebrate Role Models
FACULTY
 Identify serial inventors
 Celebrate success. Make
"heroes" out of entrepreneurs
Annual Award
 Articles in internal & external
publications
Catalyze Change
STUDENTS
Use students as agents of
change
Leverage students talents to
"walk the halls" and help with
commercialization
NUvention Program
I2C (Innovation to Commercialization)
Internship Program
Develop Know-How
FACULTY, STUDENTS.
ADMINISTRATORS
Programs to educate and
empower faculty in
commercialization
Connect faculty with outside
knowledge
Commercialization Clinics
Faculty Lunches and Seminars
CIM Mentorship Program
Role Modeling
Flawless, Efficient,
Supportive Infrastructure Efficient, lean, holistic, process
and Policies
ADMINISTRATION
 Developmental Therapeutics Program
Implement Knowledge systems
Process Engineering
 Language for Promotion & Tenure
Decisions
Good luck!!
THANK YOU…..