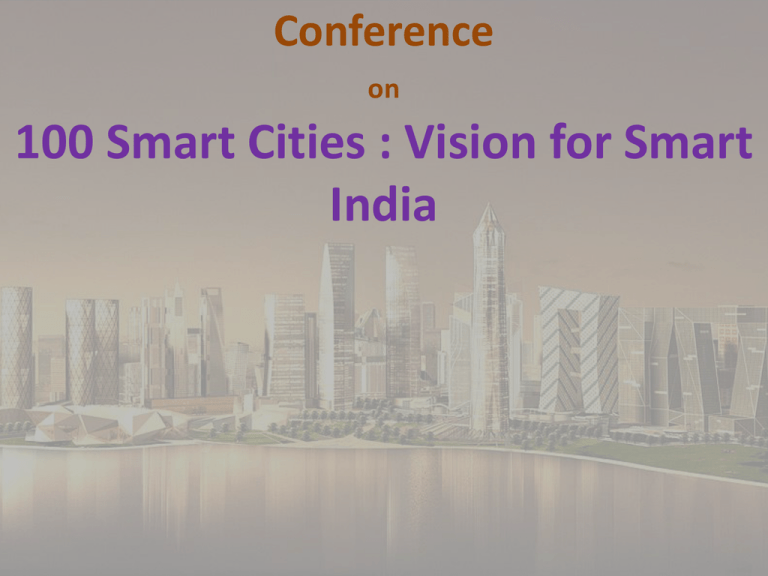 Conference
on
100 Smart Cities : Vision for Smart
India
A Step Towards Fulfilling the Dreams
of
Hon'ble Prime Minister
Shri Narender Modi
Inaugurated by
Sh. Shankar Aggarwal
Secretary, Ministry of Urban Development
Supported By
Ministry of Urban Development
Govt. of India
Organized by
Knowledge Partner
CSR Research Foundation
•
A non-profit organization registered under Section 25 of The
Companies Act. 1956
•
Standing for knowledge dissemination and facilitating corporate
in fulfilling their Corporate Social Responsibilities.
•
Provides effective information on latest developments in
different tools, techniques and applications to bring balance
between economic, environmental and social imperatives
through researches, seminars, symposiums, lectures,
workshops, conferences, etc.
MSN Infrastructure & Financial
Consultants Limited
• A multi-disciplinary consulting organization in blue and
green domain creating opportunities and providing
transaction advisory, concessions, project
management, project financing, training & capacity
building services.
• Associated with numerous municipal corporations,
state governments, developers, investors , financial
institutions, multilateral funding agencies, corporate
and multinationals.
GUEST SPEAKERS
Shankar Aggarwal, IAS
He is Secretary in the Ministry of Urban Development. He has
35 years of experience in housing and urban development, IT,
finance, energy, technical education, small-scale industries,
transport and defense.
Alok Rawat, IAS
He is Secretary in the Ministry of Water Resources. He has
held diverse assignments in his 30 years of rich administration
in diverse sectors including the road transport, highways,
Defense, urban planning and development etc.
Prof. Amit Bose
He is Director of DDF Consultants Pvt. Ltd. Is an IIT Roorkee
alumnus and has worked in India and abroad in diverse fields,
ranging from teaching and research to development
planning, policy planning and disaster management.
Balvinder Kumar, IAS
He is Vice Chairman Delhi Development Authority (DDA) and
former Chairman of Noida Authority, has been instrumental in
creating world class infrastructure in urban domain.
CA Deendayal Agrawal
He is Chairman - CSR Research Foundation, Secretary -Delhi
Chapter IGSI, Director Hindustan Smachar, National CoConvener BJP CA Cell, Chairman- Intellectual Federation of
India and former Member -NIRC of ICAI.
Dr. Devendra Kumar Pant
He is the head of India Ratings' public finance practice. His
primary areas of expertise are economy, State and municipal
finances, and state- and sovereign-owned entities and PSUs.
Sh. Dhirendra Kumar
He is CEO of Value Research. He is an expert in Investment
and Financial Advisory Services, Equities, Capital Markets, and
Equity and Investment Research.
Giridhari Mohanty, IIS ( Retd.)
He is a retired Indian Service officer who had a long stint with
the Government of India as Director General, DAVP and
Director General (News), All India Radio, Spokesperson of CBI.
Currently a practicing advocate and an attorney
CA Kailsh Chandra Goduka
He is Secretary Jaladhikar a NGO working in water
conservation, Secretary -Sampooran Parivartan and
contributor of a weekly article on tax advisory in Hindustan
(Hindi).
Dr K.K. Pandey
He is a professor at Indian Institute of Public Administration.
His area of expertise includes Urban Governance and
Management, Institutional Development and Capacity
Building, Urban Housing, PPP and Urban Infrastructure
Finance.
K.N. Srivastava, IAS (Retd.)
He is the former Secretary Ministry of Civil Aviation, former
Special Secretary and Financial Adviser in the Ministry of
External Affairs. He has wide experience in the field of civil
aviation.
Dr. Mahesh Chandra
He is Deputy Director General, National Informatics Centre,
Department of Electronics & Information Technology, Ministry
of communication & IT, Govt. of India.
Manish Gupta, IAS
He is Commissioner of South Delhi Municipal Corporation. He
brings with him a rich administrative experience spanning an
eventful career of 20 years in important positions in
Government of India, Delhi Government and other State
Government.
Manoj Misra
He is Managing Director Augtics Systems & Services Pvt.
Limited, an IIT Roorkee & Delhi Aluminous, a Water
Resources, Urban Infrastructure and GIS expert.
N. Ravi Shankar, IAS
He is Secretary, Ministry of Personnel, Public Grievances &
Pensions and Department of Administrative Reforms & Public
Grievances.
Narendra Kumar, IAS
He is working with Govt. of NCT, former Member (Admin)
NHAI. He has been instrumental in formulation of Industrial
Policy, New Excise Policy, streamlining the functioning of Old
Age Pension Scheme, MLA Fund Scheme etc.
Naresh Badhwar
He is Head-Regulatory Affairs-Climate in URS Verification Pvt.
Ltd having 17 years of experience in Regulatory body,
Environmental and Climate Change etc.
Dr. R K Bhatnagar, IAS (Retd.)
He is the former Commissioner of Azamgarh, Uttar Pradesh,
presently General Secretary International Goodwill Society of
India, promoting peace through international goodwill and
national harmony.
CA Sudhir Malik
He is the Director of MSN Infrastructure & Financial
Consultants Ltd., is a PPP Expert in urban infrastructure
domain funded by Central Government, States, ULBs, ADB,
Word Bank, JAIC and other multilateral funding agencies.