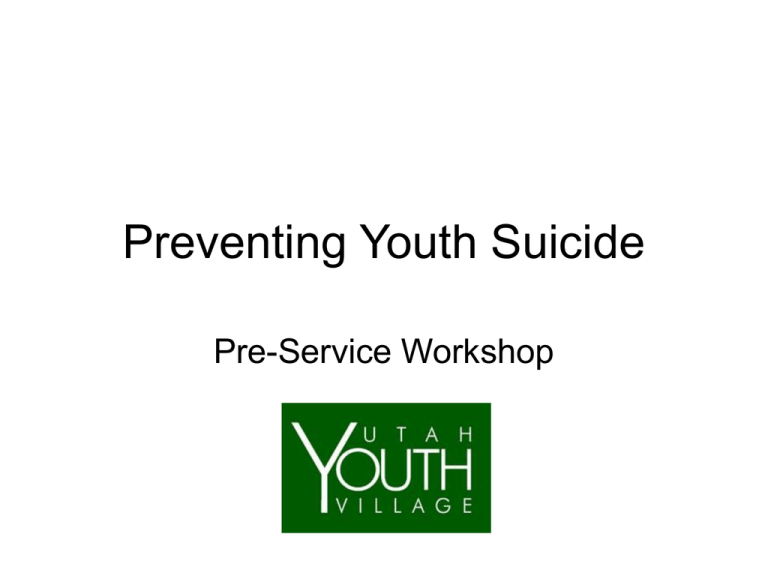 Preventing Youth Suicide
Pre-Service Workshop
Suicide Prevention
Pre-Test
1. Nationally, suicide is the second leading cause of death among teenagers, whereas in the
West, it is the third leading cause.
2. The lethality from suicide attempts by younger boys is higher than post-puberty boys.
3. Differences between suicide rates of adolescent boys and girls vary according to numbers,
suicide methods, and ways of handling stress.
4. Suicide was accepted in previous historical times. A strong feeling of empathy was given to
the victim's family.
5. The four levels of suicidal behavior are: statements, gestures, attempts and completion.
6. The number one triggering event in youth suicide is the break up of a romantic relationship.
7. It is better to over react than under react when a youth presents any suicidal behaviors
within the four levels.
8. 10% of all hospitalizations for suicide attempts are considered environmental manipulation.
9. The commonly accepted rate of suicide in the United States among youth age 15-24 is
12.9 to 100,000.
10. A youth may attempt suicide to obtain freedom, achieve control or end pain.
Gender Differences
•
•
•
NUMBERS
– GIRLS ATTEMPT SUICIDE THREE TIMES AS OFTEN AS BOYS
– BOYS COMPLETE SUICIDE THREE TIMES MORE OFTEN THAN
GIRLS (SUDAK, FORK, AND RUSHFORTH, 1984)
METHODS
– GIRLS TEND TO USE LESS LETHAL METHODS
– BOYS TEND TO USE 'QUICKER AND MORE LETHAL METHODS
STRESS
– GIRLS TEND TO VERBALIZE EMOTIONS, THUS INCREASING
SUICIDAL INTERVENTION
– BOYS TEND TO RESORT TO AVOIDANCE AND DISPLACEMENT,
THUS ISOLATING THEM AND INCREASING CHANCES OF
EXPLOSIVE SUICIDAL RESPONSE
Depression and Suicide
• Suicide and suicide attempts may follow
periods of depression
• Depression may be genetic or result from
traumatic events in a person's life
• Almost 75% of all adolescents suffer from
some form of depression for a period of
time before adulthood
12 Indicators of Depression
•
•
•
•
•
•
•
•
•
•
•
•
SLEEP DISTURBANCE
SOCIAL WITHDRAWAL
CHANGE IN SCHOOL PERFORMANCE
SOMATIC COMPLAINTS
EATING DISTURBANCE
SUDDEN ELATION
ANHEDONIA
TEARFULNESS
SELF-DEPRECIATION
INABILITY TO FIGHT BACK
HOPELESSNESS
MASKED DEPRESSION
Stages of Suicidal Behavior
• Suicidal behavior is best viewed in stages
• There are four stages of suicidal behavior
• Most youth who engage in suicidal behavior are
level 1 or level 2 which are non-lethal
• Youth can progress from being non-lethal to
lethal so all suicidal behavior, even if it is
attention-seeking or to avoid a negative
consequence, must be taken seriously
Level I
• SUICIDAL IDEAS ARE INFERRED FROM
BEHAVIORS THAT SUGGEST SUCH
THOUGHTS
– IF A YOUTH MAKES PREPARATIONS FOR SUICIDE, IT MUST BE
ASSUMED THAT HE/SHE IS SERIOUS
– SUCH IDEAS / PREPARATIONS MAY BE INDICATIVE OF POSSIBLE
VIOLENCE TOWARD OTHERS
– REGARDLESS OF THE SITUATION, ADULTS CARING FOR YOUTH
MUST ACT IMMEDIATELY
Level II
• SUICIDAL GESTURES ARE SELFDESTRUCTIVE BEHAVIORS THAT CALL
ATTENTION TO THE FACT THAT YOUTH MAY
BE CONSIDERING SUICIDE
– NATURE OF THE GESTURE INDICATES WHETHER
SUICIDE WAS INTENDED
– DISTINCTION BETWEEN SUICIDE GESTURE AND
SUICIDE ATTEMPT DOES NOT DICTATE
WHETHER THERE SHOULD BE INTERVENTION,
BUT RATHER HOW TO INTERVENE
Level III
• SUICIDE ATTEMPTS ARE LIFETHREATENING BEHAVIORS THAT
JEOPARDIZE LIFE OR GIVE
APPEARANCE OF SUCH AN ATTEMPT
(FREESE, 1979)
– INTERVENTION IS A MUST
– SEEK MEDICAL ATTENTION IMMEDIATELY
Level IV
• SUICIDE COMPLETION REPRESENTS
TRAGIC SUCCESS OF SUICIDE
ATTEMPT
– PERSON WHO ACTUALLY COMPLETES
SUICIDE GENERALLY INTENDS TO DIE
WHILE PERSON WHO ATTEMPTS SUICIDE
MAY WANT HIS / HER LIFE TO IMPROVE
– SOMETIMES ATTEMPTS TURN INTO
COMPLETIONS BY MISTAKE
ALWAYS REACT AS THOUGH AN
ATTEMPT IS POTENTIALLY DEADLY
AND ONLY DETERMINE DEGREE OF
SERIOUSNESS AFTER CHILD IS SAFE
Suicidal Warning Signs
• BEHAVIORAL - VERBAL OR
NONVERBAL ACTS THAT SUGGEST
SUICIDAL INTENTIONS; 80% OF THOSE
WHO COMMIT SUICIDE GIVE WARNING
SIGNS (BLACKBURN, 1982)
• ENVIRONMENTAL - LIFE EVENTS THAT
MAY TRIGGER A SUICIDE ATTEMPT
Behavioral Warning Signs
•
•
•
•
•
•
•
•
•
•
•
•
VERBAL STATEMENTS EXPRESSING DESIRE TO DIE
HISTORY OF PREVIOUS ATTEMPTS
SUBSTANCE ABUSE
GIVING AWAY PERSONAL POSSESSIONS
PREOCCUPATION WITH DEATH
SLEEP DISTURBANCE
SOCIAL WITHDRAWAL
CHANGE IN SCHOOL PERFORMANCE
SOMATIC COMPLAINTS
EATING DISTURBANCE
SUDDEN ELATION
DEPRESSION
Environmental Warning Signs
• The three environmental warning signs
are:
– Unstable family history
– Loss of a significant relationship--particularly
within the last year
– Recent suicide within the environment
Increasing Deterioration
– SUICIDE IS NOT A SPONTANEOUS ACTIVITY
– THERE IS NO SINGLE CAUSE OF SUICIDE
– SUICIDE IS A MALADAPTIVE FORM OF
COMMUNICATION
– AMBIVALENCE IS THE FEELING MOST CLOSELY
ASSOCIATED WITH SUICIDAL BEHAVIOR
– HOPELESSNESS AND A PERCEIVED LACK OF
OPTIONS ARE FREQUENTLY PRECURSORS TO
SUICIDAL BEHAVIOR
Unstable Family History
• SUICIDE IN THE FAMILY
• FAMILY INSTABILITY
• FAMILY CONFLICT
Loss of Significant Relationship
• THE PRIMARY EVENT WHICH
TRIGGERS SUICIDE IN ADOLESCENTS
IS THE BREAKUP OF A ROMANTIC
RELATIONSHIP
Suicide within the Environment
• SUICIDAL BEHAVIOR CAN BE
LEARNED OR IMITATED
• ADULTS NEED TO KNOW THAT ANY
ACTIVITIES WHICH SENSATIONALIZE
OR DRAW UNDUE ATTENTION TO
SUICIDE MAY INCREASE THE
LIKELIHOOD OF SUICIDE CONTAGION
AMONG YOUTH
Four Types of Youth Most likely to
Imitate Suicidal Behavior:
•
•
•
•
EXTREME ATTENTION SEEKERS
STATUS SEEKERS
YOUTH UNDER STRESS WHO
POSSESS LIMITED PROBLEMSOLVING SKILLS
YOUTH UNDER STRESS WHO HAVE
HIGH RISK PROFILES FOR SUICIDE
Autoerotic Asphyxia Attempts
WARNING SIGNS
• There can be warning signs that a teen-age boys is
experimenting with autoerotic asphyxia, according to
experts in the field. They include:
– Marks on the neck - abrasions, rope burns, bruises, pressure marks.
– The discovery of padded ropes, baits or knotted sheets or pillows or
towels or underclothes that seem to have been hidden.
– Bloodshot eyes.
– Disoriented behavior after the teenager has gone somewhere alone.
– Possession of or fascination with ropes or other paraphernalia that
could Induce partial asphyxiation, such as plastic bags, gas or
inhalation devices.
Autoerotic Asphyxia Attempts
WARNING SIGNS
• Ell Coleman, an associate professor In the University
of Minnesota Medical School's program In human
sexuality, said parents who suspect an adolescent is
experimenting with autoerotic asphyxia should
prepare for that possibility - and any number of
others - by creating a candid atmosphere in which
children feel free to discuss sexual matters.
• "Our assumption is that people, given greater
knowledge, will become more responsible with their
sexual behavior."
-Gordon Slovut
Suicide Prevention Techniques
•
•
•
•
•
•
•
•
KNOWING THE WARNING SIGNS
KNOWING THE SIGNS OF DEPRESSION
TREATING ALCOHOL AND DRUG ABUSE
REFUSING TO KEEP SUICIDAL BEHAVIOR SECRET
REVIEWING THE YOUTH FILE OR HISTORY FOR A NEWLY
ADMITTED YOUTH
ESTABLISHING A BASELINE FOR TYPICAL YOUTH BEHAVIOR
BUILDING STRONG, POSITIVE RELATIONSHIPS WITH YOUTH
AND ENCOURAGING THE DISCLOSURE OF EMOTIONS
SETTING REASONABLE GOALS AND EXPECTATIONS FOR
YOUTH TO ACHIEVE
•
•
•
•
•
•
•
•
•
•
•
TEACHING PROBLEM-SOLVING SKILLS
PROMOTING RELIGIOUS AND MORAL VALUES
DOING INCIDENTAL TEACHING ABOUT SUICIDE
ESTABLISHING REPORTING OF SUICIDE BEHAVIOR
BY YOUTH PEERS
ESTABLISHING REPORTING OF SUICIDE BEHAVIOR BY
OTHER ADULTS
MONITORING ROMANTIC RELATIONSHIPS OF YOUTH
INCREASING VIGILANCE WHEN A SUICIDE OCCURS
MONITORING OR RESTRICTING HOME VISITS IF
THEY ARE A MAJOR PROBLEM SOURCE FOR YOUTH
TRUSTING INTUITIONS
When Talking about Suicide with
Youth Discuss
• THE TRAGEDY AND FUTILITY OF SELFINFLICTED DEATH
• THE MYRIAD OF ALTERNATIVES THE
VICTIM HAD
• THE KINDS OF SITUATIONS THAT
MERIT PEER CONCERN AND
REPORTING
• HOW TO REPORT A DANGER SIGN
• SUICIDE WARNING SIGNS
Addressing the Immediate Crisis
•
•
•
•
•
•
•
•
•
•
ENSURE SAFETY FIRST
STAY WITH YOUTH
DO NOT ARGUE
AFFIRM LIFE AND OTHER OPTIONS
DO NOT ANALYZE
ASSESS LETHALITY
MAKE A VERBAL CONTRACT
CONTACT SUPERVISOR
CHECK FOR SUICIDE NOTES
FOLLOW POLICIES AND PROCEDURES
Self Harm Inventory
*This is a tool used to attempt to describe the youth's state of
mind whenever a warning sign of potential self harm is observed
by the treatment provider. The information is to be communicated
to the legal guardian immediately so that s/he may decide what
intervention to require.
•
•
•
•
•
Has the child had trouble getting to sleep or waking up early?
Has the child had poor eating habits? Not eating enough?
Has the child made expressions of low self-esteem?
Does the child smile much?
Has the child withdrawn from friends and family and from regular
activities?
Self Harm Inventory
•
•
•
•
•
•
Has the child been involved in violent or rebellious
behavior or running away?
Has the child been neglectful of personal hygiene?
Has the child made any radical personality changes?
Has the child been persistently bored, had difficulty
concentrating, or had a decline in the quality of school
work?
Has the child made frequent complaints about physical
symptoms, often related to emotions, such as
stomachache, headache, fatigue, etc.?
Has the child had a sudden loss of interest in
pleasurable activities?
Self Harm Inventory
•
•
•
•
•
•
•
•
•
•
•
Has the child had trouble accepting praise or rewards?
Has the child made any suicidal statements?
Has the child complained of being "rotten inside?"
Has the child made verbal statements such as? "I won't be a problem for
you much longer," "Nothing matters," "It's no use," or "I won't see you
again"?
Has the child put his or her affairs in order (e.g., giving away favorite
possessions, cleaning his or her room, throwing things away, etc.)?
Has the child become suddenly cheerful after a period of depression?
Is this the anniversary of the death of a loved one?
Is it the season or time of year when the child would normally associate
feelings with traumatic events?
Has the child abused alcohol or drugs?
Is the child under the influence of alcohol or drugs?
Has the child been under the influence of alcohol or drugs for some
"weeks"?
During Hospitalization
• VISIT EVERY DAY OR EVERY OTHER DAY
• TALK WITH THE CHILD'S THERAPIST EVERY
DAY
• MAINTAIN NORMAL ROUTINE AT HOME
• DO INCIDENTAL TEACHING WITH OTHER
YOUTH, STRESS CONFIDENTIALITY
• DISCOURAGE YOUTH VISITATION
• UPDATE THE CONSULTANT AND
CASEWORKER
Post Hospitalization
• DECIDE IS CONTINUED THERAPY IS
NECESSARY
• TEACH YOUTH HOW TO ANSWER
QUESTIONS ABOUT HOSPITAL STAY
• RE-ESTABLISH NORMAL ROUTINE
• WATCH FOR RISK FACTORS
• FOCUS ON RELATIONSHIP
• TEACH PROBLEM SOLVING
• KEEP CONSULTANT UPDATED
Practical Exercise
• Identify the type of behavior or environmental warning sign of
suicidal behavior in the slides following this one. Then, explain
which option from those listed below you would use to address the
behavior:
–
–
–
–
–
–
–
–
Effective praise
Corrective teaching
Preventive teaching
Non-responsive/Intensive teaching
SODAS method of counseling
Call consultant immediately
Discuss with consultant during next meeting
Family Teacher stays with youth and does not allow them to be alone
• Each situation may have more than one warning sign and Family
Teacher response.
Practical Exercise
1.
2.
3.
4.
While monitoring study hour, you notice that a youth has
gotten off task and is doodling in a notebook. The doodling
contains the words death, Satan, and has a picture of a
monster with bloody teeth.
A youth returns home from school, looks at you with a sad
face, and says, "My girlfriend broke up with me today.
A new youth in your home has shown no interest in
participating in family activities during the first two weeks.
Today, he said, "I can't wait for tonight when we all get to go
swimming. I used to be on the swim team in 9th grade."
A youth mentions that a girl at her old school committed
suicide last year. She says that she didn't know the
deceased girl, but said, "She was really popular."
Practical Exercise
5.
6.
7.
During an intensive teaching episode, you hear the youth
say, "I don't care, it just doesn't matter." She then walks to
her room and climbs into bed. Previous intensive situations
with this youth included hours of verbal aggression and
occasional throwing of small objects in the room.
While reading a youth's file in preparation for placement
later this week, you notice that he attempted suicide three
times in the past using a small number of aspirins, drinking
shampoo, and cutting on his wrist with a comb, creating a
scar.
A youth begins crying and says "I want to die" after you
have delivered a large negative consequence for using
alcohol at school.
Practice Exercise
8.
A youth who earned a 3.2 grade point average during the
first quarter in your home delivers her mid-term progress
reports to you. Two of seven classes indicate grades below
passing level.
9. A youth says "I can't do anything right" while you are
helping them prepare dinner
10. A younger youth who has had relatively few behavioral
problems while in your home begins to lie, steal, and
disobey rules on a daily basis. After a week of increased
frequency of these behaviors, the youth does not return
from school.
11. A youth who usually has a difficult time sleeping greets you
in the morning by saying, "I slept really well last night and
didn't wake up once."
Practical Exercise
12. A youth tells his roommate that he may have his stereo
because "I won't be needing it anymore." You receive a
peer report about this thirty minutes after the incident."
13. A youth who normally wishes to be alone in her room is
seen pleasantly playing Monopoly with the other youth.
14. A youth's parents are going through divorce proceedings.
The youth receives a phone call from his father. After he is
finished speaking on the phone, he says to a peer in a calm
voice tone, "My dad is moving to New York after the divorce
is done." The young man walks towards his bedroom.
15. After a youth returns from a home visit, you notice bruises
on her arms and shoulders.
RESOURCES
Suicide Warning Signs
•
•
•
Eighty percent of those who commit suicide give warning of their intentions
(Blackburn, 1982). It is a myth that most people who commit suicide do not talk about
it or show signs of their intent.
Warning signs can be behavioral (where the youth says or does something to
suggest suicide intention) or environmental (events in the youth's life that could
trigger a suicide attempt). Those caring for youth should be aware of both.
Twelve behavioral warning signs are:
1.
2.
3.
4.
5.
6.
7.
8.
9.
10.
11.
12.
Making statements like "I want to die," "I feel dead inside," or "I want to kill myself'
Previous suicide attempts
Abuse of drugs or alcohol
Giving away prized possessions, writing a will, or making other "final" arrangements
Preoccupation with themes of death or expressing suicidal thoughts
Changes in sleeping patterns--too much or too little
Withdrawal from friends and family or other major behavioral changes
Changes in school performance, lowered grades, cutting classes, or dropping out of activities
Frequent complaints of physical symptoms such as stomachaches, headaches, or fatigue
Sudden and extreme changes in eating habits, or losing or gaining unusual amounts of weight
Sudden cheerfulness after a prolonged period of depression
Depression (which includes signs #6-11 above, and other signs discussed later)
Environmental Warning Signs
•
The three environmental warning signs are:
–
–
–
•
•
•
•
•
Unstable family history
Loss of a significant relationship--particularly within the last year
Recent suicide within the environment
Family-Teachers and youth caretakers should remember that the presence of any one of these
signs is sufficient to indicate increased monitoring and vigilance.
Some of these behavioral warning signs may occur immediately before a suicide crisis. Others
may lurk in the youth's past. For example, a youth may make outright statements of wanting to die
just before a suicide attempt, or changes indicating depression may develop over many months
and be traceable in time to a point well before an actual suicide attempt. Environmental warning
signs also can be manifested either in the past or present.
From a caretaker's viewpoint, the twelve behavioral warning signs are somewhat easier to detect
than the three environmental signs. Family-Teachers are more likely to notice the changes hi
behavior that will signal possible suicide intention. Others in the youth's circle of contacts (such as
clergy or teachers) are more likely to notice changes outside the home and alert someone.
Environmental warning signs may depend heavily on the completeness of the written or oral
reports available about the youth's life before admission to Boys Town or to his or her care site.
Once in the new care site, accuracy of information about the youth's environment away from Boys
Town will depend on some factors outside the caregivers control.
Fortunately, more than just one warning sign is usually given by a suicidal youth.
Behavioral Warning Signs
Behavioral Warning Signs:
• Caregivers should treat every one of these signs as a warning, and provide
maximum protection for their youth.
• Verbal Statements of Wishing to Die
– A youth who says "I. want to die" or "I want to kill myself' is more likely to do it
than a youth who never makes such statements.. Eighty percent of those who
commit suicide give repeated warnings (Blackburn, 1982).
•
History of Past Attempts
•
One of the most widely recognized signs that a suicide attempt may be made is a
record of past attempts. Almost one-half of those persons who complete a suicide
attempt have attempted suicide before (Blackburn, 1982). The record of a past
attempt generally increases the likelihood that such a youth may attempt suicide
again. Follow-up studies of persons who attempt suicide suggest that about 10% will
make another attempt within one year (Hawton, 1986).
Once a youth has made one attempt, it is apparently easier to try it again (Johnson,
1986). Even more worrisome is the clinical observation that the more times a youth
attempts suicide, the more likely the attempts will be increasingly serious (Kenney,
1986).
•
Behavioral Warning Signs
•
Alcohol and Drug Use
•
Habitual substance abuse in and of itself is a major risk factor that can lead to suicide. In fact,
substance abuse alone substantially increases a youth's chance of attempting suicide. One study
found that 20% of youth who attempted suicide were using drugs or alcohol during the time of
their attempt (Frederick and Lague, 1978)
Another study closely examined the lives of youth who "succeeded" in committing suicide from
1980 to 1983 (Holden, 1986). It was discovered that about 70% of the youth were chronic alcohol
or drug abusers.
The importance of drug or alcohol abuse as a sign of possible suicide requires that caregivers
make every effort to detect substance abuse. The problem is widespread. Research such as that
cited above (Frederick and Lague, 1978; Holden, 1986) indicates that the prevention and
treatment of substance abuse in and of itself are important steps in suicide prevention. Some
researchers (Fowler, Rich and Young, 1986) implicate substance abuse as an equal or greater
factor than depression in precipitating youth suicide.
•
•
•
Giving Away Possessions
•
Any type of "final preparation" is a warning sign of suicide. While adults tend to make out a will
when planning to kill themselves, youth tend to give away prized possessions such as a stereo,
albums, or posters. A similar warning occurs if a youth begins telling others that he or she will be
"going away" or begins saying goodbye to friends and others.
Behavioral Warning Signs
• Preoccupation With Death
•
•
•
•
Youth seem to think more about suicide or death than was true in the past. Anecdotal
evidence indicates that high school youth now consider suicide as an option for
troubled people much more than they did a few years ago. People over 30 years old
rarely can recall a classmate who committed or even attempted suicide. Students in
the 1980's may frequently know youth who have tried or completed suicide.
Youth caretakers need to watch for higher than usual rates of concern about death or
suicide. Of special concern is the youth who seems to dwell on the subject of death
and to speak often about it. A morbid preoccupation may not necessarily be linked to
serious depression, but it is a danger sign.
The attraction to "punk" or "death rock" groups may be merely the result of peer
interest. However, when coupled with the drawing of death symbols, frequent
discussion of morbid activities, and a near obsession with destruction and violence, it
can be much more serious.
Related to this warning sign would be any self injurious behavior such as cutting
oneself, carving initials in an arm or purposefully burning one's hand. Any youth who
threatens or harms himself or herself is to be considered a potential suicide victim
(Fujimura, Weis, and Cochran, 1985).
Behavioral Warning Signs
•
•
•
•
•
Sleep Disturbance
One study revealed that 85% of youth who had attempted suicide had repeated
episodes of disturbed sleep patterns in the 30 days preceding their attempt (Kosky,
1983). Difficulties can include problems with falling asleep (i.e., taking longer than 45
minutes), repetitive nightmares or staying asleep longer than normal. One typical
indicator is waking up early, such as at 2 a.m. to 5 a.m., and being unable to go back
to sleep.
Teenagers typically are not eager to get up at 6:15 a.m., or to go to bed early at night.
Variations from this theme should be viewed with concern. Of course, youth care
workers will take into account that not everyone's biological clock runs alike. The cue
is change ... to watch for a change in sleeping patterns.
Excessive sleeping can be another sign. Unusual napping during the day also is a
possible warning sign. Nightmares are another sign. Recurring nightmares,
particularly where themes of death or violence predominate, can be an important
element of sleep disturbance and related depression.
There is some evidence that these changes in sleeping patterns are biological in
nature. Depression (often present in suicidal youth) may be linked to actual physical
changes in the body's biochemistry, and make it nearly impossible to sleep normally.
Behavioral Warning Signs
•
•
•
•
•
•
Withdrawal
Withdrawal is displayed as marked reduction of youth-initiated contact with other youth, with the
youth's' Boys Town family, with the natural family, teachers, and others. Withdrawal is most
serious when it is withdrawal away from "significant others" in the youth's life rather than from
casual acquaintances. One study of sixty-five adolescents indicated that one-half of the youth
became "loners" in the months immediately preceding their suicide attempts. They stopped
interacting with friends and participating in favorite activities because of loss of ambition and/or
loss of interest (DenHouter, 1981).
Caregivers should determine the cause of isolation, to discover whether a youth has initiated it
(suggesting depression) or whether peers are responsible (suggesting social ostracism). If the
isolation was caused by others, depression is less likely to be present but the youth may be
displaying other behaviors that led to the ostracism.
Decreasing School Performance
An adult who is contemplating suicide may show poor work performance on the job. Suicidal
youth tend to show increasingly poor school performance. Sudden changes in school performance
thus should serve as a warning sign. Since many youth with problems have difficulties in school,
poor performance alone does not appear to be a hint of suicide intention. Problems in school,
when combined with other suicide warning signs, should be taken seriously.
Some school behaviors to watch for include the following: hostile or unruly behavior at school;
short, frequent absences from school for one or two days each time; acting unusually bored or
frustrated with school in general or with homework assignments; and withdrawing from
extracurricular school activities.
Behavioral Warning Signs
•
•
•
•
•
Four teenage suicides in New Jersey in March, 1987, showed clear evidence of
several warning signs before the four died together. Included was poor school
Performance: "Officials also called psychologists to the high school from which three
of the four had dropped out and the forth had been suspended."'
Somatic Complaints
Increased complaints about physical ailments also are indicative of underlying depression as well
as the danger of suicide. Typical complaints are about stomachaches, headaches, and fatigue.
The ailments may in fact have a biological basis, such as increased acid secretions in the
stomach during heightened stress. On the other hand, a physician maybe unable to determine the
cause of the complaint.
Once again, the key component is frequency. Persistent complaints, especially in the absence of a
verifiable medical cause, are reason for concern. This sign tends to occur more frequently in girls
than in boys. It is possible that such complaints are more socially acceptable when made by girls
rather than by boys.
Perhaps due to a difference in social acceptability, the presence of such complaints from a boy is
a better predictor of a possible suicide attempt than it would be for a girl. It is more unusual for a
boy to make such complaints, and therefore more likely to indicate a serious problem. It is also a
greater predictor of potential suicide when observed in younger children. Youngsters are typically
less adept at talking about depression, feelings or problems than adolescents. When younger
children voice physical complaints repeatedly, depression may be present.
Behavioral Warning Signs
•
•
•
•
Eating Disturbance
Another observable warning sign of suicide likelihood is a change in eating
habits. AA cause for concern and action is a youth who no longer cares for
favorite foods. It may be a sign of depression for a youth to stop seeking
snacks.
Conversely, overeating at mealtime or eating more frequently can also be a
warning sign. Overeating at one meal may signal nothing other than extra
exercise and a resultant hearty appetite that day. However, a youth stuffing
himself or herself repeatedly would be a far more serious sign. Eating
disorders such as bulimia or anorexia are not directly related to suicide but
may be among a constellation of indicators.
Major fluctuations in body weight can be a sign, whether the weight change
is up or down. This can be a clue even if youth caretakers do not note
changes in eating behavior. However, dieting is fashionable and teenage
girls can be especially prone to dieting. Family Teachers should monitor
abrupt weight changes to ensure that such signs are normal and not signs
of depression.
Behavioral Warning Signs
• Sudden Elation
•
One warning sign that occasionally shows up in suicide prevention literature is the
sudden appearance of elation or general happiness after a period of depression. It
can be a danger sign because the sufferer has figured out how to end suffering (i.e.,
by committing suicide). Clinical experience of Boys Town consultants, however,
suggests that such sudden elation is more typical in manic depressive disease, when
the manic cycle is beginning again. Manic depression, a serious illness that can have
a biological basis, is typically not found in group home youth since the disease rarely
manifests itself before adulthood (Kenney, 1986).
• Depression
•
•
Some behavioral warning signs of suicide intent are also associated with depression
(such as sleep disturbance or somatic complaints). Neither signs of depression nor a
diagnosis of depression necessarily indicate suicide intent. Only about 5% - 10% of
all depressed persons attempt suicide.
Before examining the two environmental warning signs of suicide, let's look more
closely at the relationship between suicide and depression.
Depression, Learning Theory and
Suicide
•
•
•
Depression is one of the major indicators of suicide in adolescents. It is
thought to be present in two-thirds of all suicidal adolescents (Keidel, 1983).
Further, some studies indicate that so many youth in group homes , have
depressive symptoms that they are at special risk for suicide attempts or
completions (Hawton, 1986).
From a statistical viewpoint, anyone who is depressed is 30 times more
likely to attempt suicide than someone who is not (Stallone, Dinner, Ahearn,
and Fieve, 1980). As a cautionary note, though, youth caregivers should
keep in mind that "depression" refers to a constellation of symptoms over a
period of time--not simply being "down" or sad one afternoon when things
did not go well.
Depression occurs when an individual's "reinforcers" (i.e., the rewarding
values, persons, places, or things that motivate all of us to one degree or
another) are either absent or no longer rewarding. Depression is most
serious when the person becomes paralyzed by helplessness, passivity,
hopelessness, and the inability to be assertive enough to get what he or she
wants and needs in life (DenHouter, 1981).
Behavioral Indicators of Depression
Behavioral Indicators of Depression
•
From a therapeutic point of view, it is fortunate that there are some clear signs of depression.
These behavioral indicators may manifest themselves during daily life in the home or elsewhere.
Youth care workers may directly observe them, receive a report from another adult (e.g., priest or
minister, school teacher), or learn of it from one youth worried about another youth (i.e., peer
reporting).
•
There are twelve indicators or signs of depression that youth caregivers must monitor:
–
–
–
–
–
–
–
–
–
–
–
–
•
Sleep disturbance
Withdrawal
Changes in school performance
Somatic complaints
Eating disturbance
Sudden cheerfulness
Anhedonia
Tearfulness
Self-depreciation
Inability to fight back
Hopelessness (the "catalyst" that can lead the de depressed youth to commit suicide)
"Masked" depression
Depression indicators 1 - 6 have already been discussed under the behavioral warning signs of
suicide, indicators 7 - 12 will be further discussed here.
Behavioral Indicators of Depression
•
•
•
•
•
Anhedonia is loss of interest or motivation in activities that formerly appealed to the
youth. For example, a boy who used to love listening to music may no longer even
pay attention to the radio, much less buy tapes of his favorite group. A youth who has
been active in sports but suddenly stops playing, similarly. could be depressed. In
general, any indication that a formerly enjoyable activity is no longer enjoyed could be
an indicator of depression.
Tearfulness. In a three-year study, 90% of suicidal youth were unhappy, sad, tearful,
or depressed during an interview (Kosky, 1983). Girls often display their emotions
more readily than boys. Such tears can be happy or sad. However, increased crying
beyond what is normal for an individual girl should be watched as a possible sign of
depression.
Tearfulness in boys, however, is more unusual and therefore may be more likely to
indicate depression (Kenney, 1986). This is especially true if an adolescent boy cries
in front of other kids.
Self-Depreciation. Depression can be signaled when a youth makes a statement that
contains unwarranted guilt or discouragement. Such youth "put themselves C%
down." claiming that they are "useless" or "no good at anything." This behavior is
often generated by assumed guilt for a major problem, such as a youth blaming
himself or herself for the parents' divorce.
Behavioral Indicators of Depression
•
•
•
•
Such guilt can become unbearable, especially for situations that appear to have no
ready solution. The youth who assumes blame for causing a divorce is typically not
going to be able to fix the problem (i.e., get Mom and Dad together again). Thus, the
unjustifiable guilt may appear to the youth as inescapable and permanent, generating
the self-depreciation.
Inability to Fight. Kenney (1986) has reported from extensive clinical observations
that one sign of depression in adolescents is loss of the ability to fight back. Normal
adolescents are quick to protect and fight for ownership of possessions, privacy,
independence, and other features of their lives. Youth like those at Boys Town are
typically apt to assert themselves in this fashion.
For example, youth in Boys Town's Family Homes usually have a history of antisocial
outbursts or tantrums against authority figures such as parents and teachers. The
youth may balk at following home rules or at following. instructions or guidance.
Depression may be indicated when such a youth suddenly seems to "give up" and
not resist anything. If a boy suddenly does everything he is told to do, without any
display of affection or positive emotion, then there may be cause for concern. Of
course, this must be distinguished from desirable improvements. It can be
distinguished from appropriate cooperation when compliance or agreement is
accompanied by mannerisms indicating a "who cares?" attitude.
Behavioral Indicators of Depression
•
•
•
Hopelessness. The feeling of hopelessness is one that often precedes a
suicide attempt and accompanies serious depression. For a youth in a
group home, a perception that the youth could never return to his or her
natural home--no matter what--can generate a feeling of hopelessness. This
is one reason why Family Teachers quickly establish long-term goals like
returning home for a newly placed youth and always have temporary goals
related to that long-term goal.
Most suicidal adolescents who kill themselves show signs of hopelessness
before their death (Grueling and DeBlassie, 1980). Hopelessness is one of
the major discriminators between uncomfortable depression and depression
that may predict a suicide attempt. The suicidal depressed adolescent is
pessimistic and sad ... and convinced that sadness will continue no matter
what (Blackburn, 1982).
Thus, hopelessness is the "final straw" in that it can lead the depressed
person to attempt suicide. Depression without hopelessness is not nearly as
serious, and can be more readily eased by therapy.
Behavioral Indicators of Depression
•
•
•
•
Masked Depression. "Masked depression" is a clinical term which Family-Teachers may find
recorded in a youth's history. At Boys Town, this term is interpreted to mean that depression is
suspected, but the usual outward signs are not there. The distinction between depression and
"masked depression" is one that Family-Teachers need not be overly concerned about. They
should treat it in much the same way as typical depression ... looking for other signs that signify a
serious mood disturbance.
However, one aspect of "masked depression" should be noted. Younger children tend to
camouflage their true feelings (Fish and Waldhart-Letzel, 1981). Adults who are depressed tend to
look and act depressed. When a youngster becomes depressed, the visible signs may be more
antisocial such as stealing, lying, running away, disobeying, abusing drugs, etc. If these behaviors
did not occur often before, then it is possible that the youth is becoming depressed (Pettifor, Perry,
Plowman, and Pitcher, 1983).
Experience with adolescents has shown that, during the actual crisis of a suicide attempt, a youth
may even display anger and heightened physical responses. This is in contrast to the commonly
accepted meaning of "depression," and has been referred to as "masked depression."
Nevertheless, suicide attempts are usually preceded over time by one or more of the signs of
clinical depression discussed earlier.
Any one of these signs of depression suffices as a reason to look for. other signs. Typically,
however, four or five signs exist in a depressed adolescent.
Environmental Warning Signs
• Environmental Warning Signs
• In addition to the major warning sign of
depression and the twelve behavioral signs
previously described, there are environmental
warning signs as well. These are events that
occur in the youth's life, rather than behaviors or
emotions directly observable in the youth. The
three major environmental warning signs are:
– Unstable Family history
– Loss of a significant relationship
– Recent suicide within the environment
Environmental Warning Signs
•
•
•
•
Unstable Family History
Suicide in the Family. Just as a record of previous attempts by a youth is a warning
sign of another attempt, a record of suicides in the youth's family increases the risk
that the youth also will attempt or commit suicide. It has been reported that 40% of
those adolescents who attempted or committed suicide had a family member,
relative, or close friend previously commit suicide (Pettifor, Perry, Plowman, and
Pitcher, 1983). Another study found that one-third of the suicide victims had relatives
who had attempted suicide (Holden, 1986).
Some adolescents may even copy the methods used by family members who have
attempted or committed suicide. In this sense, suicide can be viewed as a learned
behavior, an approach taken by a distraught youth who has seen "a solution" and has
learned how to do it ... either by trying it before or by learning from attempts by
others.
Some studies give clues about a youth's chances of attempting suicide by searching
for common characteristics of mothers and fathers of suicidal youth. It has been
found that fathers of suicidal youth tend to be depressed, have low self-esteem,
alcoholic, and do not serve as effective father figures (Frederick and Lague, 1978).
Environmental Warning Signs
•
•
•
•
Of the parents of such youth, the mother is the most likely to have made a suicide
attempt. Mothers who, model suicidal behavior indicate by their actions that suicide is
an acceptable option to choose when dealing with stress (Pettifor et al., 1983).
Family Instability. Sixty-eight percent of suicidal adolescents in one study were found
to be without one or both of their natural parents (Paulson, Stone, and Sposto, 1978).
While suicide can occur in caring families with no known serious problems (Keidel,
1983), most studies find that suicidal children come from families where divorce,
separation, or death has occurred. Death of a loved one, particularly by suicide, can
be dangerous for younger children who may fantasize that suicide is a way to be
reunited with the deceased.
Departure of a parent, either through divorce or death, may precipitate a crisis in a
suicidal youth. Absence of a parent can worsen a crisis since he or she is no longer
available to a youth contemplating suicide.
Family Conflict. Family conflict, family disruption by divorce or death of a parent, high
levels of familial arguing and youth perception of poor marital satisfaction are all
related to youth suicide (McKenry, Tishler, and Kelley, 1982; Topol and Reznikoff,
1982; and Kosky, 1983). Another precursor to suicidal youth behavior is the alcoholic
parent (Pettifor et al., 1983).
Environmental Warning Signs
•
•
•
•
•
Youth at considerable risk for suicide attempts have been found often to be children
of a depressed mother and an alcoholic father (Frederick and Lague, 1978). Such
children are more likely to have been sexually abused by their father.
Physical abuse definitely is a risk factor for suicide. Two-thirds of suicidal adolescents
have been found to be physically abused by a parent or stepparent. Twothirds of
suicidal youth also have witnessed physical abuse between the parents (Kosky,
1983).
A youth can "learn" about suicide gradually, being desensitized by others close to him
who talk about it, try it, or complete it. A family history of suicide increases the chance
that a youth also might attempt it by a factor of eight (Garfinkel, Froese, and Hood,
1982).
Loss of Significant Relationship
The second major environmental warning sign of potential suicide is the loss of a
significant relationship. The death of a loved one can pose a serious threat leading to
a suicide attempt. Even if the loss is not death, it can be traumatic for a youth. The
primary suicide trigger for youth is the breakup of a romantic relationship. This is true
for boys and girls.
Environmental Warning Signs
• The loss of a significant social relationship within the year seems to
be a much greater indicator of potential suicide than a loss occurring
years previous. Youth caregivers should realize that almost every
youth who comes to Boys Town has suffered some kind of loss,
although not always during the year just prior to admission.
• Suicide by a Peer. A tragically clear example of peer suicide took
place prior to the suicides of four youth in New Jersey who died
together in March, 1987. One, 19-year-old Thomas Rizzo, not only
suffered from the loss of his best friend, but the friend had
committed suicide. Finally, not only had the loss been from another
suicide, but Rizzo actually had watched his friend commit suicide.
• "Rizzo's mother, ... said one of the previous deaths involved her
son's best friend, Joe Major, 18, who in September fell from a 200foot-high cliff overlooking the Hudson River. Her son saw Major fall
and she said it was a suicide, although it was officially classified an
accident."
Environmental Warning Signs
•
•
•
•
Suicide Within the Environment
A completed suicide by another youth--or even by a complete stranger--can
be imitated. This phenomenon is referred to as a "contagious suicide,"
"ripple effect," "domino effect," "copycat suicide," or as a "cluster
phenomena." This type of suicide is believed to be learned and imitative in
nature, similar to other kinds of learning that occur more naturally within
families (Cantor, 1985).
Adolescent copycat suicides have occurred throughout the country. In 1985
in Plains, Texas, seven youth in the high schools committed suicide. In
1986, eleven teenagers killed themselves in Jefferson County, Colorado,
west of Denver. At an Omaha, Nebraska, high school in 1985, three
students killed themselves and two others attempted suicide ... all within
one week.
Once someone commits suicide, it increases the risk of suicide fourfold
among others around that person (Hawton, 1986). School authorities have
noted that when one student in a high school commits suicide, there is a
high chance that another suicide will be attempted soon thereafter (Keidel,
1983).
Environmental Warning Signs
•
•
•
Evidence suggests that media coverage of suicide leads to copycat suicides (Phillips
and Carstensen, 1986). Following national coverage of the four New Jersey
teenagers who committed group suicide in March, 1987, other copycat suicides were
completed. Media professionals themselves began a debate that continues. "Some
newspaper and broadcast editors have begun to downplay or even ignore individual
suicides and focus attention on the causes of teenage suicide and the availability of
counseling programs. Others, while stressing that journalists must act responsibly,
say the first duty of the news media is to keep the public informed."
Adults need to know that any activities which sensationalize or draw undue attention
to suicide may increase the likelihood of suicide contagion among children.
Types of Imitators. Suicide prevention experts feel that there are four types of youth
most likely to imitate someone else's suicide. First, youth who are extreme attention
seekers may imitate another's suicide. Second, adolescents who are seeking status
may commit a copycat suicide. Third, a suicide can be imitated by an adolescent who
is under stress yet has few problemsolving skills. Finally, imitators can be adolescents
under stress who have high risk profiles for suicide.
Environmental Warning Signs
• The first two of these four types of imitators need not
display any of the warning signs. These youth seek
attention or status by attempting suicide. For such
youngsters, the media and other attention surrounding
the suicide appear to be a direct stimulus for their
suicide. The last two of these four types of imitators
display signs and warning signs for suicide. The media
attention may be the trigger for suicides that are about to
happen.
• Summary
• Eighty percent of persons who commit suicide give.'
warning of their intention.
12 Behavioral Warning Signs
•
There are twelve behavioral warning signs. Signs occur in the present as well as in
the past. The twelve behavioral warning signs of a potential suicide attempt by a
youth are:
1. Making statements like "I want to die," "I feel dead inside," or "I want to kill myself'
2. Previous suicide attempts
3. Abuse of drugs or alcohol
4. Giving away prized possessions, writing a will, or making other "final" arrangements
5. Preoccupation with themes of death or expressing suicidal thoughts
6. Changes in sleeping patterns—too much or too little
7. Withdrawal from friends and family or other major behavioral changes
8. Changes in school performance, lowered grades, cutting classes, or dropping out of activities
9. Frequent complaints of physical symptoms such as stomachaches, headaches, or fatigue
10. Sudden and extreme changes in eating habits, or losing or gaining unusual amounts of
weight
11. Sudden cheerfulness after a prolonged period of depression
12. Depression
•
Depression, listed as one behavioral warning sign of suicide, is actually manifested in
many different ways. Only about 5% - 10% of depressed persons attempt suicide, but
about two-thirds of those who attempt suicide are depressed.
Six Additional Signs of Depression
•
•
In addition to some suicide warning signs (6 through 11 above, that also are
symptoms of depression) there are six other signs suggesting depression.
Although these signs do not necessarily indicate suicide planning, they do
indicate depression. Depression alone is serious enough to warrant
attention.
These additional six signs of depression are:
–
–
–
–
–
–
•
Anhedonia
Tearfulness
Self-depreciation
Inability to fight back
Hopelessness
"Masked" depression
Of these six signs, hopelessness is the most serious. Most adolescents who
actually commit suicide show signs of hopelessness prior to their suicide.
This sign of depression acts as a "catalyst," leading the depressed youth to
select suicide as the only way to solve his . or her problems.
3 Environmental Warning Signs
•
In addition to behavioral warning signs, there are three environmental warning signs
of possible suicide:
–
–
–
•
•
•
•
Unstable family history
Loss of significant relationship
Recent suicide within the environment
It is worth noting that the second environmental warning sign (loss of significant
relationship) need not involve death. Certainly, the death of a loved one can be a
cause of a suicide attempt. However, the number one triggering event for an
adolescent's suicide attempt is the breakup of a romantic relationship. Such a loss
can be just as traumatic as loss from death.
Finally, adolescents seem prone to committing "copycat" suicides, following someone
else's suicide.
The person copied need not be a close friend, but simply someone with whom the
troubled youth can identify. It has been found that once someone commits suicide, it
increases the risk of suicide fourfold among others around that person.
_
There are four types of "imitators" ... youth who are most likely to imitate someone
else's suicide:
–
–
–
–
Extreme attention seekers
Status seekers
Stressed youth who have minimal problem-solving skills
Stressed youth who have high-risk profiles
Footnotes
• 1 0maha World-Herald. Four New Jersey
teens took way out in pact. March 12,
1987, p. 14 Reprinted by permission
• 2 Ibid.
• 3 Omaha World-Herald. Caution, duty to
inform weighed in reporting of teen-age
suicide. March 22, 1987, 2-A. Reprinted by
permission.