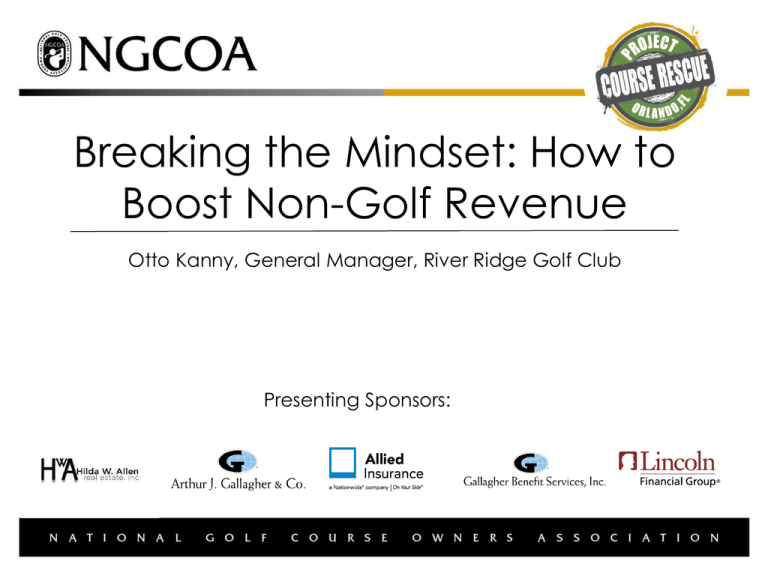 Breaking the Mindset: How to
Boost Non-Golf Revenue
Otto Kanny, General Manager, River Ridge Golf Club
Presenting Sponsors:
FootGolf
Background
• Started in Europe 5 years ago by retired professional soccer
players and a world class marketing team.
• Very popular in Europe and South America. First World Cup
played in 2012 in Budapest, Hungary.
• Came to America in 2011 with formation of The America
FootGolf League (AFGL) by Roberto & Laura Balestrini.
The AFGL is an official member of the Federation of
International FootGolf (FIFG).
• River Ridge and Haggin Oaks 4th & 5th courses in US, first
two in CA. Today over 50 courses, project 500 by 2015.
What is FootGolf ?
• Basically Golf using a Soccer Ball.
• Short course, 18-holes, Par 72
-- Par 3's 50-90 yards
-- Par 4's 90-150 yards
-- Par 5's 150+ yards
• Plays just like golf, same rules & customs.
Course Factors
• Undulations, Wind & hazards.
• Does not use golf greens; FootGolf greens on
fairways/roughs.
• 21" diameter hole, special cups.
• Segregate or integrate with golfers?
FootGolf Demographics
• 26 million active soccer players in the US. Another 26
million inactive soccer players. Estimated 8% annual
growth.
• FootGolf is most popular with younger (6-35 year
olds) people. Also popular with families.
• 60% have never been to a golf course prior to
FootGolf. 50% of FootGolfers are return players.
• Large % are Hispanic. ESPN Deportes aired ESPN
FootGolf HD to 5.5M Hispanic families.
More About FootGolf
•
•
•
•
Takes about two hours to play 18-holes (time barrier).
Inexpensive, $10-$20 per round walking (cost barrier).
Anyone can kick a soccer ball (difficulty barrier).
30% rent golf carts. Frequent F&B operations just like
golfers.
Potential Users
•
•
•
•
•
•
Fundraising tournaments
Birthday parties
Team building
Family fun
Adult leagues
Combination, beginner golfers use FootGolf course as
intro to game. FootGolf players also trying golf.
FootGolf Statistics
• Very low capital outlay.
• Haggin Oaks added 4,000 rounds to the tee sheet, 80%
played in pm in six months. Proportionate increase in
green fees, carts, merchandise & F&B sales..$100,000.
• Anticipating 40 FootGolf tournaments in 2014.
• Excellent addition to junior programs.
Challenges
• Some golfers oppose soccer balls on "their" course.
• Some course employees are reluctant to embrace new
concept.
• Teaching FootGolf players golf etiquette.
• Marketing to the soccer community a new experience.
Are You Open to Change?
• FootGolf is not for every facility.
• It takes work to educate your staff, your golf
customers and FootGolfers to ensure the integrity &
culture of your course stays in tact.
• FootGolf is an untapped market that can provide
thousands of additional rounds annually.
Contacts
American FootGolf League
The Balestrini's (Founder & president, AFGL)
777 E. Tahquitz Canyon Way, Suite 200
Palm Springs, CA 92262
Telephone (760) 325-0383, Fax (866) 702-1667, e-Mail usa@footgolf.info
River Ridge Golf Club
Otto Kanny (General Manager)
2401 West Vineyard Ave
Oxnard, CA 93036
Telephone (805) 981-8722, e-mail admin@riverridge-golfclub.com
Questions?