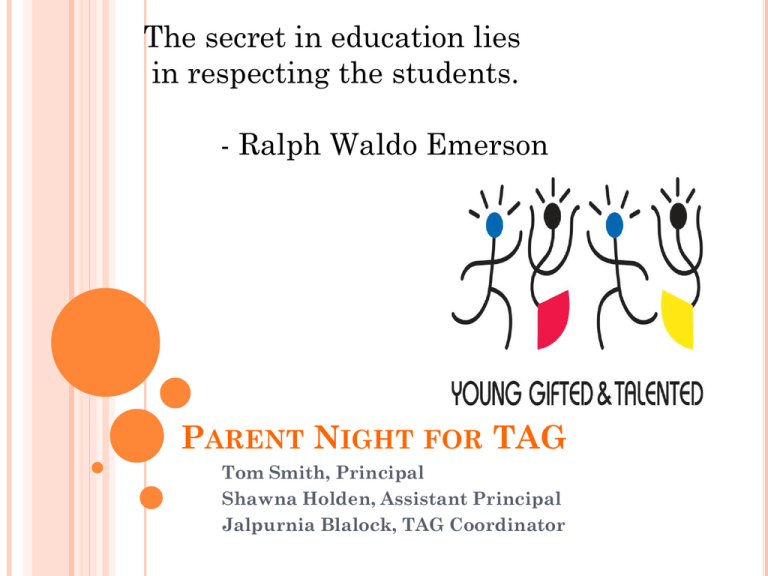 The secret in education lies
in respecting the students.
- Ralph Waldo Emerson
PARENT NIGHT FOR TAG
Tom Smith, Principal
Shawna Holden, Assistant Principal
Jalpurnia Blalock, TAG Coordinator
THOUGHT-PROVOKING QUOTE

Let us think of education as the means of
developing our greatest abilities, because in each
of us there is a private hope and dream which,
fulfilled, can be translated into benefit for
everyone and greater strength for our nation.
-John F. Kennedy
AGENDA
Vision of Prince George's County Public School
TAG Program ?
 How are students identified as TAG?
 How is the TAG program implemented at
Vansville Elementary School?
 What programs are offered to TAG identified
students?
 What can parents do to get involved?
 Question/Answer session?

INTRODUCTION
Principal:
 TAG Coordinator:

Mr. Smith
Mrs. Blalock, 4th Grade
Teacher

TAG Committee Members:
Mrs. Soto, 3rd Grade Teacher
Ms. Coleman, 2nd Grade
Teacher
Ms. Roane, Special Educator
THOUGHT-PROVOKING QUOTE!!!

The main part of intellectual education is
not the acquisition of facts but learning
how to make facts live.
--Oliver Wendell
Holmes Jr.
VISION OF PRINCE GEORGE'S COUNTY
PUBLIC SCHOOL TAG PROGRAM

The vision of Prince George's County Public Schools
TAG Program is to provide all Talented and Gifted
Students from diverse cultural, ethnic, racial, and
socio-economic backgrounds with the opportunity to
reach their full educational, social and emotional
potential in an instructional setting appropriate for
his or her needs. All TAG students will be provided a
dynamic learning environment which challenges
them to develop their intellectual ability, creative and
artistic talents, and leadership skills. All teachers of
TAG students will understand the characteristics of
gifted students, possess knowledge of appropriate
instructional strategies, and implement those
strategies to meet students needs and support
student achievement.
TAG PROGRAM AT VANSVILLE



Vansville a TRC (TAG in the Regular Classroom)
school.
Classroom teachers offer appropriate advanced activities
and incorporate the TRC model. The TRC model was
developed for schools with a large population of TAG
identified students (greater than 40).
The components of the TRC model include:
TAG students clustered in groups of 7 to 10 per classroom
Advanced research and study skills
Higher Order Thinking Skills and Reading
Comprehension Strategies
Instruction and activities reflecting Multiple Intelligences
Theory
First in Math
TAG PROGRAM AT VANSVILLE

Differentiated instructional strategies in the
heterogeneous classroom
Acceleration of pacing and content
Curriculum compacting
Tiered assignments with levels of challenge or
open-ended response options
Flexible grouping
Independent study
Learning/interest centers for independent work
Enrichment
BENEFITS OF THE TRC MODEL

The benefits of the TRC model include enrichment
opportunities that are aligned with the
Maryland Voluntary State Curriculum that are
embedded in daily instruction instead of a periodic
pull-out program taught in isolation. The TRC model
provides gifted students with leadership
opportunities in the general classroom as well as
differentiated opportunities geared to the
individual students' abilities and interests. The
TRC model continually sets the bar higher for
instruction in all aspects of school as teachers
plan open-ended assignments that are challenging to
all students as well as our gifted students.
IDENTIFICATION PROCESS

Teacher Nominations
Teachers provide parents with a
checklist and complete a teacher checklist.
Checklists and grades are submitted to the TAG
Coordinator. Test data, teacher checklist, parent
checklist, and report card grades are used to
screen all students for eligibility for the TAG
program. Nominations must be made by
November 25.
IDENTIFICATION PROCESS

Test Nominations Grades 1 and 3
Students scoring 80% or above in the
areas of reading, math and ability will be
included on a nomination list sent from the TAG
office. The TAG Coordinator will notify teachers
and provide teachers with a letter informing
parents. Parents and teachers will need to
complete a checklist. Parents will be notified in
writing of their child's eligibility or ineligibility
status.
IDENTIFICATION PROCESS

Parent/Student Nominations
Parents and students must submit in
writing a request for nomination for screening.
Teachers need to provide the parents with a
checklist that must be completed and returned.
Teacher must complete a teacher checklist.
Submit checklists (both teacher and parent) and
quarter grades to the TAG Coordinator.
Screening will begin at the end of the first
quarter. Nominations must be made by
November
THOUGHT-PROVOKING QUOTE!!!
The fact we must remember is that we are
educating students for a world that will not
be ours but will be theirs. Give them a
chance to be heard.
-Dr. Carlos P. Romulo.
PROGRAMS FOR THE TAG IDENTIFIED
STUDENTS
Science Club
 Year Book Club
 Imagination Destination***
 Chorus
 Instrumental Music
 Book Clubs (within the classrooms)
 Technology (within the classrooms)
 Chess Club
 Art Club

THOUGHT-PROVOKING QUOTE!!!

The ability to ask questions is the greatest
resource in learning the truth.
--
anonymous
POSSIBLE FUTURE PROGRAMS
Robotic's Club
 Destination Imagination
 Spelling Bee
 Drama Club
 Algebra and Pre-Algebra Clubs
 Accelerated Math (after school)
 Accelerated Reading (After school)
 Write-A-Book Competition

PARENT FEEDBACK

What type of clubs/organizations would you like
to see implemented at Vansville?
PARENTAL INVOLVEMENT

We need parents to volunteer to support the
teachers and the programs offered to students at
Vansville Elementary School. With your
support, teachers can implement more programs
in the classroom and programs/clubs will
flourish. Please consider donating your time and
resources to support our students. Please sign
the lists today.
DESTINATION IMAGINATION
WHAT IS Destination ImagiNation®?

Destination ImagiNation® (DI) is an international non-profit
organization that teaches life skills and expands imaginations
through youth-centered, team-based creative problem solving.
Adult Team Managers oversee the teams and act as guides
throughout the process.
WHO IS ELIGIBLE TO JOIN?

3rd-5th graders at Vansville may participate in Instant
Challenge Club and Teams

Instant Challenge Clubs are starting now.

K-2nd graders may participate in the Rising Stars Program.
DESTINATION IMAGINATION
WHAT DOES A TEAM DO?

Teams of 5-7 students work together during the year to solve their
choice of one of 5 challenges. The team then presents their solution to
their central challenge and solves an instant challenge at the South
Central Regional Celebration of Creativity. Qualifying Teams then
present their solutions at the Maine State DI Celebration. Finalists
from States can compete at Global Finals.
HOW OFTEN DO TEAMS MEET?

Once a team is formed, the members will decide how competitive they
want to be and how often they want to meet. Historically, teams meet
once a week until January when they go to two times per week, and
possibly more as the Regional Celebration approaches.
DESTINATION IMAGINATION

Coordinator: Mrs. Blalock at
jalpurnia2.blalock@pgcps.org

WHERE CAN I GET MORE INFORMATION about
Destination Imagination?




Check out this International Problem-Solving
Program at: http://www.createme.org/2011/20102011%20Sneak%20Peeks.htm
CreateME.org
http://www.marylanddi.org (Maryland Destination
ImagiNation)
http://www.idodi.org/ (Destination ImagiNation)
DESTINATION IMAGINATION
http://www.marylanddi.org/
 http://www.idodi.org/

THOUGHT-PROVOKING QUOTE!!!

Too often we give students answers to
remember rather than problems to solve.
---Robert Lewin
CLOSING
Would you like to have future meetings? This
will keep us connected. The meetings would be
quarterly.
 If you provide me with an email, I will inform you
about events related to TAG education.
 Consider starting a Parent Committee for the
Advancement of TAG (CATAG)
 Volunteer as often as you can.

IMAGINE, BELIEVE, ACHIEVE

Imagine what can be accomplished for all
students, if we believe and work together, we
can achieve our goals.