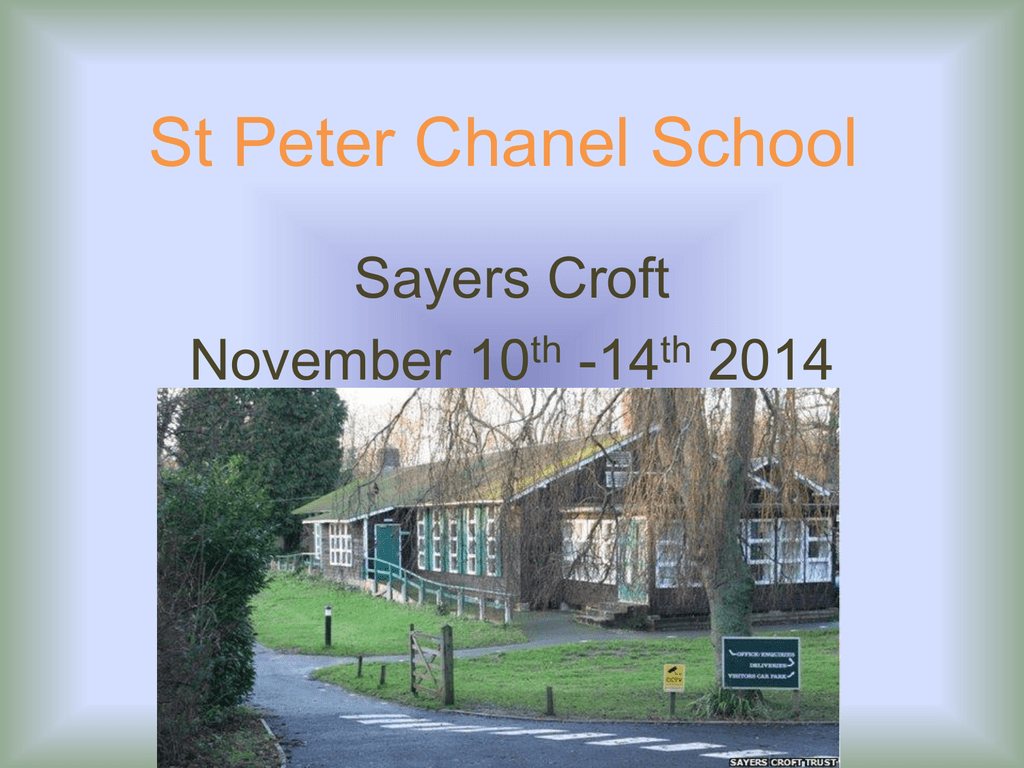 St Peter Chanel School
Sayers Croft
November 10th -14th 2014
Amazing Location!
Amazing Location
Sayers Croft is a beautiful, safe site with
56 acres of woodlands, meadows, ponds
and fields and has been providing
quality outdoor experiences for young
people for over 70 years. There are six
chalets …each has a boys and girls dorm
and a common ro
It is close to the village of Ewehurst in
Surrey.
Where is Sayers Croft?
Accomodation
St Peter Chanel pupils will stay in their own
chalet.
Girls and boys sleep in separate dormitories
with attached staff bedrooms.
Each building is locked at night and secured
with an intruder alarm
The chalet has its own workroom
Homemade Foodthree meals and hot drink and biscuit at night
• Always a choice
• Child friendly
• Plenty of it!!!
What do we do at Sayers
Croft?
• Every day is full! There
is a pre set diary of
activities – mostly
outdoor
• Every keeps a personal
journal / diary
What will be enjoyed and learnt?
Adventure
Exploration
Challenge
Discovery
We also have evening activities that
include a night walk and even
a Disco!
Packing etc.
NO new clothes
Warm
Waterproof
Towels and toiletries
Torch
Wellingtons
SEE KIT LIST
MEDICATION
 Must be clearly marked
with childs name and
dosage and given to
Staff
 Children must have their
own asthma pumps
NO NOs
aerosols e.g. deodorant / hair spray
phones
chewing gum
sweets
any medicinal products
new clothes
jewellery – or anything else of value
A day from one pupil's
diary……what a memory for life!
Today is our last day. We are doing a river study and the maze and blindfold
trail.
• This morning we did the maze and blindfold trail. We worked in pairs
and had to trust our partner to help us round the course. It was scary
and fun being blindfolded.
• The maze was fun. We had to crack a code. It took us ages to find all the
letters! On the blindfold trail, I got very muddy going through the
tunnel.
River Study
• We did a river study after the blindfold trail. We had to get in the water
and measure how deep it was. We also found lots of animals living in the
stream when we did the pollution study. My favourite bit was when
????? let the water go over the top of her wellies. She screamed so
loud!
• After lunch we're going home. I LOVED Sayers Croft. It was the best
school trip ever!